Samuel L. Jackson Wasn't A Fan Of Quentin Tarantino's Wig Choices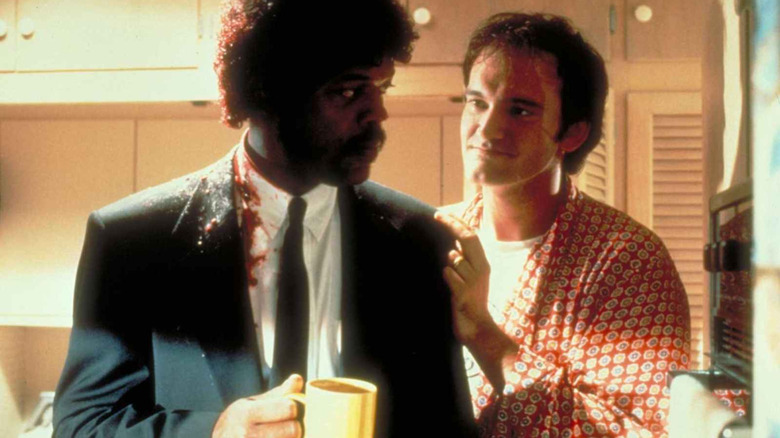 Miramax Films
Samuel L. Jackson and Quentin Tarantino are long-time collaborators who have shared many box office successes, including "Pulp Fiction, "Django Unchained," and "The Hateful Eight." In total, Jackson has appeared in six of the 10 movies Tarantino directed (not including "True Romance," which was written by Tarantino, but not directed by him). Those six movies together grossed more than $1 billion at the box office worldwide.
Some of Tarantino's most popular movies starred Jackson, and in return, some of Samuel L. Jackson's best performances have come out of Tarantino's films. The two Hollywood heavy hitters also appear to have at least a decent personal relationship; Jackson even stood by the controversial movie director and publicly defended him when he was criticized for his overuse of the N-word in his films.
Where Jackson apparently draws the hard line on Tarantino, however, is the director's hairstyling choices. In an interview with Michael Keaton for Variety Studio: Actors on Actors, Jackson detailed some of the pushback he gave Tarantino regarding the wigs he wore for "Pulp Fiction" and "Jackie Brown."
Jules' wig in Pulp Fiction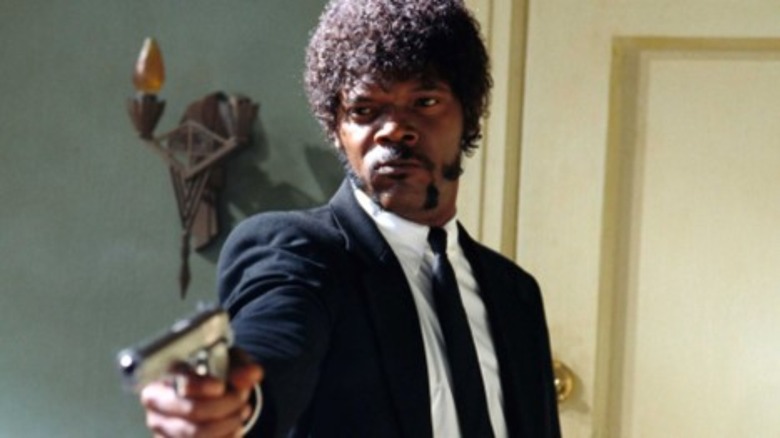 Miramax Films
Samuel L. Jackson first disagreed with a Quentin Tarantino hair choice during the very first film they worked on together, which happens to be the cult classic "Pulp Fiction." As Jackson explains in the interview with Michael Keaton, Tarantino wanted an afro wig for Jackson's character, the highly quotable Jules Winnfield. But the production assistant whom Tarantino sent to buy the wig returned with a Jheri curl wig instead. As Tarantino admonished the PA and complained about the wig, Jackson stepped in:
"And then I was like, 'No, this is totally right!' I put it on and we had this whole thing, and he started, you know, fussing about it, and I'm going, 'look, man: NWA (now was huge), everybody in NWA had a Jheri curl at that time, and this was perfect for Jules in that neighborhood.'"
Though it's hard to imagine Jules without the Jheri, Jackson was somewhat inaccurate on a couple of things. First, while the "Straight Outta Compton" rap group remains one of the most legendary groups of all time, by the time "Pulp Fiction" hit theaters in 1994, the group had been broken up for two years. Furthermore, at that time the Jheri curl had become a relic of the '80s. In fact, the hairstyle and NWA's whole shtick was parodied in 1993's comedy "CB4." But even though the Jheri curl was no longer in fashion entering the '90s, the wig added a nice touch to the Jules character, so it's a good thing Jackson pushed back on Tarantino and fought for his hairpiece.
Another wig, this time in Jackie Brown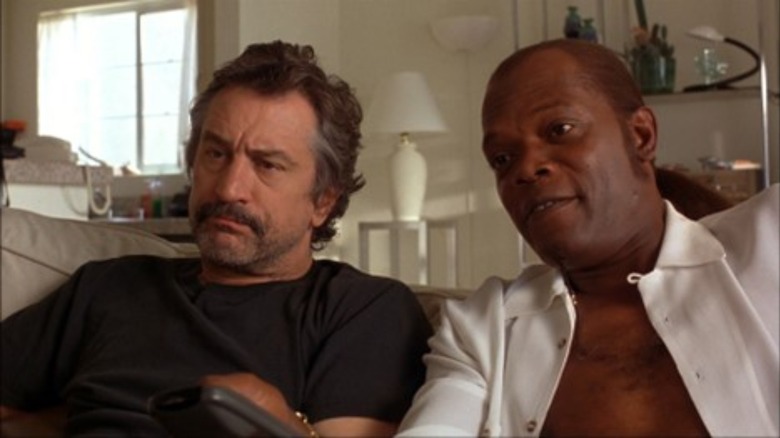 Miramax Films
The second time Samuel L. Jackson and Quentin Tarantino had a hairy disagreement was during the director's follow-up to Pulp Fiction, 1997's "Jackie Brown." The movie is an ode to the blaxploitation films from the '70s, and Jackson plays Ordell Robbie, a gun runner with a pressed-out hairstyle stretching down to his back in a ponytail. As Jackson describes in the interview with Michael Keaton (whom Tarantino had to convince to star in "Jackie Brown") the director wanted nothing to do with that hairstyle. 
"Quentin and I had a big argument about Ordell's hair," Jackson said. "Because he was going through this whole thing about, 'Guys don't wear their hair like that anymore.' I go, 'But he's stuck on Superfly! He's stuck in this Superfly place, and you know, I want to do it.'"
Tarantino continued to reject the hairstyle option, but Jackson said he paid for the wig to be made himself anyway, showed up to a production meeting with it on. The production crew looked as if Jackson was an intruder who had broken in; Tarantino's jaw dropped. "And I'm like, 'Odell,'" Jackson recalled himself retorting to the director. That was enough to convince Tarantino to acquiesce to his star actor's request.
However, while "Jackie Brown" may be Quentin Tarantino's best and most underrated movie, Ordell isn't as nearly an iconic character as Jules and "Jackie Brown" doesn't have nearly the cult following as "Pulp Fiction." I doubt a hairstyle change for Ordell would have made a difference.