A 'Straight Outta Compton' Sequel Is In The Works, But Not From Universal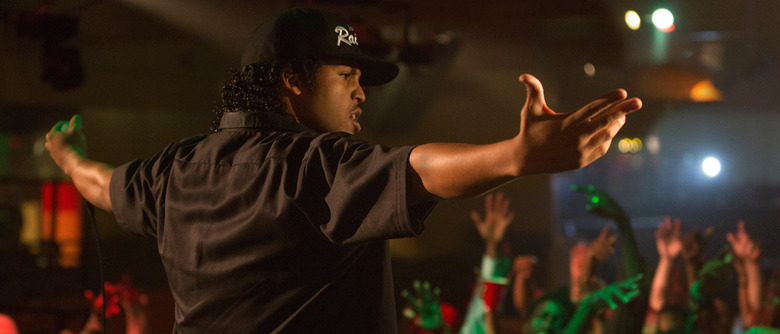 Considering Straight Outta Compton's impressive run at the box office, it was only a matter of time before someone tried to go back to the '90s hip-hop well. And indeed, a spiritual sequel to Straight Outta Compton is now in the works — but not from Universal.
Rapper Daz Dillinger has revealed he's working on a film that'll pick up where the N.W.A. biopic left off, chronicling the careers of West Coast stars Snoop Dogg, Nate Dogg, Warren G, Kurupt, and of course Daz himself. As of now, Universal has no official plans for a Straight Outta Compton sequel. More details on the possible follow-up after the jump.
Over the weekend, Daz told TMZ he was working on a sequel of sorts to Straight Outta Compton, titled Dogg Pound 4 Life. We say "of sorts" because this isn't an official follow-up from the people who brought us Straight Outta Compton. Producers Ice Cube and Dr. Dre aren't involved, and neither is studio Universal.
Several characters overlap between Straight Outta Compton and Dogg Pound 4 Life, including Snoop, Dre, Cube, Tupac Shakur, and Suge Knight. However, Daz's film won't bring back the same actors from Straight Outta Compton. Dre's son Curtis Young will play him in the movie, and no casting has been revealed for the other characters.
(Both Straight Outta Compton and Dogg Pound 4 Life are unrelated to a Tupac biopic that's been developing quietly for the past few years. Last we heard, Carl Franklin had replaced John Singleton as director on that one, and no casting had been set.)
Meanwhile, Universal denies it's working on any sort of Straight Outta Compton follow-up. "At this time there are no plans for a Straight Outta Compton sequel," a spokesperson told EW. In addition, though Daz claims Cube gave him the idea to make a movie, Cube's publicist says he has not authorized a Straight Outta Compton sequel.
But Universal might want to change that. From a commercial standpoint, a Straight Outta Compton sequel looks like a no-brainer. The F. Gary Gray film had the biggest August opening ever for an R-rated movie, and is already the second highest-grossing biopic of all time at the U.S. box office.
Plus, Universal already has some great casting in place. Keith Stanfield only appeared in Straight Outta Compton for a few minutes, but managed to capture Snoop's essence to a T. Marcc Rose and R. Marcos Taylor similarly made big impressions as Tupac and Suge Knight. 
And let's not forget Corey Hawkins and O'Shea Jackson Jr., who led the film as Dre and Cube respectively. If Universal ever decides it wants to bring these guys back to build a Straight Outta Compton franchise, I'm in.