Ticket To Paradise Trailer: Julia Roberts Makes A Glorious Return To The Rom-Com With George Clooney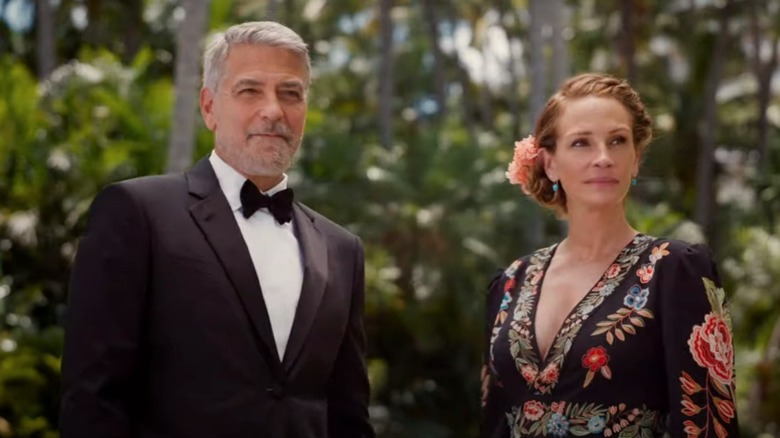 Universal Pictures
Rise and shine, rom-com fans. This genre has sorely been in need for a resurgence in recent years, even with films such as "Crazy Rich Asians," "Fire Island," and even the surprisingly entertaining "The Lost City" a few months back. Luckily for us all, Universal decided to call in the big guns for a much-welcomed reunion on the big screen.
It's been six long years since movie stars Julia Roberts and George Clooney last appeared opposite each other in "Money Monster" and almost two decades since they did so in "Ocean's Twelve" (they've also teamed up in 2002's "Confessions of a Dangerous Mind" and, of course, "Ocean's Eleven" in 2001). Bringing their unparalleled star power into another romantic comedy for "Ticket to Paradise" — especially one with a premise as knowingly cliché as this one — is almost certain to be a winning move. After all, who among us hasn't gleefully enjoyed movies where hated exes have been forced to join forces in order to save their young daughter from certain doom in her own upcoming marriage? Who can resist!
If anyone can stake out such familiar territory and carry it through the strength of their chemistry, it's two of the greatest actors of their generation. Universal Pictures released a brand-new trailer for the upcoming Clooney and Roberts-starring film, which can't help but feel like a refreshing throwback these days. Check it out below.
Ticket to Paradise trailer
George Clooney and Julia Roberts pretending that they can't stand the sight of one another, trapped together in an exotic tropical paradise, and from the director of "Mamma Mia! Here We Go Again"? Yeah, sign me up.
"Ticket to Paradise" comes from writer/director Ol Parker and writer Daniel Pipski, starring Clooney, Roberts, Kaitlyn Dever ("Booksmart," "Last Man Standing"), and Lucas Bravo ("Emily In Paris," "Mr. Harris Goes to Paris"). We're not saying that Roberts must have taken the advice of /Film's Shania Russell when she wrote about the state of rom-coms with regards to the actor's lengthy hiatus from the genre ... but we're not not saying that, either. Either way, this trailer lays out all the basic beats for the film and we couldn't be more excited to see Roberts and Clooney reunite in this specific genre once again. You can look forward to getting your tickets to "Ticket to Paradise" when the film comes to theaters later this October.
Academy Award® winners George Clooney and Julia Roberts reunite on the big screen as exes who find themselves on a shared mission to stop their lovestruck daughter from making the same mistake they once made. From Working Title, Smokehouse Pictures and Red Om Films, Ticket to Paradise is a romantic comedy about the sweet surprise of second chances.