Christian Bale Took His Thor: Love And Thunder Role Because His Kids Forced Him To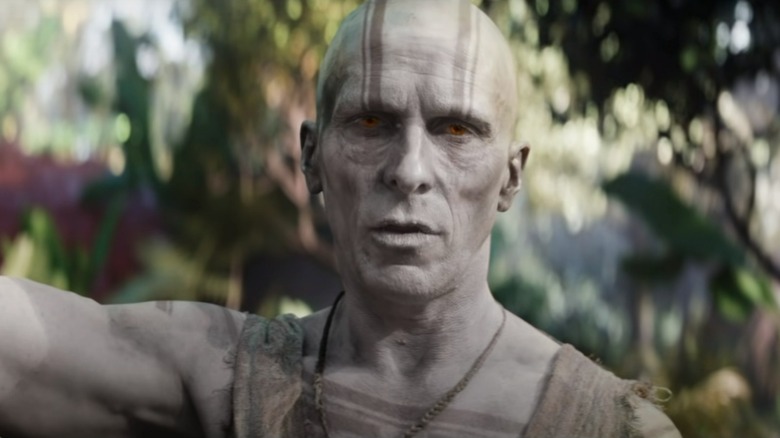 Marvel Studios
Every high-profile actor has their own unique process for what roles they pick and why. Some embrace the challenge of doing something new and outside of their comfort zone, getting a crash course in new skills, and flexing different performing muscles that they might not have had a chance to do previously. Others relish the opportunity to work with the best and brightest in the business, becoming a particular filmmaker's "muse" of sorts and trusting them to bring out the absolute most in them with each and every role.
And then there are those who can afford (literally and otherwise) to just tune out everyone else and listen to the opinion of one specific demographic: their kids!
Christian Bale would hardly be in rare territory by prioritizing his parental instincts first and taking his cues from his children — Viggo Mortensen famously joined "The Lord of the Rings" at the last minute upon the urging of his J.R.R. Tolkien-obsessed son, for instance. But for those of us who wondered why exactly a thespian like Bale, a veteran of serious-minded movies such as "American Psycho," "The Machinist," and "The Fighter," would end up circling back to the superhero scene after seemingly getting that out of his system with Christopher Nolan's "The Dark Knight" trilogy? Wonder no more!
Ahead of the release of "Thor: Love and Thunder," which is scheduled for July 8, 2022, Bale sat down for an interview and opened up about what drew him to the Marvel Cinematic Universe. Was the character of Gorr the God Butcher just that compelling? Could he simply not pass up the chance to work under director Taika Waititi? Are his children just big ol' nerds? The answer, by his own account, would be "all of the above."
'They gave me my marching orders'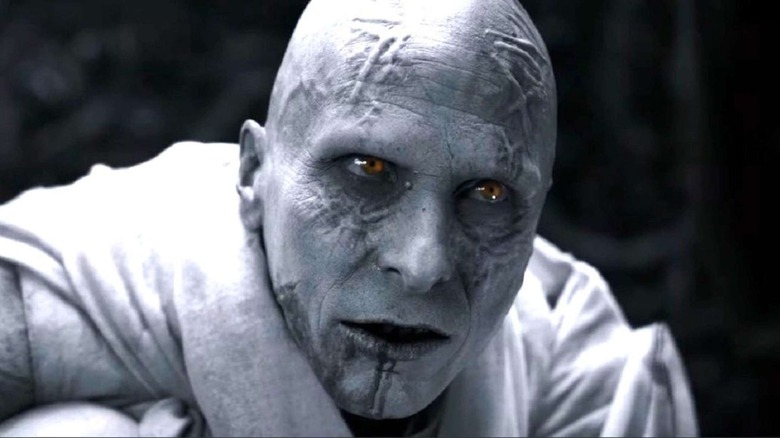 Marvel Studios
We've heard a lot about how Gorr the God Butcher is apparently a villain like no other and how the prospect of living it up as the antagonist role appealed to Christian Bale more than playing the hero. But the real reason(s) for joining "Thor: Love and Thunder" proved to be a combination of several factors — though perhaps none more important than the input from his family.
In an interview with Screen Rant, Bale commented on the various reasons that appealed to him about his role in the "Thor" sequel. As you'd imagine for an actor who has worked with so many acclaimed filmmakers over the years, Taika Waititi's talent was simply too much to ignore.
"For me, it was Taika. I loved 'Thor: Ragnarok,' as did my family. We also all loved 'Jojo Rabbit,' and then I had worked with Natalie [Portman, on Terrence Malick's 'Knight of Cups'] and wanted to work with Tessa [Thompson] and with Chris [Hemsworth]. It comes down to that, really. I just went, 'Great!' Loved the script, loved Taika's description of the villain. 'Let's go do this.'"
But even with so many compelling reasons to come aboard, the dreaded specter of scheduling conflicts almost prevented this collaboration from ever happening. The difference-maker at this critical juncture, as it turns out, happened to be some well-timed input from Bale's children.
"There were some potential scheduling conflicts. I said to my family, 'I don't think it's going to work out,' and they went, 'No, you make it work out. You're doing this, Dad.' They gave me my marching orders, and I dutifully obeyed."
We have Waititi, a particularly well-written villain, and Bale's family to thank for seeing the actor dressed up like a goth on a subpar makeup day.