How Taika Waititi Forced Guardians Of The Galaxy Director James Gunn To Deal With Space Goats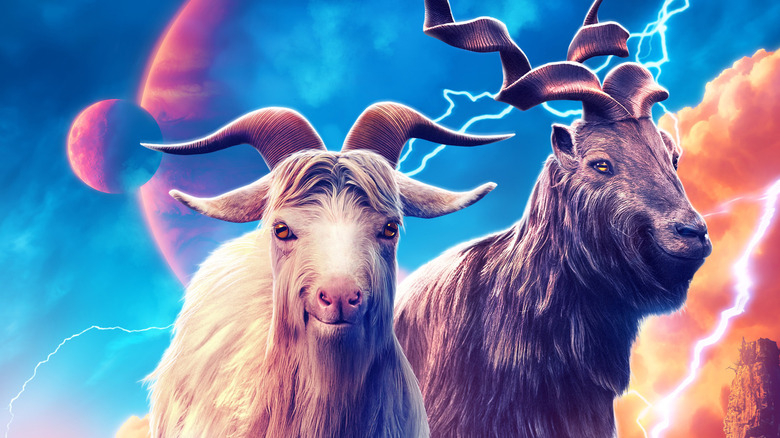 Marvel Studios
The release of "Thor: Love and Thunder" will bring more than just the God of Thunder back to the Marvel Cinematic Universe in the aftermath of "Avengers: Endgame." This time around, he's going to be joined by his pals in the Guardians of the Galaxy, which should help to tee up the ball for the long-awaited "Guardians of the Galaxy Vol. 3" next summer. But it appears as though the Guardians are going to be saddled with a little something that wasn't originally part of the plan, and it's all thanks to Taika Waititi.
Waititi directed "Thor: Ragnarok" and returned for "Love and Thunder." As we've seen from the trailers, the filmmaker did not hold back on his signature bonkers filmmaking with the fourth solo entry for Chris Hemsworth's Marvel Comics hero. Amongst many other things, we're going to see space goats that haul around Thor's Viking-like spaceship. And it turns out those space goats are being left in the care of Star-Lord and the Guardians gang.
Space goats and continuity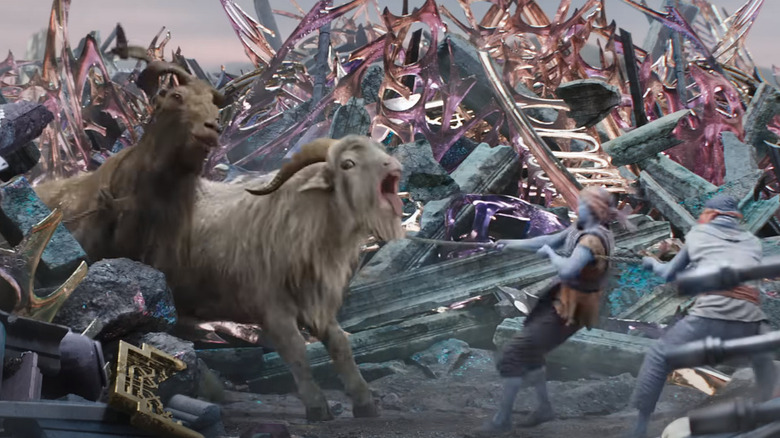 Marvel Studios
Chris Pratt spoke with Marvel on the red carpet ahead of the "Thor: Love and Thunder" premiere and addressed the space goats that have been quite present in the marketing up to this point. Pratt revealed that Waititi actually opted to leave the goats in the care of the Guardians, teeing them up for an appearance in the "Guardians of the Galaxy Holiday Special" and/or "Guardians of the Galaxy Vol. 3":
"[Taika] just wanted to stick James with some goats. He was like, 'I've rewritten the script, mate, and, you know, I decided to put some goats in there and see what he's going to do with them.' So James has to pick up where Taika left off and he stuck us with some space goats."
Some might argue that's a bit of a spoiler, others could contend it's more akin to a casting announcement. Either way, we haven't seen the last of these goats and, even though it wasn't what Gunn originally had in mind, he's going to have to deal with them. With "Guardians of the Galaxy Holiday Special" set to arrive first, Gunn could easily deal with the goats — named Toothgnasher and Toothgrinder — in that project, which would allow him to stick to "Guardians of the Galaxy Vol. 3" as planned.
Taika Waititi plays by his own set of rules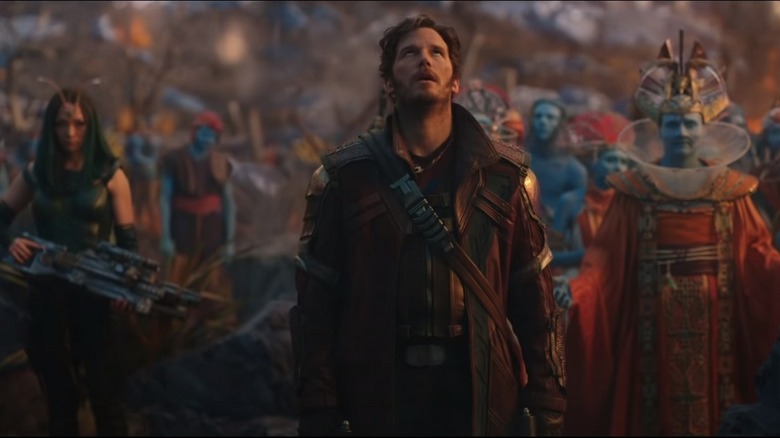 Marvel Studios
This does bring up a point worth considering. Nearly 15 years in, the MCU has more continuity than ever to contend with across its various movies and TV shows. Does this kind of stuff happen all the time? Are directors running around dealing with the whims of the filmmaker before them? As Pratt tells it ... not really. But Taikia is a unique man:
"Typically, no. But I guess Taikia plays by his own set of rules. He did that with... you'll see. There's a few things that I think was kind of an inside joke to play on James."
Per Pratt's account, it appears that the space goats may not be the only thing that we see carry over in the upcoming "Guardians" adventures.
"Thor: Love and Thunder" hits theaters on July 8, 2022.