Does Thor: Love And Thunder Have An End Credits Scene? A Spoiler-Free Guide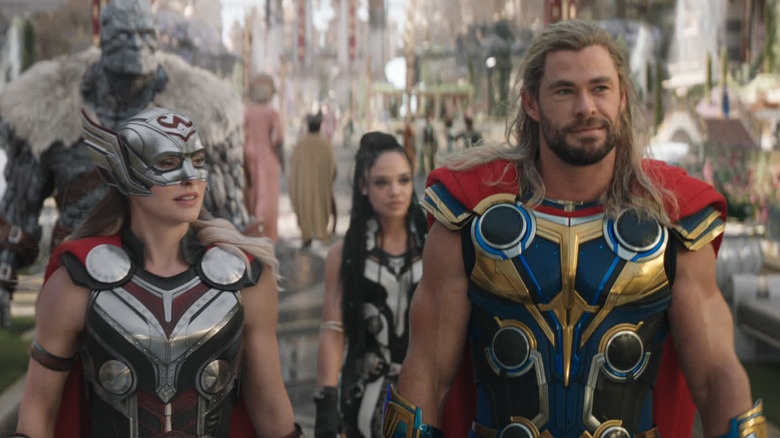 Marvel Studios
It has been nearly five years since Chris Hemsworth's Thor had the chance to go on a solo adventure within the Marvel Cinematic Universe, with "Thor: Ragnarok" hitting theaters in November 2017. That film, directed by Taika Waititi, changed the game for the God of Thunder as it gave him one of the best solo entries in the MCU to date, paving the way for more to come. Now, in the aftermath of "Avengers: Infinity War" and "Avengers: Endgame," we've got "Thor: Love and Thunder" to look forward to.
This was initially announced at San Diego Comic-Con in 2019 and, though it was delayed a bit, the time is finally upon us. Natalie Portman is back as Jane Foster and this time, she's taking up the mantle as the Mighty Thor. Waititi is back in the director's chair and none other than Christian Bale is on board as our villain, Gorr the God Butcher. It's an important film and a seemingly jam-packed one. So, will there be even more to enjoy once the credits begin rolling?
We're here to let you know in a spoiler-free way whether or not "Love and Thunder" has any end credits and/or post-credits goods for fans to watch out for. Seriously, no spoilers here. Only information. Let's get to it.
Is there a credits scene?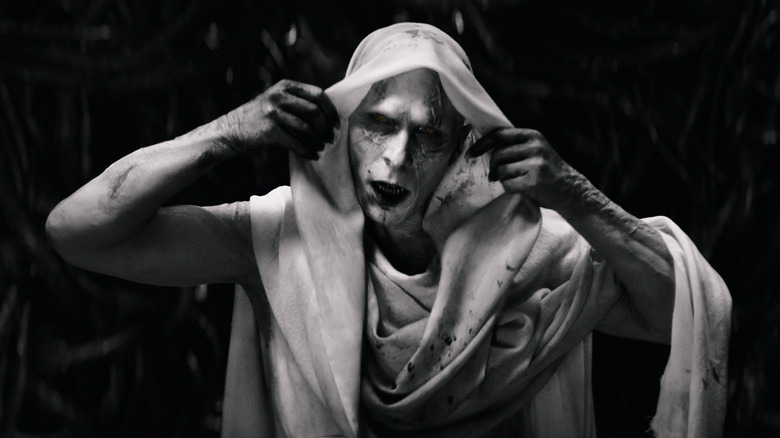 Marvel Studios
As is tradition in the MCU, there is indeed reason for fans to stay seated after the credits begin rolling. There is both a mid-credits and a post-credits scene attached to "Thor: Love and Thunder." Occasionally, your big franchise films will have one or the other but Waititi and Marvel Studios decided to double up this time around, giving two different scenes to look out for after the bulk of the film has wrapped up. So, you may want to reconsider before making a mad dash for the bathroom as soon as the credits begin rolling.
How important are they?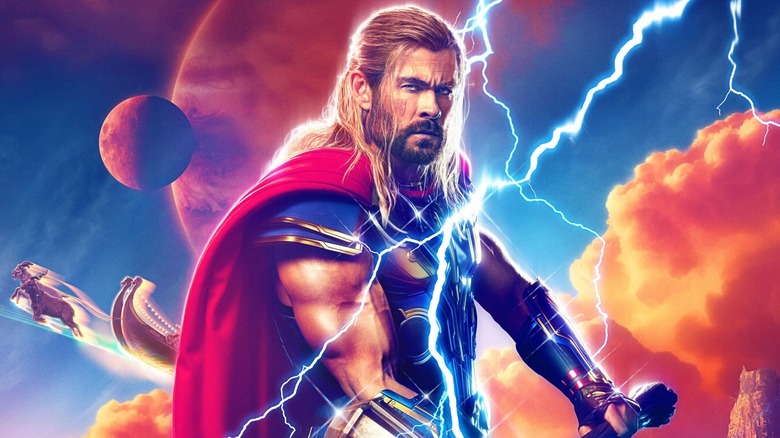 Marvel Studios
Now, without getting into spoilers but diving a little deeper, just how important are these scenes? Are they skippable for those who are only interested in scenes that have a consequential impact? In this case, both scenes are worth sticking around for so, again, plan bathroom breaks accordingly.
To put it in the most spoiler-free terms possible, one of the scenes (and won't say which one) has a bit of resonance in regards to the story of the film at hand. The other, meanwhile, is more of a tease for the future of the MCU, which is something we've become accustomed to with these scenes over the years dating back to "Iron Man" when Samuel L. Jackson's Nick Fury introduced the idea of "The Avengers" to Robert Downey Jr.'s Tony Stark. In short? Stick around, folks. There's more to see and much to discuss after the fact.
"Thor: Love and Thunder" is set to hit theaters on July 8.
The film finds Thor (Chris Hemsworth) on a journey, unlike anything he's ever faced – a quest for inner peace. But his retirement is interrupted by a galactic killer known as Gorr the God Butcher (Christian Bale), who seeks the extinction of the gods. To combat the threat, Thor enlists the help of King Valkyrie (Tessa Thompson), Korg (Taika Waititi) and ex-girlfriend Jane Foster (Natalie Portman), who – to Thor's surprise – inexplicably wields his magical hammer, Mjolnir, as the Mighty Thor. Together, they embark upon a harrowing cosmic adventure to uncover the mystery of the God Butcher's vengeance and stop him before it's too late.