Valkyrie Finds A New Sister In Battle With Natalie Portman's Mighty Thor In Thor: Love And Thunder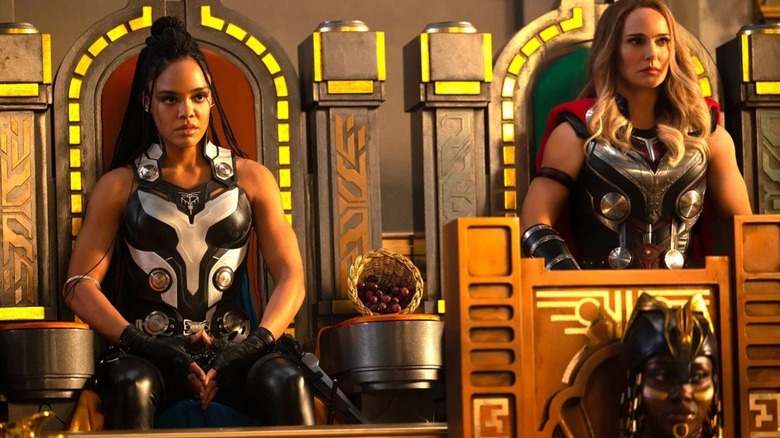 Marvel Studios
Tessa Thompson's Valkyrie seems to have enough on her plate in the upcoming "Thor: Love and Thunder," now that she is the ruler of New Asgard. While Valkyrie takes her job as ruler seriously and a part of her genuinely enjoys that role, it is evidenced from the trailers that the bureaucratic aspect of the job is a tad tedious for her. But there's one highlight of being King: she gets to hang out with Natalie Portman's The Mighty Thor. 
Thompson spoke about her role in a recent press conference for "Love and Thunder," highlighting how it's great to have a sisterly dynamic with Natalie Portman's The Mighty Thor, especially as Valkyrie begins to get bored with her political duties:
"We talked about the idea of someone that has a job they really love, but they're also kind of disgruntled. She, you know, was a professional soldier for thousands of years and now finds herself kind of stuck in bureaucracy. So she's really missing being on the battlefield as missing her sisters. And so it's been very fun to get to have that again, with Natalie in particular as Mighty Thor."
Jane Foster's presence allows Valkyrie to form a fun, endearing sisterhood with the character, and the duo will obviously march into battle together at some point in the film. What fun!
Bureaucracy is boring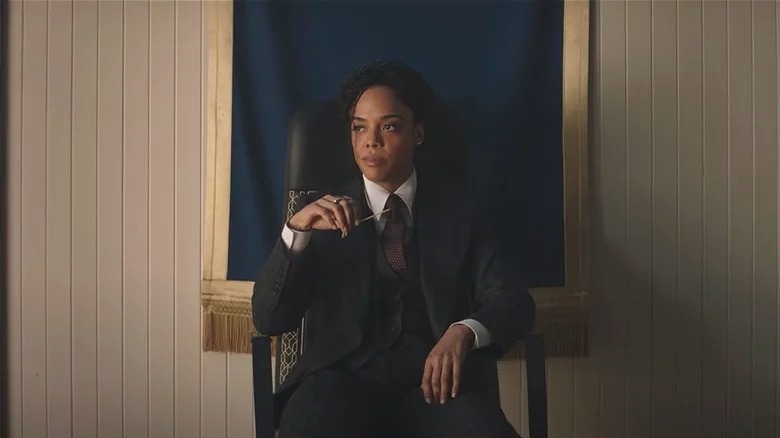 Marvel Studios
As a refresher, Valkyrie was one of the few survivors of Thanos' snap and was instrumental in leading the Asgardian survivors to safety. Eventually, in "Avengers: Endgame," she helped relocate the Asgardian population to Tønsberg, Norway (as the city was destroyed in "Thor: Ragnarok"). Before Thor (Chris Hemsworth) joined the Guardians of the Galaxy and went on adventures with the gang, he appointed Valkyrie the new ruler of the Asgardians.
Valkyrie is more than capable of handling the responsibilities that come with being king, but she is not the typical ruler. She seems more casual about the royalty aspect of the role in the trailers for the film, and I'm guessing she is widely loved and revered by the Asgardians. While the arrival of fresh threats to the city might prompt her to charge straight into battle, she still has to make executive decisions when it comes to the wellbeing of her citizens. 
However, Valkyrie's core role in Asgard was to defend the king during battle or in the event of a major threat, as she was essentially a shield-maiden accustomed to constant engagement in combat. While she can still fill the dual roles of king and protector, Valkyrie is understandably bogged down by the more grounded aspects of her role as ruler, boring court meetings and all. That is until Jane Foster walks in.
An epic duo, if I may say so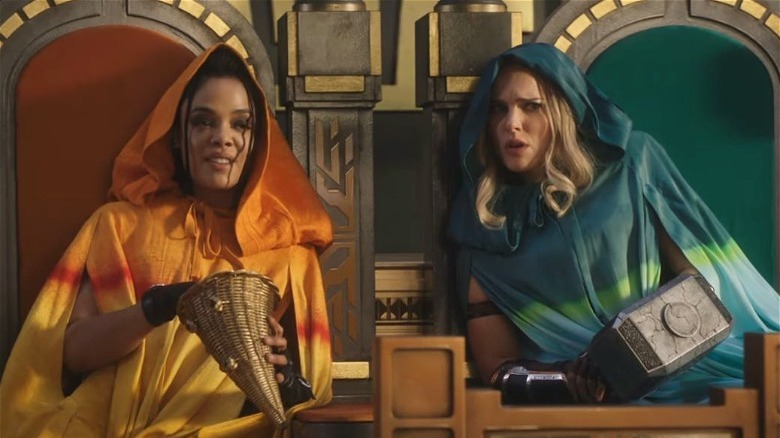 Marvel Studios
Jane's return in "Love and Thunder" is a surprising one. It's been eight years since Thor had last seen her, and he is in a considerable bit of shock when she pops up as the Mighty Thor (she can even wield Mjolnir!). Valkyrie might or might not be aware of the details of Thor and Jane's past, but the two seem to be hitting it off immediately, as seen in the "cornucopia" scene at Olympus (possibly) in the film's trailer.
This is an interesting dynamic, considering what happens in the comics. In 2019's "War of the Realms," Jane gives up her title as the Mighty Thor and becomes one of the Valkyries. While director Taika Waititi might not be opting for this route at all, there is a possibility that Jane might eventually become a Valkyrie, and join Thompson's Valkyrie in many battles as and when New Asgard is threatened. Plus, we also see them together in courtroom settings, so it is possible that Jane is offering a helping hand when it comes to navigating the sociopolitical aspects of Valkyrie's role. Or maybe they just like each other's company.
It would be great to see Jane and Valkyrie engage with one another and fight side-to-side, especially if they will be going up against Gorr the God Butcher (Christian Bale), a serious threat to, well, all gods.
"Thor: Love and Thunder" hits theaters on July 8, 2022.