Natalie Portman Relished Playing The 'Danger' Of Jane Foster's Thor: Love And Thunder Arc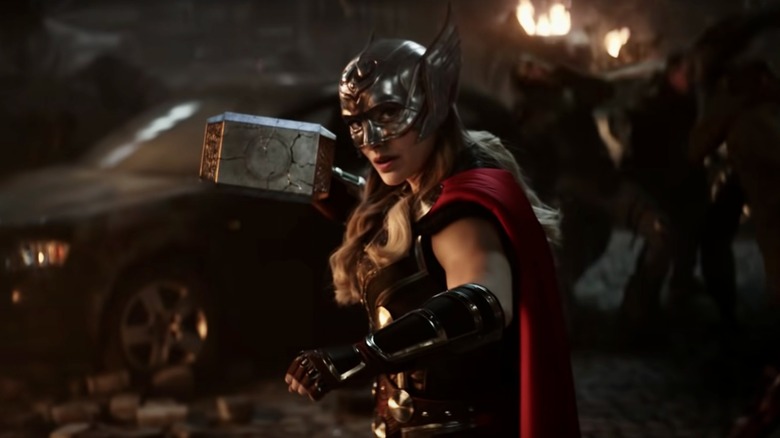 Marvel Studios
There was a time not so long ago when it seemed like Natalie Portman was done with the Marvel Cinematic Universe. Although Portman's character, Jane Foster, popped up in "Avengers: Endgame" in 2019, it was only in existing footage of her that had gone unused from the production of "Thor: The Dark World." That movie was originally supposed to be helmed by Patty Jenkins, who would have been the MCU's first female director, but she left over creative differences (and went on to direct "Wonder Woman"). This reportedly upset Portman, who had championed Jenkins herself.
We really hadn't seen Portman in new footage as Jane since 2013 when "The Dark World" dropped. All that changes with the new fourquel "Thor: Love and Thunder," which sees Jane inheriting the mantle of The Mighty Thor.
/Film's Hoai-Tran Bui recently attended a press conference for "Love and Thunder" where Portman discussed what it was like for her to step back into the role and show moviegoers a new, more muscular Jane. The actress said:
"It was such an incredible way to explore a female superhero that could be quite vulnerable and weak and find strength in that and be more like a human I could relate to, personally. And then also I think it just gave me renewed respect for what Chris has been doing for over a decade, [what] Tessa's been doing, because I see how much work goes into it that I don't think I was aware of when I was in the first one. I didn't see everything that went on behind the scenes. And when I got insight into all of the choreography and the training and everything, I was like 'Wow, this is a triple job of what I was doing back then.'"
'She's new at it. And also keeps reverting to human form'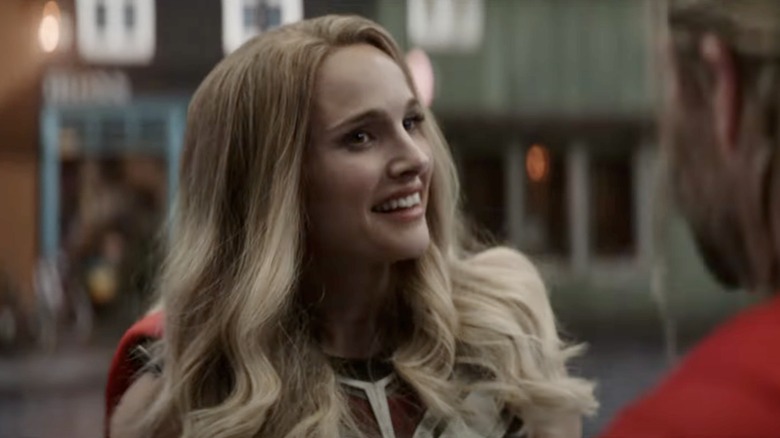 Marvel Studios
Portman also discussed how Chris Hemsworth's Thor and her own character, Jane — whose new title as The Mighty Thor helps distinguish her from him — are different in "Love and Thunder." She said:
"[Thor and The Mighty Thor are] completely different. I think [Thor is] obviously very assured and experienced in being a superhero and she's just trying to figure it out. She's new at it. And also keeps reverting to human form. So there's a kind of danger always that like it might be her last moment getting to experience that."
We've come a long way from the days when it seemed like Portman's character would be relegated to an unceremonious, offscreen breakup between the events of "Avengers: Age of Ultron" and "Thor: Ragnarok." It's not clear yet why Jane "keeps reverting to human form" or how exactly she got her hands on Thor's hammer in the first place, but she's obviously worthy enough to lift it and be imbued with the god of thunder's powers.
You can see more of Portman as Jane Foster and find out how exactly she became The Mighty Thor when "Thor: Love and Thunder" lands in theaters on July 8, 2022.