The Grueling Training Natalie Portman Had To Do For Love And Thunder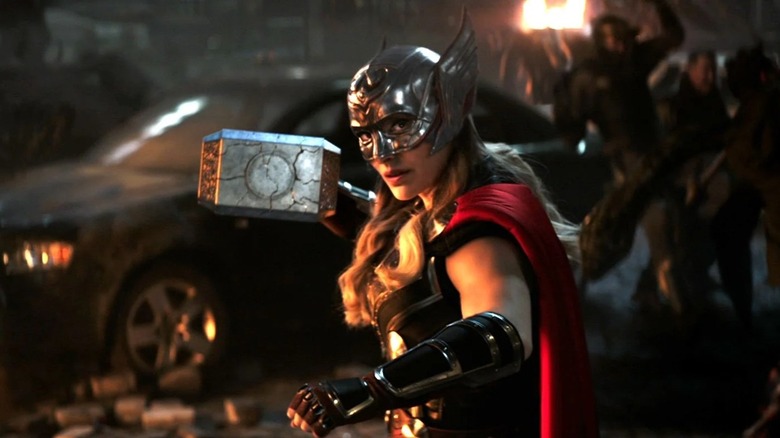 Disney
Taika Waititi's "Thor: Love and Thunder," the 29th film in the Marvel Cinematic Universe, the ninth film to feature this version of the character, and the fourth to be named after him — is due in theaters this July. But it might be the last film to see Thor wielding his mighty mythical hammer.
"Thor: Love and Thunder" will see Thor (Chris Hemsworth) passing his mantle — and his name — to the Earthling Jane Foster (Natalie Portman). The word "Thor," it seems, is not just a name, but an honorific as well. Early previews of have shown Portman in full Thor regalia and wielding a magic hammer which, according to MCU mythology, can only be picked up by those with noble hearts. Portman hasn't appeared in a Thor movie since "Thor: The Dark World" in 2013 (she did also appear in 2019's "Avengers: Endgame," but only via stock footage), and she once swore, back in 2016, that she was done with the series. 
One cannot say why Portman elected to return, but audiences can posit that, now that she is, her character has gone through a lot of off-screen changes in the interim nine years. 
As is the case with most actors to play superpowered figures in the MCU, Natalie Portman had to gain a great deal of muscle mass to play Thor. Superheroes, as far back as their inception, have long represented a physical human ideal, and large muscular physiques tend to be the default when designing such characters. When adapting those characters to live-action, an actor or stunt performer will likely have to get in top physical condition to match. As such, Portman went through several months of weight training prior to shooting in order to achieve the Thor-level guns the role demanded.
A lot of protein shakes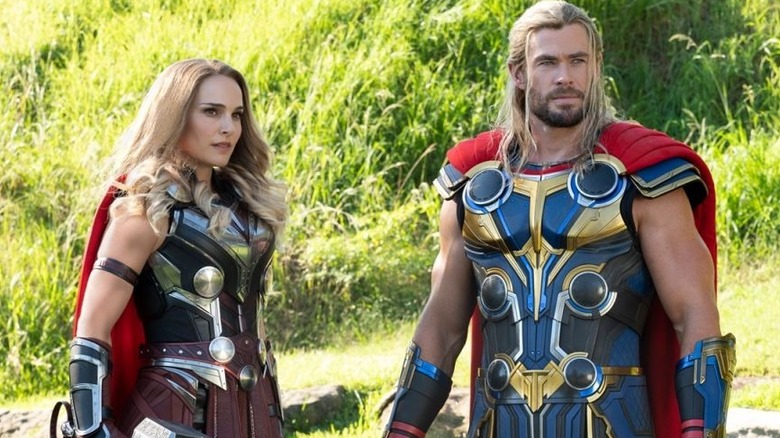 Disney
Portman, 40, had a lot to live up to. A running joke throughout the "Thor" movies has been the perfection of Hemsworth's physique, shown off amply by Kenneth Branagh in 2011's "Thor," and eventually turned into a symptom of Thor's hopelessness in "Avengers: Endgame" wherein he lost his physique to despair-induced sloth. Portman's training, she says, was a lot of work, but it was enjoyable. In speaking with Vanity Fair, she said: 
It was really fun. I worked with a trainer, Naomi Pendergast, for, I think it was, four months before shooting, and then obviously all the way through filming. We did a lot of weight training and a lot of protein shakes — heavyweight training that I haven't ever done before. Of course, I've never really aimed to get bulky. It was very physical, so it was a lot of both agility work and also strength work.
But Portman's physical transformation as the new Thor isn't just a triumph for fans everywhere who wish that Jane would crush their heads with her giant arms. It was just as much a chance for Jane to mess with the old Thor's head, director Waititi told Empire:
"It's been about eight years. She's had a whole other life, and then the love of your life comes back on the scene, and is now dressed like you. It's a real mindf*** for Thor."
The damsel becomes the hero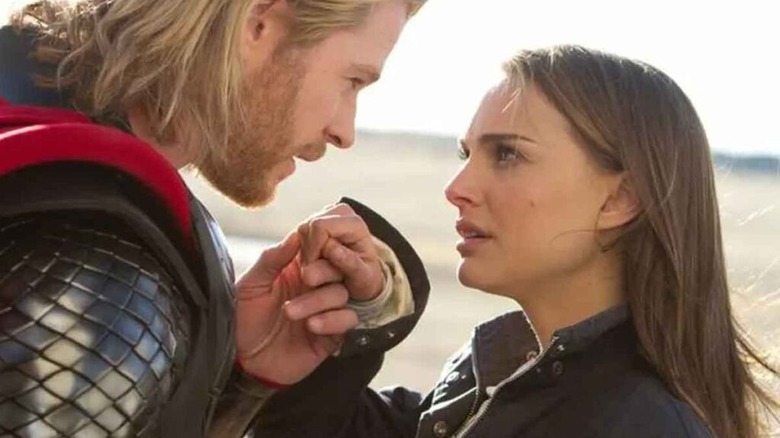 Disney
Jane Foster's arc in Kenneth Branagh's 2011 "Thor" film — the first to feature the character — was simultaneously progressive and retrograde. Jane Foster was partially designed by Portman to resemble the famed chemist Rosalind Franklin (if you know anything about Franklin's life, you'll know that her discovery of double-helix DNA went uncredited) and to stand as a role model for young women interested in the sciences; in the original comic books, Foster is a nurse. Foster eventually, however, finds herself relegated to "love interest" status, falling for an interdimensional alien deity in spite of herself. Even as Portman appeared in MCU films less and less, her name was mentioned more and more, forcing her to become a romantic myth rather than a fully realized character. 
In "Love and Thunder," Portman brings Jane Foster back around into Thor's field of vision, now escaping the embellishment forced upon her by his memory, and capable of acting the hero just as capably as he. Additionally, Portman will now be permitted to take on some of the lighthearted quips that MCU heroes have become known for, plying her skill as a comedian. "Love and Thunder" director Taika Waititi, also in Vanity Fair, points out how funny she actually is: 
"Natalie's really funny in real life. She's kind of goofy and has got a great sense of humor, and I don't think that was exploited enough in the first films." 
Strong and funny? Thor doesn't stand a chance.
"Thor: Love and Thunder" will open in theaters on July 8, 2022.