Thor: Love And Thunder Will Fully Explore Why Thor And Jane Broke Up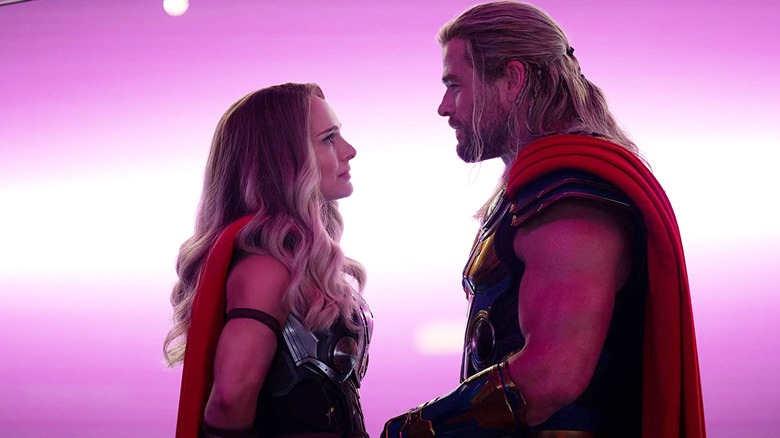 Marvel Studios
Ending a relationship is never easy, least of all when one of the concerned parties is a human scientist and the other is a super-powerful alien from another planet whose race inspired the gods of Norse mythology. Such was the case with former lovebirds Jane Foster (Natalie Portman) and Thor (Chris Hemsworth), who broke up at some point in the Marvel Cinematic Universe between the events of 2013's "Thor: The Dark World" and 2017's "Thor: Ragnarok." But what, exactly, happened between the two?
When the subject comes up in "Ragnarok," Thor is naturally reluctant to talk about it. "She didn't dump me. I dumped her. It was a mutual dumping," he stammers, prompting his brother Loki (Tom Hiddleston) to give him a perfunctory pat on the shoulder in what is probably the funniest part of the whole exchange. Speaking to Disney's D23 Magazine (via The Direct), Hemsworth admitted that it was only while working on the God of Thunder's next adventure, "Thor: Love and Thunder," that it became obvious to him "there actually wasn't a whole lot" there to help audiences fill in the blanks on their own.
In retrospect, however, Hemsworth said he's glad "Ragnarok" didn't address the matter beyond that:
"There actually wasn't a whole lot of evidence to definitively say, 'This is how they broke up. This is what happened.' It was left open for interpretation, which was great because it allowed us to go on this fun journey; 'What did their relationship look like when they were together? What did it look like when they were breaking up? Why did they break up?' It's some of the funniest stuff in ['Love and Thunder']."
Dating and superheroes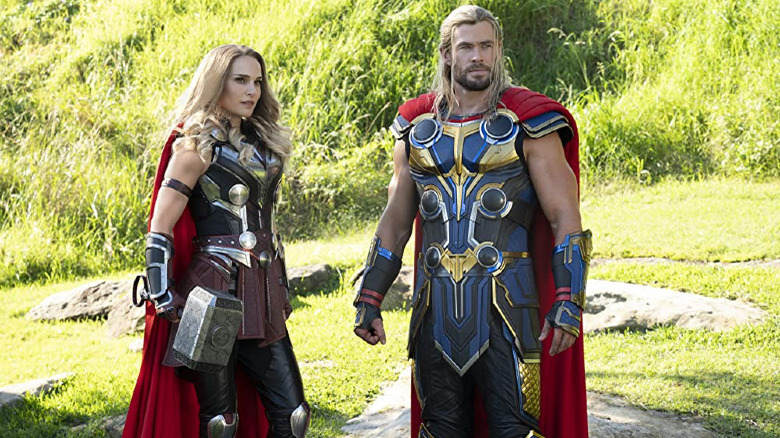 Marvel Studios
"Thor: Ragnarok" director Taika Waititi, who's back at the helm for "Love and Thunder," has described the God of Thunder's latest outing as "a film about love, with superheroes and outer space," which more or less gels with what Chris Hemsworth is saying here. Natalie Portman affirmed as much, saying she really enjoyed getting to explore what it had been like for Jane and Thor to date in the past:
"It was really fun to get to imagine the parts of their relationship we hadn't seen ... and the hard parts of a scientist dating an otherworldly superhero."
Of course, Thor and Jane are both in very different places by the time "Love and Thunder" picks up, with the former in the midst of a full-blown midlife crisis after defeating Thanos and saving Earth yet again in "Avengers: Endgame." Jane, meanwhile, has picked up some super-powers of her own, transforming her into the Mighty Thor and even allowing her to wield Mjolnir. Is there a chance those wild kids will get back together? Failing that, perhaps they can finally find gain closure (Thor could certainly use some) in-between battling Gorr the God Butcher (Christian Bale) and whatever other trouble awaits them in the Nine Realms.
"Thor: Love and Thunder" charges its way into theaters (and, with a little luck, our hearts) on July 8, 2022.