Chris Hemsworth's Innate Comedy Chops Are What Got Thor The Rare Marvel Fourquel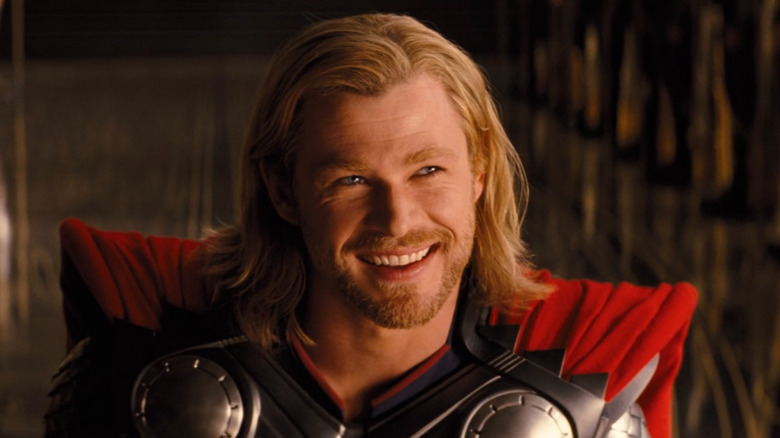 Marvel Studios
Though some may have recognized him from his feature film debut as George Kirk in the 2009 "Star Trek" reboot, Chris Hemsworth was a relative unknown when he landed the role of Thor in the Marvel Cinematic Universe. The first "Thor" movie brought in director Kenneth Branagh, seemingly in an effort to lend some Shakespearean gravitas to it. When we first meet Thor, he comes swaggering into a golden throne room, where he winks at his mother Frigga (Rene Russo) while his father Odin (Anthony Hopkins) looks on disapprovingly.
It's as if Hemsworth wanted to say, "Let's not play this so seriously," and was just biding his time until he could really cut loose comedically. That's something he would begin to do more in the "Team Thor" series of mockumentary shorts, directed by Taika Waititi, who would go on to help the god of thunder find his best comedic self in "Thor: Ragnarok." /Film's Hoai-Tran Bui was in attendance at a recent press conference for that film's follow-up, "Thor: Love and Thunder," where Marvel Studios chief Kevin Feige noted:
"Taika certainly brought another dimension that was always there within Chris. There were moments, even going back to EPK [Electronic Press Kit] interviews between the two of them on our New Mexico set, where I was like, 'Is [Chris] trying to be funny or is it ...' No, he is being funny. He's like, hilarious. And I saw a clip of ['Age of Ultron'] the other day where he's trying to make Ruffalo feel better about smashing a bunch of people and it's so funny, and it's like this expert timing and Taika was like, 'What are you guys doing with him? Just you know, holding a hammer up with lightning. Let's do that and tap into everything Chris can do."
'Yes, we could go to a part four'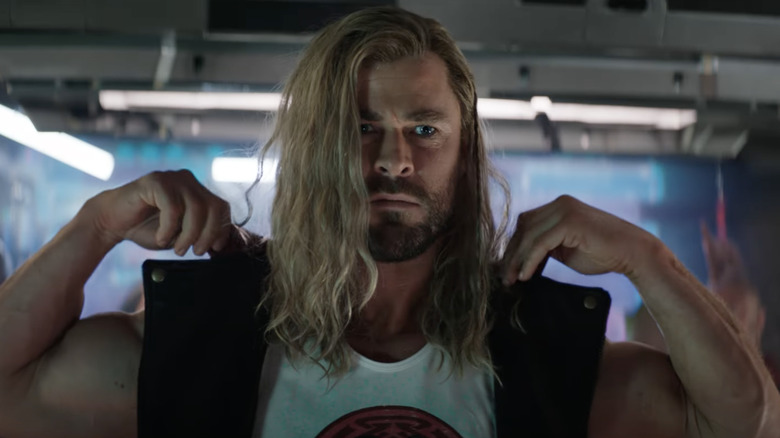 Marvel Studios
Though Thor may be facing a villain named Gorr the God Butcher (Christian Bale) in "Love and Thunder," the first "Thor" movie took pains to establish that he and his fellow Asgardians were not true Norse "gods" but a race of aliens that the Vikings had revered as such. If the intent was to make them more relatable to moviegoers on Earth, Marvel need not have worried because that's something Thor's newfound sense of humor would do going forward. Feige continued:
"I think the audience response to that ... and so for so long, we said, 'Well, he's a Norse god, how do we make them relatable?' and spent so much time I think making sure that the audience connected with them, that they are so with them now that yes, we could go to a part four."
Tapping into Hemsworth's latent comic ability gave Thor a new lease on life, such that he's still kicking around the MCU and has now become the first founding Avenger to get a four-quel in his solo movie series. While characters like Black Widow, Captain America, and Iron Man may have all been killed off or aged out of the franchise, finding the humor in Hemsworth has proven that there's still some gas left in the tank for his character.
"Thor: Love and Thunder" laughs its way into theaters on Friday, July 8, 2022.