Gangs Of New York Pushed Leonardo DiCaprio And Daniel Day-Lewis To The Limit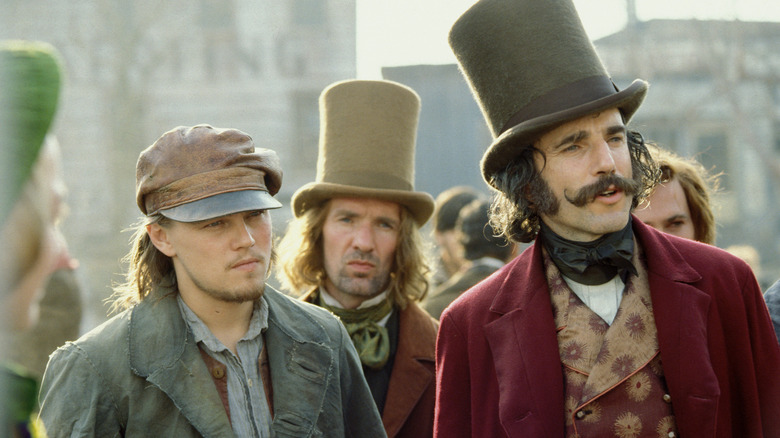 Miramax/Touchstone Pictures
"Gangs of New York" is fundamentally about two determined men going head to head, and the same thing happened on set. Martin Scorsese's 2002 crime epic stars the renowned Daniel Day-Lewis and Leonardo DiCaprio as rivals. The two actors also developed a bit of a rivalry on set. Some who worked on the film have testified that these men pushed each other to their limits. Both DiCaprio and Day-Lewis have earned a reputation for being extremely committed to their roles, and having some competition in that arena only motivated them each further.
DiCaprio's character is Amsterdam Vallon, an Irish ex-inmate seeking to avenge his father's death. His father was killed by the powerful gangster Bill the Butcher (Day-Lewis), and to get to him, Amsterdam has to join his gang and rise through the ranks. He inevitably sparks an uprising that leads to an all-out gang war.
Day-Lewis is a Method actor and as such, is known for staying in character both on and off camera while he shoots a film. On the set of 1992's "Last of the Mohicans," for instance, the actor carried a gun everywhere and learned forest survival skills to get inside the mind of his character, a white boy raised by a Native American tribe. He would later suffer from hallucinations and claustrophobia even after filming had wrapped, he told The New York Times.
DiCaprio and Day-Lewis pushed each other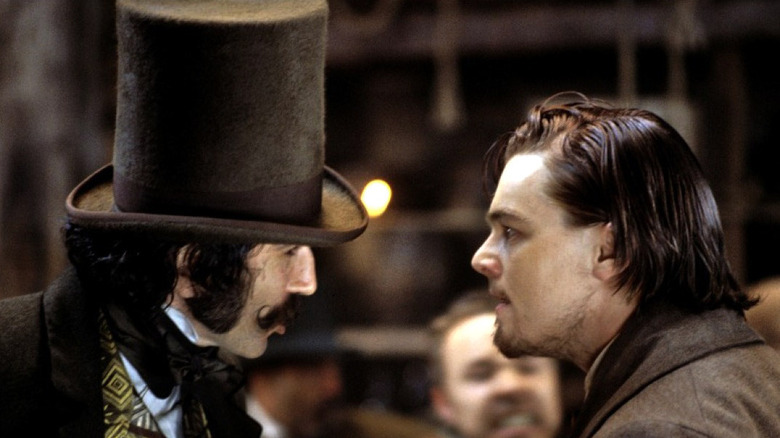 Miramax/Touchstone Pictures
Day-Lewis proved to be as devoted as ever to his villainous role as Bill the Butcher. "He was filled with this extraordinary rage, and he just stayed that way for seven months," Scorsese told The Guardian. Any other actor worth his salt would be intimidated by Day-Lewis, but the young DiCaprio matched his commitment at every turn. When asked if they needed stunt men for a fight scene, "Daniel Day-Lewis would go, 'I don't need a stunt man. Leo, do you want a stunt man?'" the film's producer recalled in an interview with Vulture. "I'm sure Leo probably wanted a stunt man ... but Daniel says, 'We don't need them, do we, lad?' And he says, 'Of course not.'"
The two didn't speak a word to each other out of character for an entire nine months, DiCaprio told The Cheat Sheet. Competition between the two actors got so real that one day the crew found them trading blows before the cameras were even rolling. "I'll tell you, I'm glad I had been working out," Day-Lewis told The Guardian.
Their commitment paid off, though. The tension between the two leading men is palpable throughout "Gangs of New York." Bill tries to assert his power over Amsterdam, who is plotting revenge against him the whole time. This competitive air clearly didn't wear off whenever Scorsese called "cut." Despite the actors' aggression towards one another on-set, their relationship is one of mutual respect. "I got to work with somebody who was another huge influence on myself as an actor," DiCaprio explained to The Cheat Sheet. "I mean, there's commitment, and then there's Daniel Day-Lewis." I couldn't have said it better myself.