The Boys Crew Went Through The Wringer Filming Season 3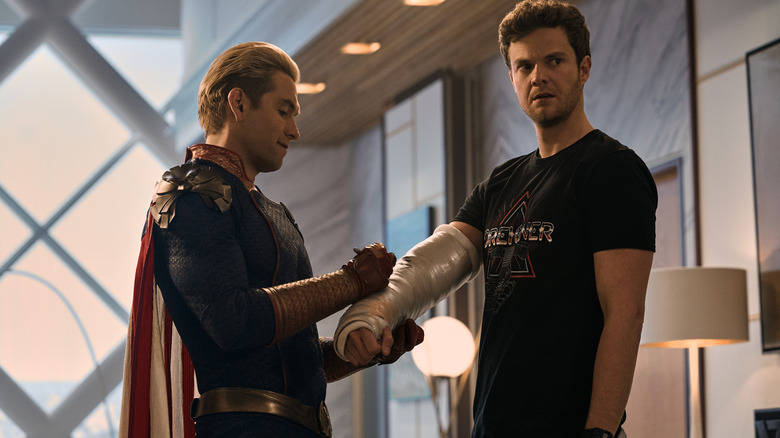 Prime Video
You just never know what you're going to get with "The Boys." In season 3 alone, after the release of the first five episodes, fans of the superhero satire have watched the rabidly anti-Supe Billy Butcher (Karl Urban) willingly gain temporary superpowers of his own, Homelander (Antony Starr) go off on another one of his terrifyingly psychopathic public displays of fascism again, and even a full-scale musical number starring the power couple of Frenchie (Tomer Capone) and Kimiko (Karen Fukuhara). And that doesn't even count the imminent threat of the upcoming "Herogasm" episode, which has come with months and months of anticipation, promising viewers that they'll never quite be the same again after watching it.
But it'd be a mistake to limit that scarring experience to only just the fans. As much as the internet will almost certainly melt down in the aftermath of the next episode, the cast and especially the crew of "The Boys" also endured their own trials and tribulations while filming the infamous superhero orgy, "Herogasm" — arguably even more so than the rest of us, given that they didn't have the reassuring separation of our screens to shelter them from the madness. That's just the price you have to pay for making a living in Hollywood with a show like this!
In any case, the cast continues to have the time of their lives, almost gleefully teasing the mayhem to come. From the sounds of it, not a single person involved in the filming of that sequence made it out unscathed. "The Boys" will be "The Boys," am I right?
'Dude, I've seen some s***'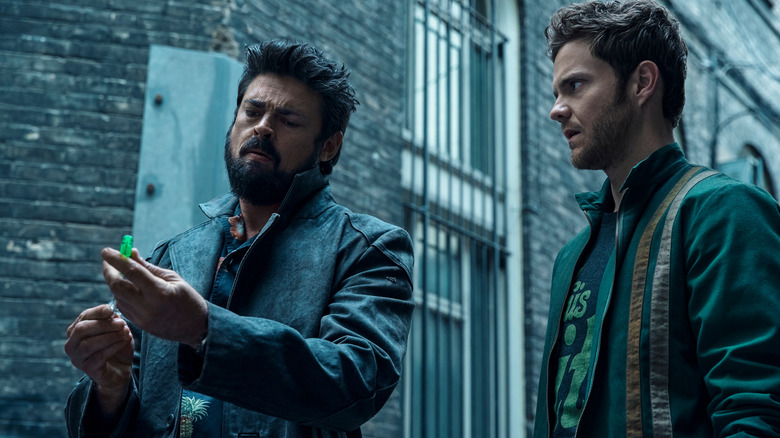 Prime Video
Prime Video makes sure to precede practically every episode of "The Boys" with content warnings for a very good reason, folks! Casual viewers may not be fully prepared for what's to come, but those who've been paying attention can't claim that they weren't warned. That's the gist of Karl Urban's comments to The Guardian during a recent interview, in which he briefly alludes to the disturbingly NSFW season-opening scene with Termite. He admits that, "I've only seen some rough stuff, so I haven't seen its, um, full glory. But there are things about season 3 that, once you've seen them, you will never un-see them."
Truer words, Butcher. Truer words. Urban goes on to Herogasm specifically in the most amusing way possible.
"It's difficult to talk about it without giving away too many spoilers, but I'll tell you one thing. Jensen [Ackles] walked on set one day when they were shooting Herogasm. He turned to one of the cameramen and said, 'Hey, buddy, how's it going?' The cameraman has this thousand-yard stare and goes, 'Dude, I've seen some s***.'"
Sometimes, you can sense when the cast are blowing something out of proportion just for the hype. In this case, though, I can confirm that this is hardly hyperbole. It's rare for any highly anticipated plot development to live up to expectations, but "The Boys" just keeps finding ways to do so in the grossest, nastiest, and most disturbing way that it can.
The Herogasm episode of "The Boys" will release tomorrow, June 23, 2022 on Prime Video.