Nude Tuesday Review: Jemaine Clement Leads A Couple Through A Hilariously Awkward Erotic Retreat [Tribeca]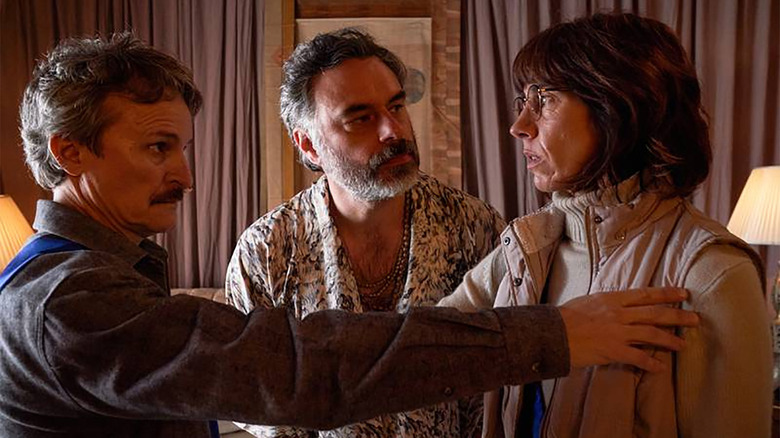 Cornerstone Films
Jemaine Clement has played plenty of colorful, oddball characters since his breakthrough turn in the musical comedy series "Flight of the Conchords." An eccentric, plagiarist author in "Gentlemen Broncos," a time-traveling alien villain in "Men in Black 3,"  the vampire Vladislav in "What We Do in the Shadows," and the shiny giant crab Tamatoa in "Moana" are just some of the characters Clement has inhabited on the big screen. But in "Nude Tuesday," a new comedy playing at the Tribeca Film Festival this month, the New Zealand native gets weirder than ever as the sex guru leader of a free-spirited, erotic commune. But Clement can't take all of the responsibility for this hilariously strange performance, because director Armagan Ballantyne takes a unique approach by having the entire film unfold with dialogue that is vaguely Scandinavian-sounding gibberish, which was then subtitled by writers in post-production. Yeah, this is a wild movie. 
Let the sex voyage begin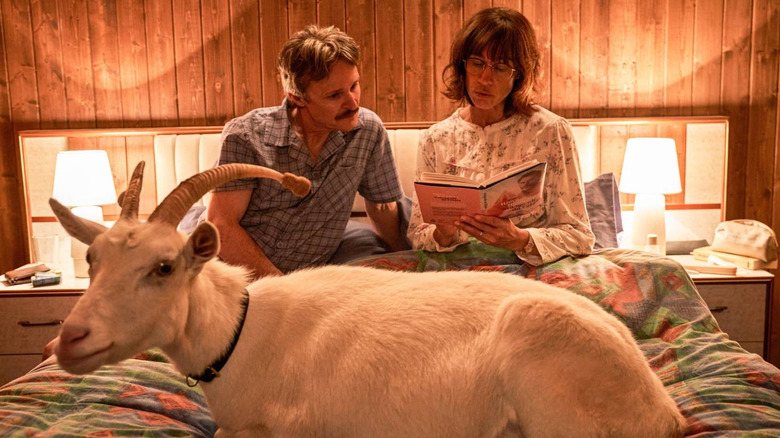 Cornerstone Films
Laura (Jackie van Beek) and Bruno (Damon Herriman) are a middle-aged couple who have lost that loving feeling. Though Bruno is desperately trying to keep the romance alive, Laura's job and Bruno's general ineptitude as a husband keep her preoccupied and unaroused, which makes Bruno bitter and sexually frustrated. Their struggling marriage is no secret, which prompts Bruno's mother to send them to Wonderla (or ẄØnÐĘULÄ, as the gibberish language stylizes the name), a woodland-based couple's retreat where eccentric love guru Bjorg Rasmussen (Jemaine Clement), author of "The Toothy Vulva," aims to help lovers reignite the spark in their bedroom.
Of course, Laura and Bruno are initially reluctant to engage in the more free-spirited activities that find these "sex voyagers" partaking in hippie-esque exercises involving post-climactic breathing, primal dancing, intimate touching, and even animals like goats, pigs, lizards, and chickens used as erotic guides (but not in a morally questionable interspecies fashion). But slowly, the two begin to shed their apprehensive shell to discover what it is they really want out of life and love. 
The vibe of "Nude Tuesday" lands somewhere between David Wain's romantic comedy "Wanderlust" starring Paul Rudd and Jennifer Aniston and Yorgos Lanthimos' surreal dark comedy "The Lobster" with Colin Farrell, with a healthy dose of quirky film festival spirit thrown in for good measure. The film isn't portrayed in an overtly silly fashion that's actively trying to land jokes. Instead, the entire cast plays everything straight, giving us a world that feels just slightly off-kilter from our own with a retreat that is weird enough to be funny, but not strange enough to be unrealistic. And one of the most important factors in this story's presentation comes from the aforementioned gibberish language and the subtitles invented to represent it.
Get ready for fruity bits and conkers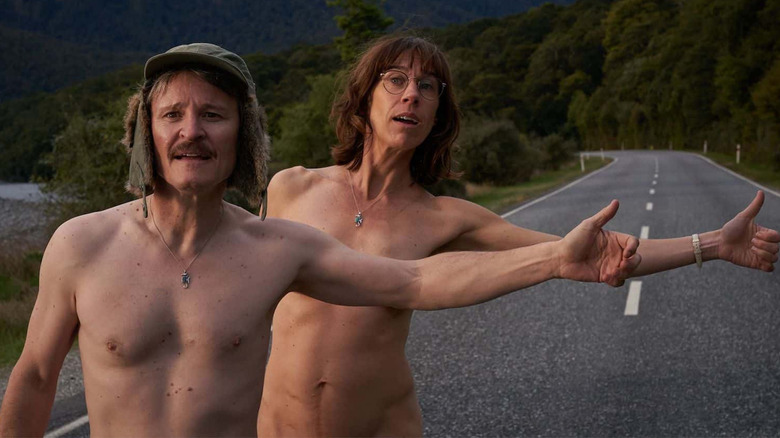 Cornerstone Films
The dialogue of everyone in "Nude Tuesday" may sound like a real Scandinavian language with words that could be easily mistaken as Danish, Swedish, Norwegian, or Icelandic, but it's pure nonsense. Though the script for the story was co-written by director Armagan Ballantyne and star Jackie van Beek, the subtitles you see on screen were written entirely in post-production by Ronny Chieng ("The Daily Show"), Celia Pacquola ("Utopia"), and Julia Davis ("Gavin & Stacey"). Even the familiar soundtrack songs that audiences will immediately recognize have been re-recorded to have gibberish lyrics. The result is a treasure trove of some of the most hilariously oddball bits of dialogue.
Some of the retreat's assistant gurus have such peculiar synonyms for private parts. One activity refers to genitalia as "fruity bits and conkers" and then proceeds to have participants ask if they can touch each others' "tinglies." But it's Clement's Bjorg Rasmussen who gets the best bits, with lines like "I"m an eagle pimp with a bit of a grudge," and, "You've biggened my mister." Impressively, the lines written in post-production effectively match the delivery of the gibberish that was captured on camera. I'm not sure exactly why this was the writing process for the movie, but it's a fascinating experimental element that maximizes the comedic potential while also making the movie feel perfectly otherworldly. It also helps that the production takes full advantage of being immersed in the stunning woodlands and mountainsides of New Zealand.
But more than just laughs, "Nude Tuesday" has plenty of heart. Though the story is quite familiar, the ending for our main characters doesn't exactly go in the direction you might anticipate, even if it means the narrative drags just a little bit in certain places. In fact, despite the movie's intimate material, the majority of the nudity is saved for the film's third act on the film's titular day, and there is plenty of it, though not in a sexually graphic fashion. It's certainly not going to make the movie easy to sell in the United States, what with all the full-frontal nudity from the entire cast, but it makes the proceedings that much funnier, and I can't help but commend the cast for being so comfortable in their bodies.
"Nude Tuesday" creatively plays with the medium, brings something refreshing to the table, and there's no way it ever would have been made by a major studio. Laugh out loud funny, strangely charming, and a truly unique endeavor, "Nude Tuesday" is exactly the kind of movie you love to discover on the film festival circuit, and it deserves to find an audience on the big screen, even if it's just for the indie crowd.
/Film Rating: 8 out of 10