'Wanderlust' Review: A Retreat To Safe But Inviting Comic Ground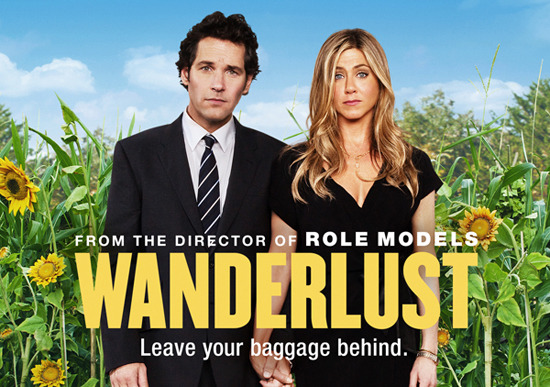 Wanderlust, from director David Wain (The State, Wet Hot American Summer) and co-writer Ken Marino, outlines and explores a premise that will probably resonate with many people: a young couple, navigating the grind of city life but trapped by their own fears and inadequacies, is forced to leave the city and take refuge with family by dual economic misfortunes.
Well, that part of the premise might resonate. The next bit is perhaps less familiar: the couple's final destination ends up being Elysium, a commune-like community where their frigid inability to relax is cracked and thawed by an ultra-crunchy lifestyle. (Admittedly, the attentions of a couple of sexually aggressive residents doesn't hurt.)
For the most part, Wanderlust isn't a deep character study or a particularly perceptive dissection of human nature. (For something closer to that, see Lukas Moodysson's Together, which was likely an inspiration for Wain.) This is more like seeing the funhouse mirror caricatures of Wet Hot American Summer grown to adulthood. This film doesn't quite celebrate the same sense of absurdity, and doing so — living up to one of the film's own arguments, you could say — might make it more of a keeper. Yet Wanderlust is possessed of a strong  enough free spirit that you might want to join its (almost) free-love drum circle just the same.
Paul Rudd and Jennifer Aniston are George and Linda, a young couple that haven't quite tested their love for one another. Forced to flee NYC, they head to Atlanta where George's super-douchey brother Rick (Marino) has offered refuge in his suburban McMansion. En route, they discover Elysium, which looks a bit as if Peter Jackson's sets for the Shire were taken over by tall naked people with a didgeridoo. After a brief suburban interlude, the couple returns to make a home in the outlier community.
Wain and Marino's script is at its smartest and most savage when dancing through scenes with Rick, a bitter blowhard who veils his racist, dickish 'jokes' in tattered jocularity, and his wife Marissa, played by the superb Michaela Watkins. Marissa is a self-medicating Stepford Wife on the verge of an implosion. At one point she explains how, by forcing herself to smile all the time, she can trick her brain into thinking she's happy.
But Wain and Marino are more interested in a romp in the fields of the slightly more easygoing Elysium, where they can dally with people like Joe Lo Truglio's nudist wine-making author; founding father Carvin (Alan Alda); an angry/intense ex-porn actress (Kathryn Hahn); a crystal-wielding den mother (Kerri Kenney); and alpha-couple Seth and Eva (Justin Theroux and Malin Akerman).
A plot, or at least a broad, gentle arc of self-discovery for George and Linda, sprouts in the soil of the hippie refuge. Wain and Marino have a clear affection for the ragtag residents of Elysium, but not much regard for the pompous silliness of a community that promises total freedom even as it shames anyone who breaks local custom. With Rudd and Aniston as able conspirators they're able to take jabs at the inconsistent ideology while letting the very talented cast crackle in their own individual moments.
But there is that plot — a land deal, a character reversal, and George and Linda's relationship, yawn — which ends with a pat, toothless resolution. It's difficult to care much about the story, especially as issues between some characters aren't addressed in the end. (In this edit, at least.)
There's far more life in Wanderlust when Wain and Marino simply jump from one sketched commune setup to another. A scene in which Lauren Ambrose gives birth au naturale, for example, is both kookily comic and uncomfortably intense as it offers Ambrose a chance to cut loose. Alan Alda is consistently funny, and Jordan Peele wrings a hell of a lot of laughter out of Rodney, one of Elysium's most laid-back inhabitants.
Pretty soon we start to realize that many residents of Elysium might nearly hate one  another. The moments where that ire glimmers through the dreadlocks and hemp bajas are a lot more interesting than scenes exploiting the 'will they/when will they' sexual tension between the Rudd/Aniston and Theroux/Akerman couples.
Still, wicked and silly jokes fly in equal doses, and the willingness to let one strange gag play out after another works in the film's favor more often than not. Wain and frequent cohorts Michael Ian Black and Michael Showalter even pop up a couple times as a television news team straight out of the first act of Anchorman. Like a lot of the ideas in Wanderlust, the concept in those scenes is familiar and safe, but the particular comic energy that hits the screen still has a special zing.
/Film rating: 7 out of 10