Zootopia+: Release Date, Cast, And More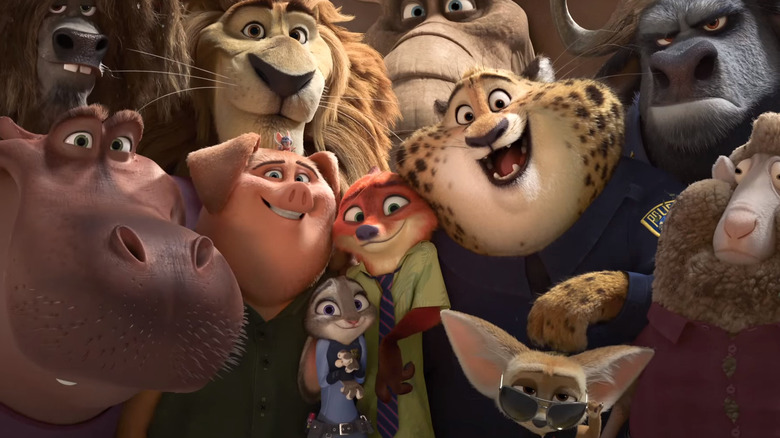 Walt Disney Studios
(Welcome to ...And More, our no-frills, zero B.S. guide to when and where you can watch upcoming movies and shows, and everything else you could possibly stand to know.)
It's been over six years since Walt Disney Animation released "Zootopia," the animated buddy-cop comedy about a mammal metropolis. In 2016, audiences were introduced to the fiercely optimistic Judy Hopps (Ginnifer Goodwin), the first rabbit to join Zootopia's police force and certainly the first to uncover a city-wide conspiracy with the help of her wily fox con-artist partner, Nick Wilde (Jason Bateman). The film quickly became a massive success and ended up one of the highest-grossing releases of 2016, making over $1 billion worldwide. Audiences and critics alike heralded the movie for its heartwarming story and poignant message, so naturally, Disney is looking to continue the Zootopia trend of success.
A city full of anthropomorphic animals means plenty of story potential to fill a series, so Disney has been developing the spin-off anthology series, "Zootopia+." With the series set to arrive to Disney+ later this year, it's time to get ready for the next wave of Zootopia-inspired plushies. Below is everything you need to know about Zootopia+.
When and where to watch Zootopia+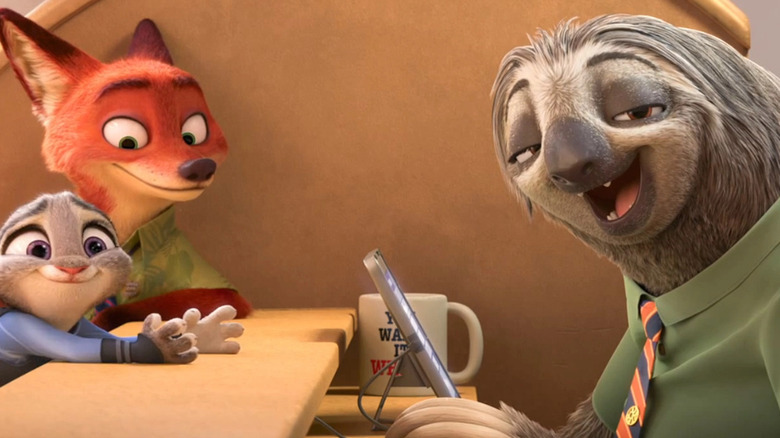 Walt Disney Studios
"Zootopia+" is slated to release directly onto Disney+ on November 9, 2022. President of Disney Animation, Clark Spencer confirmed this himself at the world premiere of the series' first episode. So far, it's unclear whether the entire series will drop all at once or have a weekly release schedule like so many of the Disney+ shows before it. "Zootopia+" is one of the many projects first announced at Disney Investor's Day in 2020, with others including the "Baymax!" series set to debut first, on June 29, 2022, and the spin-offs for "Moana" and "The Princess and the Frog," which have yet to get release dates but are expected to arrive in 2023.
What Zootopia+ is about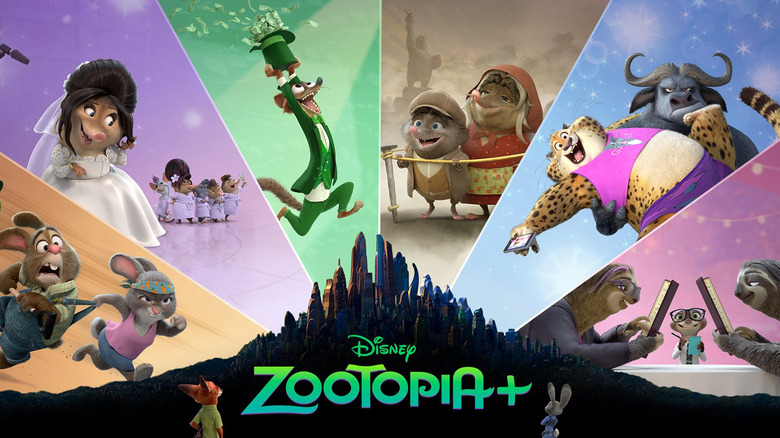 Walt Disney Studios
While many of the other Disney spin-off series are building their entire shows around beloved characters, "Zootopia+" is taking a slightly different approach. "Zootopia" introduced a huge city with several different climates and locales, each tailored to different species — many of which went relatively unexplored in the film. The show is expected to widen its perspective and spend time with other city dwellers, not just the original lead characters, Judy and Nick. "Zootopia+" is an anthology series containing six shorts that will "weave in and out of the original film, with each installment using a unique style to follow a different character." This means bringing back familiar faces from the film's supporting cast that didn't get enough time to shine the first time around. Based on the first look image from the show, we can expect to see Flash the Sloth, Little Rotentia's Rodents, and some of Gazzel's backing dancers.
Ahead of Zootopia's release, Disney showed off one of the six shorts at the Annecy International Animation Film Festival. Titled "The Godfather of the Bride," the short tells the origin story of Mr. Big, the arctic shrew mob boss, on the day of his daughter's wedding. According to /Film's Rafael Motamayor, this was a highlight of the showcase:
We saw the first episode of the Baymax show, which was really cute and funny, but the real winner was ZOOTOPIA+, which showed a Godfather 2 inspired episode about the crime boss rat. Lots of laughs and references, plus it looks feature-quality. #AnnecyFestival

— Rafael Motamayor @ Annecy (@RafaelMotamayor) June 17, 2022
With each episode is expected to change genre and focus, there's really no telling which characters the other shorts will bring back, or what kind of new characters they'll introduce. We do know that there will be multiple shows-within-the-show, including one called "The Real Mousewives of Little Rotentia," and another called, "So You Think You Can Prance."
What we know about the Zootopia+ cast and crew
Walt Disney Studios
Disney's original "Zootopia" movie featured an A-list voice cast that included the likes of Ginnifer Goodwin as Judy Hopps, Jason Bateman as Nick Wilde, Idris Elba as Chief Bogo, Jenny Slate as Dawn Bellwether, Octavia Spencer as Mrs. Otterton and more. If the voice cast is set to reprise their roles, then we can also expect the series to feature Leah Latham as Fru Fru, Maurice LaMarche as Mr. Big, and Raymond S. Persi as Flash. Directors and creators Trent Corey ("Frozen II") and Josie Trinidad ("Ralph Breaks the Internet"), who were both involved with the original film, will be overseeing "Zootopia+."