Why Ethan Hawke Thinks The Black Phone Is More Like Stand By Me Than A Slasher Film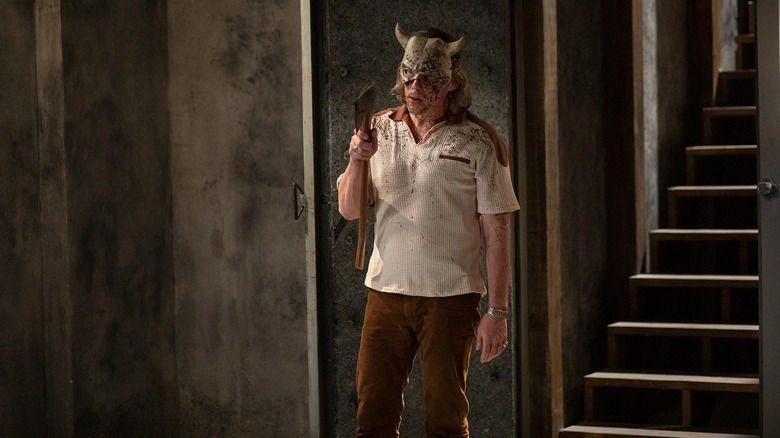 Universal Pictures
Easily one of the most anticipated releases of the summer, director Scott Derrickson's "The Black Phone" promises to band together horror hounds and Ethan Hawke fans far and wide. In fact, "The Black Phone" brings the film's director and star together again exactly a decade after they previously collaborated on 2012's "Sinister." With the previous horror-Hawke effort having been a critical and commercial success, it's no wonder that the forthcoming film is already besieged by substantial buzz.
Based on the 2004 short story of the same name by Joe Hill, the film follows a young boy named Finney Shaw (newcomer Mason Thames) who's been kidnapped by the aptly-named serial killer "The Grabber" (played by Hawke). Trapped in a basement and desperate to escape, Finney realizes that a disconnected phone allows him to speak with the specters of The Grabber's previous victims—who all share unique insight on how best to evade capture and death. As the spirits of the killer's previous victims attempt to guide Finney to safety, he must hide his attempts at liberation from his captor.
While audiences are (rightfully) eager to have their pants scared off, Ethan Hawke wants you to expect more than frights from the film. In fact, the actor posits that there's a considerable coming of age slant that runs through "The Black Phone" — evoking a Stephen King adaptation that relies on a rag-tag childhood quest as opposed to supernatural terror. In an interview with /Film's Jacob Hall, Hawke gave particular insight into the film's coming-of-age appeal.
Ethan Hawke's initial hesitation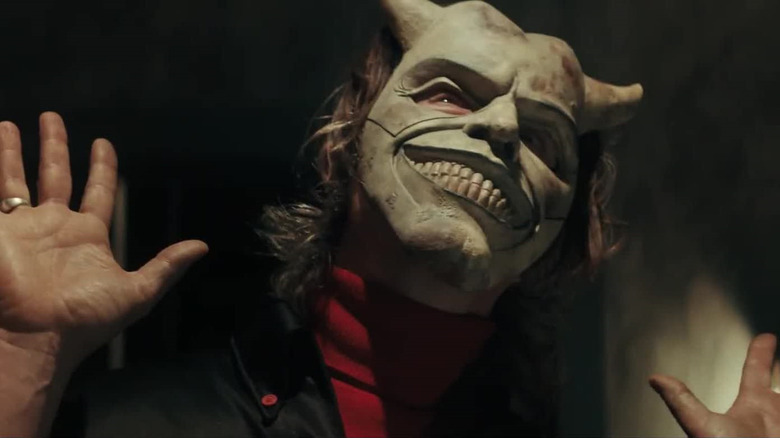 Universal Pictures
While Hawke is no stranger to the supernatural realm of filmmaking, he admits that the idea of playing a child predator dubbed "The Grabber" didn't, well, initially grab him. When first approached by Derrickson to play the film's bloodthirsty antagonist, Hawke was hesitant to commit. But because of his established working history with Derrickson on "Sinister," he promised to give the screenplay a read, convinced he would come away from it with the same aversion. However, he was pleasantly surprised by how much heart the film actually had.
"It's really why I did the movie. When Scott called me up and told me he wanted me to play the Grabber, this person who abducts kids, I was like, 'Listen, I'll read it, but there's no way I'm going to play that part.' Then when I read the script, I was like, 'Oh wow, this is more like 'Stand By Me' than it is a slasher pic.' I said to him I've almost never come across something that is so scary that feels like it has a heart of gold. It's like a feel good, scary movie. I've never heard of such a thing. It felt like it hits an original tone."
Let's face it, the sense of childlike optimism certainly wasn't a facet of "Sinister," which is totally dark and depraved despite the similar theme of children being "taken" by a disturbing entity. So we can't really blame Hawke for his skepticism, but the blending of light and dark elements in "The Black Phone" totally won him over. And it's appropriate that the story reminded Hawke of something by Stephen King, since "The Black Phone" author Joe Hill is King's son. 
The beauty of crossing genre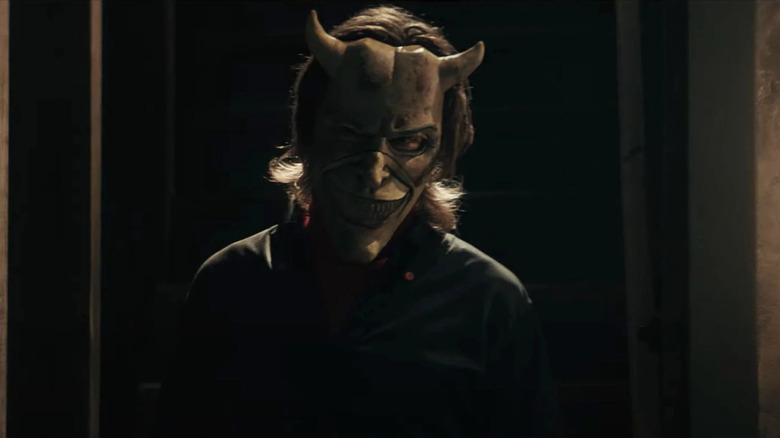 Universal Pictures
Listen, there's absolutely nothing wrong with a down and dirty horror flick. But don't you just love it when fear and hope can exist in the same film, one never totally overcoming the other on an excruciating journey for survival? After all, if a film leaves a viewer without even a momentary reprieve from terror, how is anyone supposed to root for the protagonist to live? In the interview, Hawke highlights the benefits of taking the light with the dark:
"...You create three dimensional storytelling with shadow and light. If it's too much shadow and too much light, you got a Hallmark card, right? Too much darkness and you don't feel anything for the characters because that's not the way the world is. The world isn't only one thing. I think there's an aspect of this movie that has a kind of I don't know...Stephen King, Spielberg, there's a feeling, walks of strange tone where it's crossing genres in a way that has a lot of heart to it."
If you were excited for "The Black Phone" before, get ready for a truly unique horror experience — one with ample "shadow and light" to fill every inch of the big screen.
"The Black Phone" opens in theaters on June 24, 2022.