Why Ethan Hawke Didn't Base His Black Phone Character On A Real-Life Figure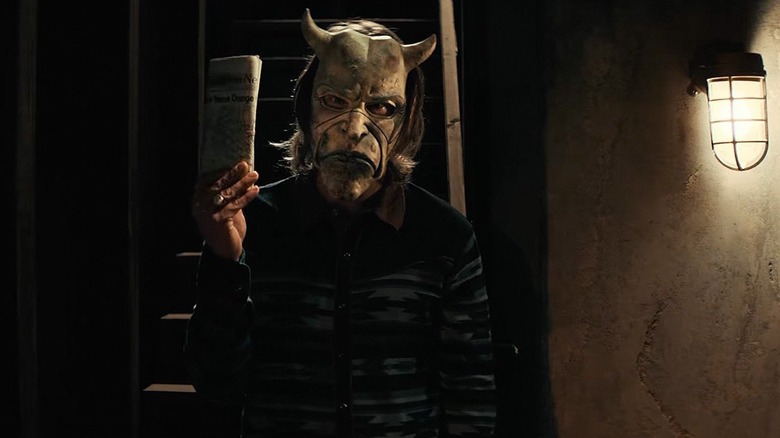 Universal Pictures
The idea of method acting seems to be becoming more prevalent, as well as derided, among actors as of late. While the more famous examples are when actors decide to go just a little too far in their preparation, method acting usually just involves creating the world around a character and getting into said character's mindset before the cameras roll.
If you clicked on this article thinking that Ethan Hawke indulged in some intense method acting to get into character for his role in "The Black Phone," you'd be wrong. However, that doesn't mean he didn't go into Scott Derrickson's latest horror film without a clue of what his character, eerily named the Grabber, is like. In a conversation with /Film, the actor discussed his terrifying character and his approach to portraying him, which had him distancing his character from real-life serial killers for a very particular reason.
A not-so classic coming-of-age story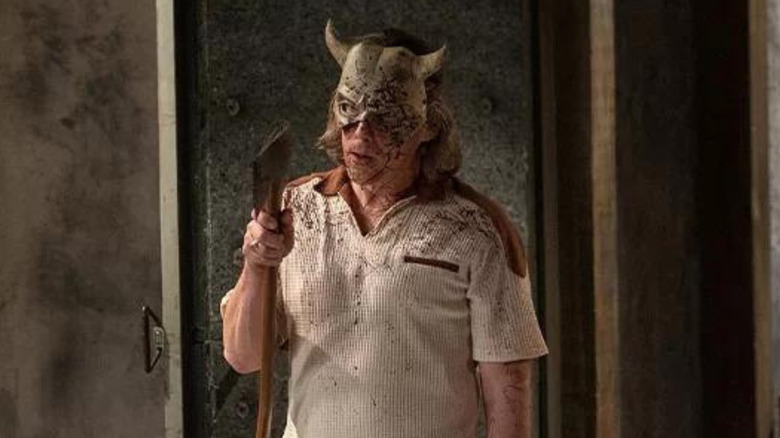 Universal Pictures
It might be easy to compare the Grabber to the likes of real-life serial kidnappers and murderers. Unfortunately, there are so many of them that had a similar process to the fictional Grabber. However, Hawke told /Film's Jacob Hall that he preferred not to draw from these monsters because of an important plot detail in the film itself.
"It's not a portrait of madness or a portrait of the Grabber," he said. "We only see the Grabber the way this 14-year-old kid [Finney, played by newcomer Mason Thames] sees him."
This rationale is a pretty interesting one, considering how often horror and even true-crime media have a specific focus on elaborating a killer's backstory. However, "The Black Phone" is not told through the eyes of the Grabber, but of Finney, something that Hawke found very intriguing:
"I felt that there was more power in the mystery of him. I loved that the screenplay didn't over-explain it. To be honest, I didn't really want to become Jeffrey Dahmer for this or any film...I love the wit of the movie and I tried to kind of just dance with that."
'It felt like I was playing a game of hide and seek'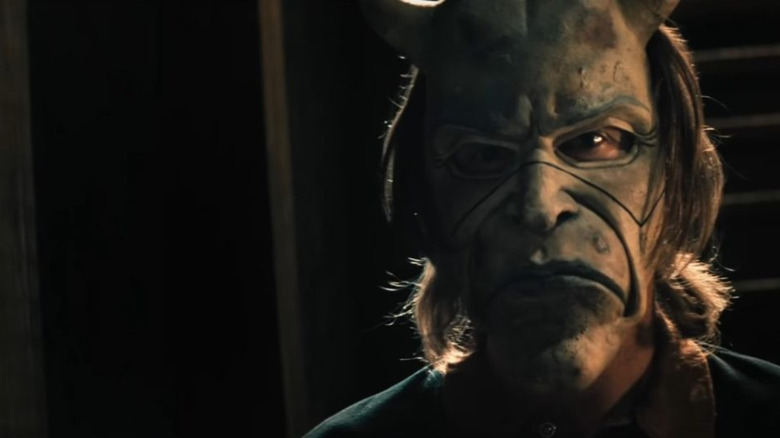 Universal Pictures
When discussing his preparation for the role of the Grabber, Hawke described the role as pretty theatrical, especially for a child kidnapper and murderer. This performance aspect of the character stems from the elaborate masks that he dons, which were designed by Derrickson alongside Tom Savini and Jason Baker's Callosum Studios.
"There's something theatrical about this. There's something about the Grabber," Hawke explained. "He seems to be performing for the kid. The mask is some elaborate performance of his."
And like all theatrical performances, the Grabber doesn't stay in just one costume. "The Black Phone" has him wearing nine variations of his terrifying mask — one is carved into a wide grin, another has a closed frown, and one just covers the Grabber's eyes and forehead. Hawke likened his usage of these masks to a game.
"The way that Scott designed it with these nine different masks, each one revealing a different aspect," he said. "It felt like I was playing a game of hide and seek with the audience, with Finn."
"The Black Phone" hits theaters on June 24, 2022.