Why Making A Horror Movie Is Like Solving A Geometry Problem, According To Ethan Hawke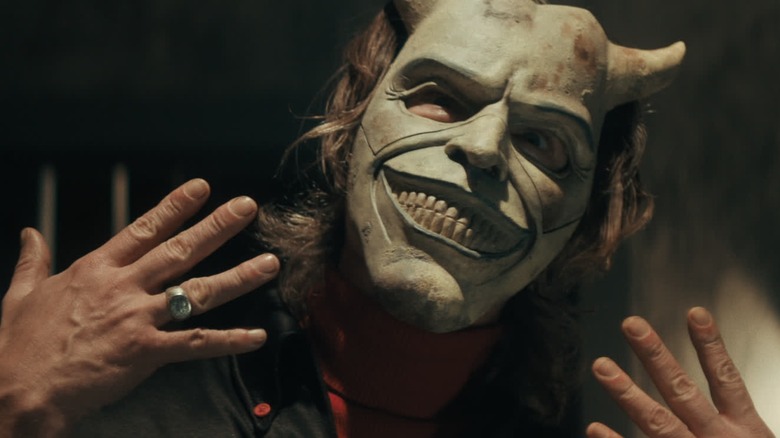 Universal Pictures
Ethan Hawke is no stranger to horror, having played roles in films like the vampire thriller "Daybreakers" and the supernatural horror, "Sinister." Hawke reunites with "Sinister" director Scott Derrickson in the upcoming "The Black Phone," in which he plays a terrifying figure dubbed the Grabber, a sadistic child-kidnapper who also happens to be a part-time magician.
Hawke played an extremely nuanced, convincing villain in the Disney+ show, "Moon Knight," bringing the character of Arthur Harrow to life, which is brilliantly interpreted by Hawke (as usual). Needless to say, Hawke will infuse a considerable amount of menace into his character in "The Black Phone," as evidenced by the trailers and featurette released so far.
/Film's Jacob Hall interviewed Hawke for "The Black Phone," in which he revealed what it was like to work with the "Sinister" director again and likened the process of making a horror movie to solving a geometry problem. The full interview with Hawke will be up soon, so keep your eyes peeled for that.
An unapologetic love for horror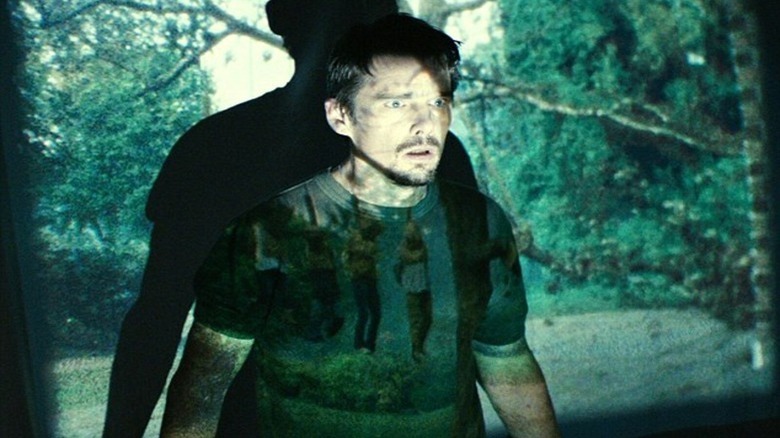 Blumhouse/Lionsgate
Derrickson's "Sinister" adds unnerving twists to the found-footage horror trope, and follows true-crime writer Ellison Oswalt (Hawke), who moves along with his family to a house in which a gruesome murder had taken place. Oswalt does this for professional reasons, of course, as he intends to write a book on the events, but things take a murkier turn when he finds reels of Super 8 footage depicting a string of disturbing murders.
Hawke brings a unique dimension to Oswalt's character, who is a driven man hell-bent on churning out a successful book based on a terrifying incident. Few movies embody a sense of true fear and anxiety as well as "Sinister," and Hawke told /Film about the process of collaborating with Derrickson, and how the found-footage horror "reawakened" his passion for genre movies:
"Well, Scott is in love with cinema and all the best directors that I've worked with ... When I did Sinister with Scott, he kind of reawakened that passion in me. I loved acting for him. My character in Sinister was a really interesting challenge for me as a performer. I like the way he thinks about movies. I like being in front of his camera because he's just in love with it."
Hawke also mentioned that he worked with "The Howling" and "Explorers" director Joe Dante as a kid, an experience that taught him how "special" genre movies can be, including grindhouse horror.
Geometry can be terrifying, for sure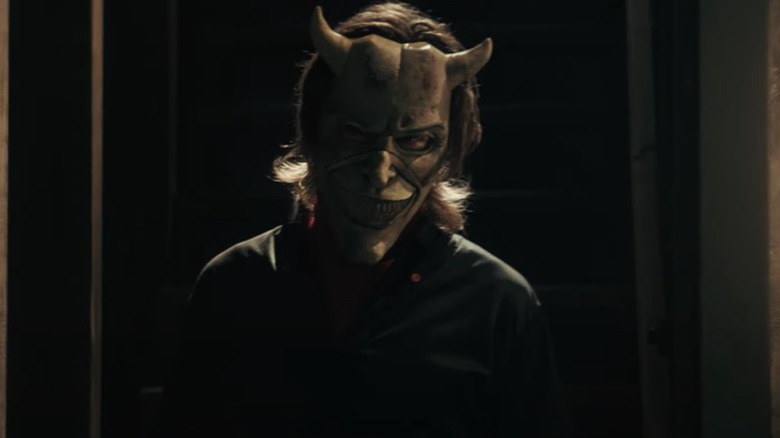 Universal Pictures
Hawke went on to explain how he thinks a horror film is like solving a geometry problem, as there is a considerable amount of math that goes into constructing a compelling horror narrative. There's passion and emotion that drives these kinds of projects forward, sure, but a lot hinges on mathematical precision. Timing is everything in horror, as a well-crafted, well-timed atmospheric jumpscare or tense sequence can make or break a horror film in many respects.
Taking the example of Hitchcockian precision, Hawke explains this analogy in detail while declaring that the script for "The Black Phone" is even better than that of "Sinister:"
"Making a good horror film is a lot like solving a geometry problem. There's a math to a building. It has to be simple enough, complicated enough. People write books about Hitchcock and the timing and the way the cuts work. There's just a math to it. Scott's a very elegant filmmaker. I feel like this script was even better than Sinister, and it's more mature filmmaking. He makes good movies. If you love acting, you want to be with serious filmmakers because it gives you a shot."
Mathematical precision or not, Derrickson's "The Black Phone" looks extremely promising, emitting a genuinely terrifying atmosphere that I cannot wait to experience. Derrickson has co-written the script with Robert Cargill, who also worked with him on the "Sinister" franchise.
Apart from Hawke, the film also stars Mason Thames, Madeleine McGraw, Jeremy Davies, and James Ransone (who starred in both "Sinister" films).
"The Black Phone" hits theaters on June 24, 2022.