Ethan Hawke Had Plenty Of Reasons To Be Scared About Saying Yes To Sinister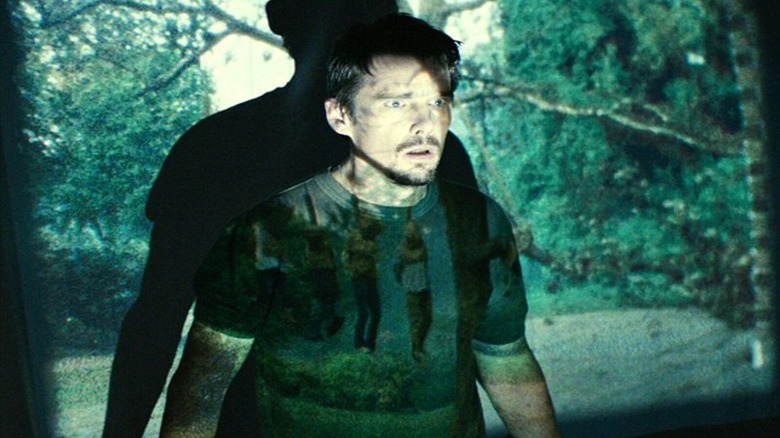 Blumhouse/Lionsgate
June 24, 2022 will see the release of "The Black Phone," director Scott Derrickson adaptation of a short story of the same name from Joe Hill's 2005 collection, "20th Century Ghosts." The film follows young Finney Shaw (Mason Thomas), who is abducted by a masked man known only as The Grabber (Ethan Hawke). Held captive in The Grabber's basement, Finney discovers he can communicate with the ghosts of the killer's previous victims via a disconnected landline phone; the ghost children intend to help Finney avoid their fate. Much of the footage from "The Black Phone" seen so far features Hawke's face concealed behind demonic masks, which only underscores how against type the role is for him.
What isn't out of the norm for Hawke is working with Derrickson; he was the lead in Derrickson's best film to date, 2012's "Sinister." However, according to Hawke, starring in the film wasn't an easy sell for him.
Saying Yes to Sinister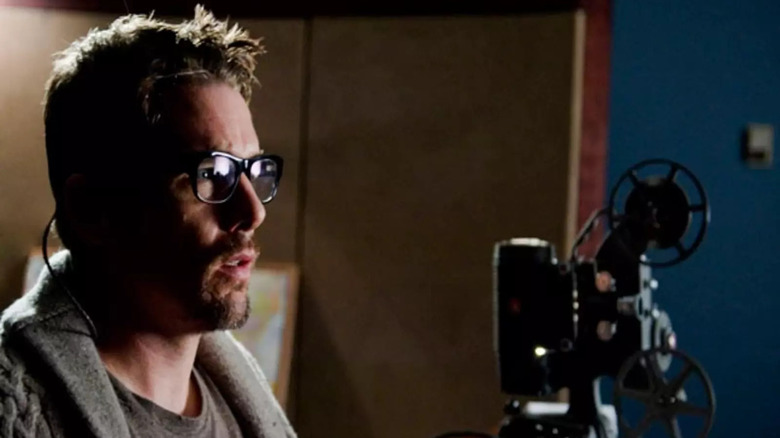 Blumhouse/Lionsgate
"Sinister" was produced by Blumhouse Productions, named for its founder Jason Blum. Ethan Hawke and Blum were already well acquainted; Blum had been a producing partner at Malaparte, a now-defunct theater company Hawke co-founded in 1991.
In a 2012 interview with Complex, shortly before the release of "Sinister," Blum said it took several tries to get Hawke in a Blumhouse film:
"Since 'Paranormal [Activity]', I've been saying to [Ethan], 'They're so fun — you have to try one.' I offered him several movies before he said 'yes' to this, and I kept pushing and pushing. The thing was, he really thought that making a horror movie would be a traumatic experience. As in, he'd be too scared."
Hawke explained what got him over this hurdle:
"I realized that making a horror movie is a lot like making a romance: Just because the guy and the girl are acting like they love each other, it doesn't mean that they really fell in love. And just because somebody's being eaten by a demon doesn't mean that you actually have to get eaten by a demon."
Another fear of Hawke's was that horror movies can be notorious for bad acting. However, he had seen Derrickson's previous film, "The Exorcism of Emily Rose," and he had been impressed by it. Instilled with further confidence by meeting with Derrickson himself and being won over by the script, Hawke accepted the part.
Playing Ellison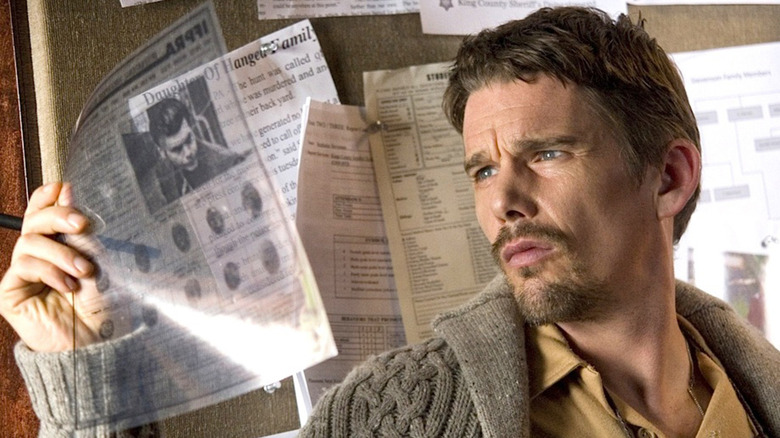 Blumhouse/Lionsgate
Hawke's character in "Sinister" is Ellison Oswalt. Co-writer C. Robert Cargill admitted the character's name is a portmanteau of Harlan Ellison and Patton Oswalt. In the film, Ellison is a one-hit-wonder true-crime writer, still riding on the success of his first novel, "Kentucky Blood." During the movie, he's often seen nostalgically watching tapes from his first book tour, wistful for his 15 minutes of fame. When a family is murdered in the small town of Chatford, Pennsylvania, Ellison smells blood money; he moves his family into the murder house while keeping them in the dark about its grisly history. Ellison soon discovers five snuff film reels in his new home's attic and realizes something supernatural — and yes, sinister — is afoot.
Hawke's concerns about bad acting wound up being totally unfounded. One of the standout moments in the film is one of its most down to earth, when Ellison and his wife, Tracy (Juliet Rylance), fight after she discovers the truth about their new home. The pair play the scene like they're in a drama and convincingly paint a portrait of a decade's worth of frustrations bubbling up, as they so often do in spousal strife. The human touch makes "Sinister" an even more rewarding and scarier film. As self-involved and oblivious as Ellison is, you aren't rooting for him to get chopped up with an ax.
The year after "Sinister," Hawke starred in a second Blumhouse film, "The Purge." "The Black Phone" will mark the third film he's made with the studio. The year 2022 also marked Hawke partaking in another genre he's voiced trepidation about in the past: superheroes. In "Moon Knight," he starred as charismatic cult leader Arthur Harrow. Fingers crossed that his villainous turn in "The Black Phone" will be even better.