Netflix Showcased A Cool And Exciting Animated Slate, But What Happens Next? [Annecy 2022]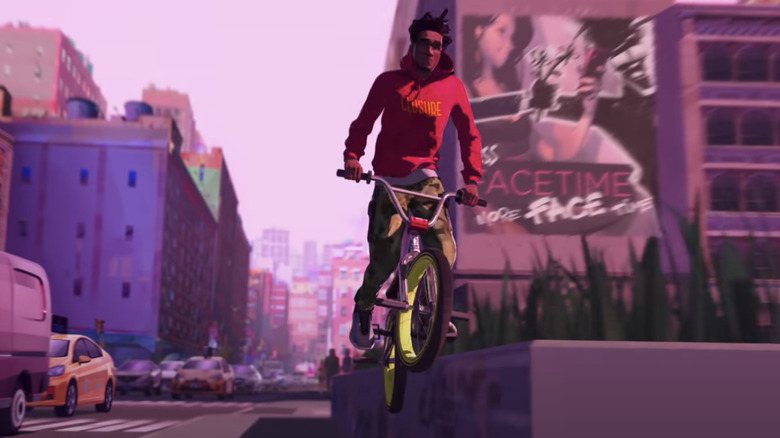 Netflix
When the Netflix Animation showcase at the Annecy International Animation Film Festival started, there was a lot of excitement for the titles the streamer was teasing. A new Guillermo del Toro movie! A Kid Cudi animated series! The recently-revived "Nimona!" And indeed, there is a lot to be excited for when it comes to the future of animation. As del Toro put it, "this is the decade when we drive home the mantra that animation is film."
Indeed, the word of the day, at least during the presentation, was "variety." Both in terms of creators, but also in terms of the projects and how they used the medium of animation to tell vastly different stories. From kids' shows made by Native American animators, to anime, to films highlighting LGBTQA+ characters and more, it is clear these are passion projects that could only get made in a studio that believes in creator-driven projects. If only that was still Netflix.
It was hard to follow the presentation and get as excited as the filmmakers were about their projects while also thinking back to a recent report revealing that Netflix's animation department, specifically the Kids & Family division, was disintegrating. An animated adaptation of Jeff Smith's comic book series "Bone," Ava DuVernay's "Wings of Fire," Meghan Markle's "Pearl" and other projects were scrapped. Earlier this month, "Maya and the Three" director Jorge R. Gutierrez tweeted that his show "would not get made today" with the streamer's new risk-averse strategy.
The specter of the recent shake-ups loomed over the presentation like a somber suggestion that this may be a last hurrah for the studio as a champion of creator-driven animated projects. Still, as a last hurrah, there is lots to be excited about in the coming months.
Wendell & Wild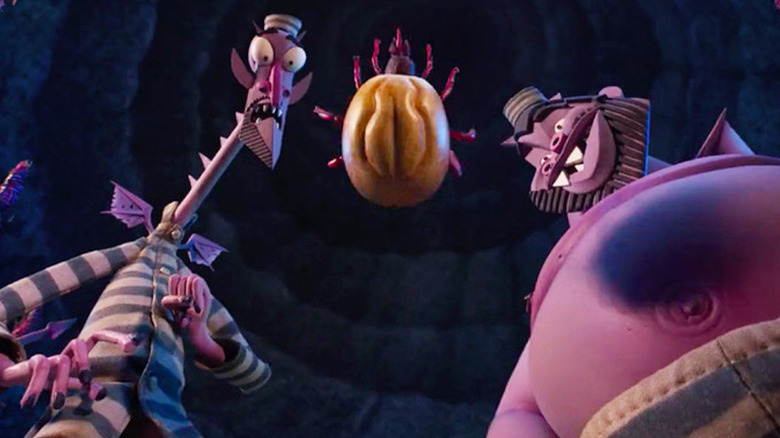 Netflix
First up, Oscar nominee Henry Selick sent a video message to introduce a fresh clip of his upcoming stop-motion film "Wendell & Wild," which he co-created with Jordan Peele. This is the first time in his career Selick is not adapting someone else's work, but instead has developed it from the ground up (with Peele), and so far the result is a much deserved comeback for the director of many of your childhood nightmares. 
The clip shows Peele and Keegan-Michael Key as two hyperactive demons who seem to be in prison for some reason, but all they dream about is opening a fair. Luckily for them, they'll have the chance of a lifetime after they get a special delivery message — via a gross bug that poops out a gelatinous container for the message — telling them that a little girl has summoned them, and now she is to be their "hellmaiden."
The look of the film is classic Selick, with a vibrant color palette, designs that are equal parts goofy and disturbing, and a macabre sense of humor, a unique visual style that serves as the perfect gateway horror. Seeing Selick's visuals combined with Peele's comedy is a no-brainer formula.
The Magician's Elephant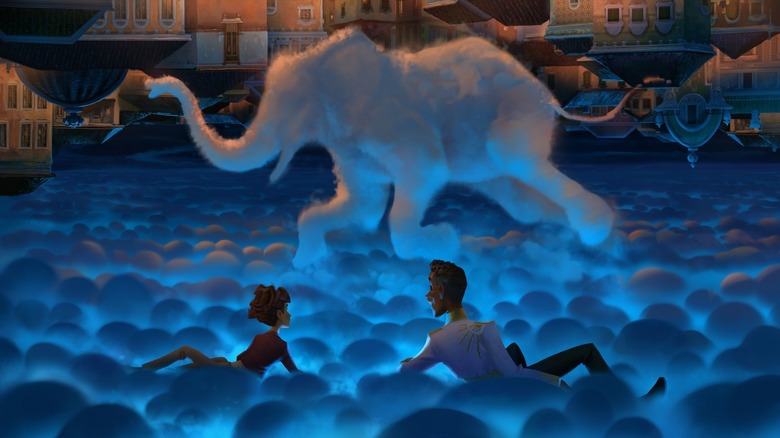 Netflix
Promising a fantastical feature debut from VFX supervisor Wendy Rogers, "The Magician's Elephant" adapts a 2009 novel of the same name and follows a boy voiced by Noah Jupe, who needs to find a magician that can conjure a magical elephant. The short sneak peek showed footage that blended 2D and 3D to create a dreamlike world with soft linework and an almost sandy color palette that gives it a timeless, fairy tale-like look. As for the story? The sneak peek didn't show much, but it ended with a great cliffhanger, as Noah Jupe's protagonist goes to a fortune teller, who takes five seconds to read his palm and pronounce: "she lives."
Nimona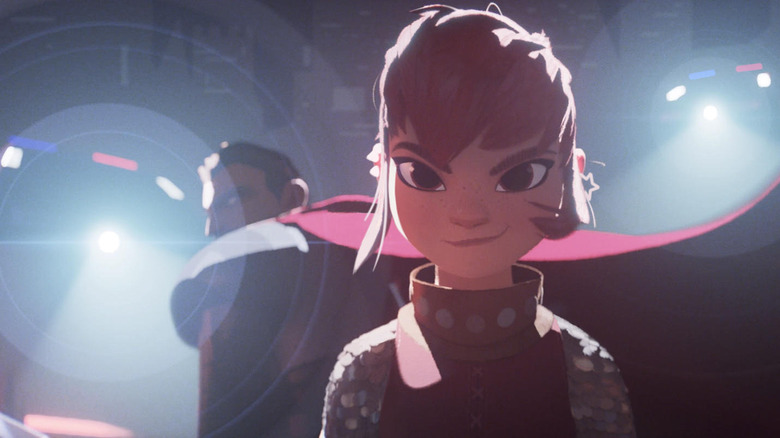 Netflix
When co-directors Nick Bruno and Troy Quane got on stage to finally present the highly-anticipated film "Nimona" to the world, they replicated the energy of the film with one of the best introductions I've seen at a film festival. "Punk rock energy!" "Murder!" Flying Cars!" "Murder!" "Shapeshifters!" "Murder!" 
As for the actual footage, it was a very short clip that teased the anachronistic world of the film, with its medieval fantasy aesthetic combined with sci-fi and steampunk technology, like a guard dressed in a suit of armor playing with a GameBoy-like gaming console, and a gallant knight with a cool robot arm. When surrounded by enemies, the teenage protagonist, Nimona, transforms into a pink rhinoceros and rampages through a city square. The film has a painterly aesthetic, giving it the look of a graphic novel come to life, almost as if it was drawn with crayons. The mix of old and new, both in the aesthetic and its genre-bending imagery, makes this a triumphant race to the finish line for a film that's had a rather turbulent production.
My Dad the Bounty Hunter
Netflix
What do you get if you take "The Last Starfighter," a bit of the chaotic energy of "Rick & Morty," and the love of pulp from John Carpenter, and ran it through a family-friendly love letter to animation, sci-fi and Black parents? The stunning "My Dad the Bounty Hunter," of course! 
The show follows, well, a bounty hunter, feared throughout the galaxy, who finds that his kids snuck into his spaceship and now they are too far away for him to drop them off before completing his mission. Executive producers Everett Downing and Patrick Harpin teased that the show will take us to dozens of worlds, each with a unique look. The small piece of footage we saw looked very detaiedl, with particular attention given to the texture of the characters' hair. Though the humor is certainly aimed at younger audiences, there's a sense of scale and pulpy action that feels vintage and exciting. 
Entergalactic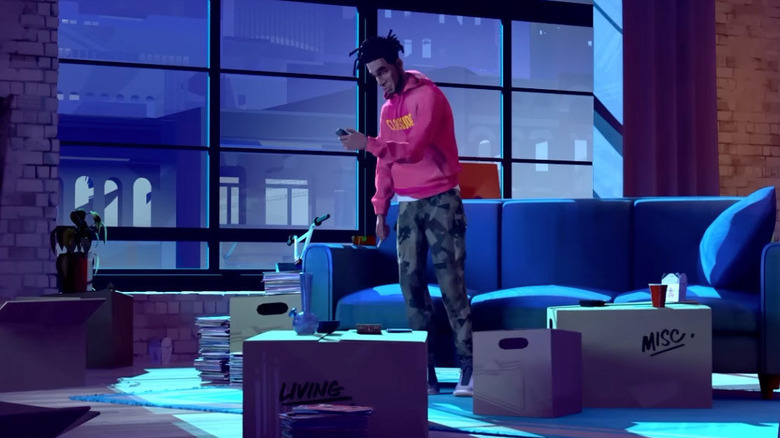 Netflix
If there was any doubt of the impact "Spider-Man: Into the Spider-Verse" had on the animation industry, look no further than "Entergalactic." The show, from creator Kid Cudi, shares the same painterly look and a blend of 2D textures over 3D animation as the Oscar-winning superhero film and the Netflix sensation "Arcane," with a changing frame rate that makes the show feel like a moving painting. 
The clip shown at Annecy promised a very stylized visual album that is meant to accompany Kid Cudi's upcoming album, with the animation and the editing moving along to the beat of the music. As for the story, the creator described the show as wanting to do a Black version of "When Harry Met Sally," an "analogue love story in a digital world." If this is anything like previous visual albums released on Netflix like "Sound & Fury" or "Adam by Eve: A Live in Animation," we are in for a visual feast.