Blonde Trailer: Ana De Armas Plays Marilyn Monroe In Netflix Drama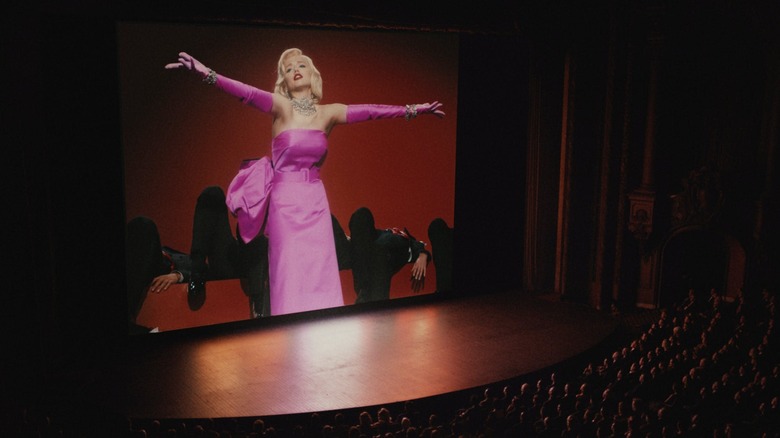 Netflix
It's a match made in heaven. One of the most recognizable movie stars of the last several years will be taking on the immense responsibility of portraying one of the most famous celebrities to ever live. And after months and months of waiting, today we're getting our first look at what "Blonde" has in store for us.
Director Andrew Dominik, best known for his work on 2007's "The Assassination of Jesse James by the Coward Robert Ford," "Killing Them Softly," and two episodes of "Mindhunter," is making his long-awaited return to feature films with a biopic about Marilyn Monroe's tumultuous life. Starring Ana de Armas ("Blade Runner 2049," "Knives Out," "No Time to Die") in the lead role as the blonde bombshell herself, "Blonde" is described as "a fictional portrait of the life of the model, actress, and singer, chronicling her journey from Norma Jeane Baker, abused daughter of a single mother, to the most sought-after celebrity in the world."
After an inordinately lengthy development period and having its release date pushed back last year, Netflix has finally released a new teaser for the upcoming drama. Check it out below!
Blonde teaser
To say that expectations are high for "Blonde" would be a gross understatement, especially considering how long we've heard rumors of this project with nothing coming to fruition. Andrew Dominik has been steadily plugging away at the film for years, back when the title role was originally attached to stars Naomi Watts and, later, Jessica Chastain. Now, Ana de Armas has stepped up to lead the film and had this to say about the honor of portraying the world-famous legend:
"Andrew's ambitions were very clear from the start — to present a version of Marilyn Monroe's life through her lens. He wanted the world to experience what it actually felt like to not only be Marilyn, but also Norma Jeane. I found that to be the most daring, unapologetic, and feminist take on her story that I had ever seen."
"Blonde" is based on the biography of the same name, written by author Joyce Carol Oates. According to Dominik, the film will attempt to shed light on both of her personas: the Marilyn that the world fell in love with (and ultimately treated so harshly), and the actual woman behind the fame:
"She's deeply traumatized, and that trauma necessitates a split between a public self and a private self, which is the story of everyone, but with a famous person, that often plays out publicly, in ways that may cause additional trauma. The film's very much concerned with the relationship with herself and with this other persona, Marilyn, which is both her armor and the thing that is threatening to consume her."
With a rare NC-17 rating in tow, "Blonde" will premiere exclusively on Netflix on September 23, 2022.