Daniel Day-Lewis Looked To Eminem For Inspiration On Gangs Of New York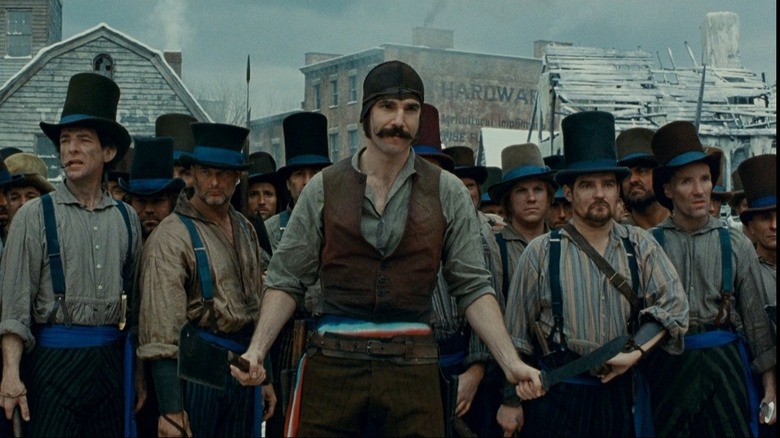 Miramax Films
Daniel Day-Lewis announced, just before the release of  "Phantom Thread," that the 2017 Paul Thomas Anderson drama be his last film. So far the veteran method actor has kept his promise — although such a gap between films isn't uncommon for him — so maybe there's still room to hope he'll return. Either way, Day-Lewis has an astoundingly large, eclectic, and all-around spectacular filmography. One of those actors whose roles not only dazzle out of his sheer brilliance but also take you on a kind of tour of iconic cinema. For me personally, "Gangs of New York" has always held a bloodily special place in my heart.
I don't know if it's an ancestral pining for Irish immigrant history or the fact that Day-Lewis plays the villainous Bill the Butcher with such extravagant rage it's near impossible to fixate on anything else. "Gangs of New York" was — if anything — a fearsome foreshadowing of the actor's Oscar-winning turn as Daniel Plainview in "There Will Be Blood." But Day-Lewis also needed a particular sound to characterize Bill, and in his search turned to a longtime favorite: the volatile bars of Eminem.
Day-Lewis has pretty eclectic music tastes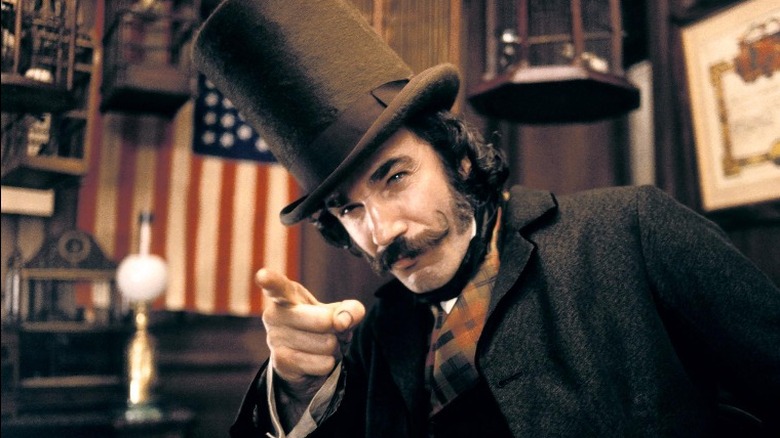 Miramax Films
It turns out that music has always been a crucial part of Day-Lewis' method-acting, which itself is a process he's admitted made him appear difficult to work with. But as the actor told The Telegraph, it's all about creating a "particular environment" or "right kind of silence or light or noise." For Bill the Butcher, evidently, the right kind of noise came from "The Marshall Mathers LP." Day-Lewis told Rolling Stone about his Slim Shady listening habits:
"Yes, every morning around five, especially the song 'The Way I Am.' I've admired him for a while. I'm always on the lookout for music that might be helpful to a role. It bypasses the intellect in a particular way. With this film, I realized I was listening to Eminem more than usual."
The only thing more surprising than the fact that Day-Lewis chose Eminem to prepare for "Gangs of New York" is that he'd clearly been a fan for some time. He's also relied on the music of everyone from Sinéad O'Connor and Bach, to Nirvana and Snoop Dogg, when preparing for his roles. When the interviewer mentions he'll actually be seeing Snoop, Day-Lewis even asks him to pass on a message of admiration: "Will you, from this great distance, pay my respects? He won't know who the f*** I am, but I think he's very cool," he requests.
It's hard to imagine anyone not knowing Day-Lewis exists — but now the only thing I can think about is how spectacular it would be for the actor to come out of retirement to star in a movie alongside one of his many preferred musicians.
Bill the Butcher was a wild role for Day-Lewis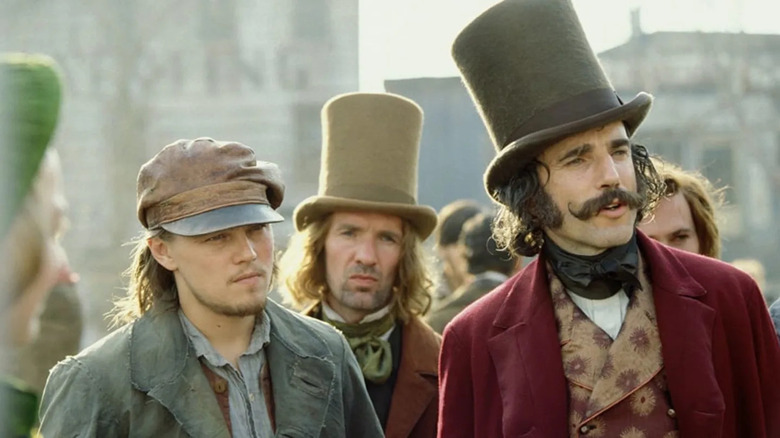 Miramax Films
Stories about how Day-Lewis got into the vicious mindset of Bill onset are well documented thanks to interviews with his costars on the film. But Leonardo DiCaprio, who plays Amsterdam Vallon, took the idiosyncrasies of the actor's methods in stride. The actor told Cheat Sheet:
"It was like two days before we started shooting, and you know, we'd been saying, 'Hi Daniel,' 'Hi Marty,' 'Good morning,' stuff like that. I said, 'Morning Daniel,' and he went, [grunts]. I said, 'Oh s***,' game on.'"
Day-Lewis stayed in character throughout the filming of "Gangs of New York" and weeks after it had wrapped. But that only scratches the surface of the lengths he went to create the necessary conditions to embody Bill. He learned under a real butcher, learning how to properly gut and cut animal carcasses. And because his character wields his butcher knives as tools as well as weapons — often throwing them at his victims — Day-Lewis took lessons from circus performers. But the actor's extreme commitment wasn't without personal costs.
While in Rome he came down with a case of pneumonia after walking through the streets wearing only period-appropriate clothing while trying to start brawls with passersby. And speaking of fights: he kept on fighting when shooting a scene with DiCaprio despite already having his nose accidentally broken. He also endured having a glass prosthetic eye placed over his own eyeball — the very thought of which makes me wince — even tapping it with a knife at one point! Day-Lewis doesn't shy away from discomfort if he truly believes it will help his performance. Call his Method acting bizarre, he probably wouldn't disagree with you, but at least it leads to phenomenal performances. And not Jared Leto-level of absurd anecdotes.