The 14 Best Daniel Day-Lewis Movies Ranked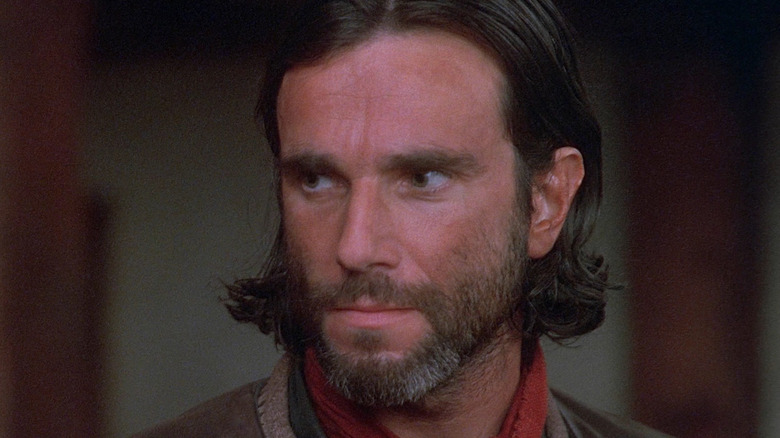 20th Century Fox
Daniel Day-Lewis is widely regarded as one of the best actors of all time. Famously choosy with roles, he has only been in 11 feature films in the last 30 years, and 2017's "Phantom Thread" really is (devastatingly) supposed to be his last. Known for his rigorous preparation for roles and remaining in character during filming, Day-Lewis' name will always come up when discussing method acting, even if he doesn't like to ascribe to any one technique. Day-Lewis has worked with the likes of Martin Scorsese, Steven Spielberg, Michael Mann, and Paul Thomas Anderson, as well as some of his best work with Jim Sheridan. It must be nice to dip into the acting world, blow everyone away, probably win an Oscar, then go back to your life as an Italian cobbler or whatever it is you're doing these days.
Even across these 14 films, which represent Day-Lewis' almost entire filmography, it is clear to see his wildly impressive range. In 12 lead roles, and two supporting ones, Day-Lewis commands the screen, sometimes bringing a barn-storming speech, or a subtle desperation to frequently unlikable characters. Very few of these protagonists are heroes; they are usually far more complex, and Day-Lewis has deliberately sought out roles that provide a challenge. If we really have seen the last of Day-Lewis on the big screen, it's such a loss to the world of movies, but we can at least cling onto these 14 incredible films.
14. The Bounty (1984)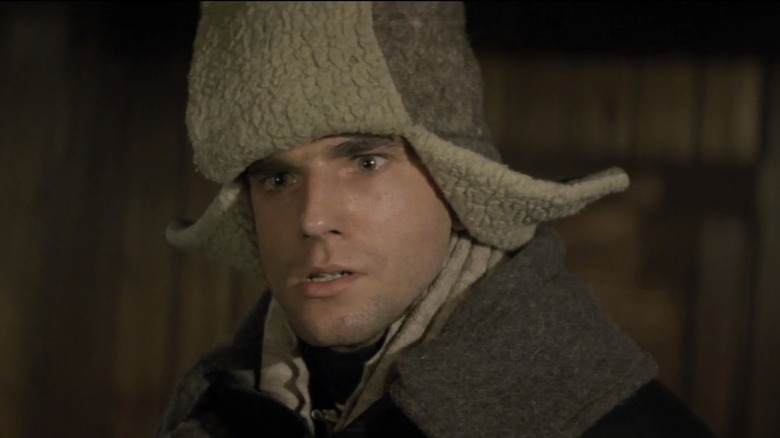 Orion Pictures
From 1984 to 1985, Daniel Day-Lewis had two roles where he could use his own upper-class English accent. His reputation as the greatest actor of his generation would form from him playing Irish (and Northern Irish) and American men, as he's actually rarely played Englishmen. In "The Bounty," starring Anthony Hopkins as Captain Bligh and Mel Gibson as Fletcher Christian, the famous mutineer, Day-Lewis plays Fryer, an officer who initially clashes with Bligh, but then remains loyal to him and the "proper" way of doing things aboard ship. Like Bligh, Fryer is horrified by the sexual freedom that many of the crewmembers indulge in while in Tahiti. 
Even at this early stage of his career, and with limited screen time, Day-Lewis still manages to use micro-expressions to express disgust or frustration brilliantly. Perhaps his greatest achievement is disguising his natural beauty and charisma, and to embody a sniveling coward who turns the audience off, rather than drawing them in. It was Gibson who had to have the appeal here, so Day-Lewis does a good job of blending into the background. making for an interesting early role.
13. Gangs of New York (2002)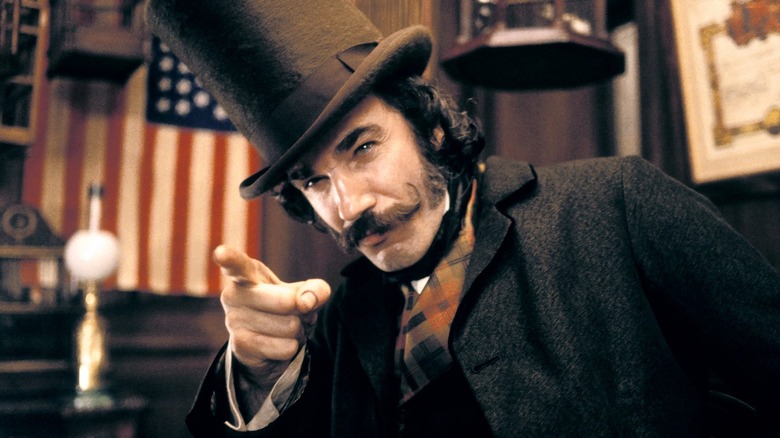 Miramax
Making a good counterpoint to "The Age of Innocence," which is set amongst the upper classes in 1870s New York, director Martin Scorsese and Daniel Day-Lewis cinematically traveled back to NYC nearly 10 years later. This time, they explored the 1860s and an area that may as well be on another planet: Five Points. "Gangs of New York" is set amongst rival gangs in a working-class neighborhood. Bill the Butcher (Day-Lewis) and his gang ironically call themselves Native Americans because they have at least been born there. Their rivals are Irish Catholic immigrants, initially led by Priest Vallon (Liam Neeson) and Happy Jack (John C. Reilly).
The first thing that has to be discussed with "Gangs of New York" is, of course, the accents. A miscast Leonardo DiCaprio and Cameron Diaz lead the way in the embarrassingly bad accent department. This being Scorsese, it still looks absolutely gorgeous and the costumes are a real highlight here, especially on Bill's gang. And, like "Age of Innocence," his mastery of crowd scenes is second-to-none, except here they are usually brawling instead of dancing. Once again, his use of lighting, color, framing, and blocking elevates and distinguishes scenes that would all look samey in less experienced hands.
Bill the Butcher is the first of two bombastic, over-the-top lead performances that Day-Lewis would deliver in the 2000s, the second of which he, of course, won the Oscar for. While not to everyone's tastes, these performances once again demonstrate his range.
12. There Will Be Blood (2007)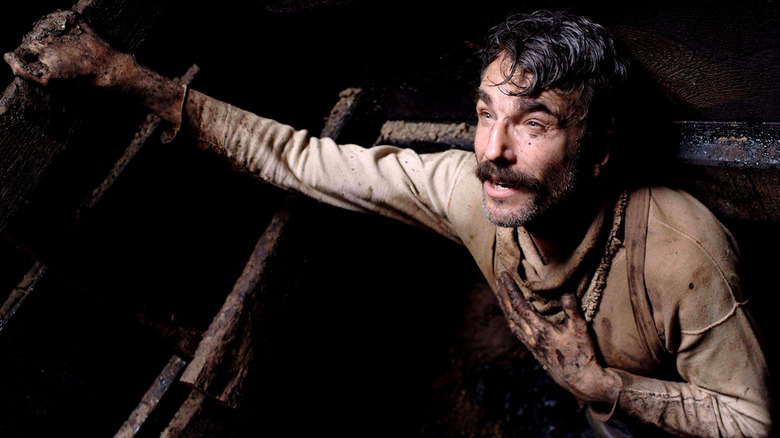 Paramount Vantage
Set across a 30-year period at the start of the 20th century, mainly in California, Paul Thomas Anderson used the novel "Oil!" as a jumping-off point for this saga of greed, alcoholism, religion, and fatherhood. Although Daniel Day-Lewis received the majority of the plaudits for "There Will Be Blood," it absolutely would not be the film it is without Paul Dano, who also co-starred with him in "The Ballad of Jack and Rose." The scenes between Daniel Plainview's oilman and Dano's preacher Eli Sunday are when the movie really comes alive; the violence of Plainview's words is often more stinging than anything he does physically.
The casting of Plainview's deaf son HW (Dillon Freasier as a child, and in an important scene, Russell Harvard as an adult) is another masterstroke. Like much of Anderson's work, there are many memorable lines of dialogue, with "I've abandoned my boy!" and "I drink your milkshake" probably being the most famous. It's the classic American tale of a man selling his soul for money, acquiring more and more at the cost of any personal relationships, and being left alone and alcoholic, rattling around a Hearst Castle-like mansion.
Jonny Greenwood's score is one of the movie's main strengths. Critical reception was split on the film's infamous ending, but if you're going to have a film as melodramatic and overwrought as this, you may as well go for broke at the end. The 2000s were certainly an interesting decade for Day-Lewis.
11. Lincoln (2012)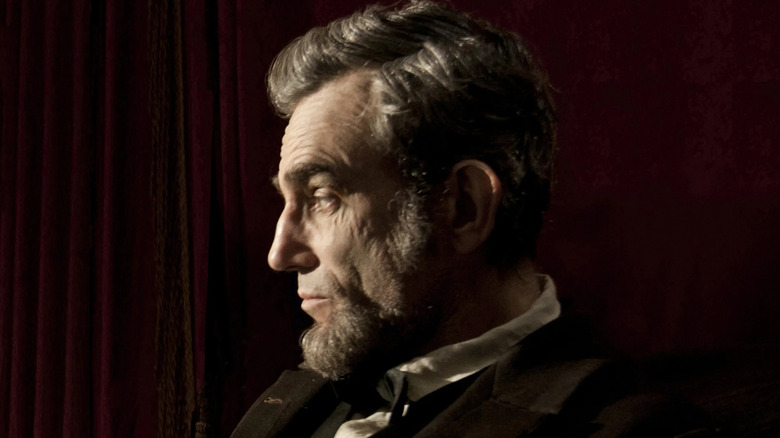 Touchstone Pictures
It's funny to think that while Bill the Butcher was tearing up the Five Points, Abraham Lincoln was the president, something that encroaches on their lives at the end of "Gangs of New York" with the Civil War Draft Riots. Steven Spielberg and Daniel Day-Lewis don't seem like a natural match, but Spielberg was determined that it should be Day-Lewis to take on the role of Lincoln. Spielberg waited years for Day-Lewis to accept the role, then a further year or so for him to prepare.
"Lincoln" has a vast cast, with blink-and-you'll-miss-it roles for the likes of Adam Driver and Colman Domingo, as well as supporting roles for Tommy Lee Jones, Lee Pace, Michael Stuhlbarg, Walton Goggins, David Strathairn, Jared Harris, and David Oyelowo, to name but a few. A large key to the film's success is Sally Field as Mary Todd Lincoln. The film does well to balance Lincoln's private life and family concerns, with the problems of a troubled nation that he also had to contend with.
There was really nothing more inevitable than Daniel Day-Lewis playing Abraham Lincoln in a Steven Spielberg film leading to his third Oscar win. Of course, it goes without saying that it's a good performance, if not his most exciting — unlike the one in "Phantom Thread," which thankfully came afterward.
10. The Boxer (1997)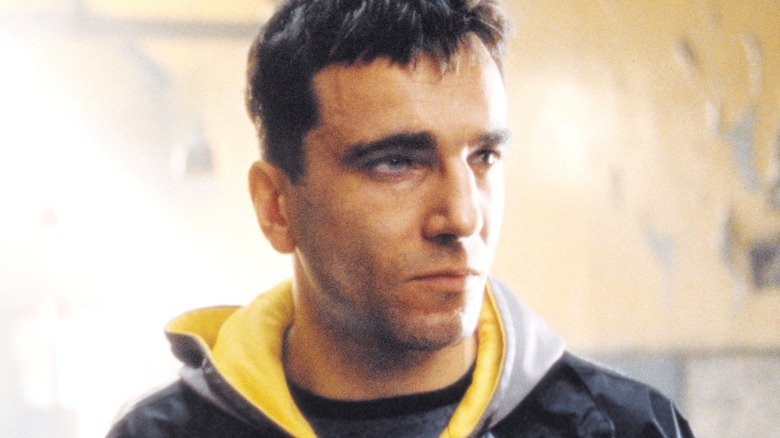 Universal Pictures
Returning to work with director Jim Sheridan for the third time, Daniel Day-Lewis took on the role of Danny Flynn in 1997. The character is newly released from jail after 14 years, attempting to restart his life in his former community in Belfast. In "The Boxer," Emily Watson (a worthy screen partner) plays the woman who was Danny's girlfriend when they were teenagers, and Brian Cox plays her father, the local kingpin. 
Influenced by real-life Northern Irish boxer Barry McGuigan, who helped train Day-Lewis for the film, "The Boxer" features Danny finding his feet back in civilian life, mainly in the boxing ring. In typical Day-Lewis style, he trained so rigorously while preparing to shoot the film that McGuigan said he reached the level of a professional. The movie was made during the ceasefire that lead up to the Good Friday Agreement, and it captures the uneasy alliances and tensions of this specific moment in time very well.
The scenes between Day-Lewis and Watson are the greatest strength of this film, and it's a shame that there aren't more of them. Another highlight is when Danny travels to a posh gentleman's club in England for a boxing match. Ken Stott is also excellent as Ike Weir, an alcoholic friend of Danny's. They work together to attempt to rebuild and reopen an abandoned gym, in the hope of training youngsters and helping them avoid jail. This lesser-known entry in Day-Lewis' filmography is worth seeking out.
9. The Crucible (1996)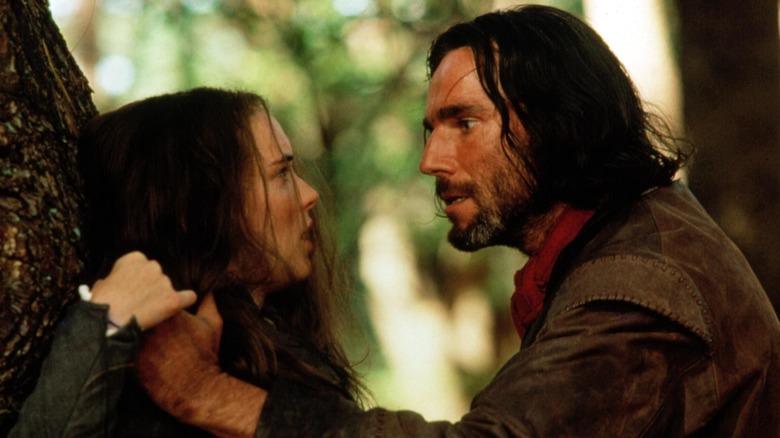 20th Century Fox
Theater director Nicholas Hytner followed up his film adaptation of the play "The Madness of George III" with an adaptation of Arthur Miller's most famous work. After "The Age of Innocence," Winona Ryder was once more doomed to play a woman who is in love with Daniel Day-Lewis, but he does not return the feeling. Unlike the selfless May Welland though, Abigail Williams is jealous and vindictive to the woman she considers her rival: Elizabeth Proctor (Joan Allen). It seems quite a choice for John Proctor to be perhaps the most attractive version of Day-Lewis to have ever graced our screens, but it also works quite well, so we can go some way to understanding why Abigail destroys so many lives over him. 
Day-Lewis is as impressive as ever, as a tortured soul who will do anything to make up for his former betrayal of his wife, and to restore his honor and good name as a legacy for his sons. An actor who is more under-the-radar than Day-Lewis, but also one of the best of all time, is Paul Scofield, who plays the judge who must contend with an endless parade of hysterical teenage girls who keep changing their stories. While it's a pretty straightforward adaptation of something that works so well in the confines of a stage, the source material and the acting are of high enough quality to make "The Crucible" a worthwhile exercise.
8. My Left Foot (1989)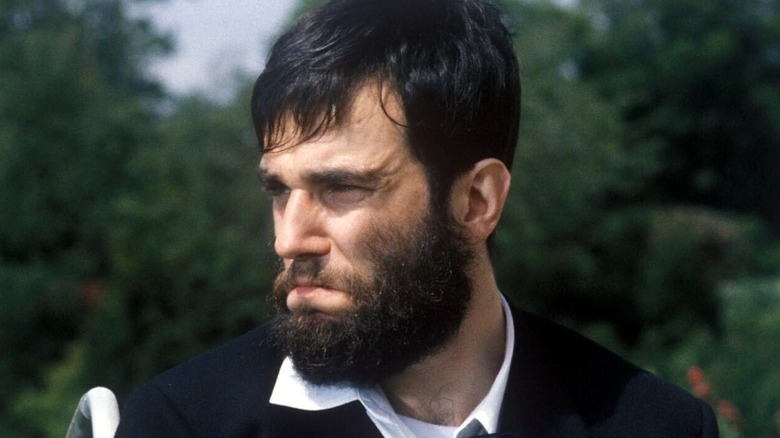 Miramax
Method acting has always been a source of much discussion, and Daniel Day-Lewis earned his reputation for going to extraordinary lengths for his roles early in his career. In his Oscar-winning role in "My Left Foot," he plays real-life Irish writer and painter Christy Brown, who had cerebral palsy. Director Jim Sheridan's daughter, Kirsten Sheridan, said that Day-Lewis did not leave his wheelchair during filming: "You'd be feeding him, wheeling him around."
The physical control required for such a role is one thing, but Day-Lewis also makes an impression mainly through his interactions with the women who were important in Christy's life. There's his mother, a physical therapist, and nurse Mary Carr, who features heavily in the film's framing device. Christy turns on the charm with them and he is fiercely protective of his mother and sister (who are under threat from his father), but he can also be belligerent, jealous, frustrated, and angry — all of which Day-Lewis expresses through extremely limited physical movements. 
As much as this is an insight into this specific man's life, the Brown family is representative of many working-class British and Irish families of the time. Overcrowded in tiny homes, with never enough to eat, and ruled by a (frequently drunk) patriarch who they all feared. It's a snapshot of a place and time, and we should be grateful that filmmakers such as Sheridan are around to chronicle this way of life.
7. The Last of the Mohicans (1992)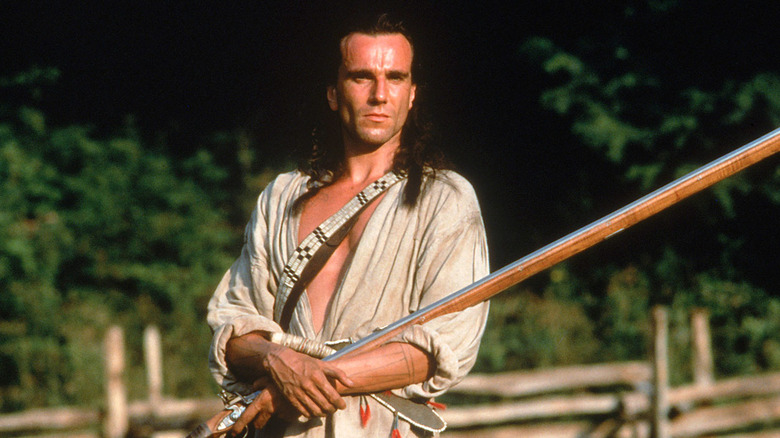 20th Century Fox
Michael Mann, known for some of the finest neo-noirs ever made, took a detour into the historical epic in 1992. Kevin Costner's "Dances with Wolves" had won seven Oscars the year before, perhaps leading to "The Last of the Mohicans" being virtually ignored by the Academy. This is the first time that Daniel Day-Lewis would play an American in a leading role, as a white man who has a Mohican father and brother. The film is primarily a love story between Hawkeye (Day-Lewis) and Cora Munro (Madeleine Stowe), and also Cora's sister Alice (Jodhi May) and Hawkeye's brother Uncas (Eric Schweig).
The stunning landscape that is captured by Dante Spinotti, and the stirring score by Trevor Jones and Randy Endelman, are the film's two main strengths. The "Main Title" theme combined with the Scottish folk song "The Gael" — most notably in a track called "The Kiss" — provide all of the emotion we need over scenes that contain little-to-no dialogue. The main characters are being hunted and the entire film sees them on the move, trying to stay one step ahead of Wes Studi's Magua, which leads to a tragic conclusion.
Much has been made of the Mann and Day-Lewis' dogged commitment to historical authenticity, but the film's greatest strengths are the cinematography, score, and Day-Lewis' usual grounded performance at the center, convincing us that he entirely belongs to this time and place. It's an epic that deserves the biggest screen and speakers possible.
6. A Room with a View (1985)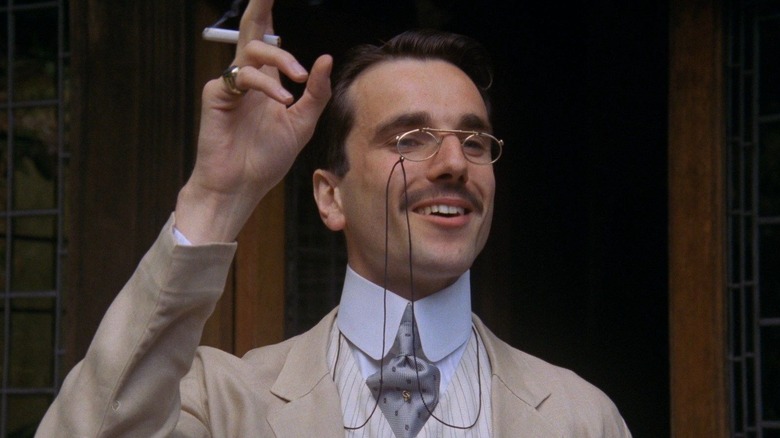 Cinecom Pictures
Daniel Day-Lewis broke onto the scene with two roles in 1985 movies that could not have been more different from one another, demonstrating his extraordinary range right from the get-go. In a supporting role in Merchant Ivory's "Room with a View," he plays the snobby Cecil Vyse, with who the central character Lucy Honeychurch (Helena Bonham Carter) becomes engaged. The delightful Denholm Elliott plays eccentric Mr. Emerson, and Julian Sands plays his son George, a romantic, passionate, impetuous young man who is a stark contrast to Cecil.
The cast is rounded out by British acting stalwarts such as Maggie Smith, Judi Dench, and Simon Callow. The film contains stunning scenery, firstly in Florence, then in the Surrey countryside. "A Room with a View" has some of the best hair ever seen onscreen — from Carter's piles of Gibson Girl curls to Rupert Graves' floppy mop. One of the most memorable scenes is when George, Freddy, and Reverend Beebe are bathing in a pool in the woods, and Cecil and Lucy stumble across them.
Day-Lewis spends the entire film looking down his nose (through his pince-nez) at everyone, bristling at the joy others find in silly songs, romantic literature, or anything else he considers "ugly things." It is typical of Day-Lewis to choose a prickly, thorny, unsympathetic role over someone we could easily fall in love with, and he's been challenging himself in this way ever since.
5. My Beautiful Laundrette (1985)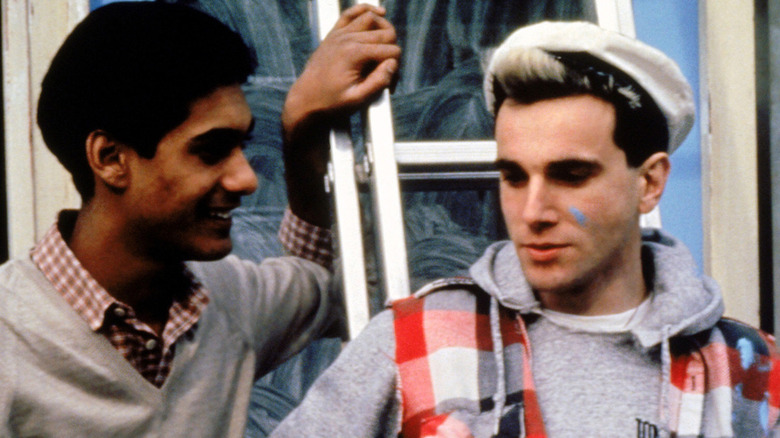 The Criterion Collection
The other 1985 film that Daniel Day-Lewis starred in really exemplifies the opposite side of British cinema, which is in total contrast to Merchant Ivory costume dramas, the kinds of things that people first think of when it comes to British films. But there's a working-class British cinema (from filmmakers like Mike Leigh and Ken Loach) that tackled Margaret Thatcher's Britain and showed a more modern, unflinching reality. "My Beautiful Laundrette" is written by Hanif Kureshi, and stars Gordon Warnecke as Omar, trying to be more like his successful businessman uncle than his alcoholic father. 
Day-Lewis plays Johnny, who the film surprisingly implies has been two things — a "skinhead," and Omar's former lover. Johnny comes back into Omar's life and they try to turn the laundrette that Omar has been entrusted with into a success. The film does not make a big deal about the gay romance as it seamlessly ebbs and flows around other events and never really seems to be under threat in the kind of overdramatic way it would usually be in movies, particularly of this era. The movie contains so many sensual and sexy moments between Omar and Johnny; most famously, Johnny licking Omar's neck, but also the use of the two-way mirror at the back of the laundrette. It offers them a sanctuary, as well as provides a great shot where their faces blur together. Day-Lewis is charming, dangerous, and complex here in a thrilling breakout role.
4. The Age of Innocence (1993)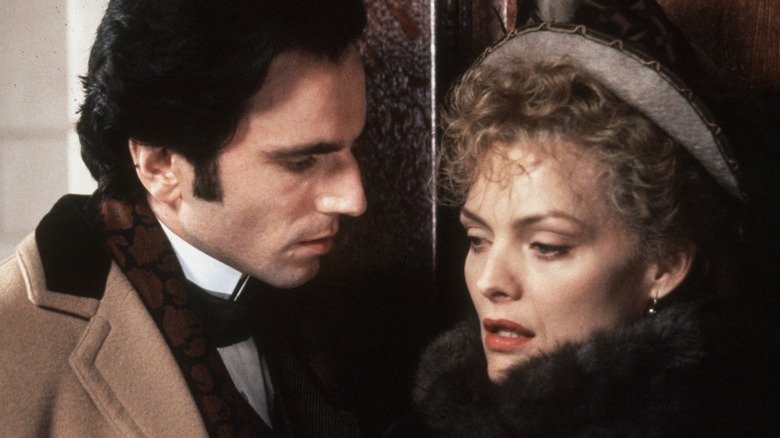 Columbia Pictures
Just as Daniel Day-Lewis starred in an anomaly in Michael Mann's oeuvre, he also took the lead role in a film that many may overlook when discussing Martin Scorsese's career. Adapted from Edith Wharton's book, "The Age of Innocence" has some of the best uses of color, cross-fades, and framing in all of cinema, thanks to Michael Ballhaus' cinematography, and of course Thelma Schoonmaker's editing. The crowd shots are exquisite, and they're juxtaposed with the breathlessly snatched private moments that Newland Archer (Day-Lewis) manages to grasp with Countess Olenska (Michelle Pfeiffer).
Despite not containing any sex scenes, this manages to be one of the erotically-charged films ever — from the unbuttoning of a glove and kissing a wrist, to a (fully-clothed) kiss of the neck, to the lovers collapsing over one another, to hands grasping around a chest from behind. Every stolen moment is precious. While Day-Lewis is perhaps viewed on another level in terms of acting, there have been a few actresses working opposite him that rise to meet him, and Pfeiffer is absolutely one of them. Winona Ryder's very different style works well for the seemingly naive May Welland, and Robert Sean Leonard as their son at the tail-end of the film is delightful. Most of Day-Lewis' best performances have been in romantic roles, but he brings a level of vulnerable yearning here that we don't often see from him. 
3. Phantom Thread (2017)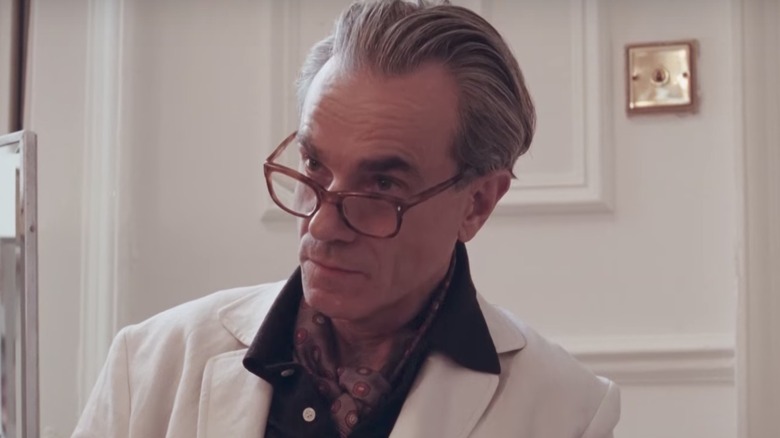 Focus Features
Daniel Day-Lewis has unfortunately only made two films in the last decade, and has apparently really, officially retired this time. If Paul Thomas Anderson's "Phantom Thread" does end up being his swan song, it is an absolutely perfect one. Anderson's dialogue and Day-Lewis' line readings combine to make "Phantom Thread" one of the best comedies of the last 10 years. Day-Lewis stars as Reynolds Woodcock, a fussy and fastidious fashion designer in 1950s London, and it is fitting that his final role acknowledges his own accent and class.
Day-Lewis' performance is matched by Lesley Manville as his sister Cyril, and crucially Vicky Krieps as his young lover-turned-wife Alma, who has such a tricky role to get right. Every scene, mostly revolving around food, is memorable — from the Hungry Boy breakfast, to the asparagus prepared the wrong way, to the interrupting tea, and the infamous mushroom omelet — the facial expressions as characters look daggers at one another and spit passive-aggressive insults through gritted teeth remain burned in the brain.
"Phantom Thread" is a perfect example of building a film around an utterly unlikeable central character, but still making it completely compelling and somehow has us rooting for a relationship that should be doomed from the start. Day-Lewis once again pulls out a performance completely unlike anything he's delivered before, demonstrating comedic timing and skills that would have been good to have seen more of in his career. 
2. The Unbearable Lightness of Being (1988)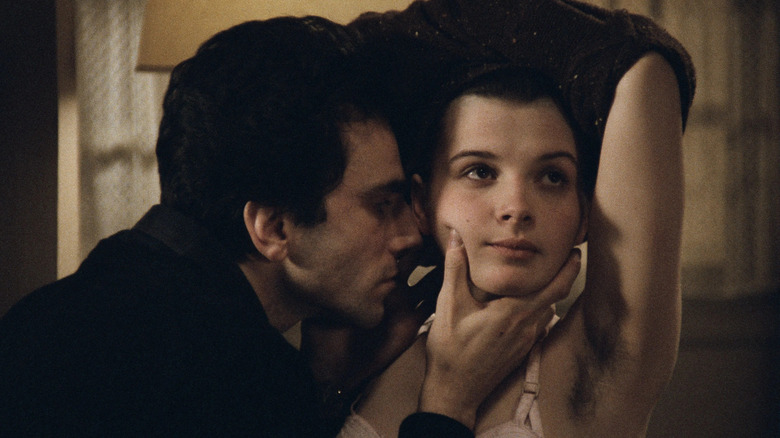 Orion Pictures
Milan Kundera's novel, which depicted Czechoslovakia in the lead-up to, and aftermath of, the Soviet invasion in 1968, was adapted by Philip Kaufman just a few years after it was published. Daniel Day-Lewis plays surgeon Tomas, a womanizer who is drawn to two particular women: the worldly Sabina (Lena Olin) and the more naive Tereza (Juliette Binoche). Binoche is a formidable screen partner for Day-Lewis, giving one of her best performances here — and that's saying something. "The Unbearable Lightness of Being" is one of the sexiest films ever made, and even though it isn't truly a European film (everyone speaks English, for one thing), it certainly borrows a lot from European cinema.
Day-Lewis dialed up his sparkly-eyed charm to 11 here, making it so however rakish Tomas is, you can still entirely understand Tereza being drawn back to him again and again. As detached as Tomas tries to remain, attempting to keep sex and romance and love separate, he enters into the conventionality of marriage with Tereza. Olin and Binoche share some electric scenes in the absence of Day-Lewis, and the film really rests on the shoulders of all three of them. This is the kind of movie that makes you long for the days of "movies for grown-ups" and proper movie stars who are utterly magnetic. Day-Lewis would probably like to think of himself as a character actor, but a star is what he is.
1. In the Name of the Father (1993)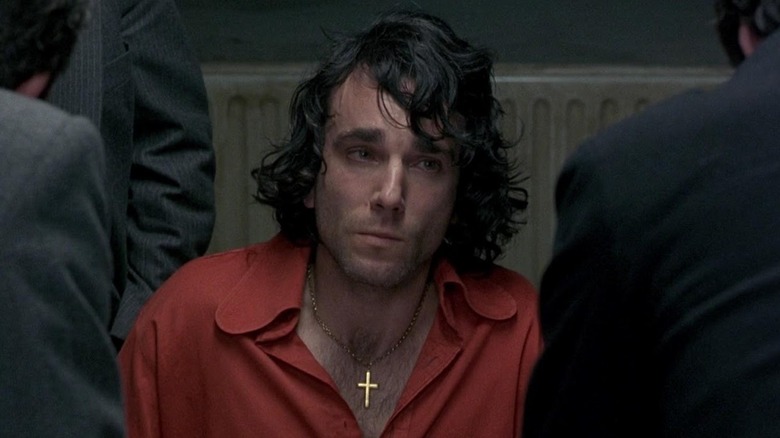 Universal Pictures
The fact that Daniel Day-Lewis made two films in one year is surprising enough, but his two 1993 roles could not be more different from one another — and both performances are astonishing. Going from an upper-class Gilded Age New Yorker in "The Age of Innocence" to a working-class Northern Irish petty criminal, and being utterly convincing and compelling in both roles, is one of the many reasons why Day-Lewis is one of the best to ever do it.
"In the Name of the Father" is based on the true story of the wrongly-convicted Gerry Conlon, who spent 15 years in prison for an IRA bombing. At the center of the film is the relationship between Gerry and his father Giuseppe (the extraordinary Pete Postlethwaite), who would also be convicted of helping to make the bomb. The film uses poetic license to depict Gerry and Giuseppe sharing a cell, but this leads to some of the best scenes. Day-Lewis' performance is nothing short of sensational, from the scenes of interrogation and being tortured to confessing to his struggles in jail, particularly surrounding his father's illness and death. 
Gerry is a deeply flawed man who is not presented as a hero, but Day-Lewis easily fluctuates between his charm and youthful arrogance, through to his utter desperation and despair while in jail. In a career of performances at the level of Day-Lewis', it's hard to pick the best, but this just might be it.