The 15 Best Costume Drama Movies Ranked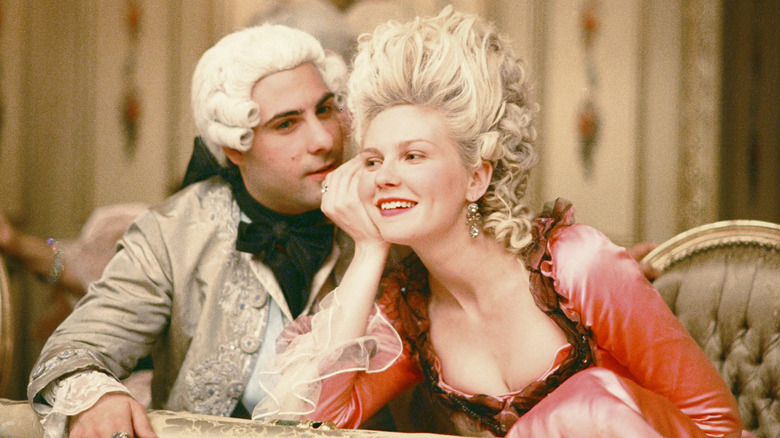 Sony Pictures Releasing
While many genres have captured the imaginations of filmgoers, none are quite as regal as costume dramas. Ranging from adaptations of beloved novels to depictions of historical figures, the films in this category go above and beyond to transport audiences into the past. Whether set in a period of luxurious wealth or an era based completely on fantasy, viewers can't get enough of the cinematic magic these movies supply. 
But which costume dramas deserve to be regarded as the greatest? From Rococo-era romances to sweeping epics, this list has a little bit of everything. While it is nearly impossible to include every beloved costume drama, here is a ranking that consists of the obvious iconic and some that deserve a bit more time in the spotlight. So grab your petticoat, fan, and a cup of tea, and let's examine some of the greatest costume dramas in the history of cinema.
15. Gone with the Wind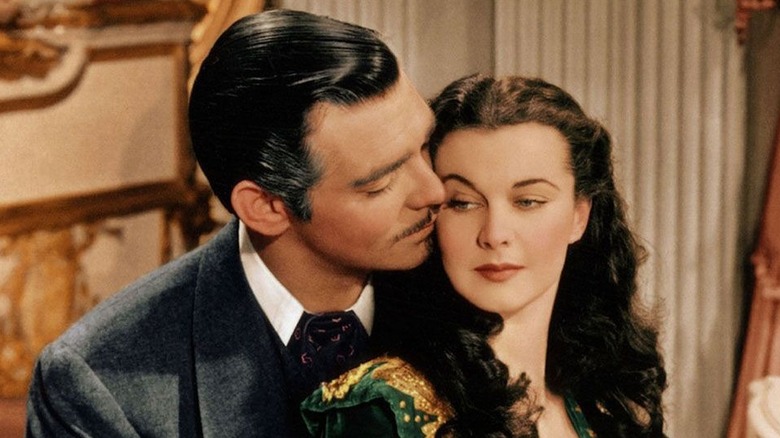 MGM
"Gone with the Wind," the winner of the 1940 Academy Award for best picture, remains controversial. Remembered for its sizzling dialogue and the volatile chemistry between stars Clarke Gable and Vivien Leigh, David O. Selznick's four-hour Civil War epic is an indisputable classic. With its fascinating behind-the-scenes story, incredible box office legacy, and stellar cast, "Gone with the Wind" defines old Hollywood style.
Yet, with all of its success, this adaptation of Margaret Mitchell's 1936 novel contains many painful elements. From its problematic, stereotypical portrayal of its Black characters to its romanticized depiction of the Antebellum South, "Gone with the Wind" ignores the realities of slavery and other atrocities taking place outside of its Southern fairy-tale setting. Despite these uncomfortable truths, "Gone with the Wind" is a significant part of movie history thanks in part to its sumptuous costume design by Walter Plunkett, who would go on to work on such films as "Singin' in the Rain" and "Forbidden Planet."
14. Marie Antoinette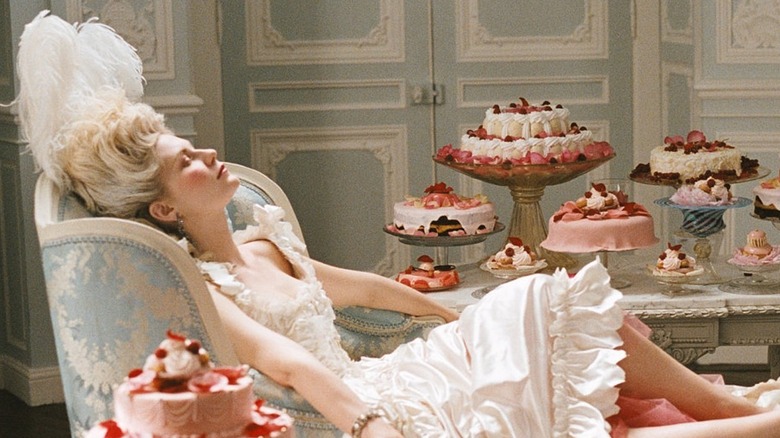 Sony Pictures/Pathe
Focusing on the sweetness of Marie Antoinette's reign instead of its horrific truths, Sofia Coppola's pastel-colored biopic is a cinematic delight. Starring Kirsten Dunst in the title role, the film follows Marie Antoinette from her teenage marriage to Louis XVI to the royal family fleeing the riots in Versailles. At first glance, Coppola's film might seem like a typical costume drama, but the movie comes across more like a modern character study that chooses to show Marie as a young woman who never truly grew up. 
That approach, along with Milena Canonero's highly stylized costumes, is what makes this "Marie Antoinette" an essential part of this list. While many costume dramas tend to center on the grand and epic scope of their stories, Coppola's intimate style makes Marie's life more relatable. Plus, with its exclusively 80's pop and new-wave soundtrack and stunning cinematography by Lance Acord, it's easy to see why this "Marie Antoinette" continues to inspire new filmmakers and pop culture as a whole.
13. Pride & Prejudice (2005)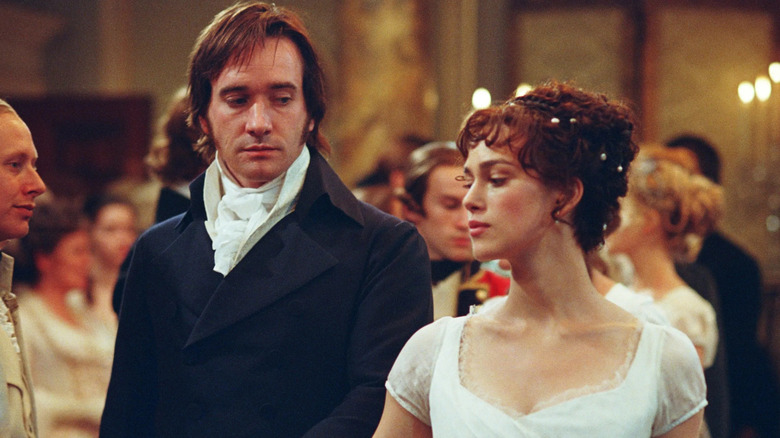 Focus Features
With its down-to-earth presentation, the 2005 adaptation of Jane Austen's classic 1813 novel, "Pride & Prejudice," is a cinematic gem. The film focuses on Elizabeth "Lizzy" Bennet (played by Keira Knightley) and her adventures in love and proposed marriage. Along the way she walks many winding roads and is pushed into uncomfortable society-pleasing situations, all while questioning her developing feelings for the reserved Mr. Darcy (brought to life by Matthew Macfadyen). 
That ever-changing romance is what makes director Joe Wright's faithful take on "Pride and Prejudice" so entertaining. From the undeniable chemistry between Knightley and Macfadyen to the now-iconic cinematography of director of photography Roman Osin, it's nearly impossible to not get wrapped in the evolution of Elizabeth and Darcy's complicated relationship. Along with Jacqueline Durran's perfectly designed period costumes and Dario Marianelli's Oscar-nominated score, it's easy to see why this costume drama has become an enduring classic. 
12. Donkey Skin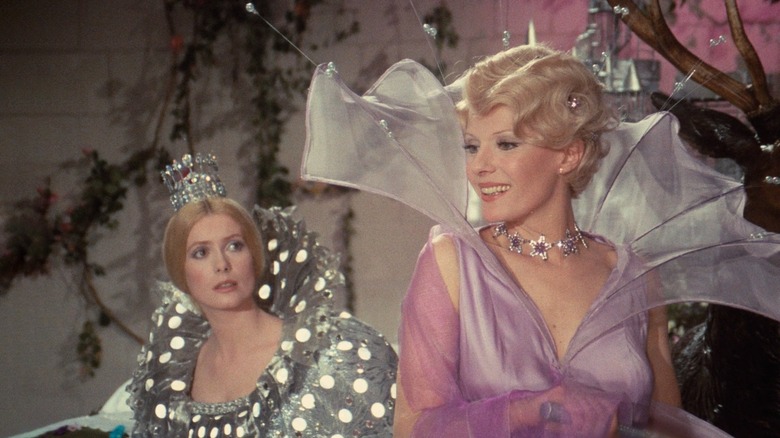 Cinema International Corporation
When it comes to cinematic adaptations of fairy tales, none are quite as bold and campy as Jacques Demy's "Donkey Skin." An adaptation of the classic story of a princess trying to escape her uncomfortable relationship with her father, the film deserves to be on this list simply because of its ambition. "Donkey Skin" is a costume drama, a musical, and one heck of a cinematic experience. And with actress Catherine Deneuve at the film's center, it's hard to resist "Donkey Skin's" charms.
Taking aesthetic inspiration from Jean Cocteau's work, "Donkey Skin" features fantastic costumes by Gitt Magrini that are influenced by regal images of the past but have a splash of 70's glam rock for a visual punch. Yet, what makes "Donkey Skin" land on this costume drama list is how it comments on the genre. From the wild nature of the set designs to the Fairy Godmother's dialogue, Demy's film knows how melodramatic and silly movies of this nature (and fairy tales in general) can be.
11. House of Flying Daggers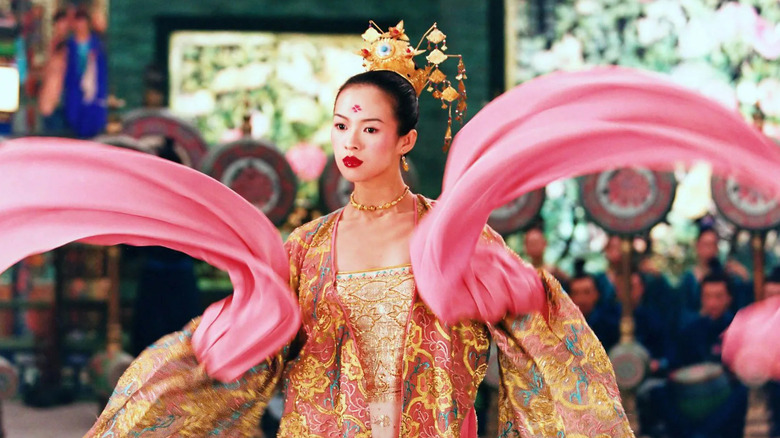 Sony Pictures Classics
Directed by Zhang Yimou, "House of Flying Daggers" might seem like just another martial arts spectacle. Instead, it's quite the emotional rollercoaster ride. Taking place in A.D. 859, the film follows two police officers (Andy Lau and Takeshi Kaneshiro) who are tasked with finding the leader of a rebellious group known as the Flying Daggers. When the pair encounter a mysterious blind girl (Ziyi Zhang) who may have connections to the group, things get more complicated.
With breathtaking costumes by Emi Wada and equally beautiful music by Shigeru Umebayashi, "House of Flying Daggers" stands as a fantastic example of making a melodramatic story unique and exciting. While many costume drama fans associate the genre with Eurocentric stories, Zhang Yimou's work deserves to be seen within those same elegant parameters. "House of Flying Daggers" is as regal as any of the other movies on this list. It just has a bit more "punch."
10. The Favourite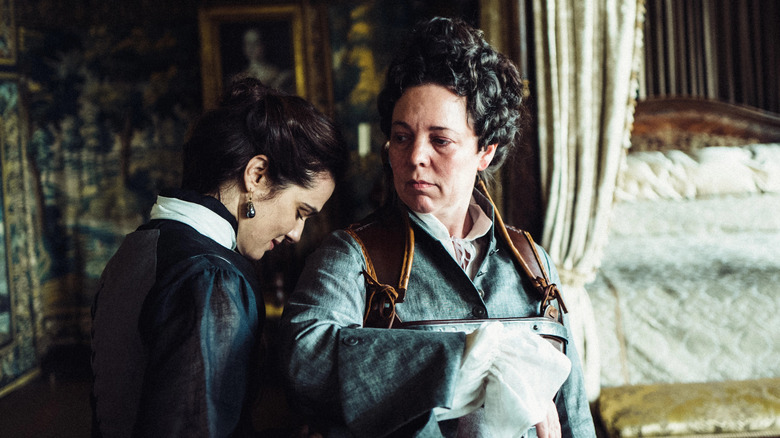 Fox Searchlight Pictures
With its dark comedic tones, Yorgos Lanthimos' "The Favourite" is not your grandma's cozy costume drama. In the film, cousins Sarah Churchill (Rachel Weisz) and Abigail Masham (Emma Stone) fight for the affection and attention of Queen Anne (Olivia Coleman), all while dealing with the complications of living within a royal society. This trio goes through quite the highs and lows of their complicated relationship, from gunfights to mud baths and everything in between.
But what makes "The Favourite" an essential addition to this list is how it centers on the brutality of the film's central relationship rather than focusing on the glamourous aspects. Sure, the film showcases the lavish parties and meals the characters dine on. But it doesn't shy away from showing the cruelty and the darker elements of the character's lives. And with Lanthimos' unique directorial style, along with the witty dialog of screenwriters Deborah Davis and Tony McNamara, it's easy to see why "The Favourite" remains a fascinating example of the costume drama genre.
9. Beauty and the Beast (1946)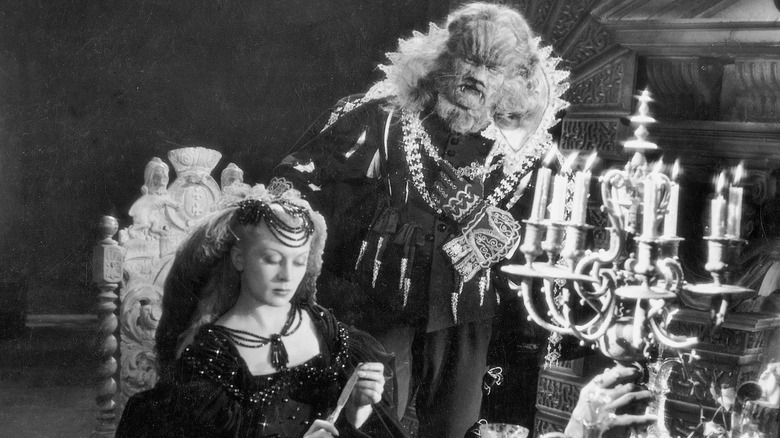 Janus Films
Jean Cocteau's version of "Beauty and the Beast" is a cinematic fairy-tale classic. Yet, it's also undoubtedly a costume drama. As in Jane Austen and Charlotte Brontë's famous stories, this movie centers around a beautiful maiden who comes to live with a mysterious figure in a grand castle. While most of the movies on this list don't feature magical curses, that core similarity is hard to ignore in any version of "Beauty and the Beast," especially in Cocteau's film.
The best part of "Beauty and the Beast" (and why it had to be on this list) is the attention to detail in every frame of the film. From the first few scenes in Beast's castle to the exquisite beauty of the costumes by Christian Berard and Marcel Escoffier, every element of Cocteau's film adds to the romance and melodramatic nature of the story. With the iconic performances of Josette Day as Belle and Jean Marais as the Beast, it's easy to see why so many film fans have fallen under the spell of this classic piece of cinema history.
8. The Duchess
Paramount Vantage
Starring Kiera Knightly and Ralph Fiennes, Saul Dibb's "The Duchess" depicts the life of Georgiana Cavendish, the Duchess of Devonshire, in exquisite detail. Detailing her youthful days as an innocent teenager to her rise to power after her marriage, Dibb's film goes above and beyond to represent every element of Georgiana's character, especially when it comes to her incredible sense of fashion and keen eye for politics. With Knightly's powerhouse performance, it's easy to see why so many historical figures were once captivated by the real Georgiana.
Despite the film's interest in Georgiana's ever-evolving aesthetics, "The Duchess," at its core, is a love story in which the titular character is in search of a genuine partner who will support her — flaws and all. That accessible quality is what makes "The Duchess" one of the more relatable costume dramas. Any viewer can see themselves in Georgiana's desire for respect and love. Even though the film's cast is dressed in lavish costumes by Michael O'Connor, it's refreshing to see a historical drama with characters who seem more down-to-earth.
7. Far from the Madding Crowd (2015)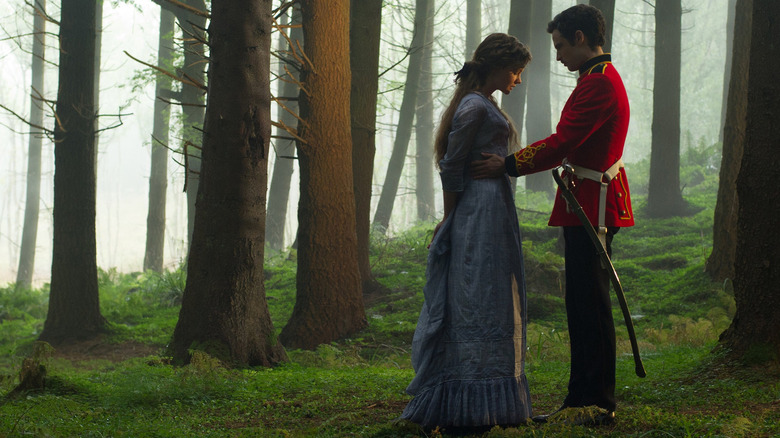 Fox Searchlight Pictures
With an electric cast and an underappreciated score by Craig Armstrong, Thomas Vinterberg's 2015 adaptation of "Far from the Madding Crowd" takes Thomas Hardy's material in a new direction that is even lusher than prior adaptations but with a modern sensibility. In the film, simple country girl Bathsheba Everdene (Carey Mulligan) finds out she is to inherit her late uncle's farm. As she takes on her new position in life, the young woman meets three men that will change the course of her destiny and lead to one of the most famous love triangles of all time.
While it features the typical melodramatic beats of most costume dramas, Vinterberg's take on Hardy's novel relies on Bathsheba's perspective, allowing Carey Mulligan to flex her acting muscles to show the truly independent nature of the character. With a supporting cast that includes Matthias Schoenaerts, Michael Sheen, and Tom Sturridge and luscious cinematography by Charlotte Bruus Christensen, it's hard to not get swept up in the intense romantic nature of Hardy's classic tale. 
6. Belle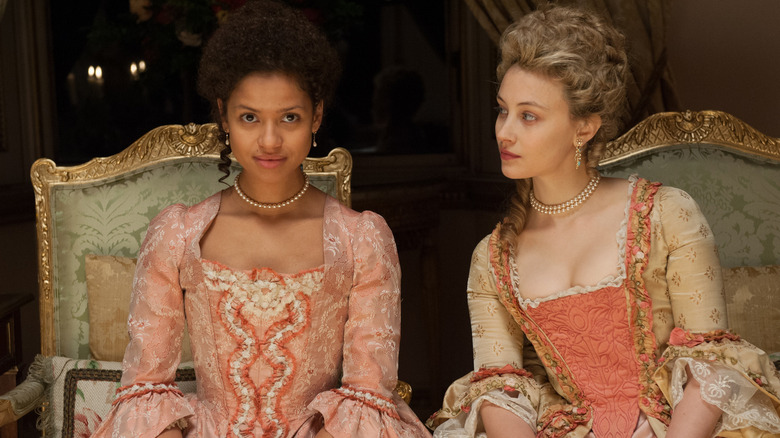 Fox Searchlight Pictures
Starring the stunning Gugu Mbatha-Rawa as the title character, Amma Asante's "Belle" takes inspiration from a famous painting of Dido Elizabeth Belle (along with her cousin, Lady Elizabeth Murray) to tell a story of love and standing up for what is right. The fictional tale focuses on Dido's (Mbatha-Rawa) relationships — particularly those with the men she loves the most, including her great-uncle William Murray (Tom Wilkinson) and her first proper romance with an aspiring lawyer, John Davinier (Sam Reid.)
Yet, what makes "Belle" a significant costume drama is how it tackles Dido's feelings towards how the upper-crust world treats her (due to her race). From small visual cues to poignant debates between Belle and her uncle, Asante's film handles Belle's narrative journey with a level of respect and maturity most costume dramas lack. And when combined with Gugu Mbatha-Rawa's incredible performance and stunning costumes by Anushia Nieradzik, it's clear why "Belle" remains a poignant and moving film that pushes the genre towards a more inclusive direction.
5. Portrait of a Lady on Fire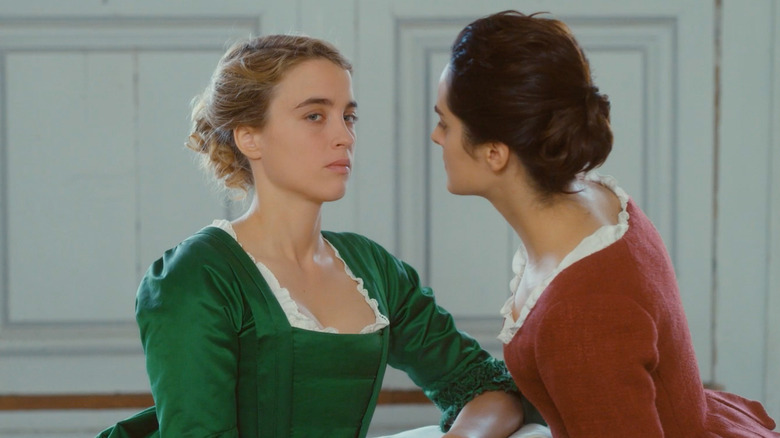 Pyramide Films
Considered by many to be one of the best films of 2019, "Portrait of a Lady on Fire" perfectly balances the elegance of the 18th century with a timeless, natural love story. Written and directed by Céline Sciamma, the film follows a young painter tasked with creating a portrait of a woman who is to be married off. As the two begin to get to know each other through their brief interactions, it becomes clear that the painter and her subject have a deeper connection between them. Their relationship results in a beautiful yet complicated romance.
From the beginning, "Portrait of a Lady on Fire" embraces the things that have worked in past costume dramas while also completely changing the genre. It presents a queer love story that many films have since tried to replicate. However, none of them are quite as stylish or sexy as "Portrait of a Lady on Fire." This is mainly due to the on-screen chemistry between Noémie Merlant and Adèle Haenel and the down-to-earth talents of Sciamma as a director. Together, they create not only a fantastic costume drama but a cinematic love story for the modern age.
4. Little Women (1994)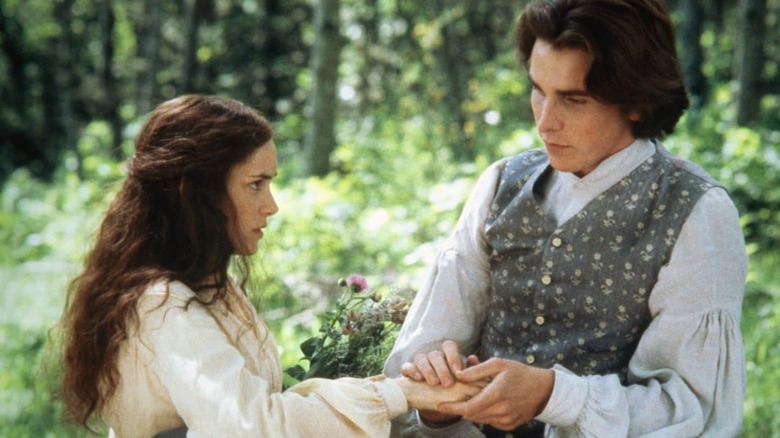 Columbia Pictures
While many fans pick the 2019 adaptation as their favorite version, 1994's "Little Women" (directed by Gillian Armstrong) paved the way for more female-empowered takes on classic tales — something that the film hasn't gotten enough credit for. Gerwig's rendition might have the more favorable commentary, but there's something to be said for the comforting yet vital energy in Armstrong's version. With its stacked cast of 90s heavy hitters, including Winona Ryder, Claire Danes, and Kirsten Dunst, this "Little Women" clearly has a lot going for it.
Yet, Armstrong's most significant achievement with her interpretation of "Little Women" is how she balances the original story's whimsical quality while also hinting at the changing nature of womanhood. With the magical details in Robin Swicord's script and the costumes by the icon herself, Colleen Atwood, this "Little Women" respects the romantic nature of past adaptations while also presenting a refreshingly modern twist filled with tears, laughs, love, and everything in-between.
3. Amadeus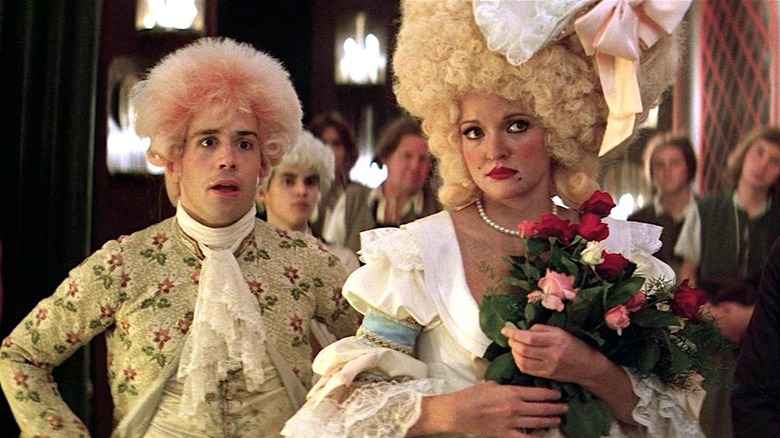 Orion Pictures
"Amadeus" is a costume drama that has helped define pop culture, and it continues to enchant with its musical and dramatic power. This adaptation of Peter Shaffer's famous play, which details fictional encounters between composers Wolfgang Amadeus Mozart (Tom Hulce) and Antonio Salieri (F. Murray Abraham), is a delightful balance of humor and drama. Featuring stunning cinematography by Miroslav Ondříček and exquisite costumes by Theodor Pištěk, there are many reasons why "Amadeus" still has quite an influence over the genre.
Yet, what truly makes this Miloš Forman-directed film a masterpiece is the chemistry between its two lead actors, Hulce and Abraham. As Mozart, Hulce does a brilliant job capturing the rebellious and ridiculous sides of this incredibly tortured figure. Abraham counteracts Hulce's energy with his cartoonishly villainous yet complicated take on the vengeful Salieri. When the two are together on screen, "Amadeus" becomes pure cinematic magic. 
2. Howards End (1992)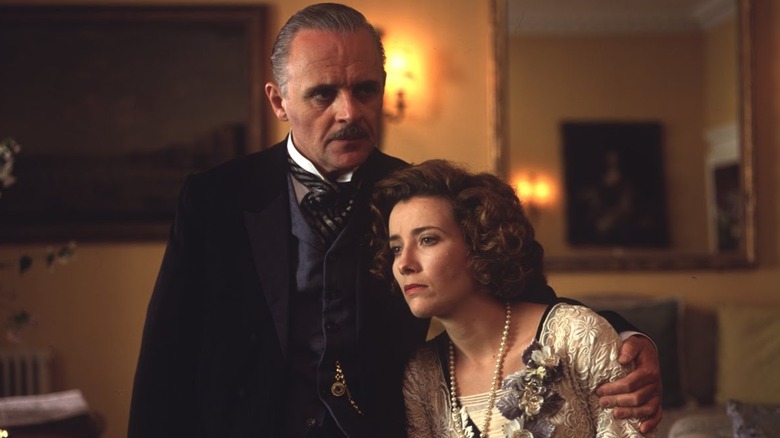 Sony Pictures Classics
The costume drama genre was thriving in the 80s and 90s thanks largely to the magical movies of Merchant Ivory Productions. Although many of the company's films left a lasting legacy, none are quite as fascinating as 1992's "Howards End." Featuring a star-filled cast, the movie details the complex relationship between the Schlegel sisters and the upper-crust Wilcox family, from their romantic connections to their dramatic scandals. The audience gets a glimpse into the characters' personal lives while also exploring the economic changes in turn-of-the-century Britain.
With beautiful performances from Anthony Hopkins and Emma Thompson and equally stunning art direction, "Howards End" balances a fairy-tale story with real-world struggles. Andrew Marcus' editing and Tony Pierce-Roberts' cinematography make the movie truly shine. Together, these two talented individuals pay a lovely tribute to E. M. Forster's novel's haunting quality while also imbuing it with a late-80s edge. Ultimately, "Howards End" is the film that defines Ismail Merchant and James Ivory as masters at their craft.
1. Dangerous Liaisons (1988)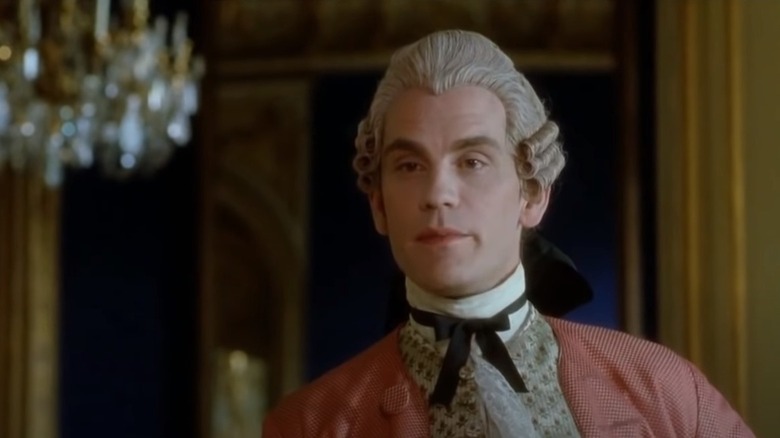 Warner Bros.
Some of the movies on this list are charming farces with romance at their centers. Yet, when it comes to 1988's "Dangerous Liaisons," this adaptation of Pierre Choderlos de Laclos' novel doesn't hold anything back. Directed by Stephen Frears, the movie follows the schemes of two high society individuals (played by Glenn Close and John Malkovich) as they plot to get revenge through love and sex. Featuring incredible costumes by James Acheson, this battle of intimacy is not only a visual feast but an emotional rollercoaster that keeps you on the edge of your seat.
Aside from its aesthetic accomplishments, what makes "Dangerous Liaisons" a gem is its dynamite cast. From iconic future stars like Uma Thurman and Keanu Reeves to beloved character actors like Swoosie Kurtz and Peter Capaldi, the film contains an endless treasure trove of talent. Yet, it's the three lead performances from Close, Malkovich, and Michelle Pfieffer that make Christopher Hampton's screenplay soar. Each actor knows how to balance the campy melodrama to evoke the duality of their characters. When combined with the film's other achievements, these performances make "Dangerous Liaisons" a textbook example of what all costume dramas should aspire to be.