Where You've Seen Every Cast Member Of Obi-Wan Before
Lucasfilm
The following article includes major spoilers for "Obi-Wan Kenobi."
After a very long wait, Obi-Wan has finally returned, and he's brought a lot of friends with him. Some might look pretty familiar, too. Keeping with George Lucas' decision to cast relative unknowns in the first Star Wars, the six-episode series on Disney+ included a number of faces that may not be instantly recognizable, but will still make you ask, "Where have I seen them before?" After all, the show's cast list includes everyone from Oscar nominees to Netflix stars to faces from the indie pop world.
"Obi-Wan Kenobi" is a cascade of fan-friendly moments and callbacks, although it's less showy than the cameo parade on "The Mandalorian." Fans were thrilled to see Ewan McGregor reprise the title role, and to have Hayden Christiensen play Anakin and Darth Vader once again (yes, that's him in the suit.) But there's always room in the Star Wars Universe for new friends and foes, so congratulations to these folks on their open invitations to sci-fi conventions for the rest of their lives.
Ewan McGregor as Obi-Wan Kenobi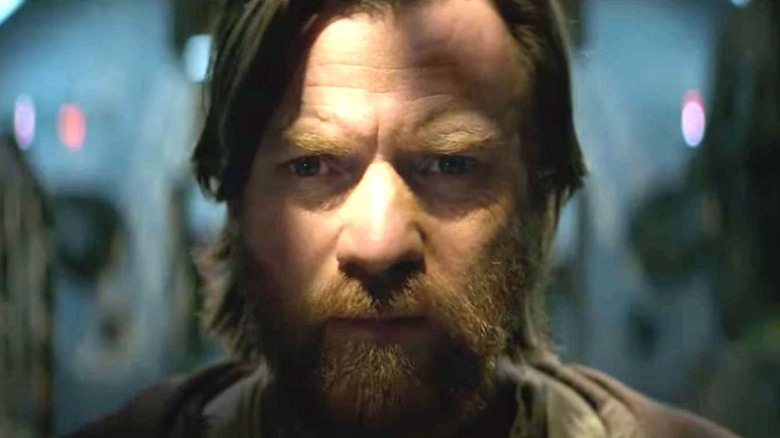 Lucasfilm
One of the few actors to escape the Star Wars prequels with his career intact, Ewan McGregor is pretty much the lone bright spot of all three movies. Although known in the indie world for his work in "Trainspotting" before "The Phantom Menace" started shooting, McGregor's professional trajectory has gone nowhere but up since he first appeared in a galaxy far, far away, a tribute to both his talent and his charisma. His consistent portrayal of young Obi-Wan from an impatient Padawan to a powerful Jedi Knight to a shattered Jedi Master was a masterpiece of transition. His close (but not too close) take on the original "old Ben," Alec Guinness, also served as a welcome counterweight to the unbuyable romance between Padme and Anakin, and managed to rise above even the worst of Lucas' CGI shenanigans.
In addition to the Star Wars prequels, McGregor has also starred in the smash musical "Moulin Rouge," the third season of "Fargo," the "Shining" sequel "Doctor Sleep," "Birds of Prey," and Netflix's "Halston," in which he played the title role (and won an Emmy for his efforts). Still, fans had been clamoring to see McGregor play Obi-Wan once more; thankfully, he was more than game.
Hayden Christensen as Anakin/Darth Vader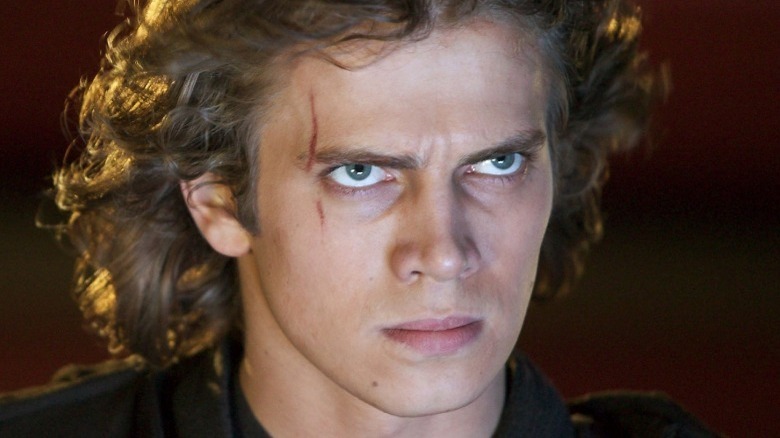 Lucasfilm
All right, Anakin, all right. You can come in now. 
The unpopularity of the prequels laid Hayden Christensen relatively low after "Revenge of the Sith," but now that an entire generation has come of age on the films, the time is ripe for everyone's favorite hater of sand to make a glorious return. Christensen made a minor splash before Star Wars in 2001's "Life as a House," earning both Golden Globe and SAG Award nominations. After the prequels, he showed up in the likes of "American Heist" and "90 Minutes in Heaven." 
Christensen's case was greatly aided by George Lucas and Dave Filoni's "Star Wars: The Clone Wars," a seven-season animated ramble that beefed up the prequel era and gave fans plenty of time to see Anakin fighting side by side with Obi-Wan, as well as a better understanding of why Padme fell in love with the Jedi Knight. The kids who grew up with Anakin's Padawan, Ahsoka Tano, are now old enough to pay for their own Disney+ subscriptions, and they're eager to see Ani again. 
Disney took an interesting angle while marketing "Obi-Wan Kenobi" and put Christensen right next to McGregor during the publicity rush, clearly counting on Millennials' nostalgia to counterbalance any spoilers his casting might've revealed. Fans caught a glimpse of Christensen's face from afar while Obi-Wan experienced a Force hallucination, and watched the two spar again in an absolute horror movie of a scene. Now that Christensen isn't just back in Star Wars, but wearing the most iconic bad guy costume in cinema history, perhaps he'll have a career renaissance in a galaxy a little closer by.
Sung Kang as Fifth Brother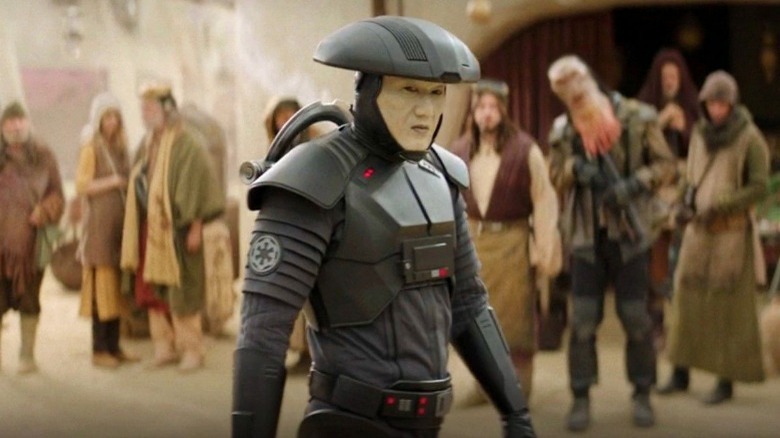 Lucasfilm
Beneath all that makeup is Sung Kang, who delivers a smashingly creepy performance as Fifth Brother, an Inquisitor who's not only after Obi-Wan Kenobi but also his own co-workers.  Where have you seen Kang before? Hanging with the Rock and Vin Diesel, in the Fast and Furious franchise, most likely. Kang plays Han Lue (no, that's not our Falcon-flying Han, it's a different one) in "The Fast and the Furious: Tokyo Drift" and a number of other sequels; if you missed it, his return in "F9: The Fast Saga" was a big deal.
The Inquisitors first showed up as part of the animated Filoniverse, serving as antagonists for Jedi stragglers Kanan Jarrus and Ezra Bridger in "Star Wars Rebels." While the live-action Inquisitors have a different look, these are still people you don't want to tangle with, and Fifth Brother's unfriendly rivalry with Third Sister for Vader's favor is quite the Sith-off. 
Sung Kang's voice is electronically modulated in the show, but still identifiable as his. This post-editing magic sets him off from rival Riva, who is far more human in appearance. Enjoy your action figure, sir!
Moses Ingram as Reva, the Third Sister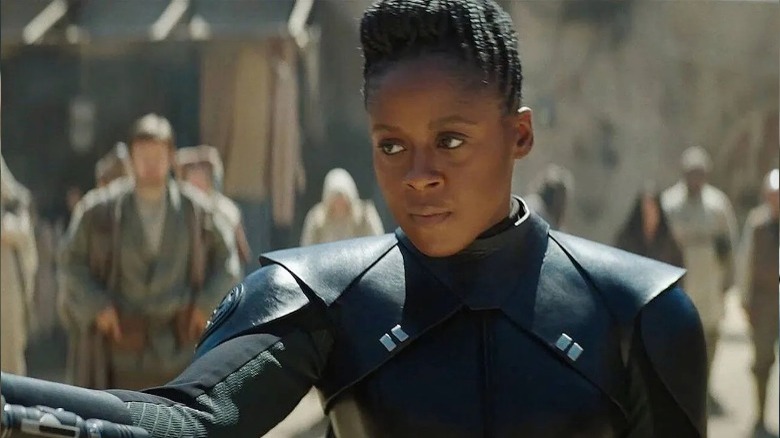 Lucasfilm
Positioned as the series' breakout star, Moses Ingram's Riva was the one to drop the news on the Jedi Master that his former Padawan was still alive. She represents the hard edge of the Empire, and is willing to use nasty tactics that even Palpatine isn't quite ready for at this point in the Star Wars timeline. During "Obi-Wan Kenobi," the Death Star is still under construction, and the lasering of Alderaan is still several years away. To avoid raising suspicions, the Emperor is still playing kinda-nice. Not Reva. 
In addition to "Obi-Wan Kenobi," you might have seen Moses Ingram as Lady Macduff in "The Tragedy of Macbeth," a 2021 adaptation of the classic play from Joel Coen (yep, without his brother). Ingram also appeared in four episodes of "The Queen's Gambit" as Jolene, for which she was nominated for an Emmy.
Vivien Lyra Blair as Leia Organa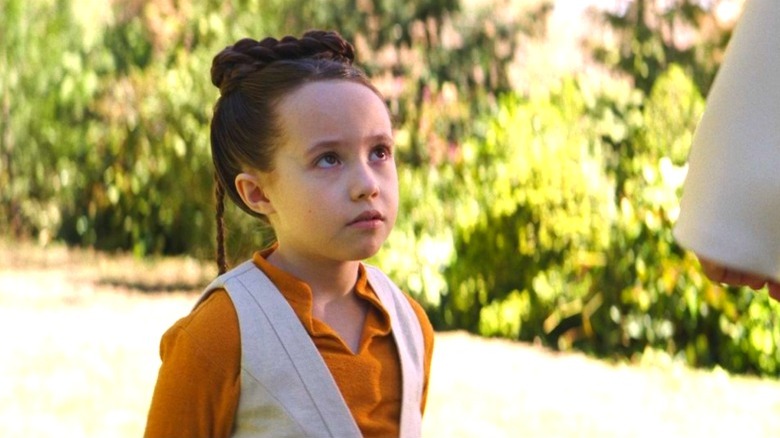 Lucasfilm
There's no real consensus on the surprisingly prominent role of Princess Leia Organa in "Obi-Wan Kenobi"; some are annoyed by the character and would've preferred more focus on Kenobi or Luke Skywalker, while others celebrate her snappish, impetuous behavior as "feisty." (My favorite verdict: "New Coke Grogu.") Everyone agrees, though, that the little girl playing her, Vivien Lyra Blair, is a cutie pie who's a dead ringer for a young Carrie Fisher. Blair certainly looks the part, and the character is excellent at insulting the very people risking their lives to save her and making every single thing more difficult than it needs to be because, look, she's a princess. 
The talented Ms. Blair also appeared in 2018's "Bird Box" as "Girl" (despite the generic name, she has a prominent role in the movie, playing Sandra Bullock's character's daughter). She had an earlier brush with Star Wars royalty, too: In 2020, Blair played Guppy in "We Can Be Heroes," a Robert Rodriguez project. Rodriguez also directed episodes of "The Book of Boba Fett" and "The Mandalorian," and, as a seeker of good vibes, sought out one Pedro Pascal for a brief role in "We Can Be Heroes." If you don't know where you've seen Pedro Pascal before, Star Wars fans, you, like your father before you, are lost.
Joel Edgerton as Owen Lars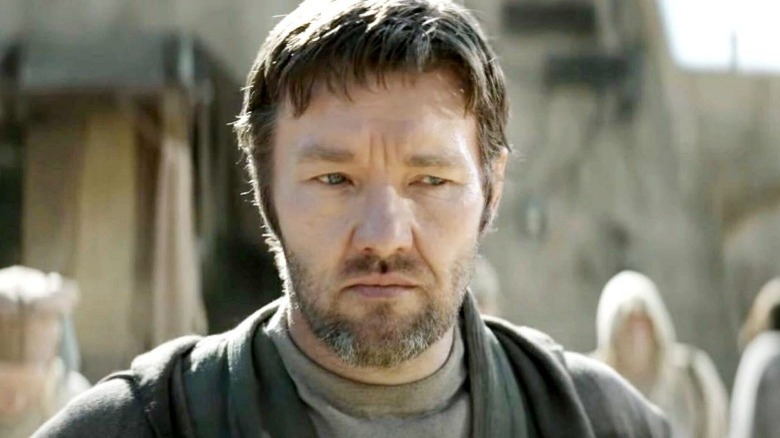 Lucasfilm
If you're wondering where you've seen Joel Edgerton's Owen Lars before, look no further than the Star Wars prequels. Edgerton portrayed Luke's uncle in "Attack of the Clones" and "Revenge of the Sith," and 17 years later he's back, baby, drinking that blue milk and glaring a lot at Obi-Wan. 
A native Australian, Edgerton plays the Star Wars universe's most famous moisture farmer with a rough, folksy edge, standing akimbo when stared down by Reva and snapping "You're wonderin' if he's showin'" when a plaintive Obi-Wan asks after his nephew. His gruff but protective take on the character kind of makes us want to see more of what happened to the Lars family after Luke left — oh, that's right. Never mind.
Otherwise, Edgerton appeared as Sir Gawain in 2004's "King Arthur," and later went on to play mind games with that same member of the Round Table as the Lord in 2021's "The Green Knight." He also appeared in theAcademy Award-winning "Zero Dark Thirty" and Baz Luhrmann's take on "The Great Gatsby," and snared a Golden Globe nomination for his work in "Loving." In addition, Edgerton has recently established himself as a director to keep an eye on, helming "Boy Erased" and "The King," both of which he also starred in.
Flea as Vect Nokru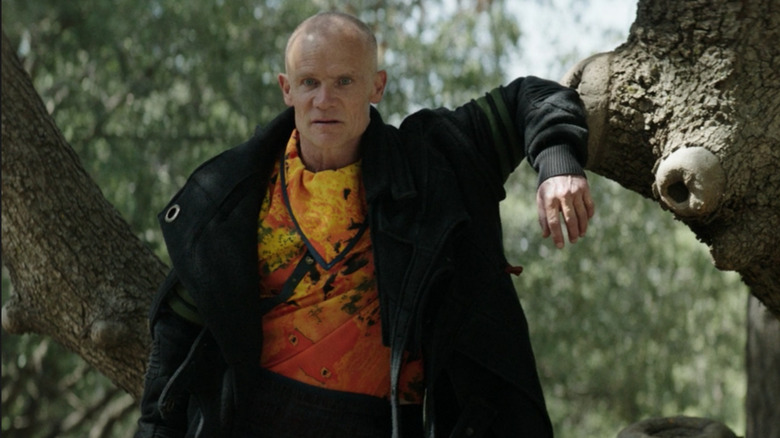 Lucasfilm
We're pretty sure this character is dead, judging by all the yelling, but Vect Norku played a pivotal role in terrorizing, kidnapping, and failing to run quickly after young Leia Organa in the early going of "Obi-Wan Kenobi." If his voice sounded familiar to you, you've probably heard it screaming on Spotify. Mr. Flea, best known as the bassist for the Red Hot Chili Peppers, also popped up in 1984's "Suburbia," and provided voice work for "Toy Story 4," "Family Guy," and "I Heart Arlo." You '80s babies might also remember him as Needles from the Back to the Future franchise. 
This isn't the first time that modern Star Wars has turned to the world of music for a cameo; Flea isn't even the first bass player to appear in the franchise. "The Book of Boba Fett" featured Grammy-winning bassist Stephen Bruner, better known in the jazz fusion world as Thundercat, as a body-modification artist.
Jimmy Smits as Bail Organa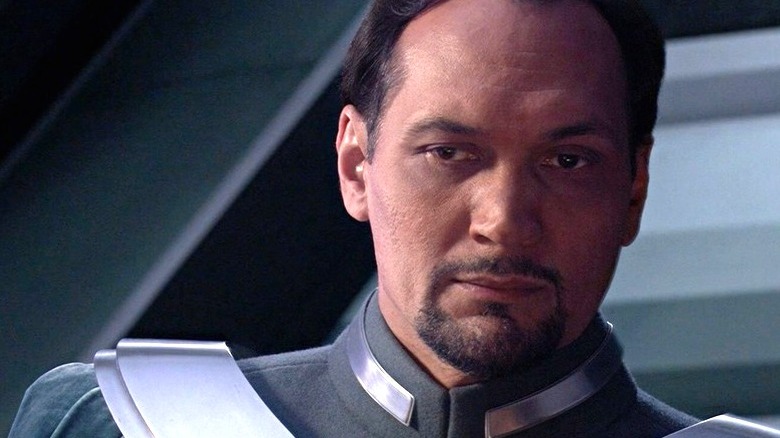 Lucasfilm
The rare Star Wars actor who's better known for projects outside of Star Wars, Smits originally showed up as Leia Organa's foster father, Bail Organa, in the prequels and in "Rogue One." He helps settle the fates of the infant Skywalker twins with Obi-Wan and Yoda at the end of "Revenge of the Sith," deciding that Padme's son will be a farmer in the middle of nowhere who inadvertently gets his family killed, while her daughter will grow up in luxury as a princess who ... also inadvertently gets her family killed. Those Skywalkers!
If you're wondering where you've seen Smits outside of the Galactic Senate chambers and the doomed planet of Alderaan, it's everywhere and in everything. A perennial favorite of the Star Wars fanbase, Smits first rose to fame in "L.A. Law" He later went on to star in "NYPD Blue," and had memorable turns on "24," "The West Wing," "Dexter," and many, many others. However, he never turned his back on the prequels, returning to Lucasfilm to voice Bail Organa again in the video game "The Force Unleashed."
Rupert Friend as Grand Inquisitor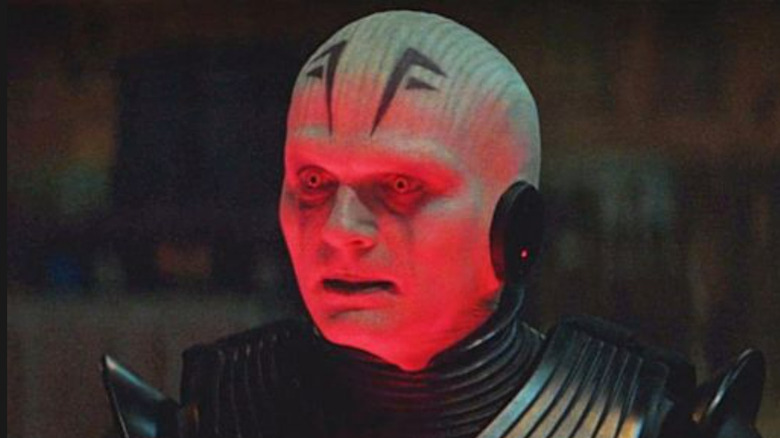 Lucasfilm
This was quite the impressive transformation. The Grand Inquisitor's intoning was the first thing fans heard on the trailers for "Obi-Wan Kenobi," where he delivered a whale of a monologue about the Jedi Code and how the Jedi are nice people and why that's exactly what makes them so despicable. 
Beneath the Inquisitor's pale face paint is Rupert Friend, who was most notably seen in a cravat as Prince Albert in "The Young Victoria." Yes, that menacing monologue-issuer once sported sideburns and sipped tea on PBS as the cousin-husband of Queen Victoria.  More recently, Friend has appeared on "Anatomy of a Scandal" and "Homeland," and played the title role in "Hitman: Agent 47." 
Friend's look in "Obi-Wan Kenobi" doesn't exactly match the Grand Inquisitor's likeness in the Star Wars animated series, but he's still sufficiently sinister. Friend was run through by Reva's lightsaber in the second episode of "Obi-Wan Kenobi," but this is Star Wars. That means that, for better or worse, no one's ever really gone.
Kumail Nanjiani as Haja Estree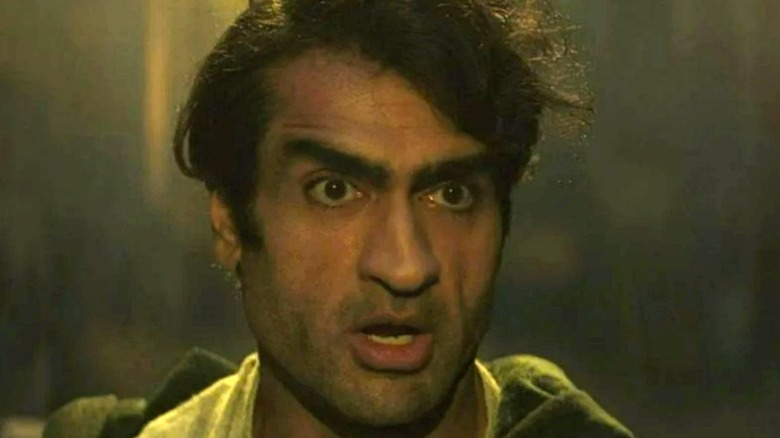 Lucasfilm
At first glance, Haja Estree seems like the type of Star Wars character we've seen pop up repeatedly, and who we can't help but find interesting regardless. Taking cues from Han Solo, whose mortality seems murky until the very end of "A New Hope," Haja Estree is a proud addition to the ranks of scoundrelly folks who we think we can trust, but maybe not, but you know what? Let's take a leap of faith, and hey! Turns out he's a good guy after all! 
Kumail Nanjiani's Haja was an effective foil for Obi-Wan early in the series: He was pretending to be a Jedi while Ben was desperate to appear as anything else. Outside of Star Wars, Nanjiani was nominated for an Academy Award for co-writing "The Big Sick," which is based on his unconventional romance with his real-life wife, Emily V. Gordon, and played Dinesh on "Silicon Valley." You can find him elsewhere on Disney+, too: Nanjiani is also known to Marvel fans as Kingo in "Eternals."
Indira Varma as Tala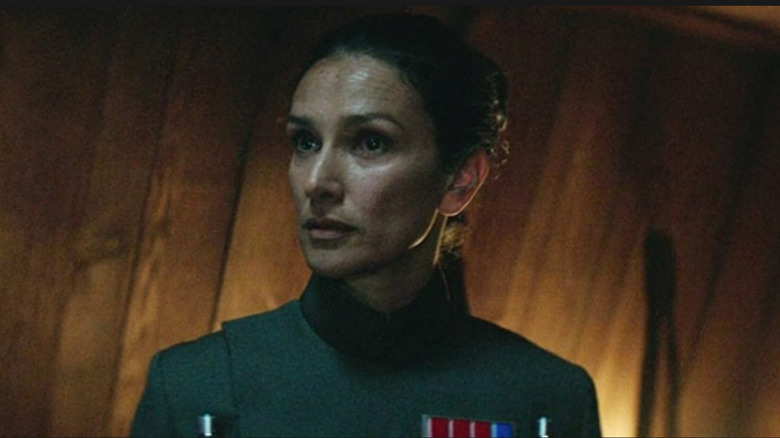 Lucasfilm
We haven't seen many female Imperial officers in the Star Wars universe, particularly in live-action productions. That seemed like it was changing when Indira Varma showed up as an officer on Mapuzo, apparently spelling the end for Obi-Wan Kenobi and Princess Leia. 
But wait! Tala was actually a friend to the nascent Rebellion, working as a double agent inside the Empire. She helped Obi-Wan and Leia escape from Vader's search party, but not Vader himself. Obi-Wan and his gosh darn nobility saw to that.
Indira Varma has popped up in stranger places. She portrayed Ellaria Sand in "Game of Thrones," and has done lots and lots of work for the BBC. On the U.S. side of the pond, she was on HBO's "Rome" and Prime Video's "Carnival Row." And, really, what's a Star Wars production without multiple British accents?