Why Woody Harrelson Originally Turned Down The Hunger Games, Twice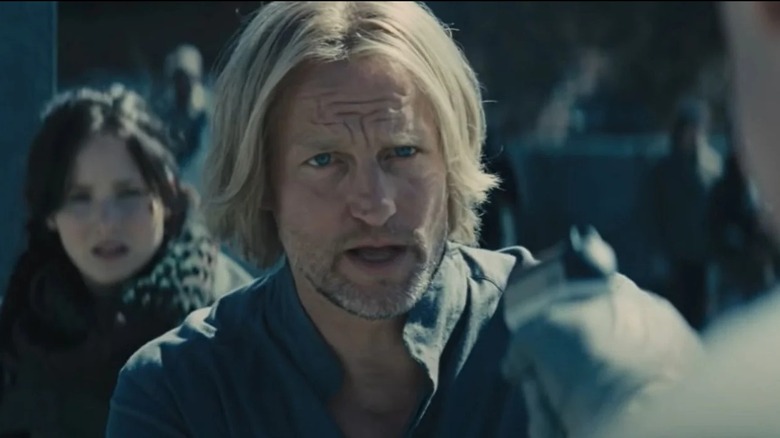 Lionsgate
When it comes to adapting much-loved books like "The Hunger Games" series, casting can often feel like threading the needle. Finding the right actor who can embody a character that many people already have a distinct image of isn't an easy task. So the fact that many of Suzanne Collins' characters felt perfectly cast feels like a bit of a miracle. Not only did they nail crucial roles like Katniss Everdeen (Jennifer Lawrence) and President Snow (Donald Sutherland), but even smaller but no less essential parts like Lenny Kravitz's Cinna or Stanley Tucci's Caesar Flickerman.
Another inspired decision was to give Woody Harrelson the role of Haymitch Abernathy — an aging and alcoholic former Hunger Games winner who mentors Katniss in the films. But the first film's writer and director Gary Ross had his work cut out for him trying to convince the actor to sign on. Harrelson told him no not just once – but twice. You'd think at that point Ross would have given up but he persisted and thanks to him "The Hunger Games" received a Haymitch that appeared to step right off the pages of Collins' books.
Harrelson didn't feel much connection to Haymitch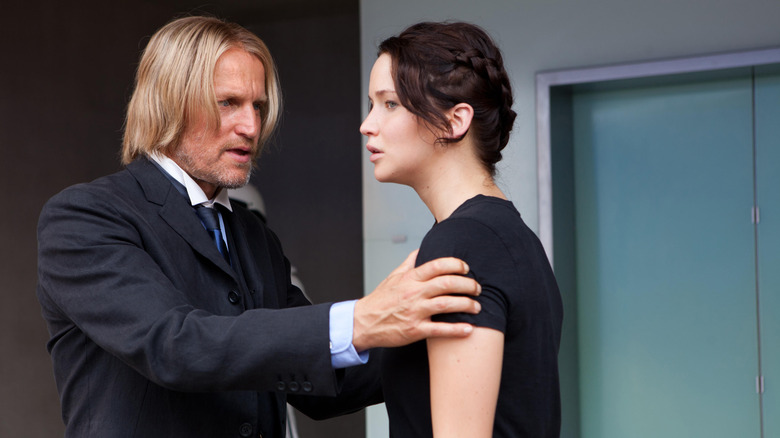 Lionsgate
Considering how well-cast "The Hunger Games" ended up being it's hard to imagine anyone else playing Haymitch so spectacularly as Harrelson. But in an interview with the Independent, the actor initially didn't see himself having much to offer the role.
"I turned it down and they re-offered it and I turned it down again. Then [the first film's writer and director] Gary Ross called me and convinced me to do it on the phone. I'd thought the writing was good but it didn't feel that much to do for me."
One of the reasons Ross might've been able to persevere was because he'd already lost a previous prospect for Haymitch. Before Harrelson, actor John C. Reilly was in talks to play the cynical but charismatic former champion. After that fell apart though all eyes were on the "Zombieland" actor. The timeline itself is unclear but depending on when Harrelson was asked, whether before or after Reilly departed, he might've even been offered a different role the first time around. This could explain why he didn't feel much of a connection to either character – but that's mostly speculation.
Harrelson, in talking about his time on "True Detective," did mention he's cautious about joining any lengthy projects like a television series or, maybe, a multi-book adaptation? "It goes on and on," he said of the commitment. "Just doing 'True Detective' was six months, so that's half a year spent doing it. I think you've really got to be prepared before you jump into something like that." It's easy to imagine a similar thought crept into his head when he was being offered the role of Haymitch – who appears through all four of "The Hunger Games" films. Luckily though it was a commitment Harrelson was willing to make.
It took reading The Hunger Games trilogy to convince Harrelson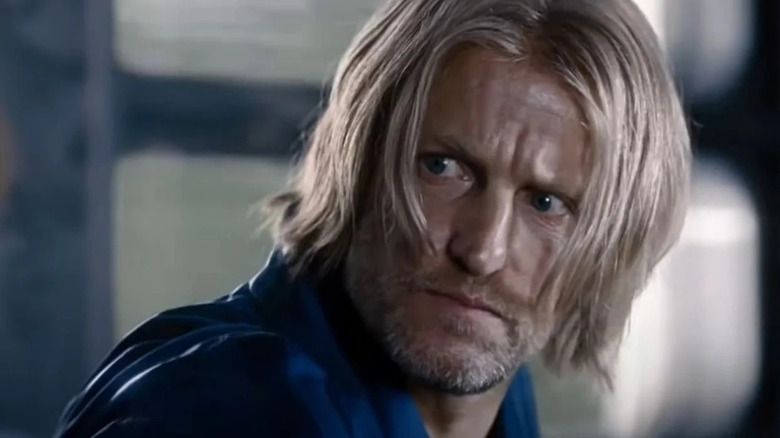 Lionsgate
Apart from Ross' insistence, Harrelson also took it upon himself to do his own research. Not just relying on the script or descriptions of the character by other people – the actor went straight for the source material. Harrelson ended up reading all three books in Collins' trilogy and in doing so found himself hooked. He told the Independent:
"I thought Suzanne wrote incredible stories that are the perfect illustration of what's going on in the world, with governments controlled by giant industries."
It was that thematic connection with "The Hunger Games" that snowballed into Harrelson eventually accepting the role of Haymitch. Although he admits "it's a bleak outlook," he also recognized the imperative of stories like the ones written by Collins. It's fitting that Haymitch himself is an example of someone made apathetic by such bleakness but who finds it in them to eventually break out of that mindset. Had Harrelson not read the books he might not have signed on – so don't let anyone ever tell you that reading a book never changed the world. It gave us the perfect Haymitch after all.