18 Underrated Anime Movies You Really Need To See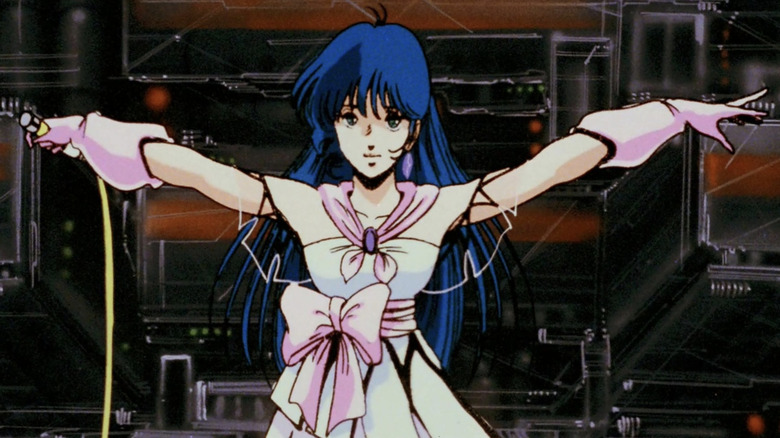 Toho Company
Anime films have a certain kind of magic to them. They can impact an entire genre, like Mamoru Oshii's classic anime epic "Ghost in the Shell," or bring fans to tears, much like Hayao Miyazaki's countless masterpieces. Similarly, they can change the minds of those who believe animation is only for children's entertainment while also introducing new technological innovations into the filmmaking landscape. In short, when all of those (and other elements) are mixed together, it's easy to see why anime movies continue to delight fans across the globe. 
With the anime industry releasing so many movies year after year, though, there are just as many that go unnoticed. Whether they are hit movies from the past that new fans have dismissed or films that never got their time to shine, this list is here to give these projects the respect they deserve. So sit back, relax, and grab your favorite anime-approved snack (some Apollo Candy or Pocky, for instance) and let's take a look at some underrated cinematic anime treasures. 
Ride Your Wave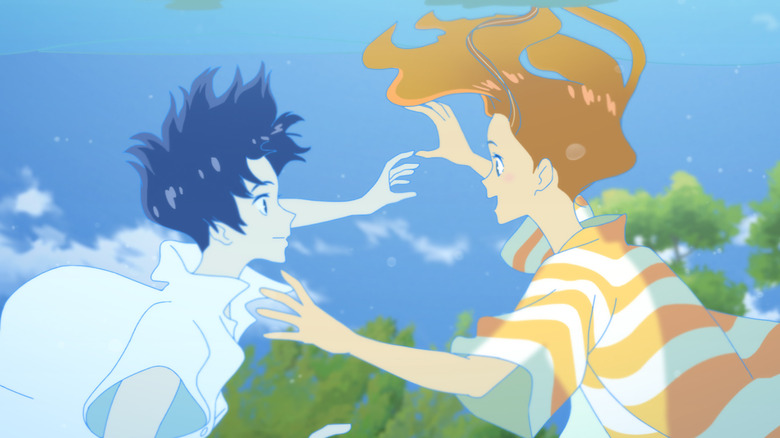 Toho
Director Masaaki Yuasa's "Ride Your Wave" is a drama for those who dig romantic tales and long strolls on the beach. The story centers around Hinako Mukaimizu, a 19-year-old surfer whose new apartment goes up in flames. Thankfully, a firefighter named Minato Hinageshi saves her, and as anyone can imagine, the attractive pair grow to form quite the lovable bond. But when a horrific scenario changes everything, Hinako and Minato's love story is put to the ultimate test, one that at first seems fantastical but has a lot more going on underneath its cinematic layers.
From its incredible cast of characters to the film's beautiful narrative arcs, "Ride Your Wave" is a fascinating movie with a very humble message at its center, relatable to anyone who has lost someone they hold dear. While it's telling a story with some fairytale-like qualities, the movie is more down-to-earth than its hyper-romantic images make it seem. Overall, this delightful movie wears its heart on its sleeve in a more out-of-the-box way and is an underappreciated treasure from Yuasa's ever-growing catalog.
A Journey Through Fairyland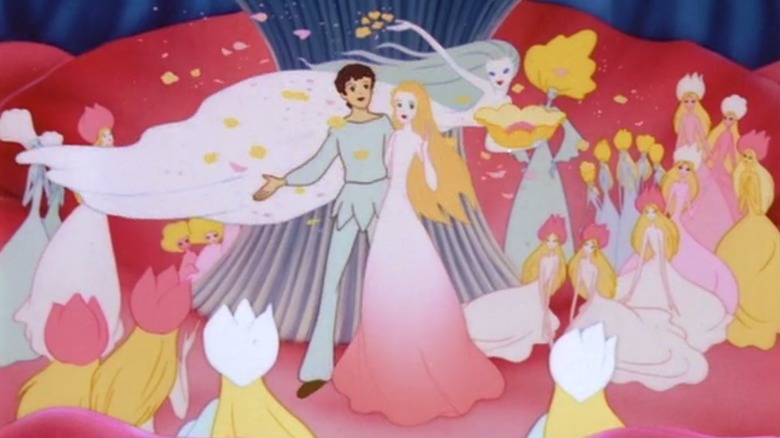 Celebrity's Just for Kids
A sugar-coated tribute to Disney's "Fantasia," Masami Hata's "A Journey Through Fairyland" (also known as "Fairy Florence") is a pastel piece of perfection. The story is a simple yet fantastical one: A young musician named Michael becomes disillusioned with his musical lessons, resulting in him getting hyper-fixated on working in his favorite greenhouse. One night, after being dismissed from his music school, Michael encounters a beautiful fairy named Florence, who takes him on an adventure into her enchanting world. But like any magical journey, our hero must face not only the threats that loom over the world of the fairies but his own real-life anxieties as well.
Produced by Sanrio (yes, the "Hello Kitty" people), "A Journey Through Fairyland" definitely evokes the company's signature colorful bit of whimsy. The soft palette makes it an aesthetic dream for pastel lovers, with visuals that will stay in your memory for years to come. The most remarkable aspect of "Fairyland," though, is how it visualizes the music of classical composers such as Beethoven and Chopin. From Sanrio character-infused merriment to almost "Neon Genesis Evangelion" like monsters, every sequence in this movie is full of lavish details that will delight both kawaii culture fans and animation nerds alike.
Roujin Z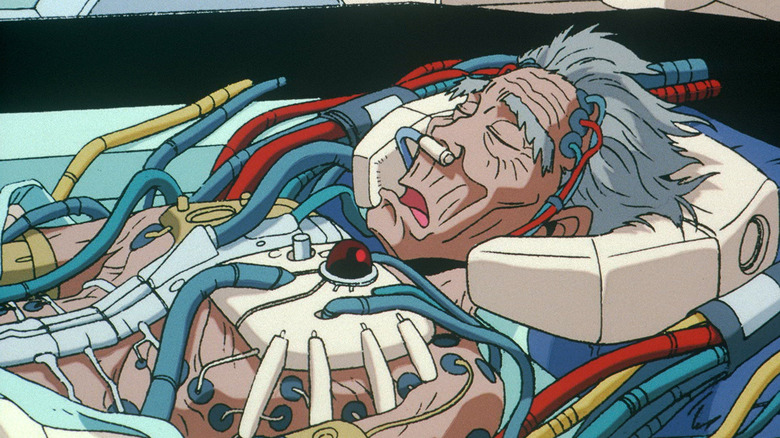 Sony Pictures Classics
While there are certainly a lot of anime movies about robots, none of them are quite as wild as " Roujin Z." Set in an alternative 21st-century Japan, a unique medical robot is created to help take care of elderly patients. From bathing to getting rid of bodily fluids, it can do anything a human can do but better. Yet when the machine's first test subject, the fading widower Kijuro Takazawa, is taken hostage by the robot (as it tries to make its way to the beach), it's up to Haruko, a student nurse who has grown close to Kijuro, to save the day.
Directed by Hiroyuki Kitakubo and written by Katsuhiro Otomo, this clever bit of sci-fi still packs quite a comedic and emotional punch. From the horrific medical depictions to the exaggerated reactions of its various wacky characters, it strikes an excellent balance of knowing when to go dark without pushing the boundaries. The highlight of "Roujin Z" is Otomo's distinct writing style. This is the master who gave the world "Akira" after all, and it's no surprise that this film is another example of Otomo's narrative talents. Plus, with the distinctly late '80s/early '90s designs of Hisashi Eguchi, it's easy to see why this hidden gem has its fans — but it clearly should have more.
The Night Is Short, Walk on Girl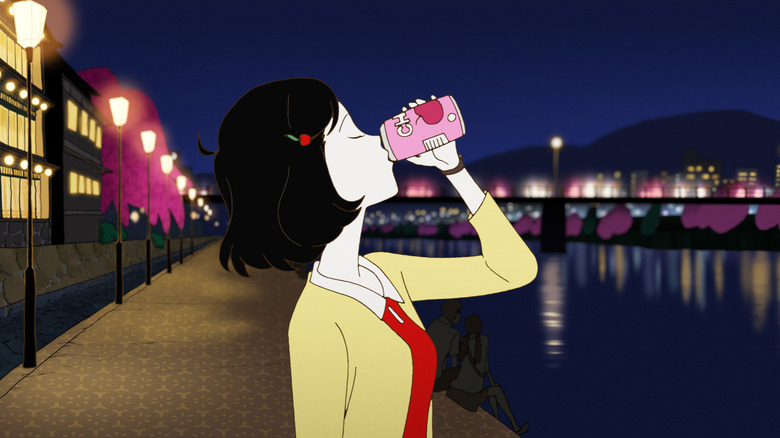 Fathom Events
Filled with colorful brilliance from the first frame onward, Masaaki Yuasa's "The Night Is Short, Walk on Girl" presents a slice-of-life story with a creative spin. Based on Tomihiko Morimi's book of the same name, the story centers on two unnamed university students — one described as Otome and the other as Senpai — who go on a crazy night of drinking and other adventures. As their journey goes on, the themes of love and serendipitous circumstances play out in a chaotic yet beautiful piece of filmmaking that's hard to forget.
While far from the conventional anime movie, Masaaki Yuasa's style is the definition of imaginative. Morimi's story could have been translated into an elementary presentation in any other filmmaker's hands, but Yuasa is a director who takes both visual and narrative risks that almost always seem to pay off. Sure, "The Night Is Short, Walk on Girl" might not be for the casual anime fan, but it's a film that proves some of the best anime projects are the ones that tell simple stories in new, groundbreaking ways.
Jin-Roh: The Wolf Brigade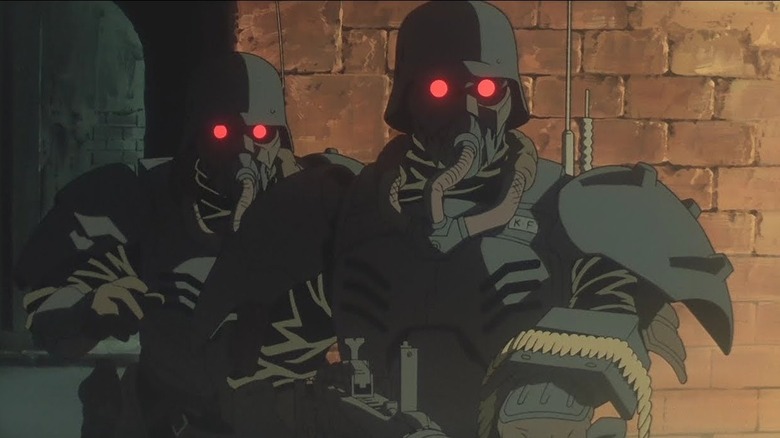 Tidepoint Pictures
Considered a high-ranking treasure of the '90s, "Jin-Roh: The Wolf Brigade" is a film often dismissed by newer anime fans. Directed by Hiroyuki Okiura with a script written by Mamoru Oshii, this political thriller presents an alternative 1950s Japan in which a counter-terrorism unit known as Kerberos Panzer Cops kill any threat that crosses their path. One such member of the group is Kazuki Fuse, who finds himself questioning every element of his life after failing to kill a young girl who later takes her own life. Once he meets and develops a relationship with the young victim's sister, things get even more complicated.
Filled with dark, striking imagery, "Jin-Roh" continues to be one of the rare anime films that becomes more poignant as time goes on. Sure, there's no denying that its dramatic themes have always carried some real-life weight. But for the anime fans in search of a movie that takes its audience and message seriously, this masterpiece from Okiura seems more significant than ever before. Plus, with incredible work by Production I.G., "Jin-Roh" is a stunning piece of cinema for any animation nerd to dissect frame for frame.
If you or anyone you know is having suicidal thoughts, please call the National Suicide Prevention Lifeline​ at​ 1-800-273-TALK (8255)​.
Adolescence of Utena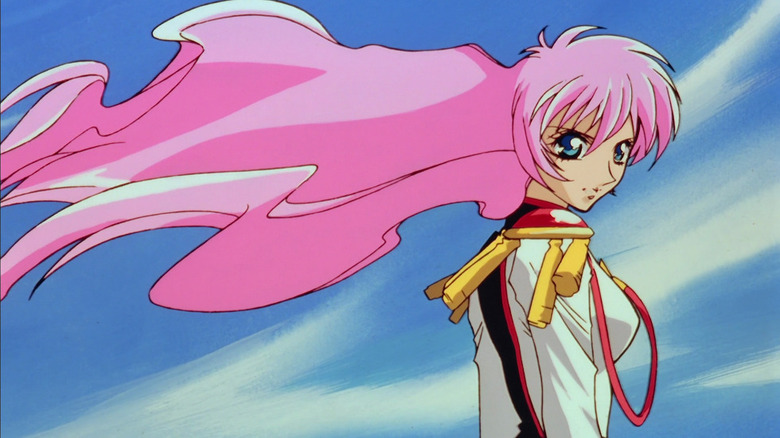 U.S. Manga Corp.
Certain anime films exist to retell the stories of long-running anime series. One of the more unconventional examples of this is Kunihiko Ikuhara's "Adolescence of Utena," a reimagined take on the magical girl TV anime "Revolutionary Girl Utena," which makes bold choices from beginning to end. The story follows Utena Tenjou, a new student at the prestigious Ohtori Academy, who finds herself getting mixed up in the fairytale-inspired sword fighting culture of the school. Within these battles, she meets Anthy Himemiya, a mysterious beauty known for her magical sword-producing abilities who changes the course of Utena's life (both romantically and otherwise) forever. 
While not for the casual anime watcher, "Adolescence of Utena" is best described as a David Lynch movie dipped in Disney aesthetic paint. From the jaw-dropping set pieces to the incredibly deep metaphorical images, it's a movie that tackles themes (such as maturing to adulthood, gender, sexuality, etc.) in a way only Ikuhara could conjure up. With stunning animation by J.C.Staff, this is a film that deserves to be examined frame-by-frame and put up in an art gallery for additional analysis. It might be an anime movie that isn't as accessible compared to other entries on this list, but for those willing to go in with an open mind, it's easy to see why "Adolescence of Utena" deserves more respect than it gets. 
Sea Prince and the Fire Child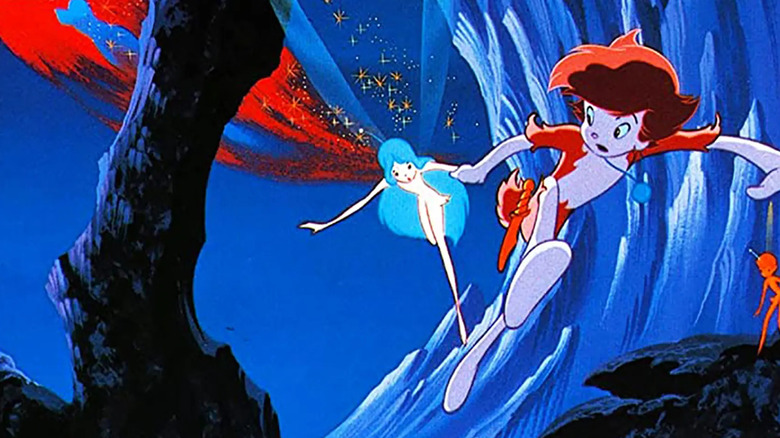 RCA/Columbia Pictures Home Video
Another Sanrio production, Masami Hata's "Sea Prince and the Fire Child" loosely retells the famous story of "Romeo and Juliet" but with a fairy tale twist. In the film, Glaucus, the God of Water, and Themis, the Goddess of Fire, are on bad terms because of a misunderstanding. Due to the dramatic circumstances, the two kingdoms are at war, forbidding their people to ever interact with the other side. As the years pass, the children of the gods eventually meet, leading the two young royals to fall madly in love with each other. But as is the case with most romances of this kind, the pair must face incredibly extreme circumstances to see their love through.
Despite some narrative flaws, "Sea Prince and the Fire Child" is a beautiful example of early '80s anime in its purest form. From the soft character designs to the stunning color palette, every frame is a visual treat to take in. The film's most outstanding quality is how it wonderfully juxtaposes its whimsical imagery with its tragic storytelling; something that other anime films of the decade accomplished, but not as ambitiously as Hata's movie does. Ultimately, "Sea Prince and the Fire Child" is a movie for the newer anime fans curious to explore the forgotten gems of the past.
Night on the Galactic Railroad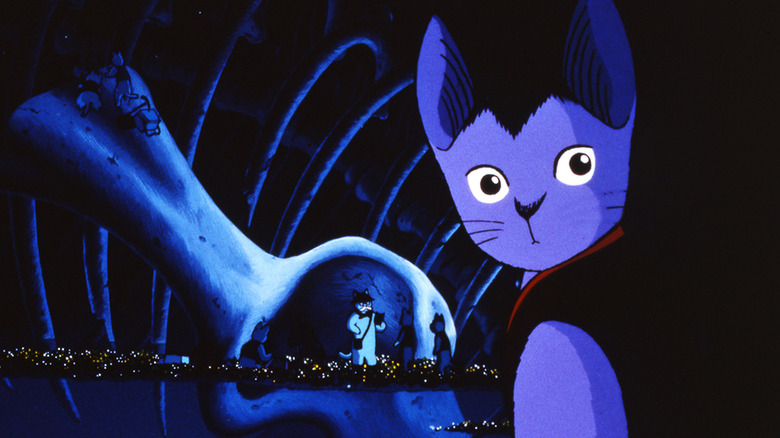 Herald Ace
Based on the beloved 1934 novel by Kenji Miyazawa, the 1985 classic "Night on the Galactic Railroad" tells the story of a young cat named Giovanni who, while adventuring through the woods, discovers a magical train that is traveling towards the Milky Way. As he enters, he crosses paths with his friend Campanella and begins to set forth on what seems to be a whimsical adventure across the galaxy. But as the journey progresses, Giovanni learns some significant life-altering lessons as he encounters and discovers the truth behind the train's many fascinating passengers.
Directed by Gisaburo Sugii, this adaptation of Miyazawa's work serves as a great tribute to the original text and the author's life. From the choice to make the majority of the characters cats to the use of Esperanto in the film's captions, Sugii and the team at Group TAC obviously put a lot of thought into this beautiful film. Considering the movie's ever-growing fanbase over the years, that attention to detail (along with the memorable score by Haruomi Hosono) clearly paid off. Still, Sugii's masterpiece deserves the same admiration granted to Hayao Miyazaki's films and is a must-see for any anime fan willing to give it a shot.
The Cat Returns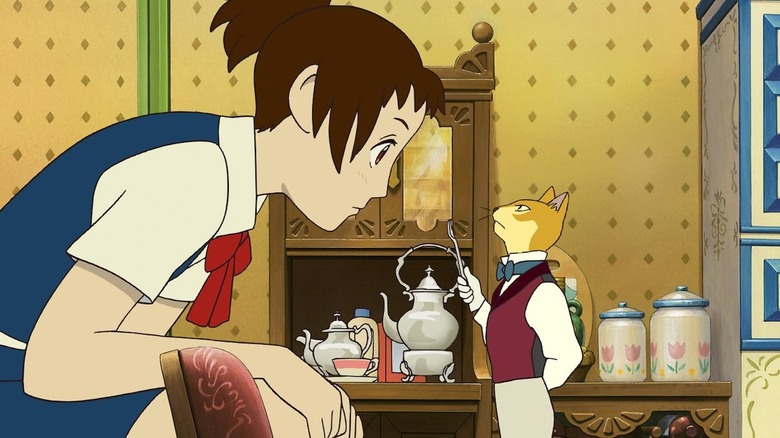 Walt Disney Pictures
While not the most visually striking of Studio Ghibli's work, Hiroyuki Morita's "The Cat Returns" weaves an adorable tale that befits the studio's typical whimsical sensibilities. In the movie, high schooler Haru Yoshioka finds herself being pressured to marry the Prince of the Cat Kingdom after rescuing him in the human world. But as Haru is kidnapped and taken to live out her new feline life, it's up now to The Baron — a magical cat figure who can come to life — and other quirky characters to help Haru believe in her abilities to escape this ridiculous situation.
Serving as a spin-off of Ghibli's "Whisper of the Heart," Morita's film does a fantastic job striking the right balance between being silly and wholesome. From a character getting stuck in catnip jelly to Haru's emotional connection to another cat character, "The Cat Returns" always knows when to cue in the laughs and the tears. However, the reason why this underrated gem is on the list (and should be seen by all anime fans) is how incredible the English dub of it is. Featuring the likes of Anne Hathaway, Cary Elwes, and the iconic Tim Curry, every actor adds a particular bit of sparkle to their characters, making for quite the entertaining experience all around.
Escaflowne: The Movie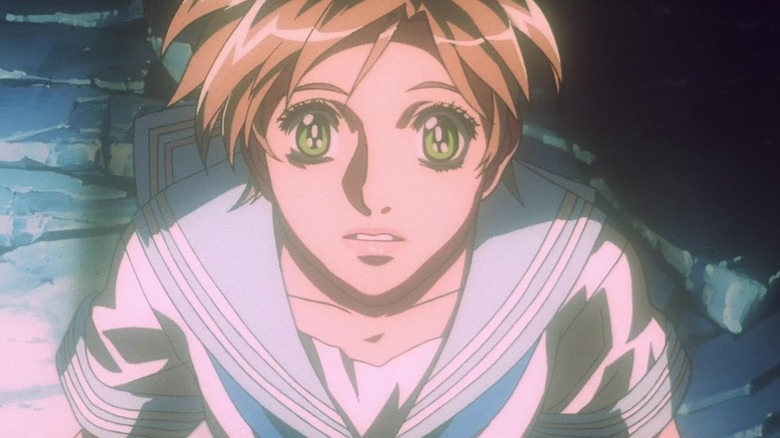 Bandai Entertainment
Like "Utena," Kazuki Akane's "Escaflowne: The Movie" adapts Sunrise's beautiful 26-episode series into a feature-length retelling that deviates quite a bit from its source material. In the movie, a young woman named Hitomi Kanzaki is plagued with nightmarish dreams leaving her depressed and feeling alone in the world. Hitomi's life is turned upside down when a mysterious man summons her to the fantastical world of Gaea, a place filled with bloodshed and war. There, Hitomi must discover how she fits into this complicated situation while finding out her connection to Lord Van and the mystical suit of giant dragon armor known as Escaflowne.
Though not as elegant nor whimsical as its TV predecessor, "Escaflowne: The Movie" is a fascinating reimagining that takes a darker, deeper look into the beloved '90s anime. It tells an isolated story for fans unaware of the original series but still honors the lovey-dovey vibes at the show's center. Plus, with a stunning musical score by Yoko Kanno, the entire film is a feast both for the eyes and hears from beginning to end. Ultimately, "Escaflowne" is a beautiful example of both animation studios Bones and Sunrise's work and acts as an excellent primer for anime fans looking for stories with a fantastical and romantic edge.
Redline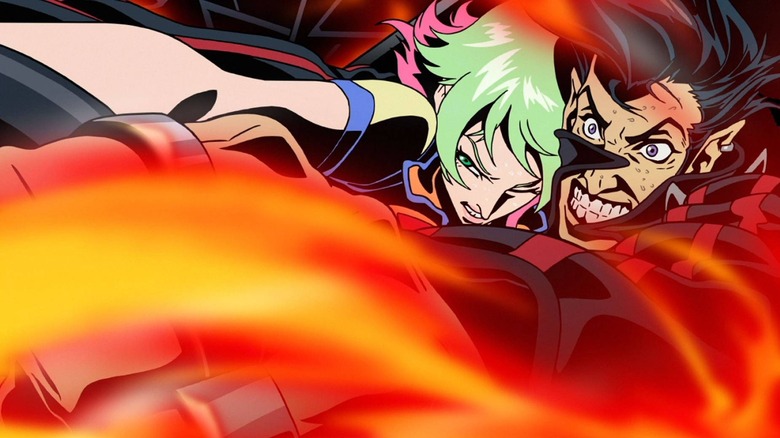 Manga Entertainment
With a distinct visual aesthetic, Takeshi Koike's 2009 film "Redline" takes car racing to a whole new level of intensity. Set in a sci-fi world full of quirky aliens and other individuals, the film focuses on a galactic racing competition, the Redline, in which incredible racers go to any length (and use any weapon) to cross the finish line. From ridiculous-looking flying vehicles to hazardous techniques, this Grand Prix is definitely not for the faint of heart, nor is the movie itself.
Featuring the brilliant work of animation studio Madhouse along with the stunning character designs by Katsuhito Ishii, "Redline" is an adrenaline-fueled piece of perfection. From the intense action sequences to the exaggerated flourishes shown within the character's reactions, it's clear that the word "chill" is never in this film's vocabulary. The movie's most outstanding achievement, though, is how it seamlessly blends its fantastic animation with heart-pounding sound design (also helmed by Ishii along with Youji Shimizu), resulting in a finished product that will fascinate even the most casual of anime fans.
Vampire Hunter D: Bloodlust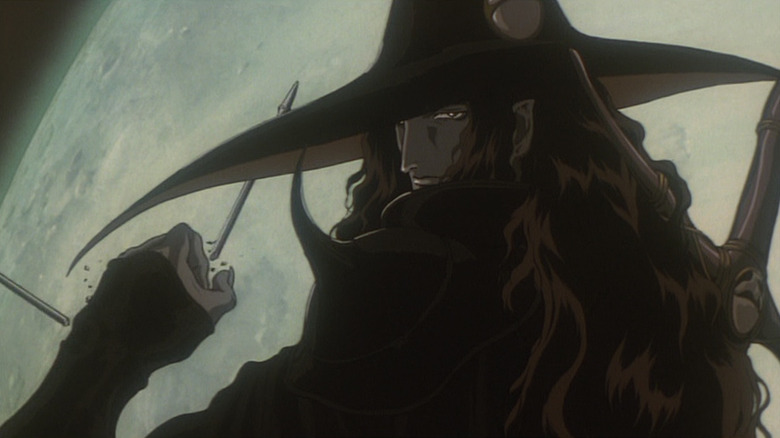 Urban Vision Entertainment
Another underappreciated masterpiece by Madhouse, Yoshiaki Kawajiri's "Vampire Hunter D: Bloodlust" mixes the best of horror, westerns, and other bits of terrifying fantasy into a tale of romance, tragedy, and everything in-between. In the film, the famous bounty hunter D, a half-human, half-vampire hybrid, is tasked with saving a young woman named Charlotte from the terrifying clutches of the vampire Count Meier Link. But once he discovers the truth behind Charlotte and Meier's relationship, D finds himself at an emotional crossroads, one that conjures up memories of the past while also testing the limits of his own moral compass.
Based on the third book in Hideyuki Kikuchi's "Vampire Hunter D" series, Kawajiri does a fantastic job adapting the famous anime character with his own signature directorial style. Starting with the film's horrific intro to the impressive castle-crushing finale, this film proves why the famous "Ninja Scroll" director is still considered one of the greats within the anime industry. Yet what makes "Bloodlust" a must-see are the characters within it. From the haunting figure that is D to the other horrific supporting players, it's easy to see why this film has garnered a devoted fanbase over the years — but it deserves even more admirers.
Porco Rosso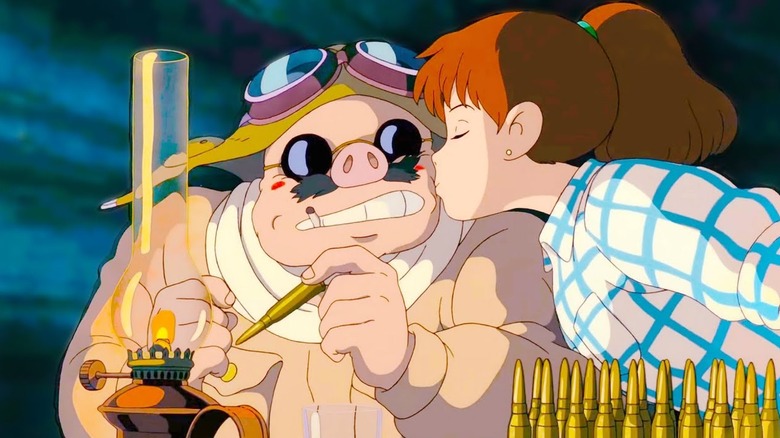 Toho Company
While it's hard to admit that any Hayao Miyazaki film is underrated, there are a few that do fall through the fandom cracks. One of those is the mature yet delightful "Porco Rosso," a film that incorporates many of Miyazaki's favorite elements including flight, transformation, and characters with a lot of complicated things to work out. Based on Miyazaki's own three-part watercolor manga "The Age of the Flying Boat," the story is centered on the titular Italian fighter pilot who has been cursed with a pig-like face. The film then follows Porco on various adventures as he crosses paths with old flames and makes new friends, all the while going up against sky pirates and other foes. 
From its very first frame to its last, "Porco Rosso" is a film that sets itself apart from Miyazaki's other more family-friendly material. It's a film that treats its audience with respect and never takes the easy route when it comes to its character arches or its narrative subtext. While that might not be every anime fan's cup of Studio Ghibli tea, "Porco Rosso" is definitely worth examining not only for its beautiful animation but its equally entertaining and complex characters. Plus, with its world-class English dub (starring Michael Keaton in the title role), it's hard to not fall under the movie's quirky spell. 
Macross: Do You Remember Love?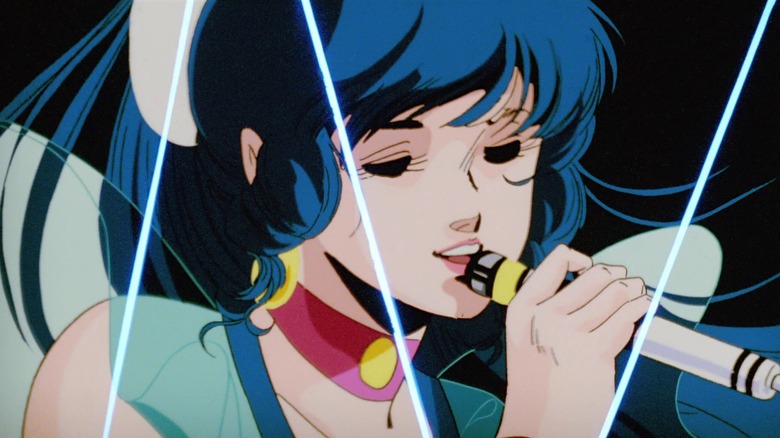 Toho Company
When it comes to anime movies that focus on giant robot-themed tales, none are quite as iconic (and currently underappreciated) as "Macross: Do You Remember Love?" This Noboru Ishiguro and Shōji Kawamori co-directed project is fondly remembered for its iconic soundtrack, jaw-dropping visuals, and a spellbinding third-act finale that lit up the anime fandom back in 1984. Yet as the years have passed, newer anime fans have often dismissed or have no clue of the existence of this cinematic treasure. This could be because it's based on a property with quite a unique history in terms of its overseas reception.
With its industry-defining hand-drawn animation and memorable '80s aesthetic, "Macross: Do You Remember Love?" had to be featured on this list; without its existence, we might not have many of the elements anime fans have come to adore. From pop idol love interests to multi-layered galactic battles, this story about a robot-turning space fortress going to war with an alien civilization has continued to leave its mark on anime culture. Making it clear that "Do You Remember Love?" deserves to be seen by all anime fans for many reasons, but especially for its impact on the anime industry as a whole.
Whisper of the Heart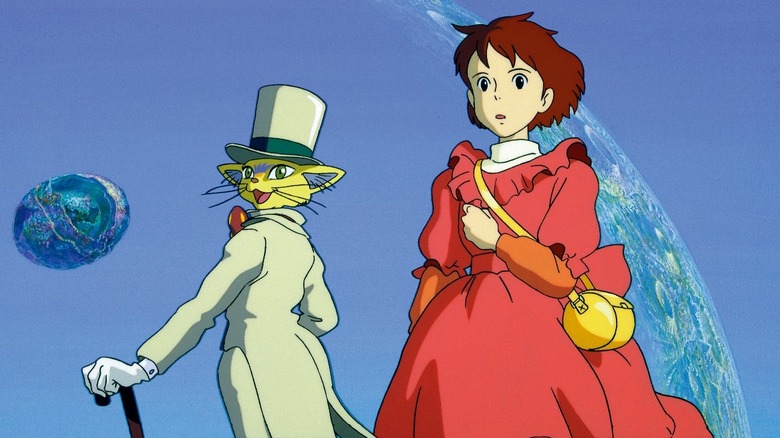 Toho Company
Directed by Yoshifumi Kondō, Studio Ghibli's "Whisper of the Heart" is a slice of life film that is the definition of whimsical. Based on the manga by Aoi Hiiragi, the film centers on protagonist Shizuku Tsukishima, a 14-year-old girl who loves fairy tales just as much as she does writing parody versions of popular American songs. One day, she finds herself stumbling upon an antique shop and becomes friends with the shopkeeper's grandson, Seiji Amasawa. Impressed by his drive to want to become a violin maker, Shizuku takes it upon herself to start writing a novel in the hopes of finding her purpose in life.
With a screenplay written by Hayao Miyazaki, "Whisper of the Heart" is filled with the typical narrative gems found in most of Studio Ghibli's filmography. From discovering your first love to figuring out how to make your goals come true, "Whisper" covers all of the ground any coming of age story should. But what makes it magical is the direction of the late Kondō, who sadly never got to helm a feature film after this one. He clearly had a creative eye, which comes across in the stunning fantasy sequences that represent Shizuku's many stories. Overall, "Whisper of the Heart" is a gem that every anime fan should see for its beautiful story and to admire Kondō's excellent work.
Metropolis (2001)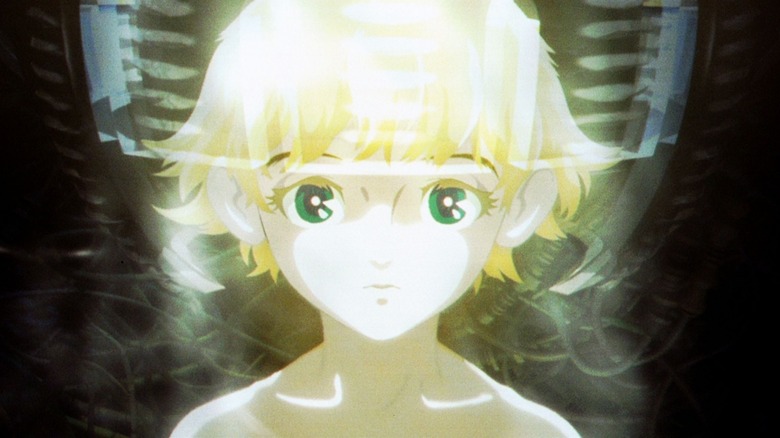 Toho Company
Helmed by veteran anime director Rintaro, 2001's "Metropolis" is a sci-fi gem that seems to have been forgotten to the sands of time. An adaptation of Osamu Tezuka's 1949 manga series of the same name, the film focuses on a young boy named Kenichi Shikishima who, along with his detective uncle, travels to Metropolis in the hopes of capturing the evil Dr. Laughton, a scientist wanted for various organ trafficking violations. Upon finding Laughton, Kenichi discovers a robot girl named Tima, created by Laughton for the city's unofficial ruler, Duke Red. Now on the run inside Metropolis' most dangerous area, it's up to Kenichi to protect Tima before the two are caught by the anti-robot group, the Marduks.
From its first frame to its last, "Metropolis" proves that Rintaro (along with screenwriter Katsuhiro Otomo) understands the work of the godfather of manga better than anyone. This is ironic since even Osamu Tezuka himself often struggled with creating feature-length work. But that's what makes "Metropolis" such a treat to behold: it captures the magic of Tezuka's artistic charms while showcasing the best of the then-current animation techniques. In a fandom that has often forgotten the work of the past, "Metropolis" serves as a reminder of how far anime has come, all thanks to the efforts of people like Tezuka and so many others.
Millennium Actress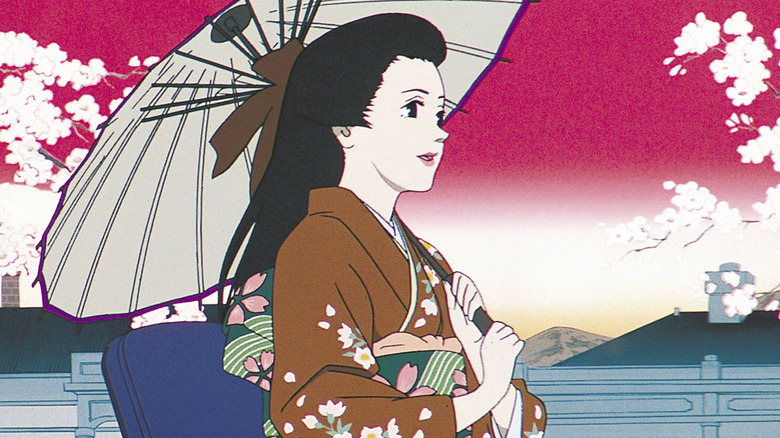 DreamWorks Animation
Satoshi Kon's "Millennium Actress" is one of those anime movies that checks all the right boxes. The story primarily focuses on the fictional life of Chiyoko Fujiwara, a dying actress who has become the subject of a documentary. As the filming progresses, the documentary crew — one of which is a massive admirer of Chiyoko's work — begins to visualize the most significant moments of her life, so much so that they feel they're part of the films that defined her career. But as the pair begin to learn more about their subject, they unravel Chiyoko's emotional past, resulting in a project that is life-altering for all involved.
While it might not be as visually outrageous or groundbreaking as Kon's other films, "Millennium Actress" is a movie that feels utterly timeless. It serves as a love letter to Japanese cinema while also proving Kon's skills as an emotional storyteller, particularly when it comes to the film's third act, which is filled with delicious reveals one right after the other. Yet the reason why "Millennium Actress" needed to be included on this list is how it showcases what animation is capable of achieving. Yes, this story could have been told in live-action, but studio Madhouse's distinct animated talents make this otherwise familiar story seem luxurious. Overall, "Millennium Actress" is a gem of Kon's filmography that deserves more fandom appreciation for its simplicity and inherent beauty. 
Only Yesterday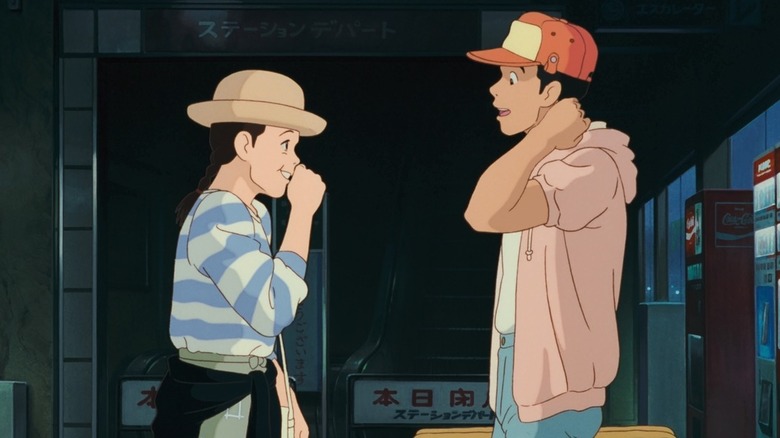 GKIDS
Arguably the most underappreciated movie in Studio Ghibli's filmography, Isao Takahata's "Only Yesterday" is a slice-of-life masterpiece. Based on the manga by Hotaru Okamoto and Yuko Tone, the film follows 27-year-old protagonist Taeko Okajima, an unmarried city girl who decides to take a trip to the countryside to escape her typical life. As she travels, Taeko begins to go through her childhood memories, including everything from reliving her young crushes to travel-related dreams. But as her trip continues, Taeko begins to come to terms with not only her past but also her uncertain future.
While many of the films on this list are larger-than-life spectacles, what makes Isao Takahata's film a masterpiece is how it is anything but epic. It's telling an intimate story on a very down-to-earth level, respecting the emotions and representations of its predominantly female cast all along the way. Plus, with its innovative-yet-simple character designs that feature facial imperfections and other visual quirks, and its fantastic soundtrack by Katz Hoshi, "Only Yesterday" is a film that often feels like a love letter to life itself. This movie shouldn't be viewed as just a great piece of anime but as a fantastic example of good old-fashioned storytelling.