You Can Now Stream The Bonkers Natasha Lyonne Horror Movie The World Wasn't Ready For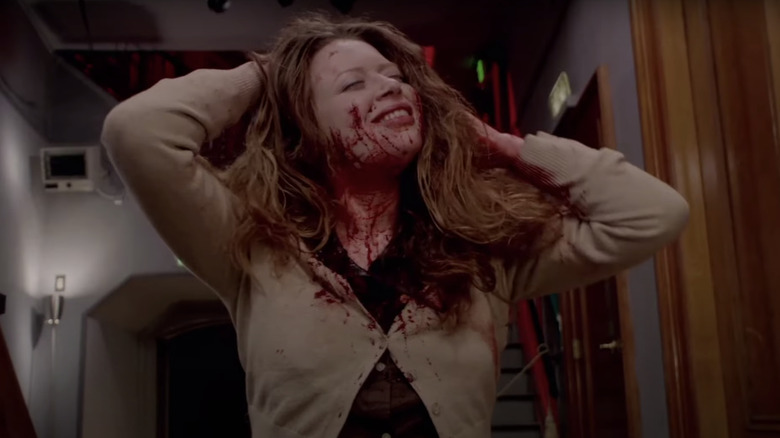 Shudder
When we talk about "lost films," we typically think of movies that were made decades before the technology existed to keep them preserved, or films that never made the jump from one medium to another, cemented forever on VHS tapes and illegal rips to YouTube. More than likely, you're not going to think of a film with a leading performance by the star of "Russian Doll," "Orange Is the New Black," an upcoming murder-mystery series from Rian Johnson, and the woman who hosted "SNL" on the final night of Kate McKinnon, Pete Davidson, Aidy Bryant, and Kyle Mooney. And yet, that's exactly what almost happened with Joshua Grannell's "All About Evil," starring the one, the only, Natasha Lyonne.
"All About Evil" tells the story of Lyonne as a meek and mousy librarian named Deborah who inherits an old-school movie theater after her father passes. Deborah's ruthless and abusive stepmother tries to convince Deborah to sell the theater as a means to collect the cash, which sends Deborah on a murderous killing spree making grisly short films to play at the theater, with the audience unaware that they're actually witnessing Deborah's homemade snuff films.
The film debuted at the San Francisco International Film Festival and enjoyed a limited theatrical run with a touring production throughout 2010. And then ... that was it. No huge release. No Netflix deal. It's as if the film disappeared into the ether, becoming the ultimate underground midnight movie, remembered only by those fortunate enough to have witnessed it. Now, thanks to a brand new blu-ray release from Severin Films and the horror hounds over at Shudder, "All About Evil" is finally available for consumption by the masses.
A film from a world we forget existed
If you don't know the director Joshua Grannell by name, you may be more familiar with his drag persona, Peaches Christ. A staple of both the San Francisco drag and movie scene, Peaches Christ hosted the Midnight Mass movie series for over a decade, and now hosts a podcast of the same name with frequent collaborator Michael Varrati, celebrating the cult films frequently shown during Peaches' series. When it comes to the world of midnight movies, Peaches Christ is the queen of the midnight movie scene, and a bonafide cult leader ... of cult classic cinema, of course. "For years, the movie has been unavailable and fans have been clamoring for it," Peaches said in a statement. "As the creator, it's been frustrating to say the least."
When "All About Evil" debuted in 2010, the world was a lot different than it is today, despite it feeling for some like just yesterday. For perspective, "RuPaul's Drag Race," which has earned host RuPaul Charles the distinction of winning the most Emmy Awards for a person of color, premiered its first season just the year prior, events like DragCon wouldn't exist for another five years, "The Boulet Brothers' Dragula" was still an underground showcase without television cameras, and the legalization of gay marriage in the United States was still half a decade away. A low-budget horror movie starring mostly underground stars and directed by a drag queen wasn't going to be viewed as a hot commodity in 2010 the way it is now. But Peaches Christ has been putting in the work for decades, even if the world at large didn't appreciate it.
All the makings of a midnight movie classic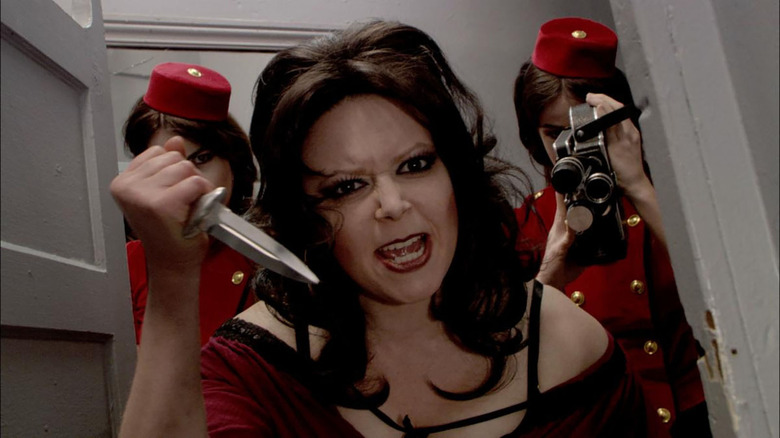 Shudder
"All About Evil" has all of the staples of a midnight movie classic, thanks to a script and directorial eye fostered by Grannell's years of presenting, appreciating, and preaching the gospel of films often relegated to rowdy, after-hours crowds. "I feel like I've been given a great gift from both Severin and Shudder and am thrilled so many new people will discover my Evil little baby," Grannell said. If the mysterious history of the film doesn't intrigue you enough, perhaps the dynamic cast will. In addition to Lyonne starring as Deborah, "All About Evil" also features Thomas Dekker ("Terminator: The Sarah Connor Chronicles," "Kaboom"), Cassandra Peterson (Elvira: Mistress of the Dark), Mink Stole ("Pink Flamingos," "Female Trouble"), Noah Segan ("Looper," "Knives Out"), Ashley Fink ("Glee"), Patrick Bristow ("Showgirls"), Jack Donner ("Star Trek: Enterprise"), Julie Caitlin Brown ("Babylon 5") and twin stars, Jade and Nikita Ramsey.
With a title making a clear play on the classic "All About Eve," the references and homages played throughout "All About Evil" range from the days of black and white horror to the extreme horror boom of the aughts, serving as the ultimate Easter egg hunt for fans of the midnight macabre. It's a shame that it's taken 12-years for the film to rightfully be given its place in the sun, the cinematic world is better for now having access. The world wasn't ready for "All About Evil" in 2010, but now, it's time to play catch-up or risk becoming Deborah's finest fatal frame.