Horror Icon Cassandra Peterson Comes Out In New Elvira Memoir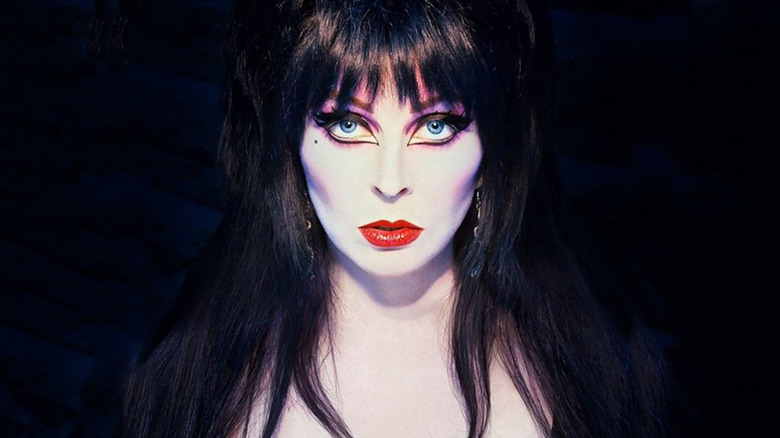 Tweeterhead Publications
Today is now a holy day for queer goths everywhere as Cassandra Peterson's memoir, "Yours Cruelly, Elvira," was released, and in doing so, Peterson came out to the world by disclosing her nearly two decades long relationship with Teresa "T" Wierson. While Peterson hasn't disclosed how she identifies or if she even subscribes to any specific queer identity, this is a banner day for an already queer icon who we now know has been "one of us" all along. 
The Drag of Elvira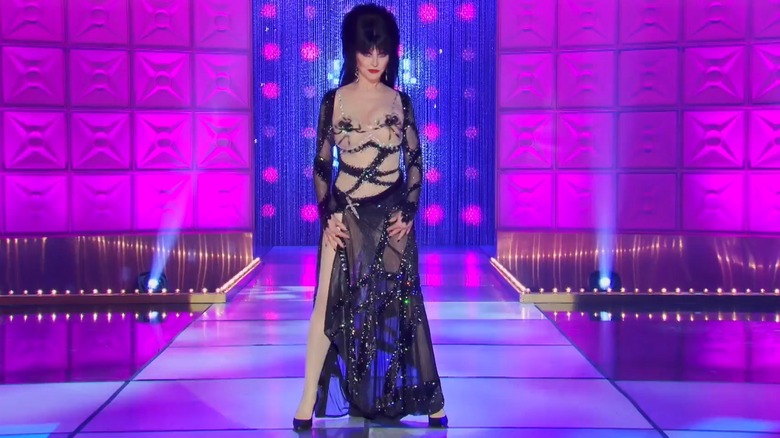 World of Wonder
The populous at large is likely familiar with the art of drag thanks to the mainstream popularity of shows like "RuPaul's Drag Race" or "Dragula," but there are plenty that likely do not recognize that Elvira is the drag persona of actress Cassandra Peterson. A brash, larger-than-life, and evocative character with exaggerated features, Elvira, Mistress of the Dark would transition from late-night horror host to one of the most recognizable faces in horror history. She's the highest-selling female Halloween costume of all time and the face of a million-dollar merchandising line. From the moment she arrived on television screens in 1981 with "Elvira's Movie Macabre," this spooky, sexy, campy flirt won the hearts of millions, but was especially embraced by the LGBTQ+ community.
Probably a fabulous drag queen who understands the character, the camp, and the cheese of the genre. They exist. I should know… I raised most of them. https://t.co/qe9RCDPod2 pic.twitter.com/NUVrceO0jx

— Elvira (@TheRealElvira) August 5, 2021
Cassandra Peterson has been a consistently outspoken advocate for LGBTQ+ rights throughout her entire career and has stated on numerous occasions that if anyone were to take up the mantle of her legacy, it should be a drag queen. Her perfect balance of presenting sass and sexuality while simultaneously rebuffing the normies who viewed her as debaucherous has always felt empowering to so many queer people around the globe who endure the same for just trying to exist. She's never been one to shy away from her legacy, and even guest judged episodes of both "Face/Off" and "RuPaul's Drag Race" as the world's most recognizable drag queen aside from RuPaul himself.
Back in 2009, Cassandra Peterson told The San Francisco Bay Guardian: 
"I always tell people I was 'raised by a pack of wild drag queens.' I was around so many drag queens and gay men when I was young... These other two drag queens, Mr. Bobby and Tawny Tan, had me dress up as a woman—which I was—and we'd do The Supremes." 
Peterson would later become a Vegas showgirl at The Dunes casino, now replaced by The Bellagio. Her drag background paired with her upbringing in her aunt's costume shop as a child was the perfect storm to turn her into a drag horror icon. 
Elvira the character and Cassandra Peterson the person have always had our backs, and we've been worshipping at their altar because of it.
Cassandra Peterson Supports LGBTQ+ Film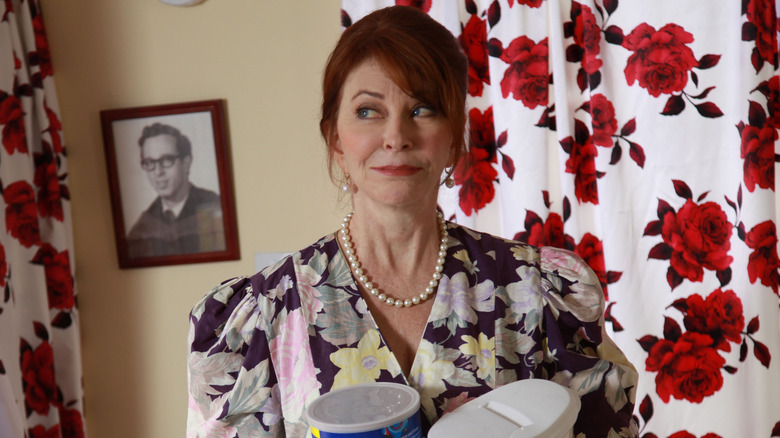 Screen Media Films
Outside of performing the Elvira character, Cassandra Peterson has had a pretty colorful acting career, with many roles in LGBTQ+ films. In the 2013 comedy "First Period," Peterson plays the mother of protagonist Cassie, a teen girl played by Brandon Alexander III in drag. It's a delightful reveal, especially considering most people don't actually know what Cassandra Peterson looks like without her iconic beehive wig and two big ... pumpkins easily on display.
Most notably, however, was her turn as Linda in the film "All About Evil" a midnight-madness horror film directed by and starring the legendary horror drag monster Peaches Christ, joining a cast of fellow queer icons Natasha Lyonne, Thomas Dekker, and Mink Stole. Peterson was able to marry her horror, camp, and queer backgrounds to give a dynamite performance in this woefully underseen indie film.
Why Does her Queerness Matter?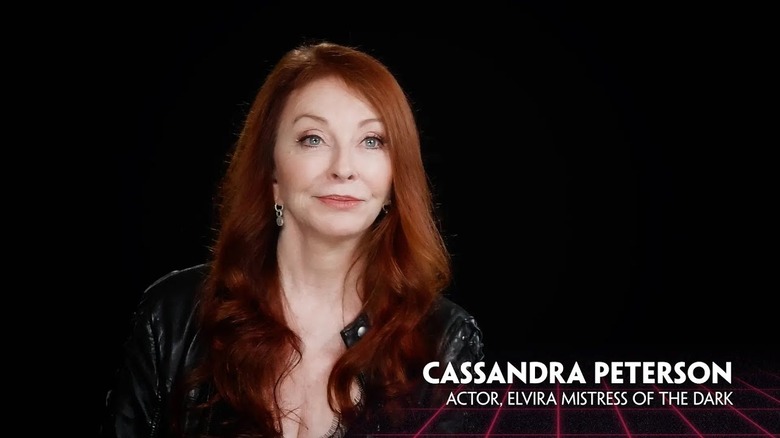 Shudder
The queerness of Cassandra Peterson is incredibly important because she's doing something that is still unfortunately extremely hard to do and absolutely life-changing. Coming out is unfathomably difficult, leads to stigmatization, and can have absolutely detrimental outcomes depending on the person's situation. LGBTQ+ youth are 120% more likely to experience houselessness due to non-affirming home environments, and coming out has sincerely harmed the lives and careers of many performers from Peterson's generation. It took a lot of bravery for Peterson to finally come out, and her actions will absolutely change the lives of many queer fans who admire her.
"For the first time in my life," Peterson wrote, "I'm with someone who makes me feel safe, blessed, and truly loved."
It would be selfish to only view her coming out as a gift to the queer community because this is also something Cassandra herself deserves to commemorate. Peterson and Wierson have been together for more than 19 years, and this relationship no longer has to be one enjoyed in silence. As Peterson wrote in her memoir, "Would my fans hate me for not being what they expected me to be?" She continues, "I'm very aware that there will be some who will be disappointed and maybe even angry, but I have to live with myself, and at this point in my life, I've got to be truthful about who I am." 
As a goth lesbian who went back into the closet for most of her 20s as her career in horror analysis began to take off, knowing that even motherf*cking ELVIRA was afraid to live her truth because of what some pissant horror fans might think of her is heartbreaking. No one deserves to feel like we have to live this way, and knowing Elvira finally feels safe enough to be open and honest is a cause for celebration.
We love you, goth mom.