Why Pixar's Lightyear Was Banned In Certain Countries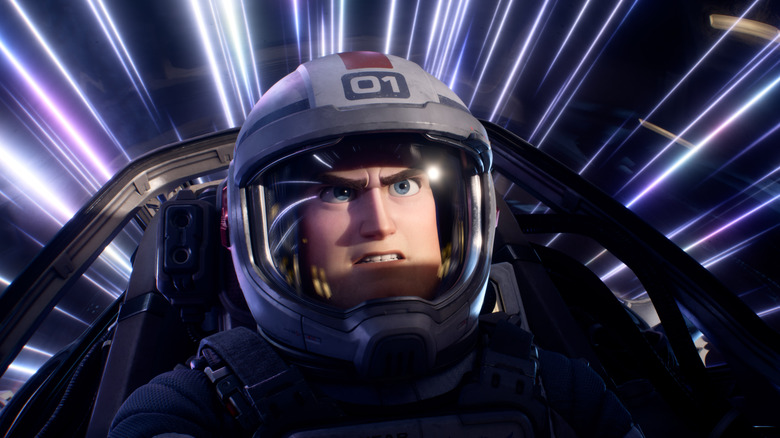 Pixar
Disney holds a tremendous amount of power as a cultural force. They have accrued so much pop culture capital in the last 15 years that they essentially get to dictate the terms of what and how movies and television shows get made. By owning so much beloved intellectual property, Disney is the only company that can reliably get butts in seats at cinemas and wildly succeed with their streaming service (not to mention the merchandise, the theme parks, etc.).
Because they have so much power and influence, a huge number of people look to Disney to be the spearhead of important societal topics like representation. They have the ability to wield their might financial power as a force to push things forward, and therefore, they have the moral and societal responsibility to do so. Of course, no corporation has ever acted in this way, because profit is everything, so it constantly feels like an uphill battle. And Disney sure loves to throw crumbs to the wanting people, especially in terms of queer representation in their projects, with scenes that could easily be excised if put into a market where the possibility of getting banned is high. We all remember the "exclusively gay moment" in 2017's live-action "Beauty and the Beast."
Lately though, Disney has been letting these crumbs remain in the films and facing the banning in certain countries. The upcoming "Lightyear" is the latest movie the company has decided not to alter for some international markets in order to avoid being banned. They are letting the representation stand, but it was not without a tidal wave of pressure from their employees.
All because of a kiss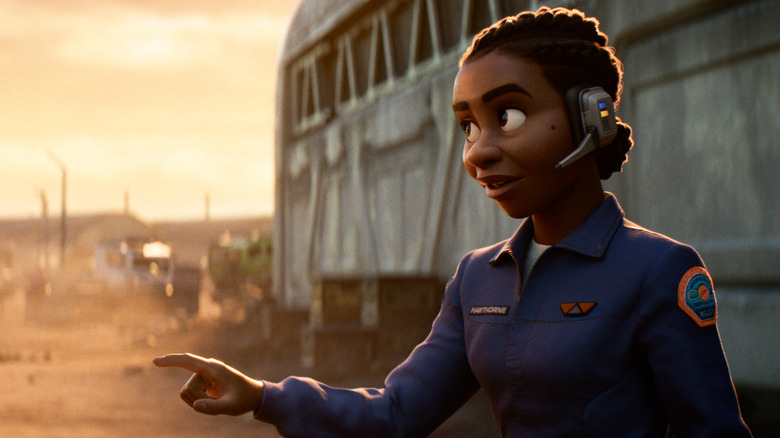 Pixar
In "Lightyear," the character of Alisha Hawthorne (voiced by Uzo Aduba) shares a kiss with her same-sex partner. Just a little kiss. For the vast majority of people, this is no big deal. For many countries in West Asia, however, this is not the case. Censorship laws, especially pertaining to LGBTQIA+ individuals, are incredibly strict, and according to Variety, "Lightyear" has been banned in Saudi Arabia, the U.A.E., and other countries in the region. All because of a brief kiss between two women.
In the past, Disney would have simply cut the kiss out of the film to comply with the codes in those countries, and they were actually completely content on doing that for "Lightyear." That is until the employees of Pixar put out an open letter to Disney CEO Bob Chapek and the other higher-ups about the toxicity of constantly cutting queer representation from their films, as they had in "Onward" and "Turning Red," as well as their complete inaction on the horrific "Don't Say Gay" bill in Florida, a state they hold a ton of influence in because that's where the Walt Disney World resort is located. 
Disney caved to the pressure and decided not to remove the kiss from "Lightyear."
An ongoing struggle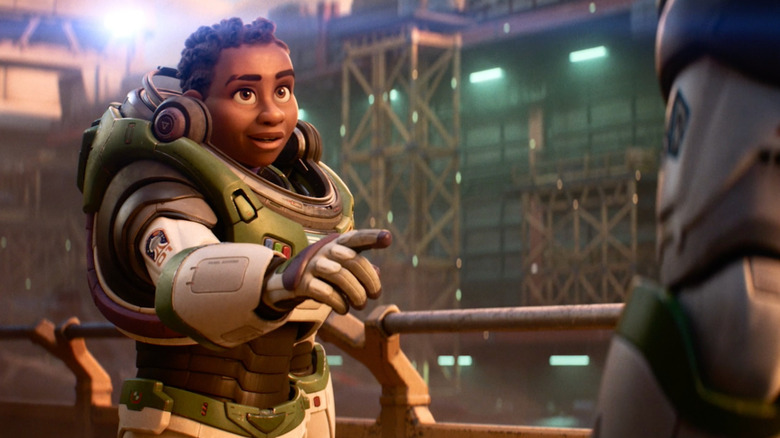 Pixar
/Film spoke to a number of Disney employees and creators (most of whom wished to remain anonymous) about this entire situation, and the toll it took on them. One told us:
"What Disney makes is political ... all art is inherently political. What stories we choose to tell, what stories we don't tell, that's a political statement."
Another Disney employee even emphasized that fans and allies boycotting Disney productions was not the way forward, insisting that protecting and celebrating the work of queer Disney artists remains the best way to combat bigotry:
"...we need to celebrate that work. If we don't celebrate that work, then we'll see less of that work, and if we were to boycott Disney over this, which I get the impulse to do, that's only hurting LGBTQIA+ creators who were finally making inroads."
"Lightyear" is the second high-profile Disney film to be banned in Saudi Arabia in 2022. Marvel Studios' "Doctor Strange in the Multiverse of Madness" was also denied release in the country for its depiction of LGBTQ+ characters, even though their biggest crime is simply existing and appearing onscreen as a loving, normal family. Which, to be frank, is the exact kind of imagery certain regions of the world (and certain regions of the United States) refuse to accept or acknowledge.
Queer people have to struggle this hard just to get the tiniest glimmer of representation on screen. It's not like "Lightyear" is some queer-centric space romance. This is just a kiss by a supporting character, and even that was nearly taken away. While Disney kept the crumbs here, they are still crumbs. We still seem to be lightyears (pardon the pun) away from meaningful, substantial queer representation in a major Disney-produced tentpole. They have the power to change that narrative though. Will they? That's the big question going forward.