'Beauty And The Beast' Will Feature Disney's First Gay Character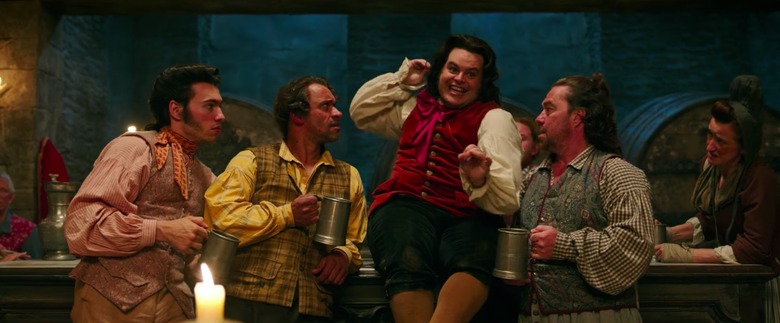 The marketing for Disney's live-action Beauty and the Beast has mostly revolved around its similarities to the 1991 animated classic. The trailers are set to familiar tunes and the promo images are loving recreations of famous scenes. But throughout the campaign, the cast and crew have insisted that they're giving the story some modern upgrades. And one of those, apparently, is a "gay subplot" for Gaston's sidekick, LeFou (played by Josh Gad). 
Director Bill Condon revealed the Beauty and the Beast gay subplot in an interview with Attitude. As you've probably guessed, LeFou's feelings have to do with his handsome buddy Gaston (played in the movie by Luke Evans).
LeFou is somebody who on one day wants to be Gaston and on another day wants to kiss Gaston. He's confused about what he wants. It's somebody who's just realizing that he has these feelings. And Josh makes something really subtle and delicious out of it. And that's what has its payoff at the end, which I don't want to give away. But it is a nice, exclusively gay moment in a Disney movie.
I'm not really sure what "an exclusively gay moment" means, and Condon is understandably being coy about what exactly this subplot will entail. They've gotta keep a few tricks up their sleeves for the theatrical experience, after all, even if the trailers are basically selling a shot-for-shot remake of the animated version.
On the one hand, it's nice to hear that Disney's making an active effort to be more inclusive. The studio had exactly zero LGBT characters in 2015, according to GLAAD. (The organization has not yet released its report for 2016, though off the top of my head, I don't remember seeing any LGBT characters in Disney movies last year either.) If nothing else, the inclusion of a confirmed gay character in Beauty and the Beast, one of their biggest releases of the year, suggests that they're trying to do better. It's an encouraging step, and hopefully the first of many.
But the announcement has been met with ambivalence, because the call for better representation in cinema isn't just about how many LGBTQ characters we see — it's also about how those characters are portrayed. In the animated version, LeFou is a minor antagonist who mostly serves as comic relief. And part of the joke was that he is goofy and undesirable, a beta-male buffoon worshipping a "pure paragon" of macho masculinity. (Indeed, while the new live-action version makes that one-sided attraction canon, fans have been reading that subtext into the animated version for years.)
Assuming all of this is still true in the live-action version — which we haven't seen, so we can't say for sure — LeFou falls into the tired stereotype of gay-coded villains and the frustrating trope of queer characters pining after straight ones. That's not to say all gay characters need to be perfect and good people, or that gay people can't have crushes on straight ones, either or in fiction or in real life. But LeFou has the potential to feel more like a tentative half-measure when fans have been clamoring for a full one. Or even worse, a joke at the expense of the LGBTQ community.
On the bright side, though, Condon also teases a "payoff" to LeFou's subplot in his movie, so maybe he plans to diverge from the source material in some significant ways. Maybe the live-action versions of LeFou and Gaston are different enough that their friendship has a different dynamic to it. Maybe the plan is for LeFou to stand up for himself and find a new love — or for Gaston to realize he's been chasing after the wrong person when it's really LeFou he should be with. I can't say I'm 100% confident about Disney's take on this storyline, given their previously nonexistent track record with LGBTQ characters. But I can say I'm trying to be cautiously optimistic.
Beauty and the Beast is in theaters March 17.
Disney's "Beauty and the Beast" is a live-action re-telling of the studio's animated classic which refashions the classic characters from the tale as old as time for a contemporary audience, staying true to the original music while updating the score with several new songs. "Beauty and the Beast" is the fantastic journey of Belle, a bright, beautiful and independent young woman who is taken prisoner by a beast in his castle. Despite her fears, she befriends the castle's enchanted staff and learns to look beyond the Beast's hideous exterior and realize the kind heart and soul of the true Prince within.
The film stars: Emma Watson as Belle; Dan Stevens as the Beast; Luke Evans as Gaston, the handsome, but shallow villager who woos Belle; Oscar® winner Kevin Kline as Maurice, Belle's eccentric, but lovable father; Josh Gad as Lefou, Gaston's long-suffering aide-de-camp; Golden Globe® nominee Ewan McGregor as Lumiere, the candelabra; Oscar nominee Stanley Tucci as Maestro Cadenza, the harpsichord; Oscar nominee Ian McKellen as Cogsworth, the mantel clock; and two-time Academy Award® winner Emma Thompson as the teapot, Mrs. Potts.