How Noah Schnapp Really Feels About His Stranger Things Hair Cut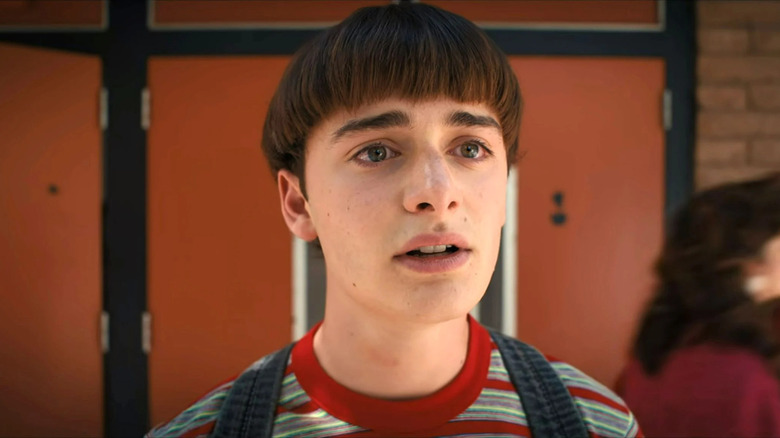 Netflix
Now that most of "Stranger Things" season 4 has dropped on Netflix, we're getting a lot of answers to our questions about what is happening in Hawkins, Indiana. But one huge question remains unanswered: What's the deal with Will's haircut?
One of the incredible things about "Stranger Things" is how well it captures the essence of the 1980s. The show's production intertwines setting, props, costume design, an '80s soundtrack, a synth-heavy score, and plenty of nods to 1980s popular culture to create the ultimate nostalgia trip. But you can't define the '80s without the hair, and for that "Stranger Things" turned to Hollywood hairstylist Sarah Hindsgaul. Her team is responsible for creating some of the most definitive looks from an era of personal expression that began with the hair. The hair in "Stranger Things" takes on a duality, using its characters' hairstyles not just to date the period piece but also for character development.
For example, in season 4, Nancy Wheeler (Natalia Dyer), who advanced from high school to college, gets a change in hair to a more mature, voluminous perm. Meanwhile, Lucas Sinclair (Caleb McLaughlin) graduated in status from nerd to jock, and his hairstyle is indicative of that, incorporating a stylish new high-top fade.
And then there's poor Will Byers (Noah Schnapp), who from day one, has sported the best bowl haircut of the series. In season 4, Will's character feels like an outcast, admitting to feeling like a third wheel when around a reunited Mike (Finn Wolfhard) and Eleven (Millie Bobby Brown). His hairstyle remains unchanged from previous seasons, a physical manifestation of his stagnant role within the group. If anything, the haircut has gotten worse, with a closer-cropped season 4 look that resembles Moe from "The Three Stooges."
So what's the deal with Will's infamous haircut and why is it harder to kill than a demogorgon?
The style is a product of poverty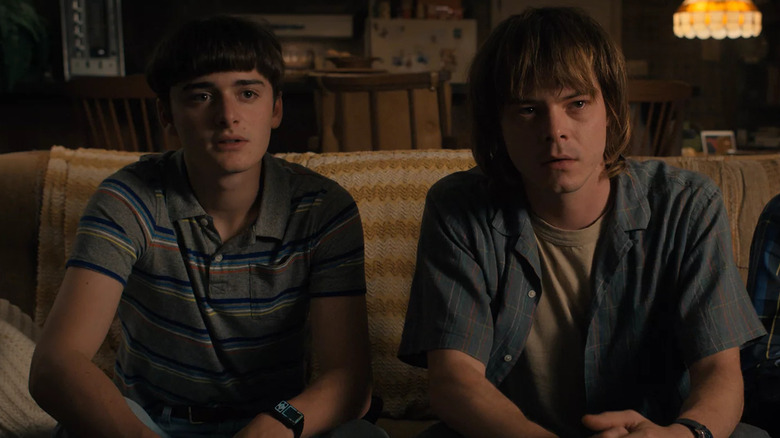 Netflix
Looking at the history of the bowl haircut helps to understand why Will is saddled with the style in the series. According to Askmen.com, the hairstyle was initially a product of the impoverished. Those unable to afford a barber would simply turn a bowl upside down — fitting for "Stranger Things" — place it over their heads and cut off the excess hair. Hence the name "the bowl cut." The connection to financial struggles is one reason it has the staying power of the Mind Flayer. But how did it become a trend in the 1980s?
With the divorce rate peaking in 1981, the era of the latchkey kid was born. The bowl cut returned as a quick, affordable way to manage children's hair. The Byers boys — Will and his older brother Jonathan (Charlie Heaton) — are quintessential latchkey kids. Their home is managed by the hot mess of a single mom Joyce Byer (Winona Ryder). Both Will and Jonathan's hair is a clear sign of their socioeconomic status. Will sports a classic bowl while it looks like Jonathan attempts to cut his own hair, likely in a rebellious rebuke of Joyce's attempts to cut it for him.
In an interview with Netflix, Sarah Hindsgaul explained that the process of creating the iconic hairstyles in the show is a team effort. She said:
"I have my own ideas of a character after reading [the script]. I'll start talking with my actors about it to see where they're coming from. Sometimes they might be in a different place, or they might have something to add. And the same with [series creators] the Duffer brothers. I'm like, 'Does this feel organic to you guys?' I fall back on them to make sure that my intuition is right."
But that's not the case with every "Stranger Things" actor. Noah Schnapp has watched his co-stars' hairstyles evolve season-to-season while his bowl cut remains unchanged, despite pleas to the show's creators to change it.
Will's bowl cut is likely here to stay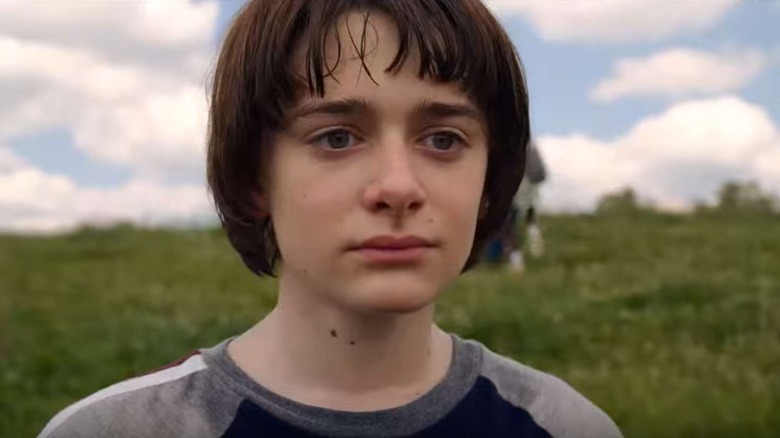 Netflix
Of all the iconic hairstyles of the 1980s seen in the series, it seems the show's creators, the Duffer Brothers, are most attached to the bowl. Perhaps as products of the '80s, they had bowl haircuts themselves, even if no child has openly admitted to fond memories of a bowl cut. But Schnapp has made it clear, he's ready for a change. In a recent interview with Insider, Schnapp revealed that he's questioned the style, but the Duffer Brothers have insisted the look remain consistent. Schnapp said:
"I've talked to them so many times like, 'Hey, are we thinking about a new cut for Will?'... I talked to my parents, and they lived in the '80s, they said they weren't 16 with that haircut, so I don't know."
Plenty of fans have argued that Schnapp, who was 12 when the series began, should have outgrown the style by now. While the Duffer Brothers have hit a homerun with practically every aspect of the show, "Stranger Things" fans have taken to social media to question the decision to keep Will's bowl cut for season 4.
Will Byers never cut his hair. His head only grew. https://t.co/xjkMQDg7DW

— nell ♡ (@nellwrites) May 30, 2022
Why has Will's hair been retreating from his head and migrating to Mike's? #StrangerThings4 #willbyers #mikewheeler pic.twitter.com/F8qNldK2pj

— Earl Gray (@EarlGrayCasper) June 6, 2022
With the end of the series approaching, could a change finally be coming? Schnapp said, "There's one more season left, but they're pretty loyal to that cut. I think it is a true kind of '80s classic haircut. So, I don't think we're gonna lose it anytime soon."
For now, it sounds like the bowl cut is here to stay, both for Will Byers and society. Even Joe Keery, who plays the perfectly-moussed Steve Harrington, recently got a bowl cut for the independent horror film "Spree." If anything, "Stranger Things" has only pushed the style back into pop culture's collective consciousness. The Mind Flayer would be proud, much to Noah Schnapp's chagrin.