The Lord Of The Rings: The Rings Of Power Trailer: War Is Coming To Middle-Earth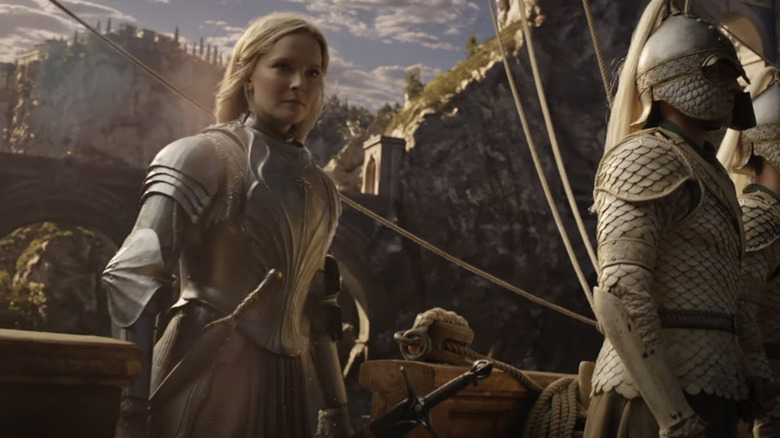 Prime Video
Before the One Ring got all the press in "The Lord of the Rings" trilogy, there were other, lesser rings. You know, the ones for which the One Ring was created so it could "rule them all." In the new Prime Video series "Lord of the Rings: The Rings of Power," we're going to see them. Maybe you got that from the double use of the world "rings" in the title? There are 19 others, so I supposed doubling up on the word "rings" makes sense. 
Today we have a new trailer for "Lord of the Rings: The Rings of Power," and it's epic in scale. You'll recognize a certain Elf named Galadriel, who was once played by Cate Blanchett, and is now played by Morfydd Clark. This series starts long before we meet Bilbo or Frodo; we're back in the Second Age of Middle-earth, which is many centuries before the Fellowship is formed to fight Sauron. 
Traveling back to Middle-earth is a daunting task. "The Lord of the Rings" movies, even the insanely long extended versions, are powerful pieces of cinema. The scale is huge, the performances strong, and the visuals incredible. How do you top that? Well, "The Hobbit" trilogy tried, but dealt with bloated runtimes (three movies were absolutely unnecessary for such a short book), plot issues, and a 48-frames-per-second format that left people feeling nauseated.
You'd think wise elves wouldn't fall for evil rings
The Balrog!
I'm cautiously excited for this, though I will say that so many series are trying to mimic the scope and grandeur of "Game of Thrones" — and to be honest, as much as I loved all but the end of that series, it was exhausting to watch. Exciting, sure, but it was almost a relief when it ended. You couldn't miss anything, it went on and on, and was so full of characters and storylines that you had to do a research paper before each episode to be able to enjoy it. Not that we don't have that now with Marvel and Star Wars, but there is so much content out there that's current in those franchises. This one is going to send a lot of people back to ye olde Blu-ray shelf with some Endust. The show is going to have to walk a fine line between exposition (and that might be Galadriel's narration), and assuming some knowledge of the extensive lore. My beringed fingers are crossed. 
In addition to Morfydd Clark, the cast also includes Cynthia Addai-Robinson, Robert Aramayo, Owain Arthur, Maxim Baldry, Nazanin Boniadi, Ismael Cruz Córdova, Charles Edwards, Trystan Gravelle, Sir Lenny Henry, Ema Horvath, Markella Kavenagh, Joseph Mawle, Tyroe Muhafidin, Sophia Nomvete, Lloyd Owen, Megan Richards, Dylan Smith, Charlie Vickers, Leon Wadham, Benjamin Walker, Daniel Weyman and Sara Zwangobani.
"The Lord of the Rings: The Rings of Power" will hit Prime Video on September 2, 2022.