Stranger Things 4 Part 2 Trailer: The Latest Season Concludes In July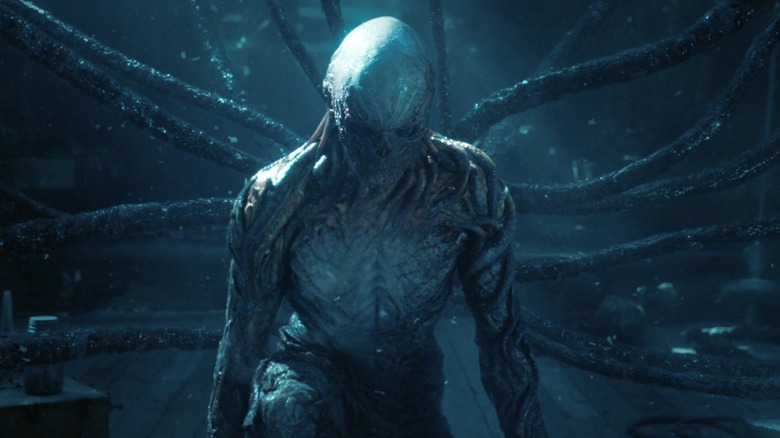 Netflix
"Stranger Things" season 4, episodes 1 to 7, otherwise known as Volume 1, has been getting a whole lot of praise. Aside from the slightly bloated Russia storyline, it's been action-packed. Today Netflix has released the trailer for Volume 2, which is episodes 8 and 9, the end of the penultimate season. We got a secret teaser if you watched all the way past the end of the credits for episode 7, but now we have a better idea of the showdown that's going to take place. 
In the teaser, we were promised a very large explosion, which looked like it wasn't contained in just one place. We have some of the gang — including Dustin — suiting up in geeky costumes, meaning that perhaps it isn't just someone's favorite music that can keep them from being taken by Vecna as they give in to despair. It might just be their favorite things in general. Max was saved by "Running Up That Hill" by Kate Bush, but perhaps for Eddie, it's guitar since we've seen him shredding. For Dustin, maybe it's dressing up as his Dungeons & Dragons character. Either way, we're in for quite a bit. Don't let the two episode only thing fool you into thinking this will be a quick wrap up. These are long run times, so we're getting almost four hours of additional content.
Back to the Upside Down
Is Vecna the final big bad for the season? Is he connected to the Mind Flayer, and if so, how? Will Nancy get out of the Upside Down? Will Steve and his glorious hair perish, leaving people virtually rioting on Twitter? Will Eleven fully get her powers back? I mean, she has to, right? Will Dr. Brenner be redeemed or will he be consumed and destroyed by Vecna and/or the Mind Flayer? Will we find out what the rolled up art Will was holding had on it, and will we finally get to see who he has a crush on? I mean, it's Mike, right? It has to be Mike. Will Robin get the girl, because her crush's pause in "Fast Times at Ridgemont High" was indicative of something? 
Season 4 of "Stranger Things" stars Millie Bobby Brown, David Harbour, Finn Wolfhard, Gaten Matarazzo, Caleb McLaughlin, Noah Schnapp, Winona Ryder, Sadie Sink, Natalia Dyer, Charlie Heaton, Joe Keery, Priah Ferguson, Maya Hawke, Cara Buono, Brett Gelman, Amybeth McNulty, Jamie Campbell Bower, Eduardo Franco, Regina Ting Chen, Myles Truitt, Grace Van Dien, Joseph Quinn, Sherman Augustus, Mason Dye, Tom Wlaschiha, Nikola Djuricko, and Robert Englund. Will they all make it through the last two episodes (since some of them are already gone)? Stay tuned! 
"Stranger Things" season 4, volume 2 will be released on Netflix on July 1, 2022.