How Colin Trevorrow's Canceled Star Wars Movie Helped Him Make Jurassic World Dominion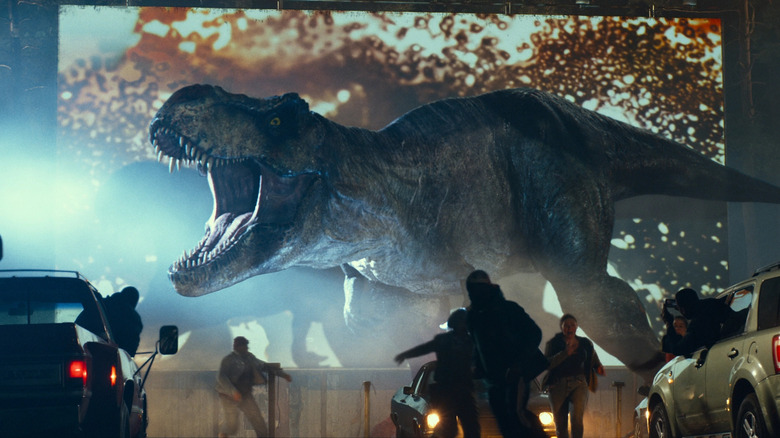 Universal Pictures
A long time ago in a galaxy far, far away, "Jurassic World" director Colin Trevorrow was originally hired by Lucasfilm to step behind the wheel of "Star Wars: Episode IX" and guide it to its grand finale. Those plans very obviously (and very publicly) changed when Trevorrow was inauspiciously given the boot, thanks to those good ol' fashioned "creative differences." This in turn allowed "The Force Awakens" director J.J. Abrams to make a last-minute return for the film that would eventually become "The Rise of Skywalker" and ... well, we know how that turned out.
Despite losing out on the gig of a lifetime, Trevorrow had one heck of a safety net to fall back onto — his dino-chomping franchise that continues the story first seen in Steven Spielberg's 1993 classic "Jurassic Park." After stepping back and allowing J.A. Bayona to take the reins on the 2018 sequel, "Fallen Kingdom," the "Jurassic World" director is back behind the chair once again for this week's upcoming threequel, "Jurassic World Dominion." As much of a winding path as it was to get to this point, however, Trevorrow himself seems to be feeling admirably Zen about the whole affair.
In an interview with Total Film, Trevorrow opened up about how his missed opportunity with "Star Wars" put him on a path to making "Dominion" as entertaining as he could possibly make it.
'I really got a practice run'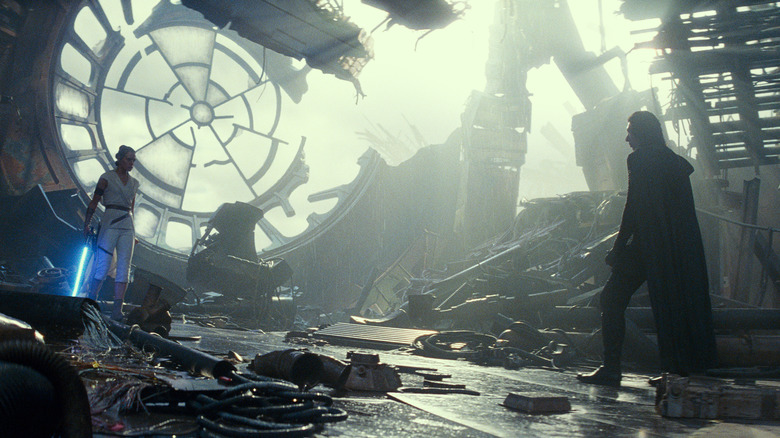 Lucasfilm
It doesn't take much outside-the-box thinking to connect the dots between the movie that ended up as "The Rise of Skywalker," the definitive conclusion to the so-called "Skywalker Saga," and "Dominion," which has brought back the trio of original cast members from "Jurassic Park" to put a bow on their characters' arcs, as well. Although much of Colin Trevorrow's original vision for the "Star Wars" finale (at the time, titled "Duel of the Fates") turned out to be wildly different from what J.J. Abrams would do, that doesn't mean he didn't come away from the unpleasant experience without any lessons learned.
While talking to Total Film, Trevorrow commented on how his dalliance with "Star Wars" served him well on "Dominion."
"What I appreciate about having worked on 'Star Wars' is that I really got a practice run at making a new version of something we loved when we were kids and bringing it to a satisfying conclusion.
So I felt like I got a master's degree in that, during that time. And I took so much of what I learned, and also so many of the people who I worked with — Kevin Jenkins was our production designer on this. So many people who I met on that project came over and worked on 'Dominion,' so I can't feel anything but good about it, because it allowed us to make the film we made now."
You have to give Trevorrow credit here. Maybe I'm just petty, but I never would've been able to offer a sentiment as magnanimous as this. Then again, I'm sure rolling in money helps make those bad feelings go away, too.
"Jurassic World Dominion" stomps into theaters on June 10, 2022.