Jurassic World Dominion Opens To A Strong $16.7 Million At The International Box Office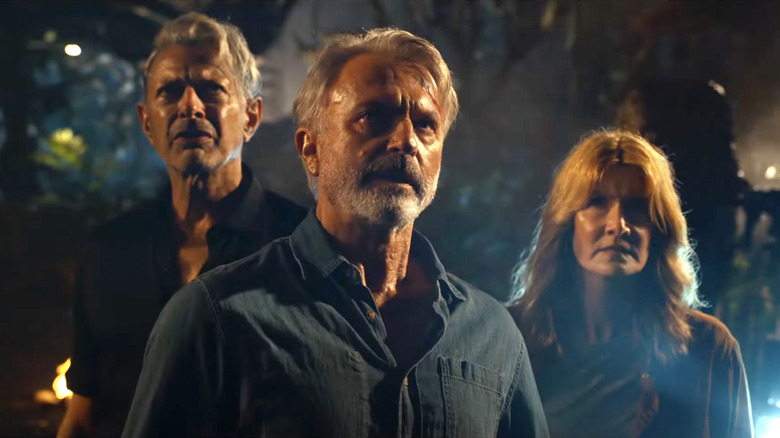 Universal Pictures
Do you hear a rumble in the distance? The dinos are coming! They must be coming around the globe and hitting the United States last, because "Jurassic World Dominion" opened in 15 markets already, though we're not getting it in America until June 10, 2022. The T. rex is holding a lot of cash in her tiny little hands because the film already made $16.7 million up through Thursday at the international box office, according to Variety. 
This is the final film in the "Jurassic World" trilogy, though we could certainly see more stories about the dinosaurs in the future. In this one, the thunder lizards have been released into the larger world outside Isla Nublar, and they're wreaking havoc. They're also adapting. Blue has had a baby, and all sorts of chaos is caused by the idea that a raptor can breed. 
"Jurassic World Dominion" is doing something many fans have been waiting a long time for. They've brought back the original screen trilogy from the first film, Sam Neill, Jeff Goldblum, and Laura Dern. Returning for the completion of their stories are Chris Pratt and Bryce Dallas Howard. New cast members include DeWanda Wise and Mamoudou Athie. 
Tiny T. rex hands holding wads full of cash
"Jurassic World Dominion" was the first production back after Covid shut down so much filming. It's clearly paying off. According to the site, Italy's box office numbers are at $1.3 million gross, which Variety states is 75% higher than the earlier sequel. Mexico's box office is %5.1 million. South Korea's is $8.4 million. Not too shabby for our dino friends. I say friends because we're going to have to learn to live with them at some point, aren't we? Since the first time I read the book when it came out a very, very long time ago, I've assumed something like this was inevitable. 
Whether or not we get to live like the Flintstones with dino buddies, this seems to indicate that "Jurassic World Dominion" is going to do well at the box office here in the U.S. Here is the official synopsis for the film:
From Jurassic World architect and director Colin Trevorrow, Dominion takes place four years after Isla Nublar has been destroyed. Dinosaurs now live—and hunt—alongside humans all over the world. This fragile balance will reshape the future and determine, once and for all, whether human beings are to remain the apex predators on a planet they now share with history's most fearsome creatures.
"Jurassic World Dominion" is set to hit theaters on June 10, 2022.