Charlize Theron And Tobey Maguire Had Some Issues On The Set Of The Cider House Rules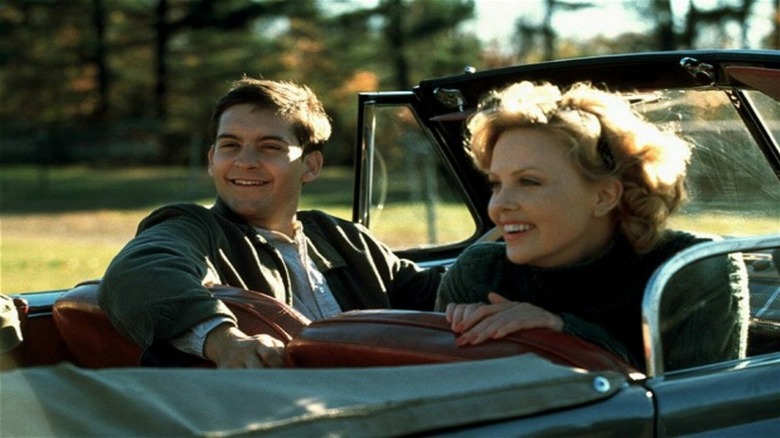 Miramax
Actors who play love interests don't always get along. In an interview for V Magazine (via Us Weekly), Charlize Theron confessed she and Tobey Maguire had some tension on the set of the heartfelt coming-of-age drama "The Cider House Rules": 
"Tobey and I had a bit of a rough time, yeah. I mean, we're good now. It was a difficult movie. ... Every day is completely different for a completely different reason. Whether it's the weather, or the writing isn't there, or you don't get along with your castmate, you have to be able to go to something else that's just as powerful. Does it make it as enjoyable? Probably not. I mean, there were just a couple of days that Tobey and I had a rough time."
"The Cider House Rules" was a formative film for the young actors. Directed by Lasse Hallström and written by John Irving based on his novel of the same name, "The Cider House Rules" follows a young orphan named Homer Wells (Tobey Maguire), who is taken under the wing of Dr. Wilbur Larch (Michael Caine), an obstetrician and abortionist. Homer makes the bold decision to leave the comfort of the Maine orphanage to go out and experience the real world as an apple picker. He also meets and falls in love with Candy Kendall (Theron), the daughter of a local lobsterman. The lyrical film was one of Theron's first major Hollywood roles, and Tobey Maguire would soon catapult to stardom in "Spider-Man."  It was awarded a rare four-star rating from film critic Leonard Maltin.
Theron did not go into detail about the source of her issues with Maguire or what exactly happened on set, but she did talk about what she learned from the experience. 
The tension improved Charlize Theron's acting skills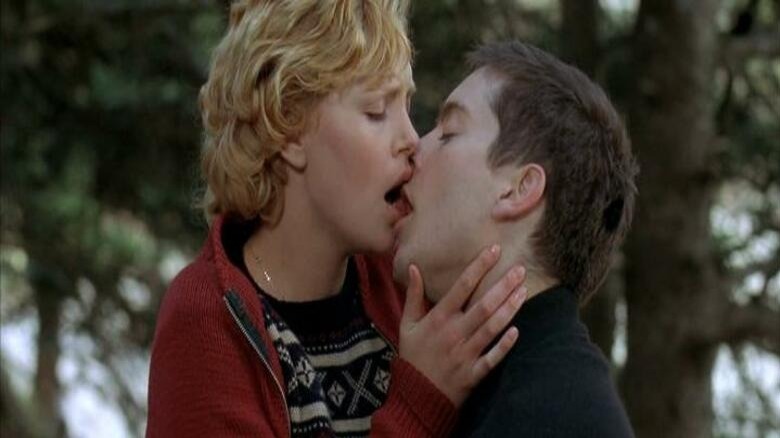 Miramax
Continuing in the interview, Charlize Theron admitted the tension between her and Tobey Maguire made her a better actor: 
"I'm kind of glad we had that experience on that movie. It teaches you different things. It taught me that I could fall in love with somebody in my head while looking at someone else ... We had some really intimate moments. Tobey and I didn't feel that way about each other, so I had to figure something else out."
Theron's experience with Maguire taught her how to film intense, sexual scenes with someone she didn't have that connection with. One scene in particular would require such skill. What begins as playful chasing suddenly turns into an erotic encounter. When they hungrily make love in the woods, Homer finds sweet release for his pent-up sexual frustrations, and Candy finds comfort from her loneliness while her boyfriend fights in World War II. 
None of this off-screen friction is particularly evident in the film. If anything, there should be a bit of a distance between Homer and Candy, who still misses her boyfriend and feels guilty for betraying him. "The Cider House Rules" deserves a reexamination in light of the stars' behind-the-scenes tension, as well as its timely themes.
'The Cider House Rules' has timely pro-choice themes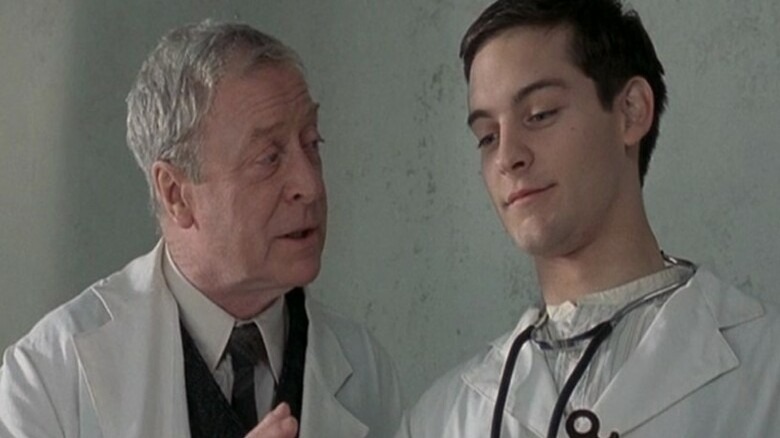 Miramax
It is also worth noting that "The Cider House Rules" is a poignant film to watch today as Republicans attempt to overturn Roe v. Wade. The film stages a pro-choice debate through Michael Caine's Dr. Larch, a staunch supporter who helps women with abortions even though they are illegal, and Homer, who refuses to perform them despite being taught. However, Homer uses his skills when he encounters a young woman impregnated by her father. Homer makes the argument that he, and all the other orphans, would not be alive if their mothers had chosen abortion. Dr. Larch counters, "Happy to be alive, under any circumstances — is that your point?"
In her review for The Village Voice, Amy Taubin (rightfully) argues that Lasse Hallström's drama "makes men the arbiters of what happens to a woman's body." But it is still a significant film that interrogates how abortion, as well as adoption, impacts women and their physical and mental well-being. As author and screenwriter John Irving once wrote: "That making abortion illegal was simply a sanctimonious, self-righteous form of violence against women — it was just another way of legalizing violence against women." These are important ideas in a political climate where women's rights are being threatened, and viewing "The Cider House Rules" is an excellent way to engage with them.