How Seabiscuit Almost Cost Tobey Maguire His Spot As Spider-Man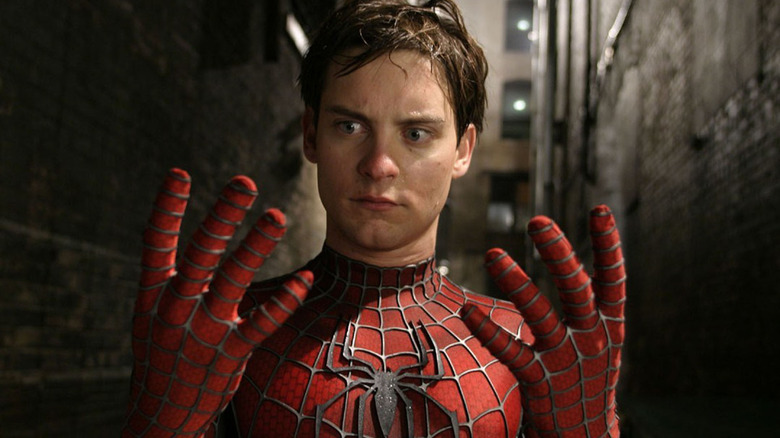 Sony
In the spring of 2002, Tobey Maguire became one of Hollywood's biggest stars after taking on the lead role in Sam Raimi's "Spider-Man." A rousing box office and critical triumph, "Spider-Man" ushered in a new wave of superhero films, setting the stage for the Marvel Cinematic Universe's reign. This success meant there would inevitably be a sequel, and plans for "Spider-Man 2" were quickly underway. 
In-between the "Spider-Man" films, Maguire had signed on to the biographical drama "Seabiscuit" from "Pleasantville" director Gary Ross about an undersized Depression-era racehorse who became one of the most successful thoroughbreds of all-time and inspired a struggling nation. The film was met with critical praise and earned an Oscar nomination for Best Picture.
The role of jockey Red Pollard was just as physically challenging as "Spider-Man," if not more so. Cinema.com reports that Maguire went on a six month regiment of martial arts, weight training, and intensive gymnastics in order to get the web-slinger's lithe, muscular physique. For "Seabiscuit," Maguire had to lose most of that weight to play the thin horse rider by doing 16 workouts a week and eating a diet of 1650 calories per day (via ESPN). Naturally, the role also required training in horseback riding, which was incredibly taxing for Maguire. He told the The Racing Post: 
"When I got off the horse, my legs were completely noodles, just overcooked noodles. I was working out and getting really strong and losing a lot of weight, but when you get on a real horse, it's a whole different deal. You're using all the stabilizing muscles in your legs and balancing on the balls of your feet on this 1,200-pound elite athlete."
For "Spider-Man 2," Maguire would have to regain all of the weight and muscle he had lost, but he was in danger of being fired from the film.
He Suffered From Severe Back Pains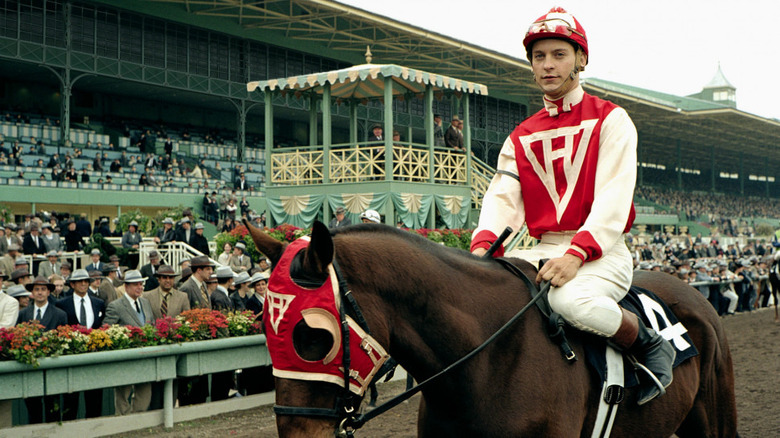 Universal Pictures
After shooting "Seabiscuit," Tobey Maguire suffered from exhaustion and back pains, which impacted his willingness to return to "Spider-Man 2." However, per Variety: "Columbia felt that Maguire's reported back problems — which he is known to have had in the past — were now being used as a threat during negotiations if the actor's list of demands wasn't met." These demands included a change in the shooting schedule so that he could fully recover from his back injuries, but most significantly, a raise in his salary to $17 million. According to ScreenCrush, Maguire also refused to get his face and body scanned for the visual effects scenes. 
Columbia responded by offering the role to Jake Gyllenhaal instead (at the time, he was Kirsten Dunst's boyfriend, who played Mary Jane Watson and was Maguire's ex-girlfriend). But Gyllenhaal would have to wait until his turn as Mysterio in "Spider-Man: Far From Home" to join the Marvel family, because Maguire's representatives managed to save his place in Raimi's "Spider-Man" franchise after the threats of his dismissal. With the help of his future father-in-law Ron Meyer, Vice Chairman of NBC Universal, he made amends with the studio. "The star agreed to medical tests that would prove his fitness for duty after Columbia took the unusual step of insisting that the renegotiated contract contain specific clauses stating that Maguire's back was in good condition," Variety noted. 
Tobey Maguire Responds to the Controversy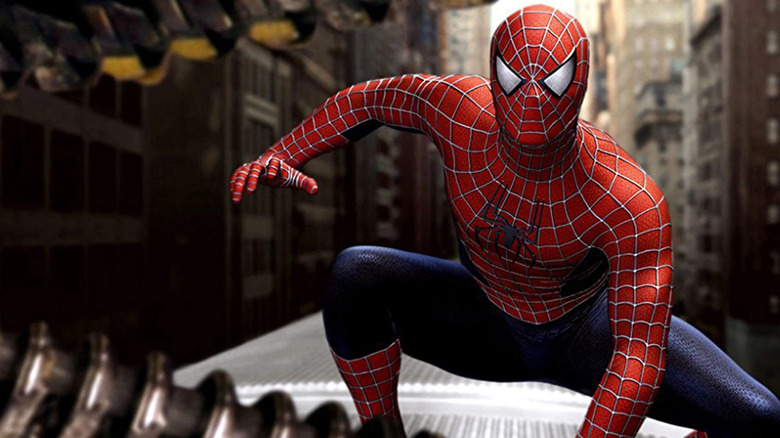 Sony
Maguire addressed the behind-the-scenes disputes in a "Seabiscuit" press junket, reported by Film Stories:
"I had some concerns, as did the studio, because the level of stunts are so much greater on the second picture than the first. We both wanted to make sure I could do it. So, we went through some tests in terms of me getting into harnesses and performing some of the stunts. We were pretty close to production, so I think things got blown out of proportion. We were three weeks out and we were making sure, or you could say questioning, whether I was able to do it. After I did the tests, we all felt good about it and off we went."
Taking one physically demanding role after another was a huge risk and almost cost Maguire his place in the original "Spider-Man" trilogy. Unfortunately, Hollywood painted him as a diva holding out for more money instead of having genuine health concerns. But thankfully, after the tough demands of "Seabiscuit" and making peace with the studio, he was able to transition back into his superhero tights. Although Gyllenhaal is a fantastic actor, he does not have the endearing geekiness that Maguire brought to the role — it's hard to see him in the part. 
"Spider-Man 2" went on to make at $789 million dollars at the box office and is now regarded as one of the greatest superhero movies of all time. Years later, Maguire poked fun at this past controversy in "Spider-Man: No Way Home" when his Peter Parker complains about lower back issues and Andrew Garfield cracks his back for him.