Every Song In Ms. Marvel Episode 1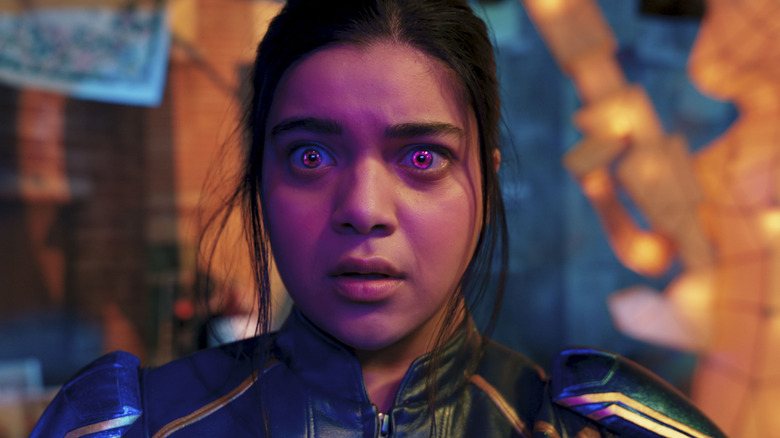 Disney+
The newest superhero from the Marvel Cinematic Universe's Disney+ series of shows has arrived. Iman Vellani stars as Kamala Khan in "Ms. Marvel," the MCU's first South Asian Muslim superhero.
So far, "Ms. Marvel" delivers an inspiring, refreshing superhero tale. Vellani is captivating as the MCU's latest superpowered being on the block, the star cast shares chemistry that is beyond fun to watch, and the show is deeply rooted in Kamala's ethnicity and identity as a Pakistani American teen in New Jersey. And that's not even the best thing about the show. "Ms. Marvel" is considerably fun, but its music is its biggest strength. The limited series features an envy-worthy soundtrack, highlighting music from predominantly Asian artists, classic Pakistani singers and rappers included. It's an understatement to say that the music rules. I'm listing down the many incredible songs from episode 1, so you don't have to go looking for them — here's a list of the music in "Ms. Marvel" episode 1!
Track 1: Blinding Lights Epic version by The Weeknd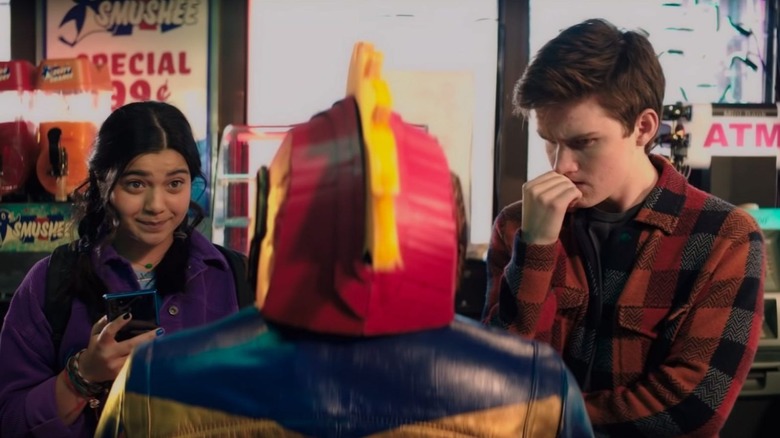 Disney+
After the title sequence rolls, we hear Kamala Khan (Vellani) narrating a story about her favorite Avenger of all time, Captain Marvel. Kamala explores how the Avengers were miserably losing the battle against Thanos until "the flaming angel" herself, Captain Marvel, arrived and saved the day. We learn that the teen creates Avengers-centered videos for her YouTube channel, Sloth Baby Productions, which appears to be a platform for her to geek out. As this montage plays out, A remix of The Weeknd's "Blinding Lights" plays in the background. As evidenced by the trailer, it serves as the six-part show's official theme song.
Track 2: Oh Nanba by S.P. Balasubramaniam and Aaryan Dinesh Kanagaratnam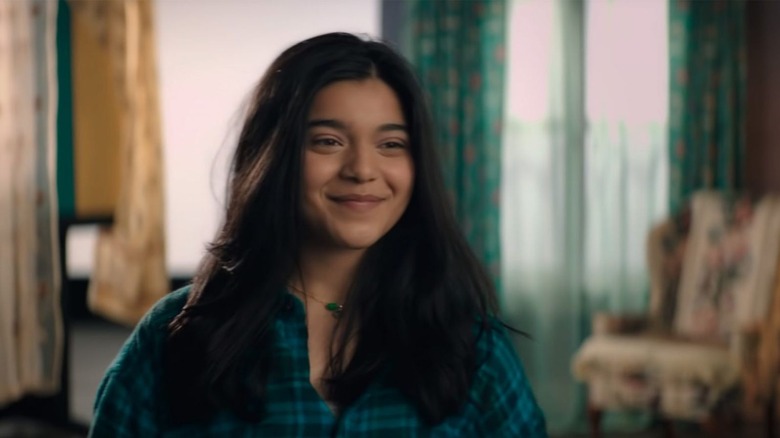 Disney+
Kamala appears for her first-ever driving test and reverses and crashes her car into her examiner's. The trippy song that plays during the teen's tremendous misstep is the Tamil language track "Oh Nanba," composed by Oscar-winning Indian singer A.R. Rahman and sung by S.P. Balasubramaniam and Aaryan Dinesh Kanagaratnam. The melody is from the 2014 Indian Tamil-language action-drama movie "Lingaa," starring Tamil cinema veteran Rajnikanth.
Track 3: Deal With It by Riz Ahmed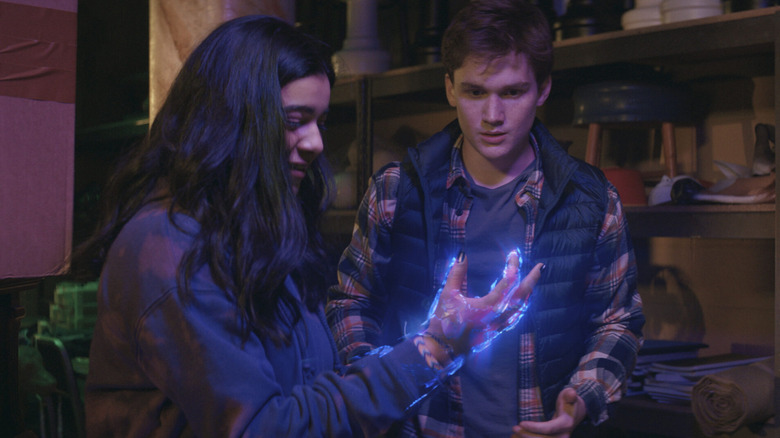 Disney+
When Kamala is walking into her school, it appears she feels there's a particular rift, a distance of sorts between herself and her peers. A teacher mispronounces her name, a student tries to mess with her, and others refuse to move away from Kamala's lockers. In this scene, "Sound of Metal" star and Academy Award nominated-actor-singer Riz Ahmed's "Deal With It" plays. The track is from Ahmed's second studio album, "The Long Goodbye," which is inspired by his experiences as a child of diaspora, as well as those of immigrants living away from home.
Track 4: Ko Ko Korina by Ahmed Rushdi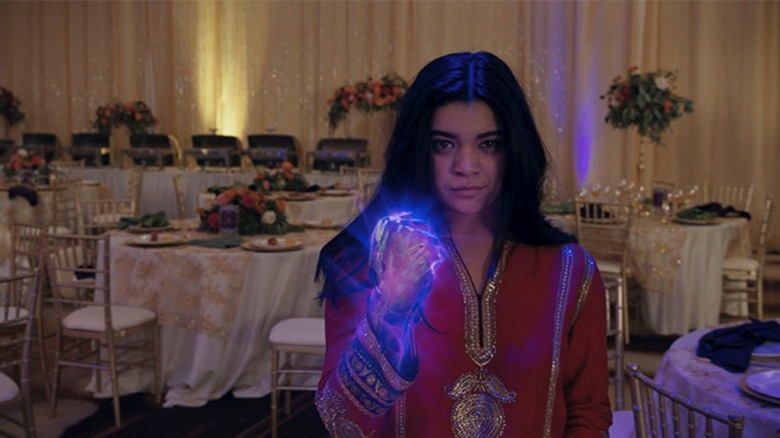 Disney+
After failing her driver's test, Kamala accompanies her mother, Muneeba, on errands for her brother Amir's wedding. The mother and daughter are seen shopping in a New Jersey neighborhood populated by South Asian immigrants. The vibrant stores offer traditional South Indian clothing, and the sweet stores are teeming with barfi (a milk-based sweet from the Indian subcontinent), colorful saunf (sugar-coated fennel seeds), and traditional South Asian wedding jewelry. The peppy song playing over the scene is "Ko Ko Korina," which first appeared in the 1966 Urdu-language film "Armaan." The track is famously referred to as the first pop song of South Asia and was sung by the late legendary Pakistani singer Ahmed Rushdi. It was produced during the golden age of Pakistani cinema, so it's pretty incredible to hear it in an MCU show!
Track 5: Sinkies by Hot Sugar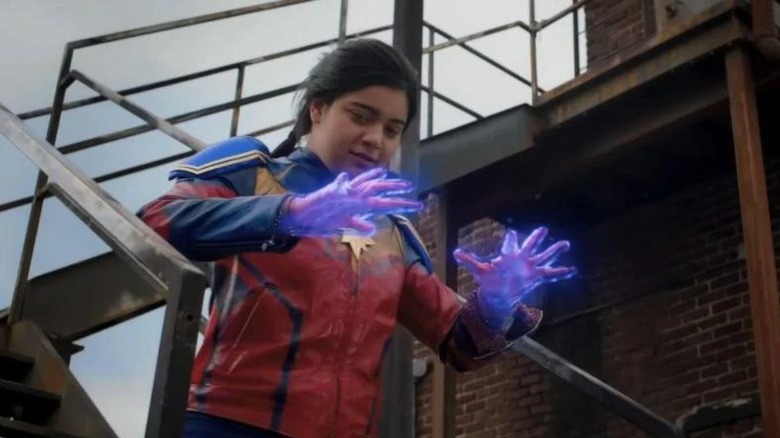 Disney+
After Kamala's mission to persuade her parents to allow her to attend Avengers Con fails, she is reassured by her brother, Amir. He promises to convince them. The scene later sees Kamala's best friend, Bruno (Matt Lintz), walking home with his bike while Nick Koenig, aka Hot Sugar's "Sinkies," plays in the background. It is a soft, electronic track from the artist known for capturing day-to-day sounds to make his music.
Track 6: My Type by Saint Motel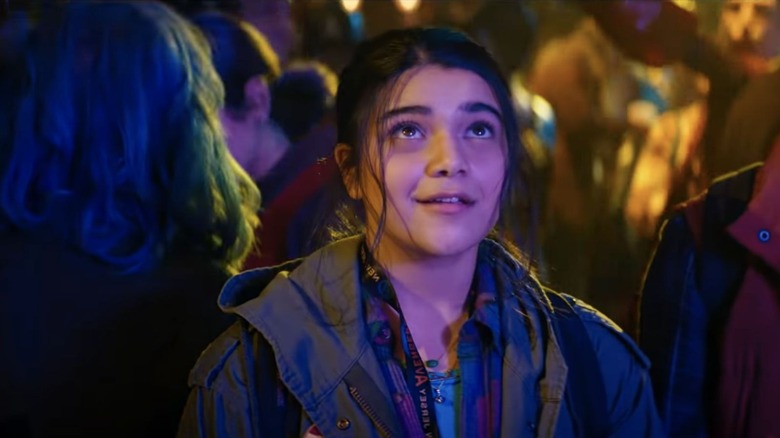 Disney+
After a series of delays, Kamala and Bruno finally make it to Avengers Con, the convention for the Earth's Mightiest Heroes. They indulge in a bit of sword fighting, snap photos with a Thor cosplayer, pay tribute to the sacrifices of Tony Stark and Natasha Romanoff, and have a whole lotta fun. Saint Motel's "My Type" plays during the ensuing montage.
Track 7: Rozi by Eva B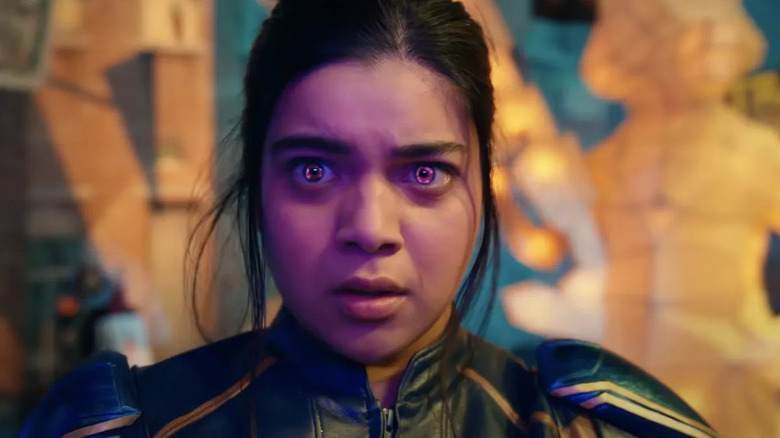 Disney+
After Kamala declares her powers are "cosmic," the screen fades to black, and the credits scene featuring glimpses of New Jersey begins to play. Pakistan's Lyari-based singer Eva B's (stage name) feminist rap anthem "Rozi" is a fitting, upbeat track to mark the ending of the first episode. In "Rozi," the artist talks about transforming into who she is today and shattering expectations as a female rapper from the small Pakistani town. It appears to symbolize Kamala coming into her own, overlooking the expectations and judgments of others while trying to accept her new powers.
The first episode of "Ms. Marvel" is now streaming on Disney+.