Kevin Feige Explains Why Ms. Marvel Needed To Be A TV Show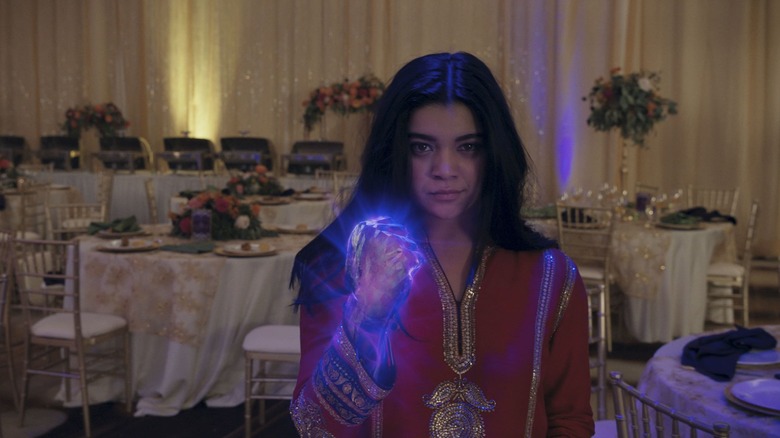 Marvel Studios
With the first episode of "Ms. Marvel" airing on June 8, many MCU fans may be wondering what was behind the choice to give Iman Vellani's debut performance as Kamala Khan the small-screen treatment first. In today's press conference for the upcoming show, President of Marvel Studios Kevin Feige was happy to explain the creative decision: 
"When Disney+ came around, it gave us the opportunity to do what we really wanted to do, which was tell her full story in six episodes, and then have her transition into a feature."
With multiple MCU movies coming out each year, Disney+ has played a valuable role in allowing Marvel to introduce new heroes into their cinematic universe without overloading their intended audience. The choice to make "Ms. Marvel" a TV show first wasn't just made for current fans' sakes, but in an attempt to bring outside viewers into the fold. 
"I want people who have never even considered watching a Marvel Studios production before to be excited and watch this show," said Feige. One forty-minute episode at a time is a much smaller commitment than heading out to the theaters for a two-and-a-half-hour film; the ease in which a casual viewer could get into the show helps make it a perfect hook to reel the more skeptical-of-Marvel viewers in for the long-term.
Ms. Marvel was never expected to be this popular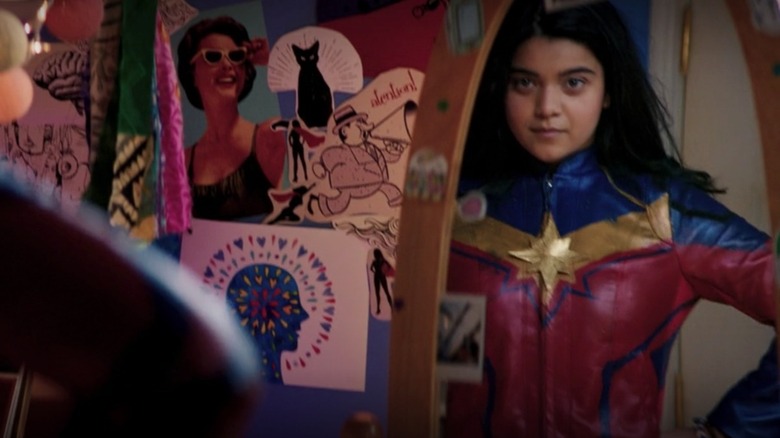 Marvel Studios
"Ms. Marvel" co-creator Sana Amanat also spoke at the conference about her experience crafting the comic series, which premiered back in 2014, and how she didn't expect the series to be nearly as successful as it turned out to be: "When [G. Willow Wilson] and I were crafting this comic about eight years ago, we were joking about how, 'Hmm, this is not going to get past issue 9! No one's going to care!'" 
But as we know now, a ton of people cared, including Kevin Feige. As Amanat put it:
"We had incredible runs. I think what I love about it the most is that it had people from different backgrounds, people who had never really read comics before, showing up in comic shops for the first time because of what this meant and what it stood for ... A few years later, when Kevin let us know he wanted to make this into a show, I was thrilled. I also feel like it's kind of perfect for a live-action series.
Just as the comic series brought in readers who were new to comics and from different backgrounds than superhero comic books are typically expected to appeal to, Feige seems to hope that the MCU mini-series will do the same thing for people not already interested in live-action superhero stories. The accessibility of Disney+ is a major part of their plan to achieve that goal. 
"Ms. Marvel" premieres June 8, 2022 on Disney+.