Superhero Bits: Ms. Marvel Gets A Poster And Premiere Date, Jaden Smith MCU Rumors Heat Up & More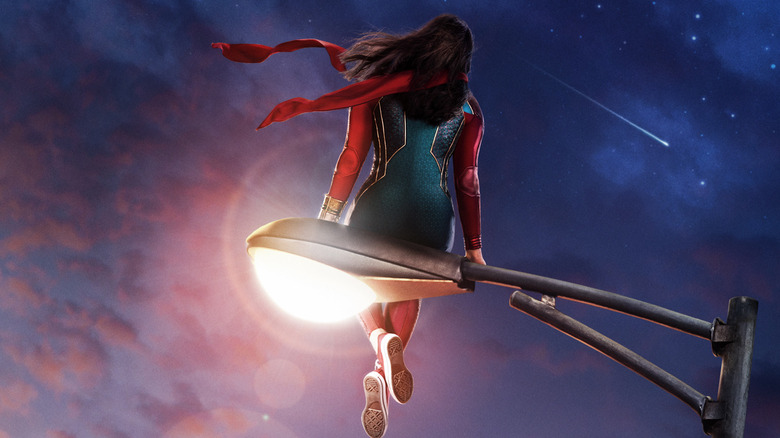 Marvel Studios
(Superhero Bits is a collection of stories, updates, and videos about anything and everything inspired by the comics of Marvel, DC, and more. For comic book movies, TV shows, merchandise, events, and whatever catches our eye, this is the place to find anything that falls through the cracks.)
In this edition of Superhero Bits:
"Ms. Marvel" gets a premiere date and poster.
Sam Raimi seems interested in directing another "Spider-Man" movie.
Deathstroke revealed in Ben Affleck's version of "The Batman."
Those Jaden Smith MCU rumors just got very interesting.
The comic book history of Mordo
Chiwetel Ejiofor is finally set to return to the MCU fold in this summer's "Doctor Strange in the Multiverse of Madness" after first appearing in 2016's "Doctor Strange." Now, Marvel has decided to put together the above video going over Mordo's history in the pages of the comics. Not to spoil much for those who aren't overly familiar, but Mordo has a fascinating character arc and one that the next movie will hopefully lean into.
Marvel Comics Pride Month comic book covers
Marvel Comics is gearing up to celebrate the LGBTQ community this June with a series of special comic book covers (glanced above) that will grace some of the publisher's ongoing titles such as "Thor," "X-Men," and "New Mutants." Marvel has revealed a total of eight covers readers can look forward to seeing on stands in June. For full details and to see the covers in their full-page glory, click here.
Runaways star Anjali Bhimani joins Ms. Marvel cast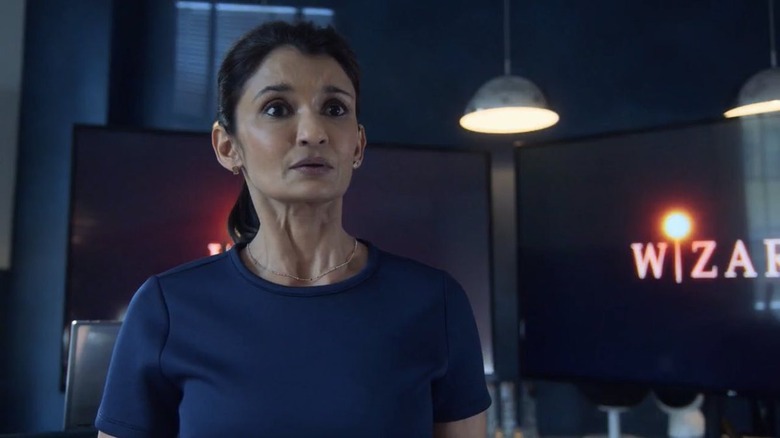 Hulu
Here's something interesting! As reported by Deadline, Anjali Bhimani has officially joined the cast of "Ms. Marvel," the latest live-action MCU series set to arrive on Disney+ this summer. We just so happened to get the first trailer for the show today as well, so the timing of this news is convenient. But what makes this all the more interesting is that, among her many other acting credits, Bhimani also starred in Marvel's "Runaways" as Mita Nansari. While that show was divorced from the MCU, it is interesting that she is double-dipping here, especially as we get further into the Marvel multiverse.
Black suit Superman from Zack Snyder's Justice League by Iron Studios
While we didn't get to see it in the theatrical version of "Justice League," we got to see Henry Cavill suited up in his resurrected, black-suited glory in Zack Snyder's "Justice League" on HBO Max last year. Now, the folks at Iron Studios have immortalized this iteration of the character with this impressive new statue. The 1/4 replica will not come cheap though, as the collectible is priced at $1,000. Those who are interested can find full details and pre-order information by clicking here.
Chinese trailer for The Batman
"The Batman" is one of very few Hollywood blockbusters that will be getting a release in China this year, which means Warner Bros. needs to market the movie in the world's largest moviegoing nation. As such, we have the above trailer for the film, which is probably going to be interesting even to those who have already seen director Matt Reeves' take on Gotham City. This is because the trailer uses little bits of footage and dialogue that weren't included in the U.S. release. Does that signal a different cut making its way to theaters in China? Perhaps! Check it out for yourself above.
Daniel Radcliffe responds to Wolverine casting suggestions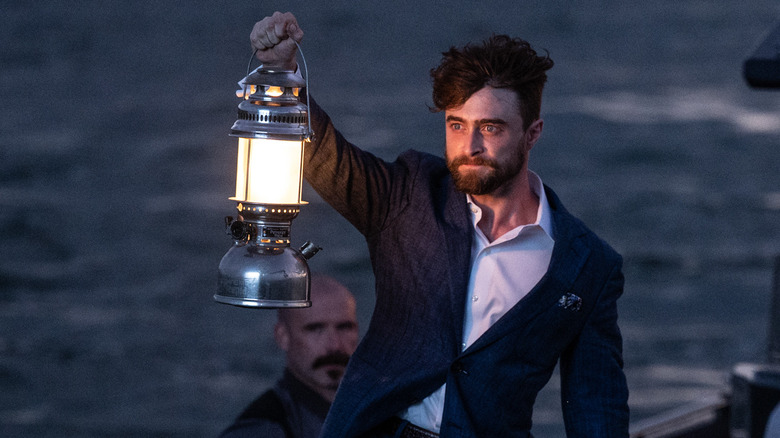 Paramount Pictures
One of the more popular fan castings out there on the ol' internet for some time is seeing former "Harry Potter" star Daniel Radcliffe taking over as Wolverine in the MCU. There is no reason to believe this is any more than mere fan casting at this point, but while walking the red carpet at this year's SXSW for his new movie "The Lost City," the actor spoke with Phase Zero about the suggestion, casting doubt on whether Marvel Studios would actually look to him to take over for Hugh Jackman.
"So many people come up to me like, 'Hey man, I heard the Wolverine news, that's really cool.' And I'm like, 'Mate, it's not, I don't know anything about it.' Like, I appreciate that somebody has clearly gone, 'Wolverine is actually short in the comic books, we should get a short guy to do it.' But I don't see them going from Hugh Jackman to me afterward, but who knows. Prove me wrong, Marvel."
Sounds like the ball is in your court, Mr. Feige.
Concept art for Deathstroke in Ben Affleck's The Batman
We recently got a look at some concept art for Ben Affleck's scrapped version of "The Batman" in this very column. Now, artist Keith Christensen has revealed even more work that he did for the would-be solo film for Batfleck, specifically showcasing Deathstroke's look. Joe Manganiello had been on board to play the assassin, with test footage making its way online and the actor even playing a small role in "Justice League." Sadly, this never came to pass but this is a little window into what could have been.
Wait, does Sam Raimi want to make Spider-Man 4 still?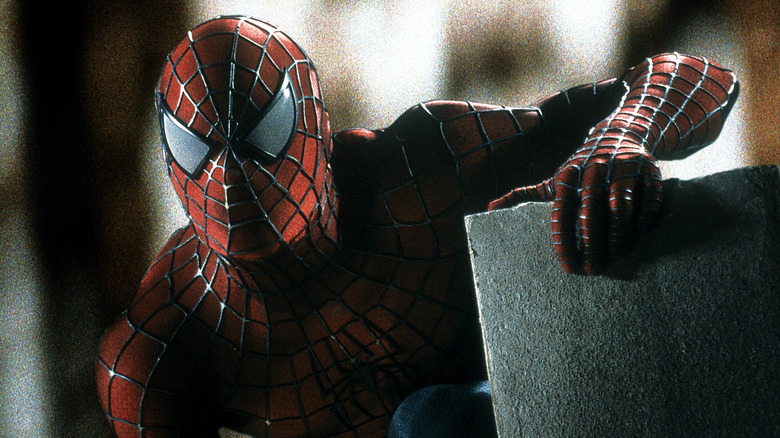 Sony Pictures
Sam Raimi never got to make "Spider-Man 4" with Tobey Maguire but the filmmaker has made his way back to Marvel as the director of "Doctor Strange in the Multiverse of Madness." In a recent interview with Empire, the director was discussing some superhero projects he might be interested in the future and dropped an intriguing comment for those who would like to see him reunite with Spidey at some point.
"If I heard that deep, gurgling laugh of The Shadow coming from the darkness, I would also tentatively step outside. And Spider-Man would be ahead of Doctor Strange, but I don't want to put him down the list!"
Now, let's assume he's built a good relationship with Marvel Studios, Maguire recently returned in "Spider-Man: No Way Home" so the tissue could be there to make a return to Raimi's version of the franchise. Just saying, let's not totally rule this out.
New Morbius 4DX poster
The release of "Morbius" is just around the corner after literally years of waiting to see what Jared Leto is going to bring to the Marvel universe as the character known as "The Living Vampire." The jury is still out on whether or not this will be a pleasant surprise but the folks at 4DX have revealed a brand new poster for the film just a couple of weeks removed from its release. It's very comic book-y and a bit more stylish than we're often accustomed to with posters for mainstream blockbusters, so it's got that going for it. "Morbius" hits theaters on April 1, 2022.
Is Jaden Smith seriously getting ready for a major Marvel role?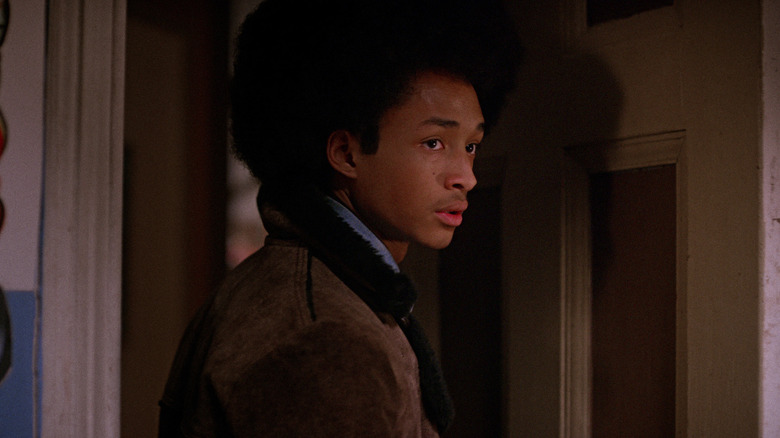 Netflix
Things just got interesting in regards to a Marvel rumor that has been making the rounds for a bit now. Jaden Smith has been stirring the pot in regards to speculation that he may be up for a major role in the Marvel universe, be it in Sony's camp or Marvel Studios. Now, Will Smith, his very famous father, has stirred the pot even more. In a statement provided to Pop Time, the actor said the following:
"My son is preparing himself physically and mentally to get a place as one of the characters who will make history for the first time in the saga of a movie that many already know and ask for."
So that is certainly pouring a lot of gas on the fire. This seems to imply that Jaden Smith is gunning for a role, not necessarily that he has for sure been cast. Now, we can let speculation run wild but some signs have pointed to Miles Morales. Do with the information what you will for the time being.
Ms. Marvel arrives in June, check out the first poster
Lastly, today brings us the first poster for "Ms. Marvel," which now has a premiere date as well. The series based on the much-beloved Kamala Khan, played by Iman Vellani, is set to debut on Disney+ on June 8, 2022, as we can see on the poster. This means it will be following in the footsteps of "Moon Knight" which debuts later this month, with "She-Hulk" set to follow later this year. It is indeed going to be a very packed year for the MCU.