The Boys' Chace Crawford Gets Hate Mail From Aquaman Fans, And He Loves It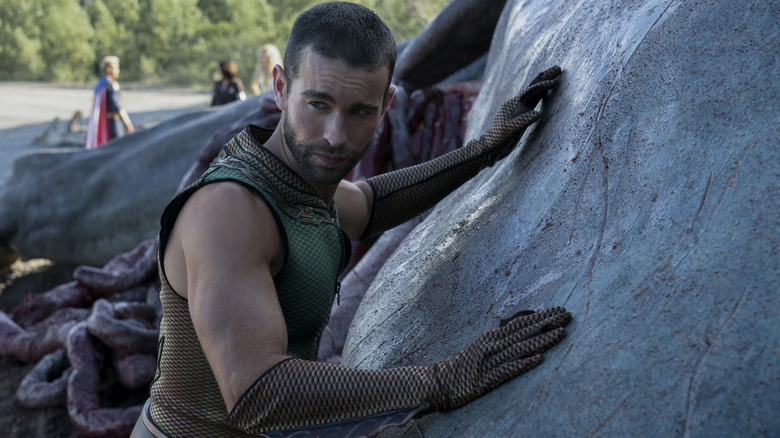 Prime Video
It's not easy bein' green, as a wise man once said. Apparently, those words apply just as much to other green-hued, amphibian-themed individuals, too.
"The Boys" is back with its long-awaited third season, the first 3 episodes of which arrived early on Prime Video last night. That means more merciless eviscerations of pop culture and politics, all sorts of spectacularly gruesome gore, and the shocking plot developments we've come to expect from this no-holds-barred show. We've had to remain patient for quite some time for the hit superhero satire to make its comeback after last season's shocking finale, but the wait certainly seems to have been worth it based on early returns thus far.
That wait wasn't just hard on the many, many fans of the series, however. The actors themselves have had to bide their time as well, though some have had to deal with a little more unpleasant interactions than others. Chace Crawford plays the conflicted and rather unlikable "Supe" named The Deep, who is clearly meant as a thinly-veiled spoof on the much more famous Aquaman. Before the ultra-cool Jason Momoa ever embodied the character, Arthur Curry was always perceived as ... kind of a joke, really. That's what makes it all the more unbelievable that Crawford's depiction of The Deep has led to some of the more unhinged fans out there actually sending him hate mail for daring to besmirch the good name of Aquaman.
What a world we're living in, folks.
'F*** you, fish guy'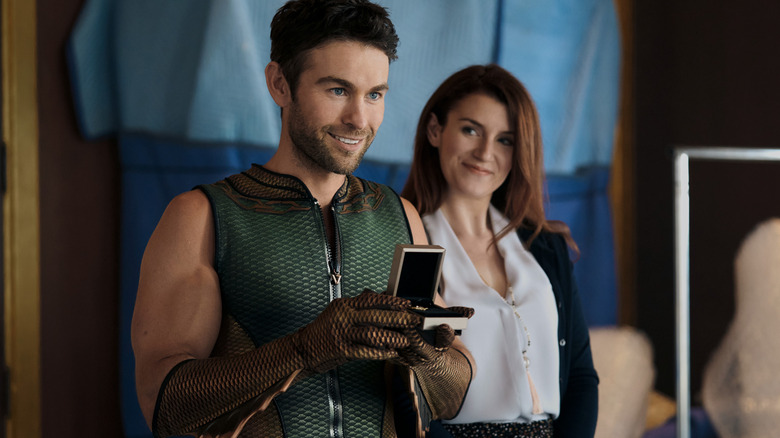 Prime Video
I don't know who needs to hear this, but "The Boys" is rather upfront about functioning as a brutal takedown of all our favorite superheroes and what they stand for. Homelander serves as the biggest bad of all the various "What if Superman, but evil" archetypes to follow in the wake of the boy scout's original conception. Season 3 introduces Jensen Ackles' Soldier Boy, a patriotic super-soldier awakened from cryo-sleep. Captain America, anyone? The Supes that make up the vaunted "the Seven" aren't exactly subtle about creator Eric Kripke's intentions, but apparently, some fans are missing the point anyway.
That's what Chace Crawford indicated in a recent profile with GQ (via The AVClub). The actor good-naturedly recalls some of the more colorful messages he's received from fans, all stemming from his unforgivable sin of making fun of the aquatic superhero. This is all very serious business, after all. According to Crawford:
"Occasionally on Instagram I'll get a, 'F*** you, fish guy. You think it's funny to make fun of Aquaman?'"
Allow me to answer on behalf of the performer for a second: yes, it very much is! Luckily, Crawford agrees. He goes on to detail his usual reaction (in his head, at least, if not necessarily in direct response to those weirdos) that mostly entails, "I'm like, 'Perfect. That's exactly what I want.'" It's difficult to imagine how we've gotten to the point where superheroes, once the laughingstock of much of pop culture at large, have now become mainstream enough to inspire such fierce (and misplaced) devotion.
Good thing we have shows like "The Boys" around, which airs new episode on Prime Video every Friday.