Playing Frank Sinatra Taught Ray Liotta A Lesson He Wouldn't Forget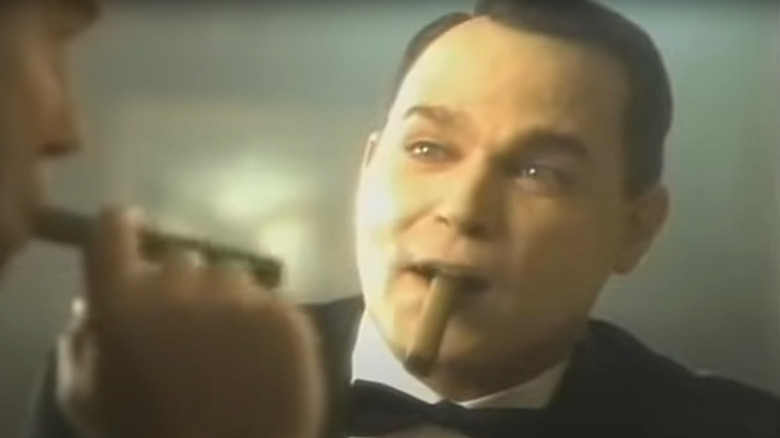 HBO
Few entertainment icons of the 20th century stand out like Frank Sinatra. "Ol' Blue Eyes" had a voice and presence that was second to none. Sinatra made swing and jazz cool with a unique voice and towering stage presence. Rolling Stone went as far as to call Sinatra "American music's first titanic sex sensation." He transcended the music industry to become a Hollywood film star and run his own record label, Reprise Records. Sinatra was a larger-than-life presence, a complex individual who rubbed elbows with presidents, ran with the mob, and was adored by many. He also ran with a pretty famous group of entertainers. Sinatra, along with Sammy Davis Jr., Dean Martin, Peter Lawford, and Joey Bishop, comprised the group known as the Rat Pack.
Ray Liotta was understandably hesitant to play the musical icon in the 1998 HBO movie "The Rat Pack," set to debut just months after Sinatra's death. By this time, Liotta was 10 years beyond his breakout performances as Shoeless Joe Jackson in 1989's "Field of Dreams" and Henry Hill in Martin Scorsese's gangster biopic "Goodfellas." And although playing Sinatra wouldn't become Liotta's most memorable role, it taught the actor a valuable lesson he wouldn't forget.
He said no to the role several times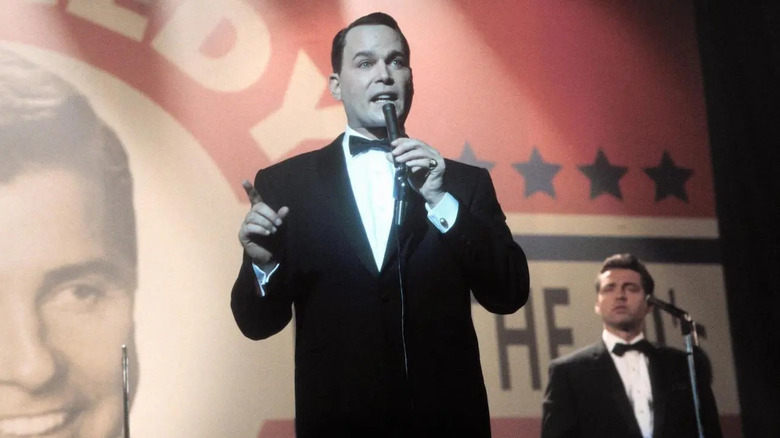 HBO
Ray Liotta knew how challenging playing Frank Sinatra would be. He turned down the opportunity on more than one occasion. First when one of Sinatra's daughters asked if he'd play the icon in a television movie, and again when HBO came calling. Liotta told NPR:
"I turned it down a bunch of times. I wouldn't do it. I was first asked to play him by Tina Sinatra or Nancy — one of the Sinatra daughters back when they did movie of the weeks. And they were doing a movie of the week of it. And I turned it down because I just didn't want to do it at that time in my career. Then it came along. And it was during this down period for me. And they asked me — it was HBO. Rob Cohen directed it. And he called and asked if I would play it. And I said 'No, no thanks, I don't want to take on playing somebody that so many people knew,' that I just felt the judgment would be too much."
After Liotta finally acquiesced, things got, shall we say, uncomfortable with the Sinatra family. According to People, the Sinatra daughters sent Liotta a horse head in the mail, a callback to both Sinatra's mob days and the 1972 movie "The Godfather." Liotta explained, "Obviously, it wasn't a real one, but it was a horse's head. And, you know, a horse's head means you're toast. It turned out that his daughters sent it and said, 'Oh, you could do this one, but you couldn't do the one that we wanted you to?'"
Liotta was partly right about the role. Although it will never be considered his best movie, he channeled some harsh judgment into a career resurgence.
Critics weren't kind to Liotta's performance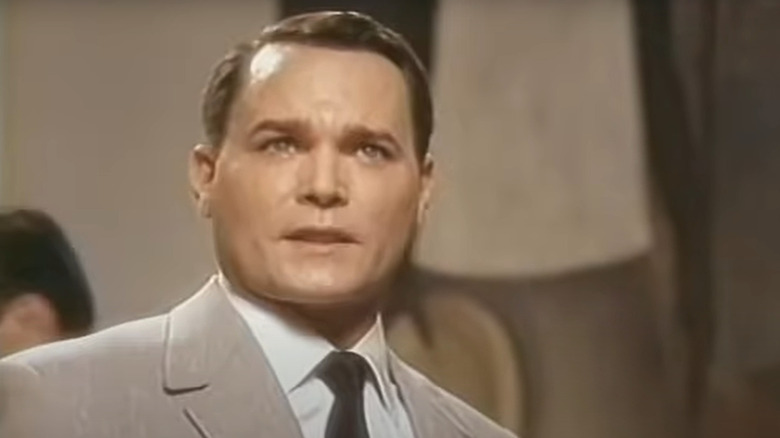 HBO
This might not have been the best time for such an ambitious role. But Ray Liotta saw it as an opportunity to challenge himself. He continued to NPR:
"I was down in my career. So, to take on something if it didn't work, maybe it would make things worse. And then I said, 'wait a second.' The whole point of me doing this is to take on challenges, to keep growing as an actor and not really caring — one of the biggest downfalls for any actor is fear of judgment."
And the judgment came. The New York Times wrote: "Ray Liotta's problematic performance as Sinatra leaves a void in the center of the film." Variety wasn't much kinder: "Ray Liotta has none of the Chairman of the Board's swagger, confidence or, most significant, charisma." Ouch.
Some of it was out of Liotta's hands. The Times noted that the script did him no favors, and it was a challenge to play a mythical hero who is also painted as a bully. Sinatra doesn't come off as a cool antihero, but a celebrity slowly losing control of the power he craves. It's not the most flattering look, and it's an uphill climb for any actor.
Still, Liotta did it his way, and despite the criticism, he bounced back just fine. In later years, he showed his range with movie roles in multiple genres, several animations that included "SpongeBob SquarePants," a video game voice-over for "Grand Theft Auto: Vice City," television cameos, and even an NBC TV series, "Shades of Blue."
/Film recently ranked Liotta's best movies, most of which occurred after "The Rat Pack." Perhaps none would have happened if he hadn't learned the lesson about taking on challenges and growing as an actor.