Ray Liotta's Field Of Dreams Batting Practice Was Fully Real, According To Kevin Costner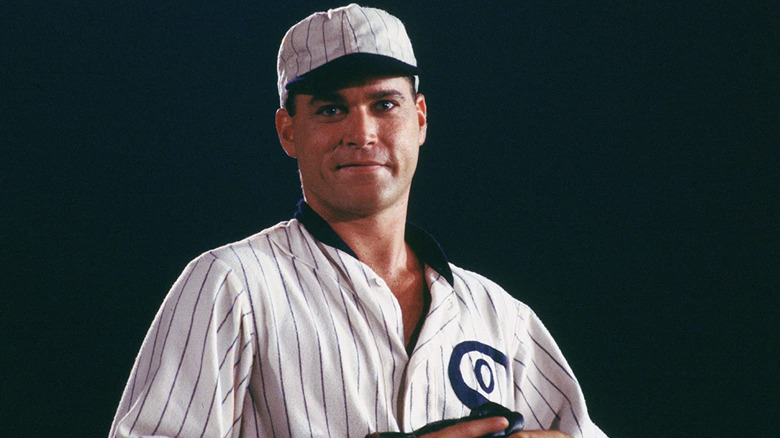 Universal Pictures
For as much as "Field of Dreams" romanticizes the unifying power of the United States' favorite pastime, there's a real sadness at the heart of director Phil Alden Robinson's classic 1989 sports fairy tale. 
"Field of Dreams" is not so much about dreams as it is specifically about lost ones. There's the lost dream of the '60s cultural revolution that haunts writer Terrence Mann (James Earl Jones); the lost dream Ray Kinsella (Kevin Costner) had of rekindling ties with his late father, a true blue baseball fan. Even the ghost of "Shoeless Joe" Jackson (Ray Liotta) represents the lost dream of the career the baseball legend might've had, were it not for the 1919 Black Sox Scandal. In similar ways, it's hard not to wonder what Liotta might've gone on to do after an already-stellar acting career had it not been for his sudden death this week. 
Costner was among those who paid tribute to his "Field of Dreams" co-star after the news of his passing, posting a message to the Twitter account for his country rock band, Kevin Costner & Modern West. Writing that he was "devastated" to hear about Liotta and praising him for the "incredible legacy" he leaves behind, Costner shared a clip from a memorable scene the two shared in the movie. 
According to the multi-hyphenate, this moment wasn't entirely scripted, either. To quote Costner:
"What happened that moment in the film was real. God gave us that stunt. Now God has Ray."
Liotta was a low-ball hitter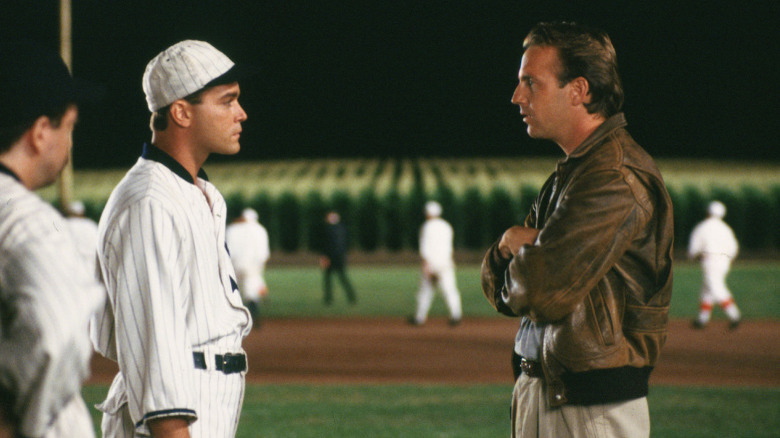 Universal Pictures
First, a little context. "Field of Dreams" opens on Ray, an Iowa farmer, walking in his cornfield one evening when he hears a bodiless voice tell him, "If you build it, he will come." Upon having a subsequent vision of a baseball field frequented by "Shoeless Joe" (who, as we learn later in the film, was his late, estranged father's personal hero), Ray decides to plow over his corn and build a baseball diamond in its place. But just as Ray begins to really doubt himself, the ghost of "Shoeless Joe" appears on the field one night and even lets Ray pitch to him.
Then, this happens:
Devastated to hear the news of Ray Liotta's passing. While he leaves an incredible legacy, he'll always be "Shoeless Joe Jackson" in my heart. What happened that moment in the film was real. God gave us that stunt. Now God has Ray. pic.twitter.com/JQmk1PsuSK

— Kevin Costner & MW (@modernwest) May 26, 2022
In hindsight, Kevin Costner's nervous chuckle and scramble to avoid being hit by the ball in this scene is a little too natural to be pure acting. Still, film history is littered with great moments that were either partly or fully improvised, and it's the shot of Ray Liotta looking unamused that really makes this scene land. More than that, it's Liotta who plays the role of "Shoeless Joe" to perfection. He rarely reveals what's going on in the ghost's head with his expression, so much so that it stands out all the more when he quietly speaks his mind or has an uncontrolled burst of emotion (like when he laughs about telling off the ghost of Ty Cobb).
At the end of the day, "Field of Dreams" is not just a love letter to baseball, it's a story about finding closure, healing, and moving forward. And as with the titular field, it's a place where the ghosts of the past (in this case, Liotta) can reside in peace.