Rob Zombie Debuts Herman's Full Makeup In The Munsters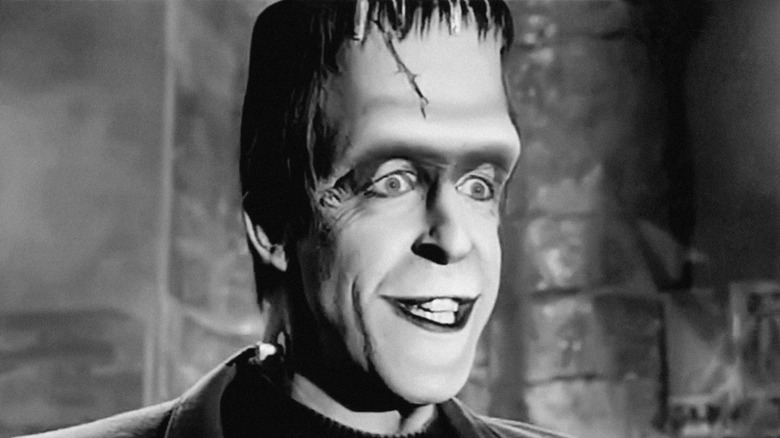 NBC
Rob Zombie's continued behind-the-scenes updates from the set of "The Munsters" has been an absolute gift for monster kids everywhere. Zombie has been delivering tasty treats of casting announcements, first looks at costumes, on-set photos, and stunning lighting designs on his personal Instagram. Today, he's given the most in-depth look at Jeff Daniel Phillips ("The Lords of Salem," "Agents of S.H.I.E.L.D.," "31") we've seen so far as everyone's favorite Frankensteinian sitcom dad, Herman Munster. In typical Zombie fashion, he not only provided a fantastic look at Phillips' makeup, but he included it alongside some old-school "Munsters" goodness in the form of vintage instructions for kids to make their own DIY Herman Munster headpiece out of a brown paper bag.
Zombie captioned the instructions by acknowledging how many fans have commented on how fantastic Phillips has looked as Herman Munster in the preview images he's shown throughout the filming process, and said that he was going to reveal the "true Hollywood secrets" to Phillips' makeup. Of course, there's no way in hell that Zombie genuinely made his prosthetic piece out of a paper bag, but after the trip down memory lane, Zombie snuck in a professional photo of Phillips in all of his Herman Munster glory. And I gotta say, he looks damn good. 
Phillips even commented on the image saying, "Man oh man I spent days up to my elbows in paper mache trying to recreate this headpiece as a kid — luckily we had an amazingly talented fx team making the magic on this film."
Monstrous fun with Jeff Daniel Phillips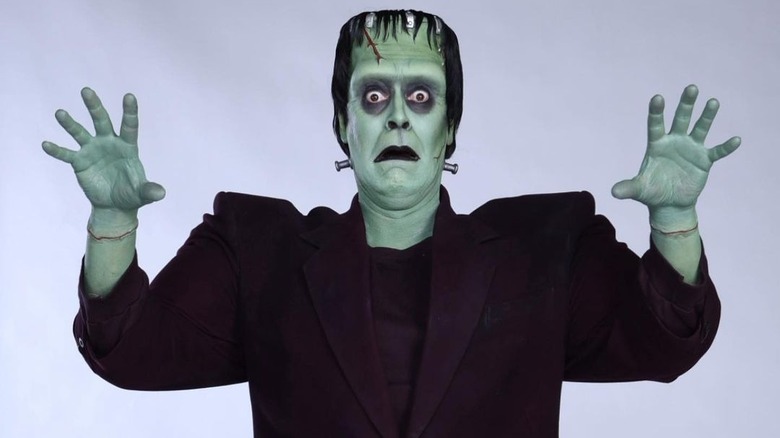 Rob Zombie
Based on the images Rob Zombie had previously shared, we could tell that Phillips was donning the iconic pale-green Herman Munster makeup made famous in "The Munsters" movies. The pale green was worn even when the show was presented in black and white, but thanks to the frequency in which the movies were played on cable television over the years, the colorized look is just as memorable. 
Phillips' makeup looks absolutely spectacular, combining the classic look and old-school inspiration with modern makeup proficiency. No shade to the makeup team on the original run of "The Munsters," but I'm sure Phillips is thrilled that he didn't have to rock the thick, clumpy eyelid makeup that Fred Gwynne had to endure. This image is the clearest look yet at Herman Munster, but fans can creep through Zombie's Instagram for additional looks like Herman in pajamas, a tropical shirt with sunglasses, and of course, hot-rod Herman. There are also some silly, fun behind-the-scenes clips Zombie's uploaded that highlight just how much fun the cast is clearly having on set.
"The Munsters" is due out sometime near Halloween 2022.