Bryce Dallas Howard Will Reportedly Return To Direct An Episode Of The Mandalorian Season 3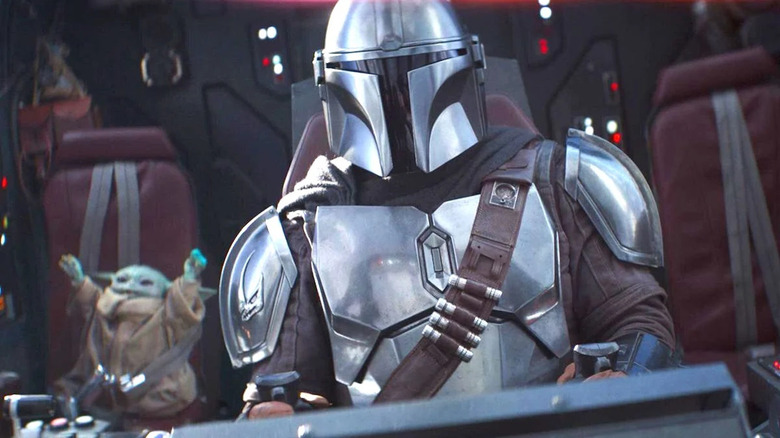 Lucasfilm
There have been many winners to have come out of Disney+'s streaming giant "The Mandalorian." "Star Wars" lovers, for one, got a new story that somehow was full of fan service without feeling pandering. Jon Favreau got to wade into the "Star Wars" universe and prove that he knows this galaxy inside and out. Dave Filoni got to prove his character-creating magic and storytelling prowess worked in live action. Grogu became a worldwide phenomenon. And then there's Bryce Dallas Howard turning up behind the camera to kick butt and take names and emerge as one of the most interesting new directors in the "Star Wars" universe.
After directing "The Mandalorian" season 1, episode 4 (titled "The Sanctuary"), Howard went on to direct season 2 episode "The Heiress" and then came in to direct arguably the best episode of "The Book of Boba Fett," once again focused on the character of Din Djarin, titled "Return of the Mandalorian." 
Whispers about Howard returning to direct "The Mandalorian" season 3 have been circulating for the last 5 months or so, and now it seems even closer to being official with a new story from the very dependable Borys Kit over at The Hollywood Reporter. It's odd that Disney hasn't confirmed this as the third series has wrapped and is in post with a target release date of February 2023.
Howard's involvement in the new season is a no-brainer
Howard has proven herself as not only being to grapple with the widescreen, sweeping imagery of "Star Wars," but has also shown a talent at character and world building as well. Her episode of "The Book of Boba Fett" in particular is rich with Mandalorian lore as we see the silver-chromed protector of little Grogu trying to figure out his place in strict hierarchy of the Mandalorians now that he's come into possession of the fabled dark saber. 
It's a no-brainer that Howard is back for more. In fact, it's surprising to me she hasn't already gotten the greenlight on her own "Star Wars" series or movie. 
Speaking of, what's also a no-brainer is that Kit confirmed Dave Filoni will be directing some of the "Ahsoka" series for Disney+. We kinda already knew this, too, as Disney released an image of a director's chair for "Ahsoka" with Filoni's trademark cowboy hat hanging off it. The man did invent this character in the first place, so it only makes sense that he's going to be along for her live-action ride. THR says he'll be directing "a handful" of episodes of "Ahsoka." 
Streaming "Star Wars" is very exciting right now, with Deborah Chow's "Obi-Wan Kenobi" in its premiere season and yet more goodies in the pipeline from Filoni, Favreau and Howard. 
"Obi-Wan Kenobi" is currently streaming on Disney+ with new episodes dropping weekly.