Mandalorian Season 3 Footage Teases The Return Of Bo Katan, And More Grogu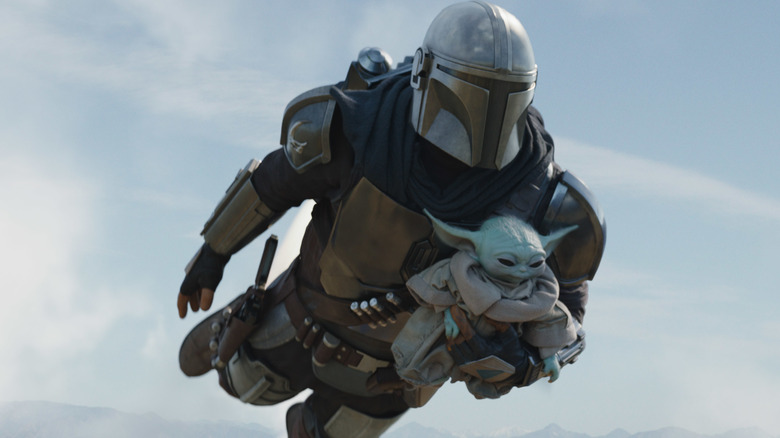 Lucasfilm
Day One of Star Wars Celebration started today in Anaheim, California, and the event is already in full swing. Brand-new "Star Wars" details are flying fast and furious, giving us our first look at the upcoming "Andor" series, along with a special look at the continuation of Ron Howard's and Warwick Davis' "Willow" movie. But you're here for "Star Wars," rightfully so, and we've got a whole bunch of fresh updates on the 2 biggest shows coming to streaming.
"The Mandalorian" and "Ahsoka" have become even more appointment viewing than they already were, seeing how creators Jon Favreau and Dave Filoni have rapidly turned Disney+ into a testing ground for their tightly interconnected "Star Wars" universe. "The Mandalorian" is gearing up for the continuing adventures of Din Djarin (Pedro Pascal) and his lovable sidekick Grogu (aka Baby Yoda). At the panel presented by Favreau and Filoni, lucky attendees (including /FIlm's Ethan Anderton) got a firsthand look at what the next season will have in store for eager fans.
We now know that season 3 will be arriving in 2023, with several returning favorites set to reappear at some point or another during the story. As Favreau explained from the stage, we last saw Mando and Baby Yoda reunited once more in "The Book of Boba Fett" after their parting at the conclusion of season 2. In addition to their continuing storyline, it was revealed that Katee Sackoff will once again suit up as another Mandalorian, Bo-Kotan, who made the leap from animation to live-action in the last season of "The Mandalorian." The actor was in attendance at the panel, promising that, "I may have some unfinished business."
The Mandalorian season 3 footage
Lucasfilm
That's not all, however. The official "Star Wars" account released a new poster for season 3 of "The Mandalorian," revealing that we can expect to see the season debut in February of 2023.
The Mandalorian and Grogu continue their journey in Season 3 of #TheMandalorian, streaming February 2023 on @DisneyPlus. pic.twitter.com/GXPfUIugNp

— Star Wars (@starwars) May 26, 2022
Additionally, fans received an exclusive look at what's to come in season 3, which just wrapped filming "a few months ago" and is now deep in the editing process. Heralded by "The Mandalorian" theme played on a flute, we see Din Djarin wandering below dark skies and among imposing cliffs as voiceover narration by the Mandalorian armorer intones that, "You have removed your helmet. What's worse, you did so of your own free will. You are no longer Mandalorian." We saw this conflict come to a head in "The Book of Boba Fett," which apparently continues to have major consequences on Mando as the armorer states in no uncertain terms that, "Redemption is no longer possible," due to breaking their religious code of never removing one's helmet.
We receive glimpses of Carl Weathers' return as Greef Karga in some sort of new leadership role (complete with a cape and a spiffy new look) in between footage of Mando's new ship dogfighting in space — with Baby Yoda in the cockpit by Mando's side, of course. There's also a brief tease of what the overriding plot may be when Din Djarin says, "I'm going to Mandalore so I may be forgiven for my transgressions." The footage ends with several other Mandalorians alongside Bo-Kotan while walking around a strange city, with Bo-Kotan now seated atop a throne of her own and remarking to Grogu, "Did you think your dad is the only Mandalorian?"
Ahoska updates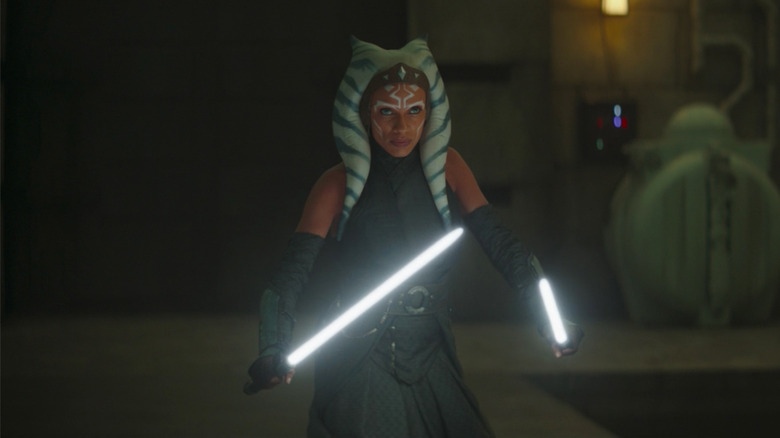 Lucasfilm
That's it as far as "The Mandalorian" news and tidbits are concerned, but Favreau and Filoni also offered up some brief teases for the upcoming "Ahsoka" series, as well. Starring Rosario Dawson as the Jedi knight from Filoni's animated series, "Ahsoka" will continue her journey as she hunts for Grand Admiral Thrawn and struggles to come to terms with her former friend Anakin Skywalker's fall to the Dark Side. According to Filoni,
"'Ahsoka,' in my opinion, is going great. Jon and I are lucky to have Rosario fronting this thing."
Dawson unfortunately wasn't in attendance at the presentation, on account of still filming scenes for the series. Still, the actor made sure her presence was felt by sending a video message to the fans while in costume and in full makeup in some sort of location with stone pillars behind her. As Dawson remarked,
"As much as I wish that I could be there celebrating with all you at Celebration, pretty exciting to be here filming 'Ahoksa' for all of you to be released next year. So maybe next time!"
It has been previously reported that Hayden Christensen will reprise his role as Anakin/Darth Vader and will be joined by a cast that includes Mary Elizabeth Winstead, Ray Stevenson, Ivanna Sakhno, and Natasha Liu Bordizzo as fellow animated character brought into live-action, Sabine Wren.
Look for "Ahsoka" to debut on Disney+ sometime in 2023, as well.