Former Disney Channel Stars Who Starred In Horror Movies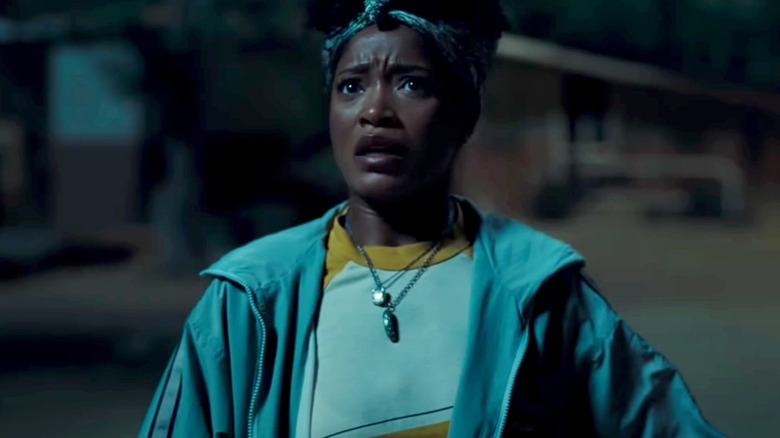 Universal Pictures
We may receive a commission on purchases made from links.
There's a certain novelty to Disney Channel stars who shed their network constraints and move on to bigger, better things. Selena Gomez has been killing it on "Only Murders in the Building" and Zendaya has not only starred in "Dune," but she won an Emmy for her role on HBO's "Euphoria." Even Miley Cyrus has reinvented herself as a gravely, rock queen with her more recent music.
Most interesting, however, is the reversal of familiar superstardom trajectories. The likes of George Clooney and Jennifer Aniston — long before they were superstars — had their starts in horror movies. A genre known for high concepts and accessible budgets, horror is a worthwhile introduction to the world of movie stardom. The reverse also holds true, with many once-prominent performers entering the genre fray either when their careers wane or they're desperate to shed an image they've cultivated for years. Here we'll be looking at 13 former Disney Channel stars you didn't know were in horror movies. 
13. Christy Carlson Romano – The Girl in the Photographs (2015)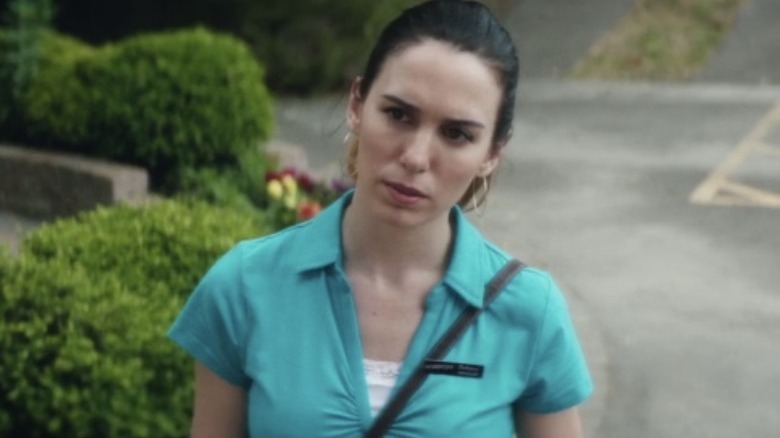 Vertical Entertainment
Christy Carlson Romano's Disney Channel roles were hallmarks of the early aughts. As both Ren Stevens in "Even Stevens" (the show responsible for launching Shia LeBeouf's career) and the voice of Kim Possible, Romano was Disney Channel incarnate. While she is considerably less active today, she did make a brief appearance in Nick Simon's "The Girl in the Photographs," a lackluster slasher outing despite the immense talent involved.
Executive produced by Wes Craven from a script co-written by Oz Perkins, it's odd that "The Girl in the Photographs" amounts to a whole lot of nothing. A killer has been mutilating women and leaving photographs of their bodies around town, though no one in a position to do anything believes a genuine crime has taken place. Of course, it has, and "The Girl in the Photographs" culminates in protracted beats of secret reveals and endless slaughter. Romano's role might as well be uncredited, but she's there to incite the final twist. Appearing in the last scene, she heads to work and discovers a photograph of the movie's protagonists, bound and gagged, signaling they were unsuccessful in escaping the killer's clutches.
12. Zac Efron – Firestarter (2022)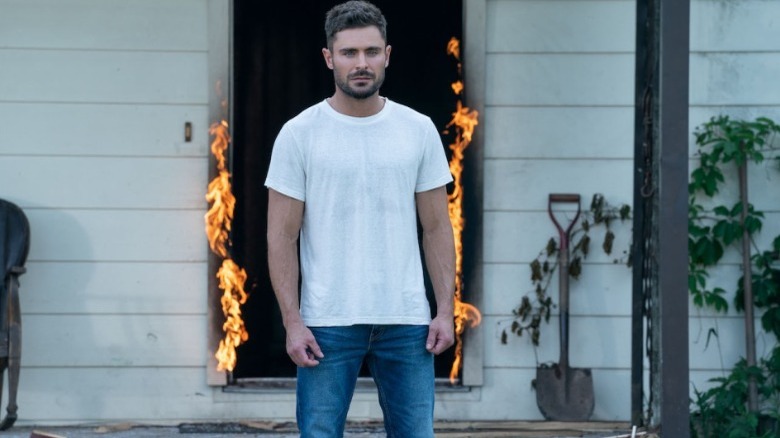 Universal Pictures
Zac Efron has had one of the more successful post-Disney careers among his "High School Musical" brethren, making the transition from teen heartthrob to adult sex symbol and blockbuster mainstay. "Neighbors" and "Baywatch" successfully showed off his comic chops, while the uneven "Extremely Wicked, Shockingly Evil and Vile" proved a decent showcase for his more dramatic inclinations.
While "Extremely Wicked, Shockingly Evil and Vile" is arguably a horror movie, Keith Thomas' remake of "Firestarter," adapted from the Stephen King novel of the same name, is arguably his most high-profile genre outing. Assuming, of course, audiences even know it's been released. With a day-and-date premiere on Peacock, "Firestarter" managed a paltry $6 million opening weekend haul, a number that's unlikely to improve much in the coming weeks. Our own Chris Evangelista called Efron "weirdly bland" in his role here, a nice way of contextualizing how odd it is seeing Efron in a paternal role. Good, bad, or indifferent, it's likely not the last the horror community will see of Efron.
11. Ross Lynch – My Friend Dahmer (2017)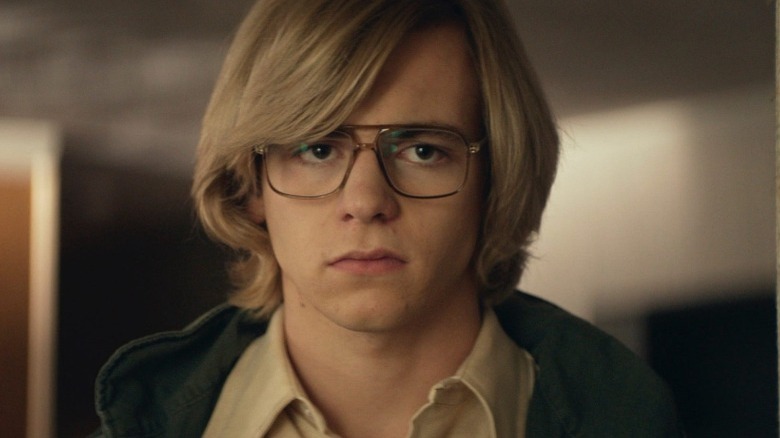 FilmRise
While Zac Efron's more mature roles have been lackluster at best, Ross Lynch (best known for playing Brady in "Teen Beach Movie") was absolutely transcendent as Jeffrey Dahmer in Marc Meyers' "My Friend Dahmer." Adapted from John Backderf's graphic novel of the same name, "My Friend Dahmer" dramatizes Dahmer's high school experience before he ever killed anyone.
Lynch effectively overcomes his conventionally good looks to portray social outcast Dahmer's odd social cues, dysfunctional family life, and fascination with the macabre. It's a genuinely terrifying performance, one rendered all the more frightening given his Disney Channel roots. Released just one year after the conclusion of "Austin and Ally," his Disney Channel series, fans were likely shocked to see how easily Lynch could embody the spirit of a serial killer. "My Friend Dahmer" is one of the most chilling serial killer biopics released in years, and Lynch's performance is a huge reason why.
10. Danielle Panabaker – The Crazies (2010)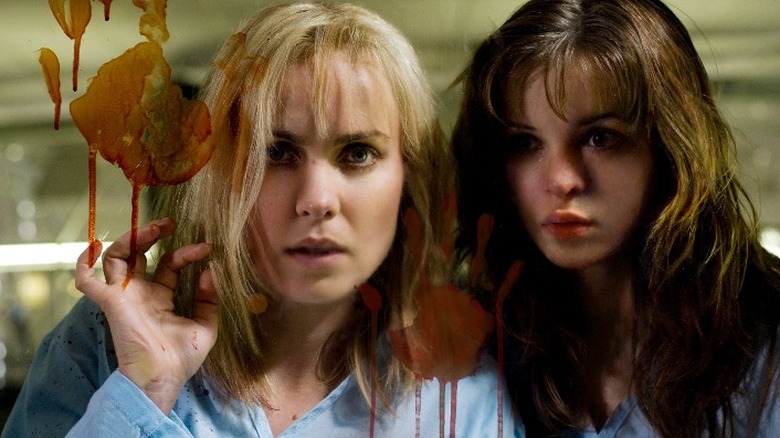 Overture Films
Danielle Panabaker has the distinct honor of being killed in two different high-profile horror remakes. First, she meets a surprising end in Marcus Nispel's 2009 remake of "Friday the 13th," only to be similarly killed off in Breck Eisner's remake of George Romero's "The Crazies" a year later. Beyond those two roles, Panabaker has also featured in the likes of "Mr. Brooks" and "Piranha 3DD," rendering her a certified scream queen post-Disney.
Early in her career, Panabaker was best known for her work in Disney Channel movies including "Stuck in the Suburbs" and "Read it and Weep" before transitioning to network roles and then horror. "The Crazies" is the best of the bunch, with Panabaker aptly serving as an audience surrogate for all the, well, craziness occurring around her. An infection in a small Iowa town spreads, turning the residents into crazed zombie-like monsters. Panabaker is one of several survivors looking to flee after all hell breaks loose, navigating a government quarantine and hordes of infected people. It's an unusually strong remake, one that even improves on several elements of Romero's original. In other words, it isn't crazy to see how Panabaker accepted this role.
9. Jason Dolley – Staged Killer (2019)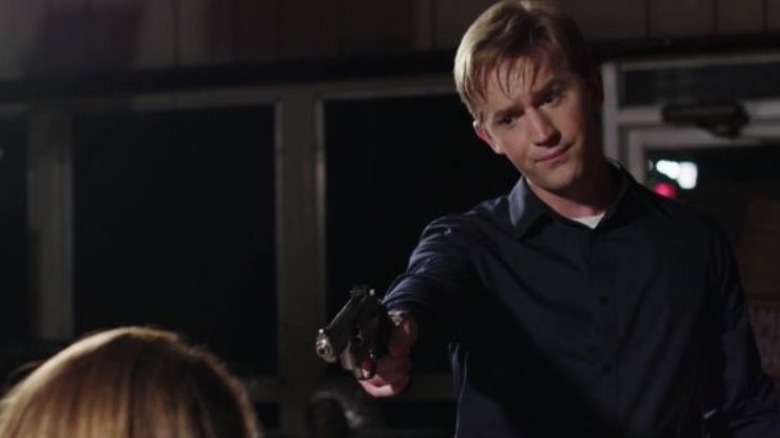 Reel One Entertainment
There's a simple pleasure to watching low-budget domestic thrillers. The Lifetime channel has all but made its living on high-concept, low-budget thrillers. There are killer nannies, frightening new lovers, and bosses who make Al Pacino's John Milton from "The Devil's Advocate" look like a pretty reasonable guy. Jason Dolley is best known for his Disney Channel Original Movie roles and starring gigs on "Cory in the House" and "Good Luck Charlie."
"Staged Killer" isn't especially great, unfortunately, and a far cry from Dolley's original Disney success. He stars as Jake Everett, a sleazy television host who ingratiates himself back into the life of Naomi Spencer (Chrishell Stause), his former co-host. Naomi's life falls apart as the show grows more successful, all interspersed with conventional thriller beats including a very prominently displayed firearm on the film's poster. It's certainly not recommended for anyone but the most diehard Dolley fans, and even then there are better ways to get a quick chill than with 90 minutes of thriller sludge.
8. Shia LeBeouf – Disturbia (2007)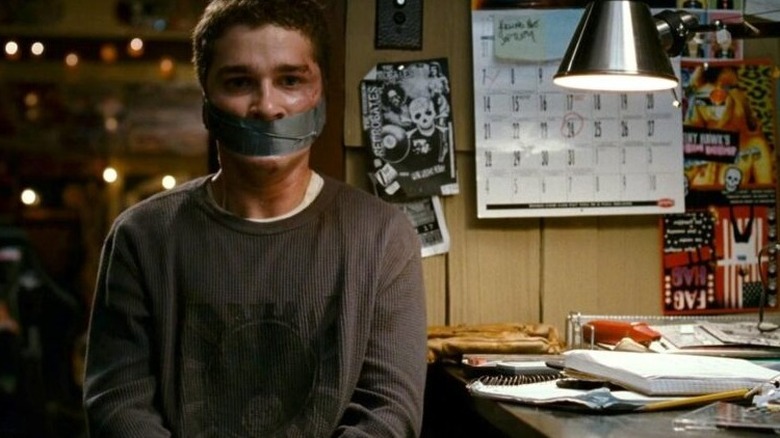 Paramount Pictures
It's a shame what's happened to Shia LeBeouf because his work is really, really good. "Honey Boy" is one of the most tender, therapeutic biopics in recent years, while "The Peanut Butter Falcon" is the folksy, Mark Twain-esque masterpiece audiences never knew they needed. Abuse allegations have all but derailed his career for the time being, though he still qualifies for entry here.
Getting his start on the Disney Channel's "Even Stevens," LeBeouf successfully graduated to more mainstream work, with "Disturbia" being one of his first true breakout successes. D.J. Caruso's loose adaptation of Alfred Hitchcock's "Rear Window" isn't merely cheap homage but a genuinely thrilling remake with enough teen angst to make young audiences swoon. LeBeouf stars as Kale, a teen sentenced to house arrest after he assaults a teacher. Still reeling from the loss of his father, ennui sets in and Kale shifts from television and video games to spying on a neighbor named Robert (David Morse), whom Kale soon suspects is a serial killer. He absolutely is, and "Disturbia" does occasionally stretch credulity with how myopic the adults around Kale are, but it's nonetheless a stylish, scary, and well-acted new millennium twist on a classic.
7. Ryan Merriman – Final Destination 3 (2006)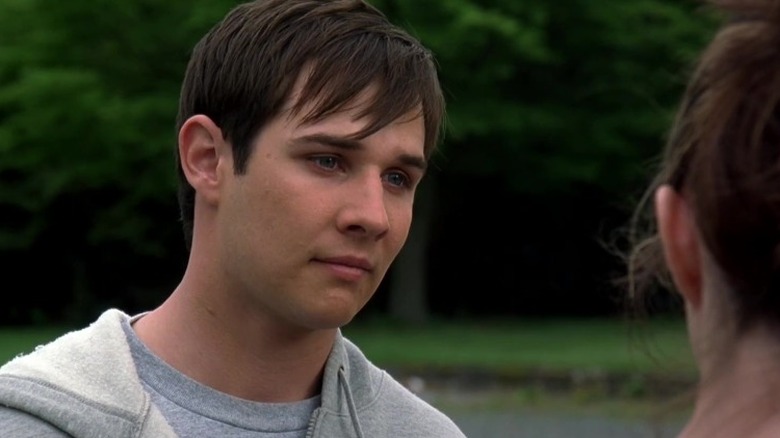 New Line Cinema
"Final Destination 3" has two Disney alums among its core cast. Both Ryan Merriman ("The Luck of the Irish") and Mary Elizabeth Winstead ("Sky High") lead the charge as the unfortunate high school graduates who find themselves outrunning fate after cheating death during a roller coaster accident. The only entry after the first to truly embrace the high school slasher mentality, "Final Destination 3" isn't the best entry in the franchise, though it is arguably the most fun.
The gallows humor is amped up considerably here as Merriman excels at playing both existential concern and the apathetic millennial hero. He is the perfect foil for Winstead's Gloomy Gus Wendy, and together they're arguably the series' best central pairing. Not for nothing, but Merriman gets several worthwhile gooey deaths of his own, most prominently in Wendy's frequent premonitions of disaster to come. Some "Luck of the Irish" might have come in handy for him here.
6. Hilary Duff – The Haunting of Sharon Tate (2019)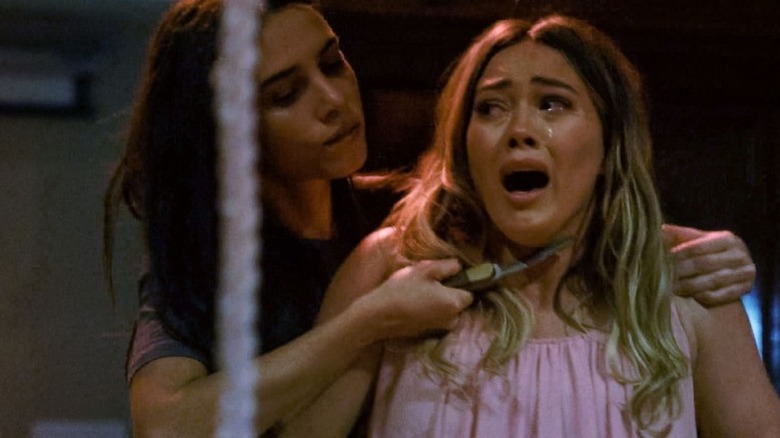 Saban Films
Daniel Farrands' "The Haunting of Sharon Tate" is, quite frankly, a pretty disrespectful movie. In the same vein as John R. Leonetti's "Wolves at the Door," it dramatizes the real-life murder of Sharon Tate and her friends within the confines of a by-the-numbers horror movie. "Wolves at the Door" at least had no pretense about it, sticking to a conventional home invasion template for an exploitative slasher that likely knew it was exploitative. "The Haunting of Sharon Tate" conversely tries to have its cake and eat it too, imbuing Tate with a ridiculous psychic predilection whereby she has predicted her own death.
Hilary Duff is wildly miscast in the lead role, though she does at least endeavor to imbue Sharon with the humanity her screen depictions often lack. Still, "The Haunting of Sharon Tate" is a supernatural slasher that fails at doing what "Once Upon a Time in Hollywood" would later accomplish much more successfully. In trying to rework the Tate mythos, a movie needs something to say, though here it amounts to little more than seeing "Lizzie McGuire" outrun some killers in Mod Squad garb.
5. Vanessa Hudgens – Freaks of Nature (2015)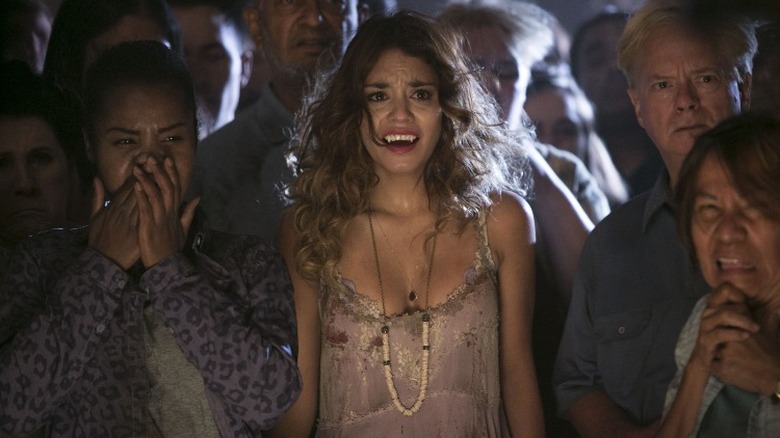 Sony Pictures Releasing
"Freaks of Nature" had a limited release in October 2015 after Sony shifted its release date from January of that year. With a storied history and heaps of promise, "Freaks of Nature" couldn't help but disappoint, though in retrospect its stacked cast and genuine pathos almost demand a rewatch.
Dillford is a small Ohio town divided into three distinct populations: humans, vampires, and zombies. Representing something of a social hierarchy, vampires — on account of being innately cool — lord over the humans and zombies, with zombies representing the bottom tier as cheap, braindead labor. Dag (Nicholas Braun) is something of a social outcast, pining away for Lorelei (Vanessa Hudgens of "High School Musical" fame), the hottest human girl in school. An alien invasion leads the town to believe the factions are at war, so vampires, humans, and zombies go at it, not realizing they're puppets part of a much larger scheme. The humor is broad and the plot dense, not always to its credit. Still, the frenetic kitchen sink approach ("Kitchen Sink" was its original title) yields more fun than most of its ilk.
4. Aly Michalka – The Roommate (2011)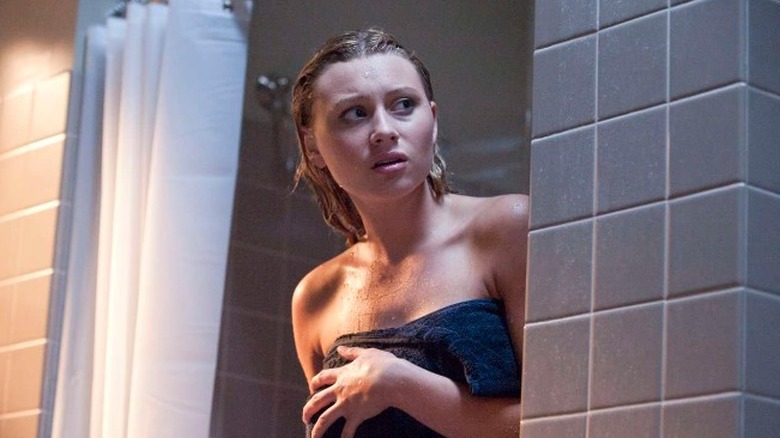 Screen Gems
"The Roommate" is less inspired by Barbet Schroeder's "Single White Female" and more an explicit remake aimed at teen audiences. High concept and remembered for its title, "Single White Female" was a genuine triumph when released, notable for some savage violence and a career-making turn from star Jennifer Jason Leigh. "The Roommate" sadly has none of that, though as a gateway horror thriller for young audiences it does its job well enough.
Minka Kelly stars as Sara Matthews, a college freshman in Los Angeles whose assigned roommate Rebecca (Leighton Meester) is just a little bit odd. Rebecca's obsession with Sara swells to the point of violence, and while it's an admittedly regressive take on mental illness — Rebecca being medicated is treated as a shocking, terrifying reveal —  it's polished enough that teen audiences won't care that much. Its best scene features "Phil of the Future" star Aly Michalka as Tracy, a friend of Sara's. Rebecca attacks her in the shower stall, ripping her belly ring out and demanding she stay away from Sara. It's the closest "The Roommate" gets to being the tawdry domestic thriller it so desperately wants to be.
3. Bella Thorne – The Babysitter (2017)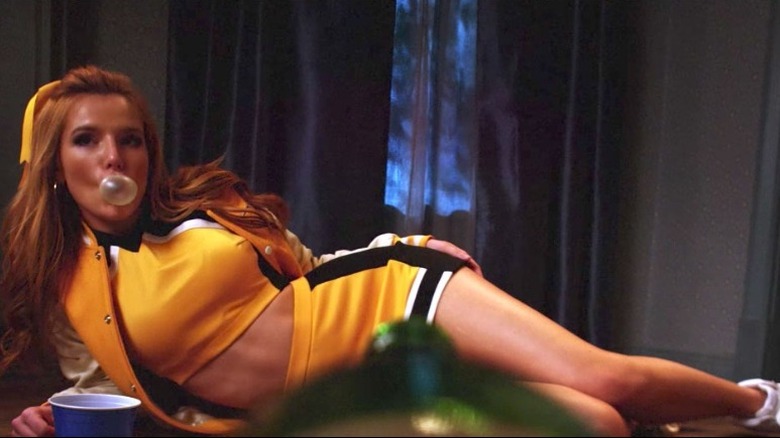 Netflix
McG's "The Babysitter" is one of Netflix's best original horror offerings. It's to the Brian Duffield-penned script's credit and the suite of talented performers that "The Babysitter" overcomes McG's trademark freneticism, with every scene edited like the insanity dial's been broken and twisted beyond the max. Judah Lewis stars as Cole, a bullied middle-schooler whose babysitter Bee (a sensational Samara Weaving) is the coolest girl in town. He sneaks out of bed one night while she babysits to find her and her other hot high school friends preparing to sacrifice a nerd from their school.
Cole escapes, so Bee and her cohort are consigned to track him down to silence him. Among them is Bella Thorne's Allison, a cheerleader and cult member who easily ranks among the film's best elements. Those familiar with her Disney Channel roots won't be surprised to find she yields impeccable comic timing, ably balancing her conventional attractiveness with endearing naivety. Sure, she's a bloodthirsty killer, but she's having a blast while doing it.
2. Kimberly Brown – Rose Red (2002)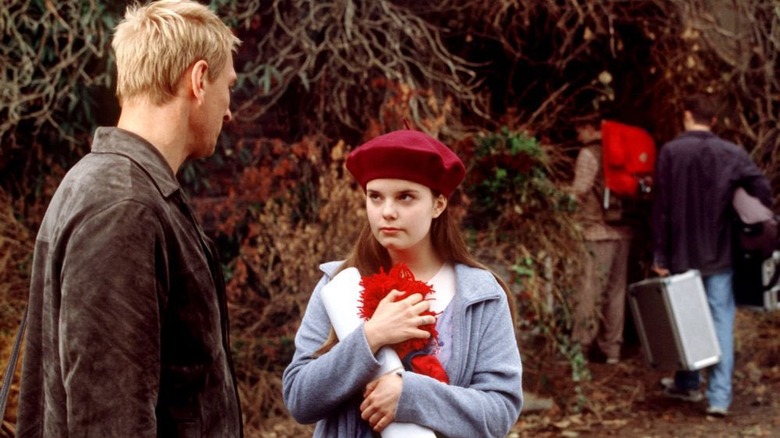 Buena Vista International Television
Stephen King's "Rose Red" is one of his best ghost stories. Originally conceived as a loose remake of Robert Wise's "The Haunting," King wanted legendary director Steven Spielberg attached to direct. On account of the 1999 remake of "The Haunting," King's script was reworked and adapted into a teleplay, premiering on ABC in January 2002. Released over three nights, "Rose Red" does suffer from some of King's television bloat — the first episode is a whole lot of nothing — but it nonetheless remains one King's most successful scripted series.
Nancy Travis leads the charge as Dr. Joyce Reardon, a parapsychologist who travels to the haunted mansion Rose Red with several other psychics, hoping to capture indisputable proof of the supernatural. "Halloweentown" star Kimberly J. Brown joins them as Annie Wheaton, a young girl with autism who simultaneously possesses telekinetic power. The other psychics include television stars, those with retrocognition, precognition, and psychometric abilities. It's a whole lot of psychics. "Rose Red" terrified an entire generation of young children in the early aughts, and Brown was exceptional as Annie, a gateway for hordes of tweens who recognized her as Marnie Piper.
1. Keke Palmer – Animal (2014)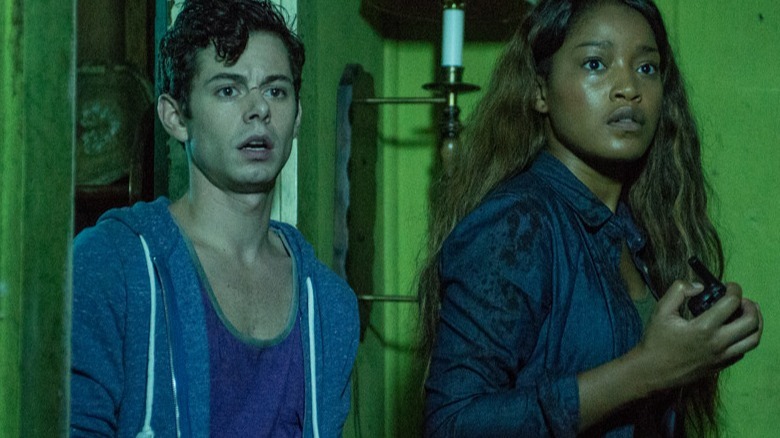 Chiller Network
Baby, this is Keke Palmer. "Nope" is arguably the summer's most anticipated horror movie on account of Jordan Peele's superlative track record. Better still, "Scream Queens" and "Scream: The TV Series'" lead Keke Palmer will be starring. Palmer was part of Disney's "Jump In," and is also known for Nickelodeon's "True Jackson, VP." She adroitly balances fear with humor, easily identified as one of her generation's most talented performers. It worked well in Brett Simmons' "Animal," a 2014 creature feature abounding with childhood stars (Elizabeth Gillies plays the lead).
After a hike goes awry, five young adults are chased through the woods by a mysterious creature. They board themselves up in a cabin they stumble across, enduring a night of monstrous sieges as they endeavor to escape. "Animal" is considerably better than most of its contemporary creature feature ilk. It's gooey and violent, well shot, well-acted, and frightening in spurts. A sort of teeny-bopper redux of Neil Marshall's "Dog Soldiers," it's heaps of fun and Palmer makes for an admirable lead.