Jordan Peele's Nope Is Described As A 'Horror Epic,' So What Does That Mean?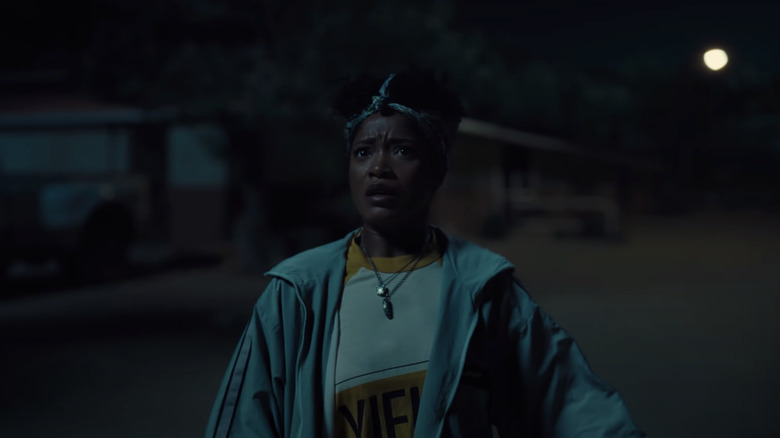 Universal Pictures
Jordan Peele has quickly proven himself to be a master of contemporary horror, with "Get Out" completely changing the landscape (and inspiring a flurry of knock-offs), "Us" proving that his brilliance was not a one-time thing, and "The Twilight Zone" showcasing his ever-expanding range of terror. Now, Peele is back with the highly-anticipated film "Nope," and while the trailer has already inspired a rush of theories and predictions across social media, the official synopsis may have a clue to what the hell is going on in that trailer.
"What's a bad miracle?"

Oscar winner Jordan Peele disrupted and redefined modern horror with Get Out and then Us. Now, he reimagines the summer movie with a new pop nightmare: the expansive horror epic, "Nope." The film reunites Peele with Oscar® winner Daniel Kaluuya ("Get Out," "Judas and the Black Messiah"), who is joined by Keke Palmer ("Hustlers," "Alice") and Oscar nominee Steven Yeun ("Minari," "Okja") as residents in a lonely gulch of inland California who bear witness to an uncanny and chilling discovery.
The press release quick-facts section classifies the film as a "Horror Epic," meaning the official release information twice refers to the film as an "epic," a genre usually associated with period pieces, war dramas, adventures across the globe, or the end of the f***ing world. It also describes the world of the film as "expansive," typically reserved for films that cross worlds, galaxies, and beyond. What does it all mean?!
A Change From Contained Horror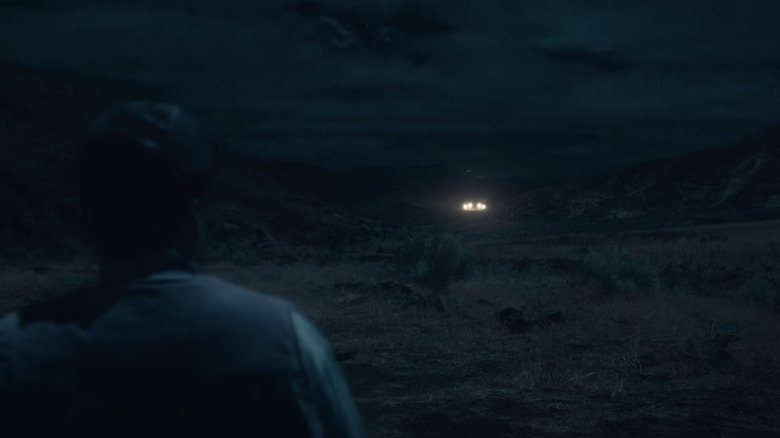 Universal Pictures
Peele's "Get Out" and "Us" are both brilliant works of horror, but both films are (for the most part) contained to less than a handful of locations. In general, the same thing could be said for a majority of horror movies across the board and across time, which favor haunted locations, home invasions, a slasher terrorizing a summer camp, an alien spaceship, a European commune, and small towns over building gigantic expansive worlds. The press release emphasizing the "epic" nature of the film feels intentional, and is already challenging us to retrain how our brains typically analyze horror.
Due to horror's longstanding history of turning huge profits on microscopic budgets, it isn't often that the genre is treated to a genuine epic. "World War Z" and "Army of the Dead" both tackled a gigantic world overrun with zombies without the emptiness of something like " The Girl with All The Gifts" or "The Walking Dead," but both movies were met with mixed reviews at best. Mike Flanagan's "Doctor Sleep" expanded the haunted dream-logic world of "The Shining," but positive critical acclaim and word of mouth couldn't help its disappointing box-office numbers. Could "Nope" be the film that breaks the cycle and proves that a horror epic can be both profitable and lauded?
Let's Talk About Cosmic Slop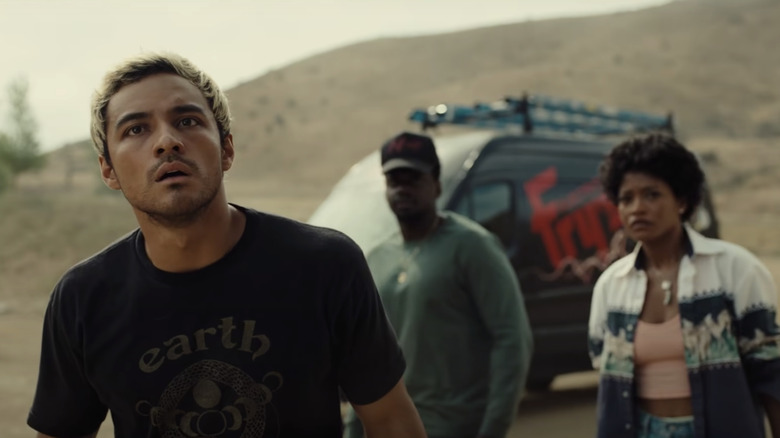 Universal Pictures
Jordan Peele knows his horror and boldly takes inspiration from iconic properties, and completely twists them into his own. In 1994, HBO released a TV movie called "Cosmic Slop," a three-story anthology inspired by "The Twilight Zone" but told through the Black perspective. Based on the short story by Derrick Bell (the man who coined the phrase "critical race theory") of the same name, "The Space Traders," centers on extraterrestrials who arrive on Earth and promise the United States advanced technology, riches beyond belief, and safe nuclear power ... in exchange for all of the Black citizens. What follows is a harrowing look at how quickly white people will turn over Black people if they believe it will keep them powerful, how they will try to spin the public narrative to make it look like "it's not that bad," and how the only people who will stand up for what's right (in this story, the Jewish community) are those who have also been targets for genocide.
Knowing Peele's history of referencing anthology segments (like how "Us" was inspired by the "Mirror Image" episode of "The Twilight Zone) and paying homage to groundbreaking sociopolitical horror films (like "Get Out" with "The Stepford Wives"), there's no way that "Nope" is just a movie about an invasion from another world. The man is deeper than that, and it feels impossible that this is just an alien invasion movie or just an uncanny discovery movie. The "epicness" of "Nope" may lie in its message.
Let's Speculate Wildly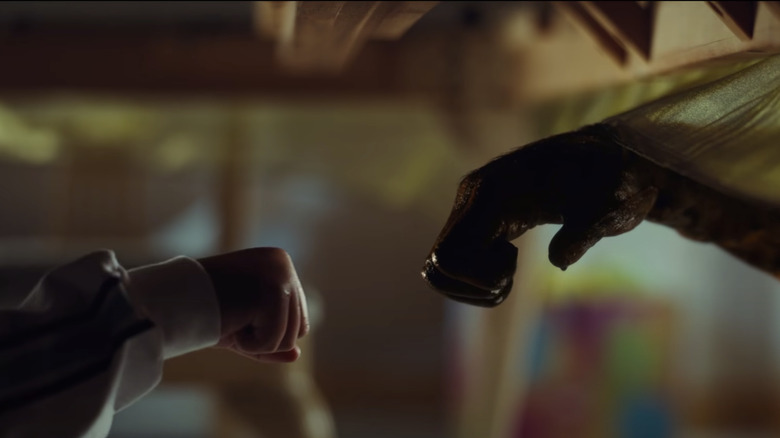 Universal Pictures
My money is that Peele is doing some sort of extraterrestrial horror epic, but the aliens are going to represent something far more sinister. The title "Nope" could be in reference to star Keke Palmer's moment in the trailer saying "Yeah, naw, naw naw ... RUN!" and the idea of just saying "nope" and getting the f*** out of dodge, or it could be an abbreviation for something. "Not of Planet Earth," seems to be the most common fan theory, but the brilliant Valerie Complex tweeted that "Not" may actually be an entirely different n-word. There are shots in the trailer that look like they could be pulled from "Close Encounters of the Third Kind," "Signs," "War of the Worlds," and even the owls of "The Fourth Kind."
Hell, even the title card of "From Jordan Peele" descends onto the screen and floats above a house like its own UFO. "Nope" doesn't hit theaters until July 22, 2022, so strap in for five more months of wild speculation and hopefully another trailer. Regardless, Peele has done it again and turned a horror release into a full-fledged event. Perhaps that's been the definitive hope of this horror epic all along.